I believe our consumer purchase power has tremendous influence. If used unwisely it can have devastating consequences. In order to achieve a more sustainable future we'll need to be deliberate in how we make decisions. This includes those made during one of the most unsustainable times of year, the holidays. Society must start by placing greater value on individual action. We're now beyond the "season of giving". Some are still recovering from the holiday hangover, readjusting to their everyday lives and others getting a start on their resolutions. As we reflect on the past few months, It's no surprise many of us spent, ate, travelled and even gave to charity in excess. From Thanksgiving through New Year's, the holidays can be a double-edged sword. On one hand there's economic stimulation from increased consumer spending and the addition of seasonal part-time employment in the workforce. There's an outpour of support to the charitable sector through end of year giving campaigns like Giving Tuesday. On the other hand though, there's an often ignored darker side. With the holiday also comes increased stress due in part by overspending to meet expectations of gift giving and travel.  As we overspend we also increase our carbon footprint. Then there's the well intended spike in giving to charities that sometimes has negative consequences.  Yes, you can have too much of a good thing.  Keep reading and I'll tell you why.
Like any centuries old tradition, there are long standing expectations, behaviors and assumptions associated with the holiday season. It's not a blank canvas that one can rewrite overnight. But, these excessive behaviors can be changed through our own actions and expectations of the consumer driven market as a whole. Over time, these deliberate actions have a positive impact on our social, environmental and economic sustainability of society. Here's the catch, it just requires that we plan for 2019's holiday season now.
CHANGING CONSUMER BEHAVIOR THROUGH INDIVIDUAL ACTION
Consumers were projected to spend an average of $1,007.24 during the 2018 holiday season according to a recent National Retail Federation survey. Many of whom likely did so by dipping into savings, charging credit cards or taking out small loans. To put that figure in perspective, that's roughly one-third of the average monthly net salary in the United States. It's also estimated the average American will incur more than $1,000 in debt from spending for gifts, entertainment and travel. Coincidence?  I think not. This means the average American will start off the new year with additional household debt. This isn't just bad for one's stress level.  Long term, household debt is a destabilizing factor for economic growth and has a negative impact on economic sustainability. To reverse this we must plan, spend, gift and serve the community in a more sustainable fashion.
Here's some better news though. We can keep the holiday cheer. And while those with fewer means must spend less, know that you may not have to spend less to spend more responsibly.  
Here's what you can do today:
Start planning 2019's holiday budget.
Support small business.
Seek to purchase from responsible companies.
Don't give up on purchasing a real Christmas tree.
Serve the community before and after the holiday.
PLANNING MUCH FURTHER AHEAD
Start saving now just as you would for any $1,000 purchase. In the same National Retail Federation Survey, they found 60 percent of shoppers wait until November to begin their holiday shopping. Frankly that's not soon enough. $1,000 is a sum of money that most people don't have to throw away. $1,000 is about what the average person has at the end of the month after paying their bills. So, for many this means spending money they don't have from November through January.
We've all heard it, "haste makes waste". We're more likely to spend in excess when we're in a rush. So, rather than spending a lump sum in a short period, save up over three to five months in advance. Putting aside $200 to $300 a month for gifts is easier than $1,000 at once. Or better yet, save $100 a month from the start of the new year. Come November you'll have roughly $1,100 for your holiday budget.
This gradual saving should include money for any self-gifting you anticipate. Let's be honest, there are a lot of sales during the holidays, I also fall victim to this. However, we can still play their game, we just need to change the rules. Bottom line, planning much further ahead will allow you to spread out your budget. This will allow you flexibility while not risking the integrity of your finances.  Long-term this will reduce the likelihood of accumulating household debt.  Ultimately this creates a better outcome for the economic sustainability of society.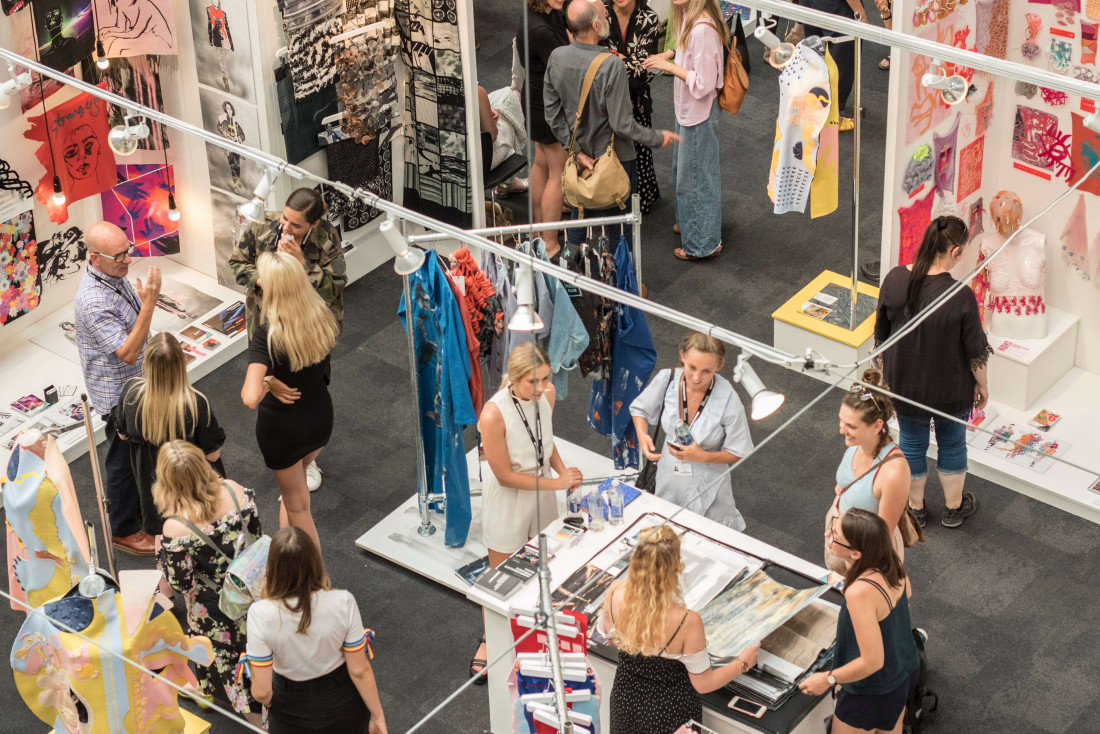 In the photo: Clothing boutique pop-ups sharing cooperative retail space. Photo credit:  Eddie Howell
REIMAGINING SMALL BUSINESS
Another way to positively impact economic sustainability is to support small businesses. This is easier said than done. It requires small businesses to be as visibly accessible as their big box store competitors. Small businesses can't often afford a multi-year lease at a large shopping mall like their retail giant counterparts. So, they must think about pooling resources and share collective space with other small businesses as a holiday popup. A great example of this is The Gift Collective, a holiday pop-up that featured local artisans at Tyson's Corner Center from November to December, 2018. I should add that Tyson's Corner Center is ranked as the 6th Most Valuable Mall in America bringing in over $1,000 per square foot. That type of real estate isn't cheap and can act as a barrier.
Now, the pop-up phenomenon has been around for nearly ten years, but we must continue encouraging that growth. They're increasingly popular because of the benefits offered; they provide greater awareness for boutique brands, allow for market testing of products, and offer an outlet to build customer loyalty through experiential retail.
And it's not just the "little guy" either. Big e-commerce companies see the value and are seeking those same connections with consumers. Companies like Blue Apron, the meal subscription company has been market testing cooking classes and grab-to-go products through experiential retail. And Warby Parker (which started as an online company in 2010) has taken their business to the streets, allowing customers to feel the product they've been accustomed to only seeing on TV. Matter of fact, in the case of Tyson's Corner Center, pop-ups have been so successful that they've since dedicate a section of the mall specifically for pop-up retail.
So, it's important that small businesses strategize their way into the sights of consumers who may otherwise never know of their presence. Equally important though, consumers must proactively seek opportunities to support small businesses in these ventures. Doing so might take more work, but here's the silver lining. You're more likely to find the quality and diverse selection that most consumers cite as their biggest consideration when purchasing gifts.
In the photo:  Lush Fresh Handmade Cosmetic's organic,colorful soap bars on display in store front. Photo credit:  TViolet
PURCHASE POWER TO DRIVE ENVIRONMENTAL SUSTAINABILITY
"Doing good" doesn't stop with small businesses. Mainstream companies are also paving the way. While many can improve, there are some that are applying sustainability principles with virtually every decision they make.  An example of this is Lush. Founded in 1995, this natural hair and beauty cosmetic retailer (most known for their vegetarian and vegan products) burst onto the makeup scene in an unexpected way. Lush does not fund, commission or create products from animal testing. Rather, they use only vegetarian and vegan recipes (80 percent being vegan). Even their trademarked black tubs are made from recycled polypropylene plastics. And, it doesn't stop there. They encourage their customers to return the black tubs to be recycled when empty.
They've also phased out the use of sodium palm kernelate which comes from palm trees most known as a natural habitat of orangutans. And while sustainability is a strategic focus, it's through the use of their storefronts that they educate patrons. Their roughly 900 retail locations dedicate "champions" that focus on sustainability and social impact. They're called the Green Team and Charity Pot Team.
Matter of fact, they're so confident in their ability to succeed as an environmentally responsible company that they don't spend money on TV ads. They have a "no advertising policy". Instead, they rely on user-generated content and staff engagements in "random acts of kindness". It's simple, they gift product to customers who need cheering up. And when you think it can't get better, their Sustainable Lush Fund invests in agricultural projects around the world. The company invests in the farming projects that allow them to trace the ingredients they use from plant to harvest.
As you can see, from who we purchase is important. However, just as important is how we receive items. Whatever you do, try and purchase products from brick and mortar stores directly. Why you ask? To cut down the number of vehicles on the road making deliveries. One of the most environmentally destructive days of the year is Thanksgiving weekend. This year alone, American spent nearly $7.9 billion dollars on Black Friday and Cyber Monday according to Adobe Analytics. And while that figure doesn't include Christmas, combined, it's estimated that over 2.1 billion packages were shipped and delivered through the holidays. That's approximately 900 million through United States Postal Service (USPS), 800 million through United Parcel Service (UPS) and 400 million through FedEx respectively. And while low-emission vehicles are employed, it was only in 2017 that FedEx added electric vehicles to its fleet. UPS also making a recent purchase of electric vehicles in late 2018.  But there's so much further to go until we get to zero-emissions.
So, as you might suspect with the number of deliveries from online purchases alone, the carbon emissions produced are exponentially increased. For those with fewer means, purchasing necessities during a time of holiday sales is a great opportunity. But, for those with greater means, purchasing items only perpetuates the behavior of mass-consumption by society. And to make matters worse, procrastinators who use expedited options like 2-Day shipping only compound on the issue greater. Those options have a larger carbon footprint as they require more vehicles and use less efficient methods.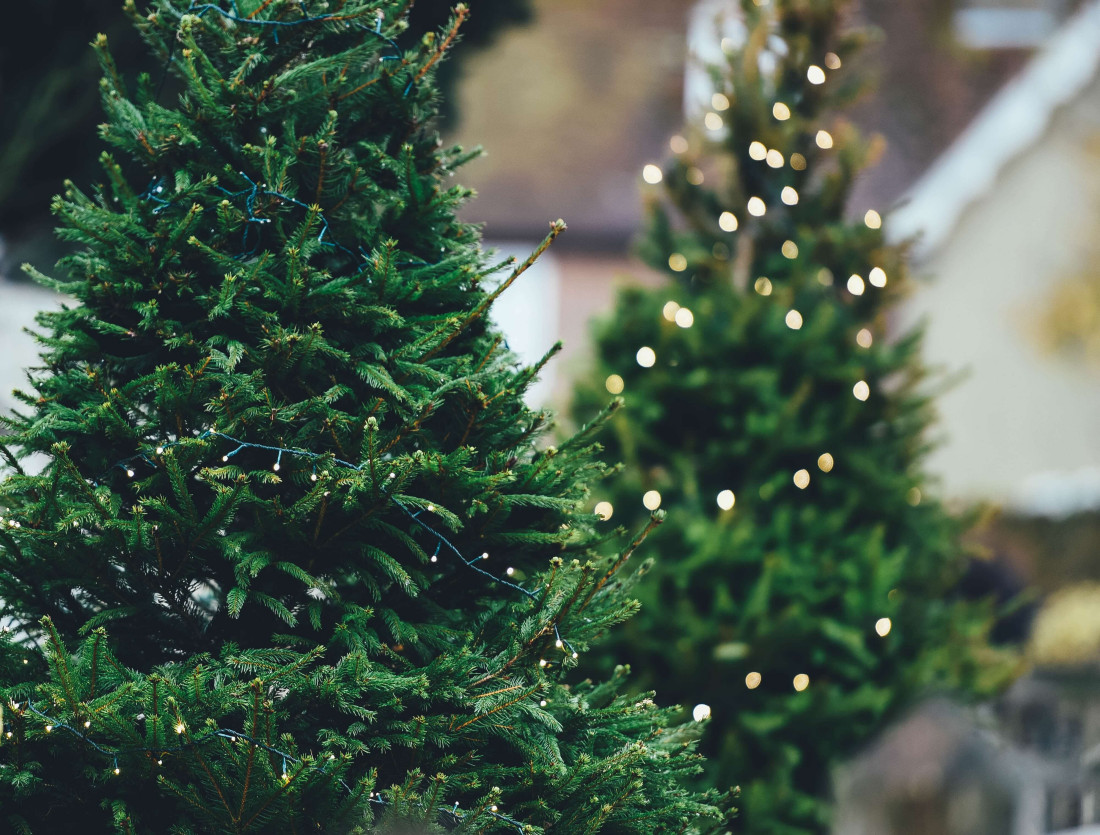 In the photo: Natural Christmas trees decorated with lighting. Photo credit:  Annie Spratt
KEEP THE HOLIDAY SPIRIT, BUY A REAL TREE
Let's address the elephant in the room, a misunderstood holiday home decor piece, the Christmas tree. Fact; you reduce carbon emissions while investing in natural capital by purchasing a real tree. Yes, I said it, purchasing a real Christmas tree is better for the environment, here's why. Farmers grow trees specifically for the holiday. They plant huge tracts of land where these trees grow for about 10 years. During this time, the trees take in carbon emissions and release oxygen into the atmosphere. If there wasn't a market for these trees farmers would simply stop growing them. We'd have fewer trees on Earth and that land would likely be used for something less sustainable.
As for artificial trees made from plastics and synthetic material, they'll eventually be thrown out and could sit in a landfill for centuries or longer. But wait, it gets better. Real trees can be recycled and reused as mulch and other environmentally stimulating uses.  And lets not forget, real Christmas trees give the added bonus of pine aroma that most people enjoy.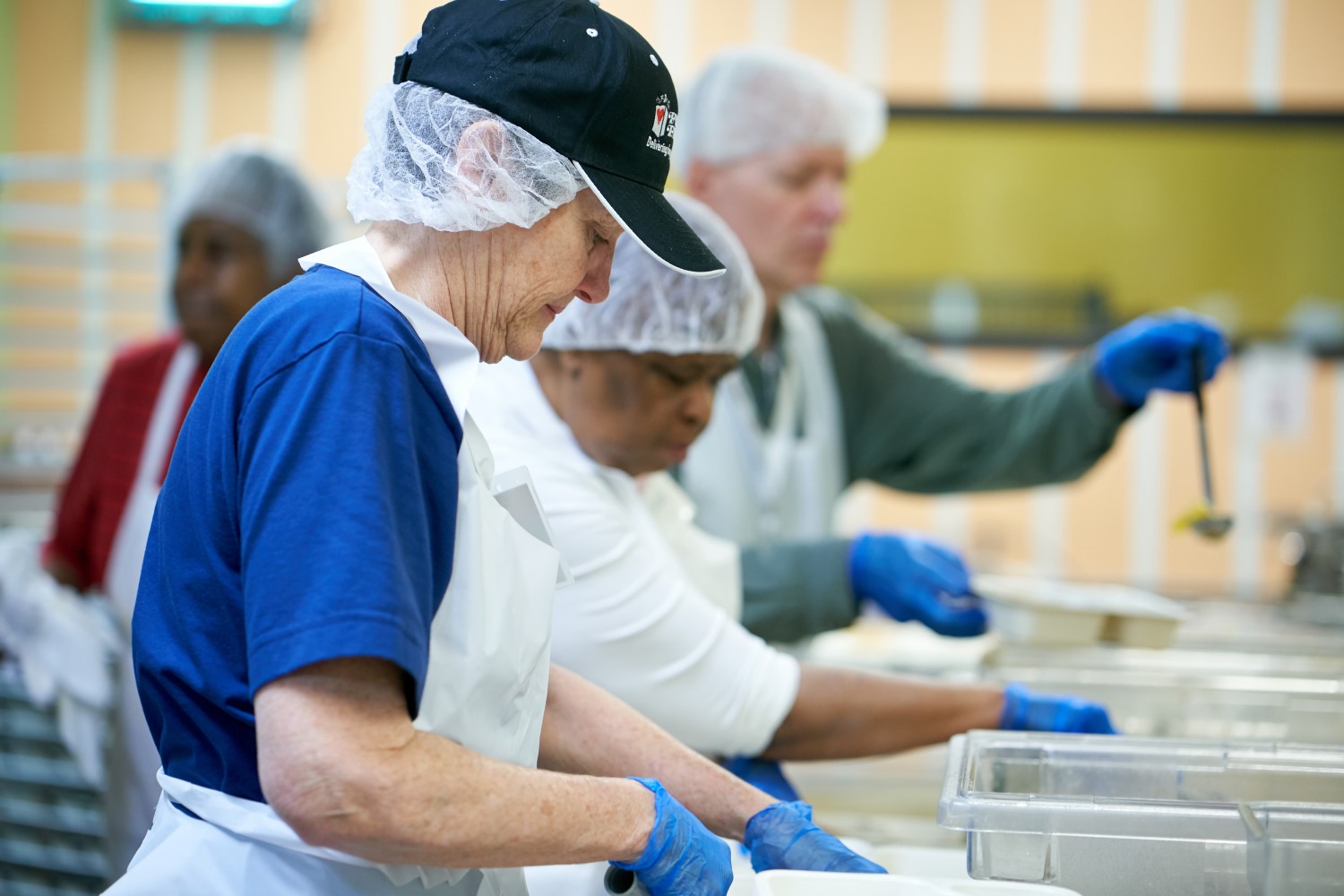 In the photo:  A group of volunteers preparing meals at Food & Friends. Photo credit:  Food & Friends
SERVING TO SATISFY THE NEEDS OF SOCIETY
It's called the season of giving for a reason. Not only do we gift friends and family, we also gift our non-profit neighbors. But, while giving is good, choosing where and when we do that is equally important. Some non-profits experience their greatest single period of support through the holiday. The side effect? They can be left in a drought throughout other periods of the year. One of many organizations affected by this holiday trend is Food & Friends, a Washington D.C. based non-profit that provides medically tailored meals to improve the lives of those living with HIV/AIDS, cancer and other serious illnesses. "January and February are two of our hardest months for volunteer recruitment," says Suling Miller, Manager of Corporate Partnerships. In addition to the beginning of the year, August and September also experience a drop off because summer is over and student groups go back to school. "We absolutely can't do our work without the help of volunteers, but having an even flow is important so that we can be efficient and focused on the mission," Miller adds.
Yes, every non-profit is unique, but it was estimated in 2017 charities nationally experienced a 40 percent increase in requests to serve during the holiday. Some even experience a 200 percent increase in support.  This seemed to be the case in Miller's experience. For Miller, the increased support starts in October and peaks during the week of Thanksgiving. While Miller acknowledges that the support aids in delivering services during a busy time of year, she says "many people may not realize the amount of behind the scenes preparation and planning it takes to manage such large groups of volunteers," and I agree. And to compound on matters, non-profits are also overwhelmed with end of year giving campaigns. Miller says, "Year end campaigns can be both exciting and stressful for non-profit staff, many of whom are tasked with processing donations before the year ends". But, the support dips just as fast once the holiday is over.
For those seeking to serve through the holiday, Miller suggests something intuitive but not often done, "I encourage those interested in volunteering to reach out to the non-profit and ask about their needs and capacity." Another suggestion, volunteer during a different time of year. While volunteering before and after the holiday runs contrary to societal behavior, this is often what organizations need. "Support is needed year-round" Miller states. And although it's not always as festive as volunteering during the holidays, it still has a positive impact for that non-profit and community."
This feast or famine giving cycle can be incredibly harmful for the non-profits and the communities they serve. When asked how we change this mentality, Miller says "there needs to be a large cultural shift in the non-profit space and society in general." I have to say I abundantly agree.
REIMAGINING THE HOLIDAYS WITHOUT SACRIFICING TRADITION
The idea to plan for 2019 might seem over the top. I can understand that. It might even seem outlandish to suggest that you can influence society. However, might I be so bold to say just as a single vote in an election makes a difference, so does the individual choice you make as a consumer. Since 2016 there's been a rise in consumer activism. Where and how you purchase is the equivalent of casting your vote for a sustainable future through your purchasing power.
Yes, that creates more risk for businesses and their brand. But, it also opens an opportunity by putting pressure on how they conduct business on a local, national and even global stage. It influences the goods and services they provide. The same goes for where you gift your time and money while supporting the charitable sector.
We may even have greater influence on society through capitalism as a result. I'd go as far to say this is increasingly becoming the case when compared to the process of government leaders passing legislation in a hyper-partisan political climate.
This is a different way to understand our power as consumers.
What I do believe though, is collectively unless we make these changes, the very planet and society we live may not stand a chance.
---
EDITOR'S NOTE: The opinions expressed here by Impakter.com columnists are their own, not those of Impakter.com. Featured Image Credit: Annie Spratt