Marie Claire Lim Moore is known by many names: as a mother of three, the author of Don't Forget the Soap (And Other Reminders from My Fabulous Filipina Mother), and a businesswoman she manages to perfectly balance work, her personal life, hobbies, and service to others. Spending a majority of her childhood in Vancouver and then in New York City, Claire gained the early, yet valuable skills adapting to various environments as she eventually went on to Yale and then to Citi where she had the opportunity to work all over the globe. Currently, Claire manages the bank's global services across 13 countries as part of the Global Client business for Citi in Asia.
Her wide breadth of experiences and achievements have been included in People Asia, The New York Times, and USA Today. Frequently offering community events and promoting work-family balance for women, Claire is an avid leader for women's development and mentorship. We had the opportunity to speak with Claire on Don't Forget the Soap, women's empowerment, and her journey as a woman in the corporate world.
Where did your journey begin?
For the last three years, I have been focused on building our global solutions in Asia as Regional Director of Global Client Banking. As the world continues getting smaller and more inter-connected, our clients are increasingly seeking multi-country banking services, international travel support and global investment opportunities. In Asia Pacific alone, we serve over half a million Global Clients. My team is responsible for Citi's core global services including Cross Border Account Opening, Global View of Accounts, Citi Global Transfers, Credit Portability, and other international services (Emergency Cash, Overseas ATMs, Citi World Privileges).
While on maternity leave two years ago I decided to write a book about my own family's global journey from my parents' move to North America to my own expat experiences in Brazil, the Philippines and most recently Singapore. Don't Forget the Soap (And Other Reminders from My Fabulous Filipina Mother) is actually a story about people who have inspired me, first and foremost my mother.
Today I run the Global Client business in Asia and connect with women around the world during book signings and speaking engagements. I've always been passionate about work-life balance and now have regular opportunities to speak with women about career, family, and dreams. 
As a child, what was your dream job?
I have always been drawn to the idea of a global career. My parents migrated from the Philippines to Canada and the U.S. but they continued to maintain strong ties to Asia as I was growing up. My dream job was any leadership role with a global component from international news correspondent to Secretary General of the United Nations to CEO of a multi-national company.
What do you think is the best and worst thing about being a woman?
The best thing: EQ. Senior executives will often go out of their way to seek my input because of my ability to sense when something is off whether in a meeting, a plan or a leader. They also like my collaborative approach in addressing sensitive and critical areas.
The worst thing: The general assumption that it's impossible to have a successful professional life and a fulfilling personal life.
What woman do you consider as your role model and inspiration and how has she impacted your career?
I consider myself very lucky. I had a great example of how you could pursue career and family. Growing up with my mother, I saw firsthand how you could have dinner every night with your kids, have a successful career, even pursue your passion projects on the side until they morphed into your career, and give back to your community. Because of this, I never felt like I had to choose between one or the other. 
---
Related Articles: "WOMEN MAKING THEIR OWN FERTILITY DECISIONS" by SHEENA DASANI
"BREAKING STEREOTYPES WITH ALJA ISAKOVIC: WOMEN IN TECH" by ILONA GRINIUTE
---
You have to be willing to make your own rules.
What has been the biggest challenge you have faced?
Assumptions. The assumption that I won't want to travel after having kids, the assumption that I won't go back to work after my third baby, etc. It works the other way around too. At one point, before I got married and had children, some people assumed I may not want a family because I was actively pursuing my career.
Do you think having a family is a barrier to being successful in your career? Why or why not?
No, but you have to be willing to make your own rules. When I was first considering a job in Singapore many people warned me that I wouldn't be able to see my kids during the week. "They work late in Asia," it is commonly known. This turned out to be true but I'm glad it didn't dissuade me from coming. When I first got here, I followed what seemed to be the default schedule which meant a later start to what I was used to in New York and a later end. Not only did I find myself staying late in the office but when I got home, because I was managing the Global Client business, I was also on evening calls with New York. After a few months I realized I would need to adjust my schedule to make time for family. When you're a professional you know what you need to do to get the job done. Being at the office when my kids were having dinner and going to bed was not required to get the job done. I made a schedule that worked for me and had no negative impact on my boss or my team. I came to the office early and got home in time to have dinner with my kids and then got back online to answer emails and take calls after they went to bed. Had I listened to all the people telling me not to take this job while my kids were young I would have missed out on an incredible opportunity to work in Asia.
Be intentional and disciplined about making sure that both women and men have equitable access to experience, feedback, sponsors and promotions.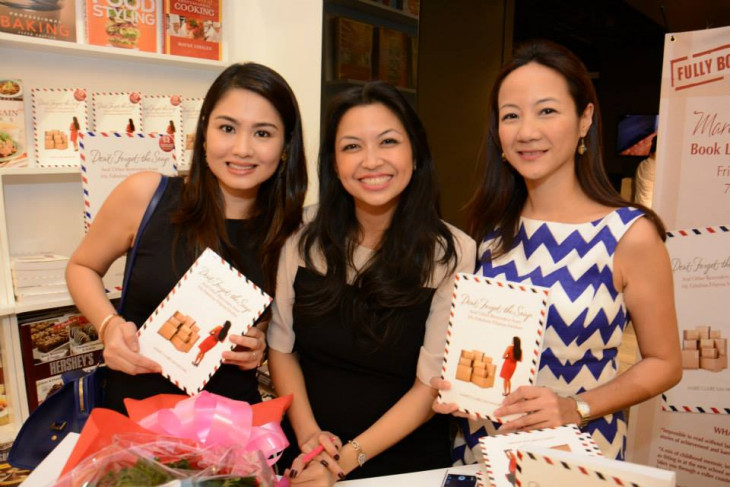 In the Photo: Marie Claire Lim Moore at a book signing for Don't Forget the Soap!  
What role should men play in empowering women?
In the office, work with HR and managers to prioritize a diversity of talent. I once heard a partner at Ernst & Young make a comment that really resonated with me: "Be intentional and disciplined about making sure that both women and men have equitable access to experience, feedback, sponsors and promotions."
In the home, share and balance household responsibility.
What is the challenge for the next generation of women leaders?
Today, women are better off than ever. We have female astronauts and prime ministers, women are successfully managing their own businesses, more women than men are even pursuing advanced degrees. But the fact remains that across the globe women are still not paid equally to men and women are still not present in equal numbers in leadership roles. We've all heard the numbers before: Out of 190 heads of state; 9 are women. Of all the people in parliament in the world, 13 percent are women. In the corporate sector, where we all work, the share of women who hold top jobs and board seats is no more than 15 percent.
How can women play a bigger role as change makers in society?
If we want more women in leadership roles, we need more women to pursue both professional success and personal fulfillment. If more women could strike this balance, more women would reach leadership positions across all sectors of society.
What is your advice for women who are just starting out their careers?
Build a strong and diverse network of people (men and women) with whom you have meaningful connections — a tall stack of business cards serves no purpose. Mentors and sponsors are critical to your career development so you must make time to regularly cultivate these relationships.
For more from Marie Claire Lim Moore:
Find her on Amazon or follow the author at
www.facebook.com/marieclairelimmoore
or www.twitter/com/MarieClaireLM
Photo Credit: Marie Claire Lim Moore