As femininity and womanhood are expressed through a multitude of different experiences, a major season of a woman's life is the gift of pregnancy. While pregnancy is widely viewed as a beautiful and natural process often met with excitement, it takes a huge toll on the body.  Alongside the dramatic physical changes happening in a person's body during this life changing time, an additional change must be made to their daily routine: beauty products.
The skin is the largest organ of the body, and the first line of defense for a developing fetus. It absolutely makes sense that extra attention be given to a daily skincare routine. Here are a few pregnancy skincare no-nos and how to achieve perfect skin while caring for your growing baby.
Retinol
A favorite of dermatologists across the globe, retinols are a powerhouse skincare staple that treat a wide range of issues in the skin. From wrinkles to acne, retinol is famous for perfecting the skin. It stimulates collagen in the skin, smoothing out fine lines and producing a plump and youthful glow. Retinol is derivative of vitamin A, which at first glance gives it the appearance of a safe and healthy vitamin. While this product is not dangerous to most people, it absolutely must be avoided during pregnancy. Vitamin A derivatives can cause very serious birth defects if absorbed into the bloodstream and passed into the placenta.
Instead of using retinols, opt for a more natural and safe option, that is just as effective. Krayna's Ay 1 Cornflower Face Cream is a perfect alternative to address aging skin while keeping the face hydrated and glowing. This cream restores the hydro-lipid barrier, creating buttery soft skin. It improves your skin's elasticity by stimulating collagen and elastin, sending wrinkles away to an older age.
Hydroquinone
Hydroquinone is primarily used to lighten dark spots and melasma. Whether it's scarring or hyperpigmentation, it is hailed as a holy grail ingredient in many skincare routines.  During pregnancy, it is common to develop dark spots due to fluctuations in hormone levels. Since most professional chemical treatments are unsuitable during pregnancy, many are left feeling frustrated with their dark spots. The skin is very sensitive during pregnancy, and hydroquinone can increase skin sensitivity, leading to uncomfortable irritation. Conclusive study linking hydroquinone to harm in a developing fetus has not been completed, so it is better to remain safe than sorry, and treat melasma with hydroquinone on a postpartum basis.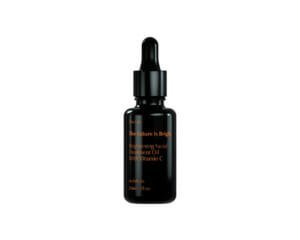 A great alternative is a good vitamin C infused skincare program. Your prenatal vitamins already contain a daily dose of vitamin C, but it is a great way to brighten and maintain your skin's health. Our favorite vitamin c oil is Oio Lab's "The Future is Bright" brightening facial oil. This PETA approved product is cruelty free and 100% natural, free of essential oils, making it perfect for a prenatal skincare routine. It has a luxurious velvet-like application on the skin, and 92% of users have notice dramatic brightening effects.
Salicylic Acid
Used as a miracle product for people with stubborn and acne prone skin, salicylic acid is a popular active ingredient that promotes smooth and clear skin. Salicylic acid works by regulating cell turnover and preventing the pores from becoming too congested. It is an exfoliant that encourages the top layer of the skin to shed, revealing smooth and fresh skin that is free from breakouts.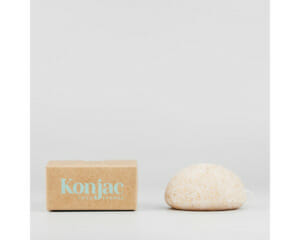 While it is rare to overdose on salicylic acid, there is the risk of a toxic syndrome called "Salicylism." This can cause very serious harm to an expecting mother. In lower doses, salicylic acid is safe during pregnancy, but extreme caution is advised when dealing with the chemical. Instead of using a chemical exfoliant, try manual exfoliation, using Banbu's Exfoliating Konjac Sponge. This sponge works perfectly with any natural and gentle cleanser, and gently removes dead skin while invigorating the pores.  You only need to use it a few times a week, and it is a great way to minimize the number of products needed in your beauty routine.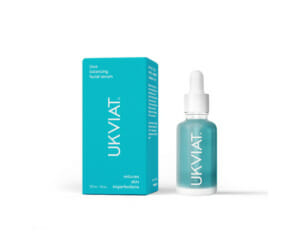 After exfoliating, use UKIVAT's Blue Balancing Facial Serum to further treat even the peskiest pimples. This serum may feel light on the skin, but it seriously packs a punch when it comes to effectiveness. Rich in botanicals such as blue tansy and squalene, it is a perfect addition to any person's skincare routine.
Chemical Sunscreen
If you ask any aesthetician, the secret to healthy youthful skin is the daily use of SPF. Using sunscreen is the most effective method in preventing wrinkles, dark spots, and most importantly, skin cancer. Sunscreen comes in two varieties: chemical and mineral. In chemical sunscreens, the effective ingredient is an endocrine disruptor called oxybenzone. This ingredient can have negative effects on development. It can also harm reproductive, immune, and neurological systems. Studies show that applying sunscreen with 6% oxybenzone two times a day can lead to the absorption of the chemical into the bloodstream. This could cause harmful changes to the cells throughout embryonic development.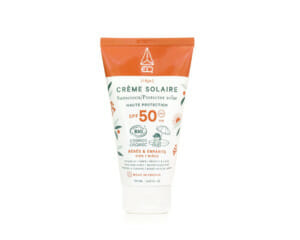 Instead of chemical sunscreen, use mineral sunscreens that list zinc oxide as the main active ingredient. Using mineral filters is the healthiest for the body and is also reef safe, making it a better purchase for the planet regarding your next family beach holiday. Our favorite mineral sunscreen is none other than EQ Love's SPF 50, designed for babies and children. We love this sunscreen due to its multi-use versatility. This is perfect for mother and baby, making it a great way to cut down on the number of products needed to protect your family's skin.
It is 100% possible to care for your skin while prioritizing your baby's developmental health. By avoiding harsh chemicals, you can care for your baby and the planet.  Impakter Eco provides products that WORK, without compromising sustainability or ethics. Check out the rest of our beauty collection at eco.impakter.com!
Editor's Note: The opinions expressed here by Impakter.com columnists are their own, not those of Impakter.com. In the Featured Photo: Natalia Deriabina Featured Photo Credit: Shutterstock