Polis is a start-up from Massachusetts founded by Kendall Tucker in 2015. It sells data and softwares to organizations that go door-to-door. For two years Polis has been selling the most advanced door-to-door app in politics, before expanding into door-to-door energy sales.
Polis revolutionizes door-to-door outreach by using smart technology and targeted data. Polis' app  – available both for iOS and Android – automatically creates optimized walk lists based on the vast amount of data that powers their backend. Canvassers use the Polis app on their devices to canvass voters or do door-to-door sales. Their managers can follow along on their analytics backend.
Polis' data are used to inform canvassers on where to go, on which people they should speak with, on the best way to engage with them. These data include who lives at which door, how they vote, what they post online and what their consumer purchasing behaviours are. These data continually change as organizations knock on doors and improve, upon canvassing, all the profiles.
2018 will be the year of Congressional elections in the USA and this is a good time to speak with Kendall Tucker, the founder, just before everything gets very busy at Polis with the electoral campaign.
How did you start Polis? When did you decided to found your start-up?
Kendall Tucker: In college, I worked on political campaigns and managed a State Senate race. I got excited about politics and the ability for neighbours to impact other neighbours. Unfortunately, I felt like the technology we were using made it harder for us to accomplish our goals. I was frustrated with political technology so instead of going into politics after college, I joined a management consulting firm. Working in consulting taught me how to analyse and solve hard problems by using data-driven solutions. This empowered me to start working on a tech solution to help people succeed in neighbourhood-based political campaigns. The goal of Polis was to take a vast amount of data about voters and simplify them into an easy-to-use mobile app. This way, people who felt passionate about politics could log in and immediately start talking to their neighbours about issues that would appeal to and impact them.
Once we started selling our app, it immediately took off. In our first full year of operations (2016), our app was used by 150 political organizations to knock on about 3 million doors. We have only kept growing from there, including entering into the corporate outreach market. We realized that door-to-door outreach is the most effective way to get people's attention and it's important that communities have a way to feel listened by corporations in the same way that they should feel listened by their elected officials.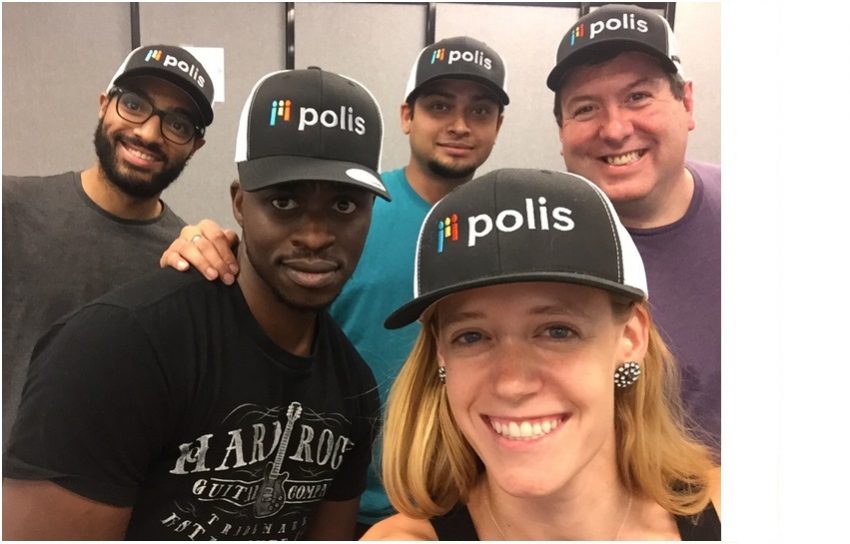 IN THE PHOTO:  PART OF THE TEAM OF POLIS , THE DOOR-TO-DOOR APP PHOTO CREDIT: POLIS APP
What is the goal of your company and who is your audience?
KT: The main goal of Polis is to better connect people with the organisations they care about. Traditional forms of outreach such as making phone calls and running print advertisements are decreasing in efficacy and online advertisement is saturated to the point it is hard to make a return on investments. Knocking on doors and talking to people is powerful both because it reaches people who aren't active in online communities, and it is more effective than any other medium at getting people's attention. Polis allows organizations to knock on doors in an efficient and respectful manner. When people ask to be taken off walk lists, Polis logs the information so other organizations don't bother them again. Polis records what people care about, and as a result of this the message they will get at their door will be tailored to what interests them the most. Connecting to people at a neighbourhood level allows us to make a big impact and adds a personal connection to all interactions.
---
RELATED ARTICLES:
No Person Left Behind: How Using data can reduce inequality


by Betsy Beaumon
Profila: A Consumer's Desire for Privacy and Data
by Alessandro du Besse'
---
What distinguishes your company from others out there?
KT: Polis stands out because my team has built the smartest technology with the most targeted data available. This has led us to top-tier partnerships that allow Polis to continue honing and improving upon our data and tech. Our technology is the smartest because my team puts the user experience first when designing product. We have automated cumbersome tasks that used to take managers hours, using old technology. We have eliminated the frustration around tracking canvassers' progress, monitoring for fraud and doing backend analytics. We have also used targeted data to help our partner organizations test and improve their operations. Lastly our consultative team has the knowledge and expertise to take door-to-door outreach to the next level. We have knocked over 3 million doors which we've used to create help docs, best practices and insights for all of our partner organizations.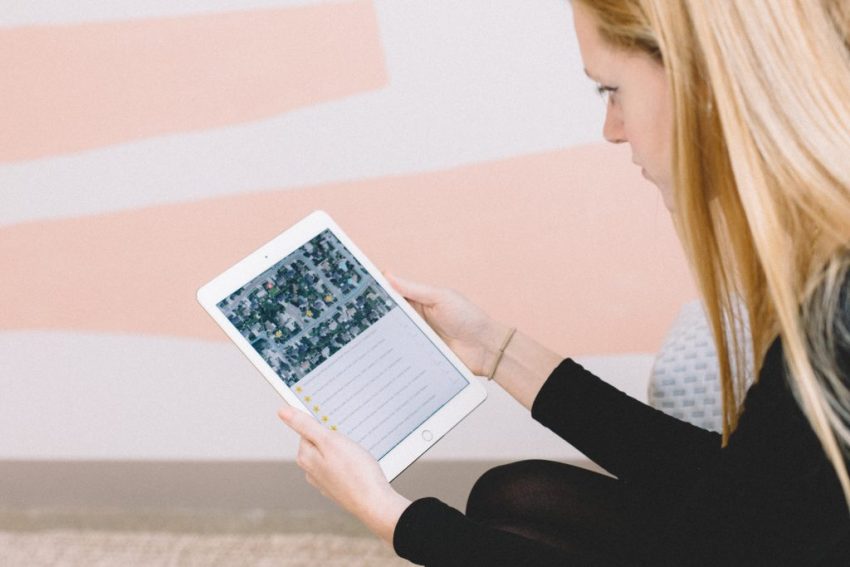 IN THE PHOTO:  KENDALL TUCKER USING POLIS  PHOTO CREDIT: POLIS APP
How do you think your work impacts the global society?
KT: Our work impacts the global society by empowering people to have their voices heard by politicians and corporations active in their communities. Politicians and corporations are so used to be the ones speaking at their constituents but they have historically struggled to hear our voices as well. Polis empowers community outreach at the local level so that we can all feel fully engaged and empowered with these organizations.
What advice would you give young entrepreneurs?
KT: The advice that I would give to any entrepreneur – not just young ones – is not to give up. It may seem obvious but the process of starting a company is hard. Several times people are going to tell you "your idea won't work" or "you are not ready for the challenges ahead", but if you have confidence in yourself, in your team then you are going to make it happen. The other advice I would give is to ask for advice and mentorship anywhere you can get it. There are people who have done this before and been successful, it is better to don't feel shy reaching out and scheduling coffee meetings with the leaders in your space. You aren't going to agree with all the advice they give, but experts are always helpful in opening up your mind to new and interesting ideas. I did 109 expert interviews before starting Polis and I still try to do at least one or two each week!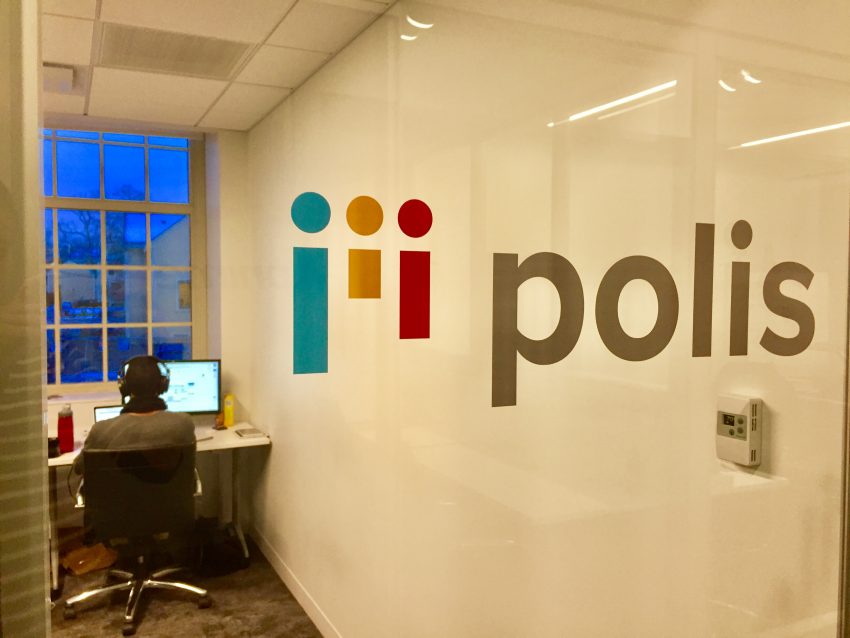 IN THE PHOTO:  THE OFFICE OF POLIS , DOOR-TO-DOOR APP PHOTO CREDIT: POLIS APP
What does the immediate future of your company look like?
KT: Polis' future is bright. We have already made a big impact in the politics and energy spaces and we're continuing to grow. We have the best data file in door-to-door outreach and we work on improving that every day. In the next few months we will be active in the congressional elections as well as actively supporting our energy partners. After that we will likely expand into other verticals that need our software and data as well!
What does the future of your company look like in 5 years?
KT: We, at Polis, firmly believe that face-to-face interactions is the future of effective communication. As our media channels continue to be clogged up by impersonal spam, it's becoming increasingly important that door-to-door outreach continues to grow. As of now, 6 industries do at least 10% of their outreach door-to-door (politics, energy, solar, security, insurance and home services) and the space is growing 34% per year. We are excited to continue being an important part of this growth and improving the efficacy of all organizations that want to have community-based relationships.
---
NOTE: THE OPINIONS EXPRESSED HERE BY IMPAKTER.COM COLUMNISTS ARE THEIR OWN, NOT THOSE OF IMPAKTER.COM.