The Silk Road is an ancient corridor roughly 6,437 kilometres long, extending from Europe to southern China originating from the Chinese Han Dynasty in around 206 BC. The first thread in the fabric of now ubiquitous globalization, the Silk Road facilitated the exchange of eastern and western cultures and ideas, consequently expediting growth and innovation.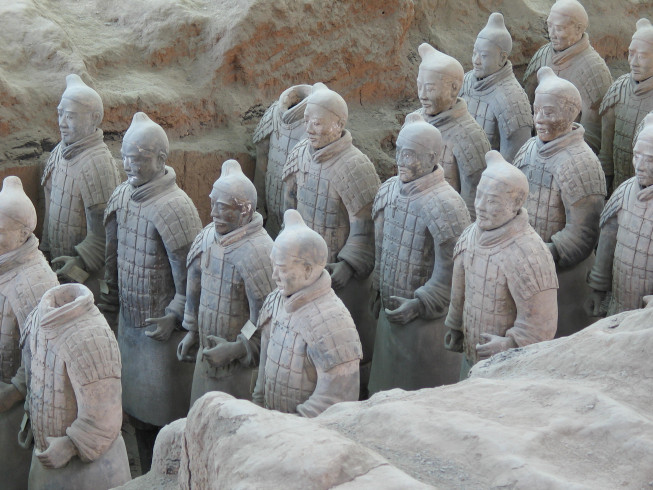 In the photo: Han Dynasty terracotta army.
Silk, seemingly delicate yet strong, became the medium of the largest cultural exchange at that time. However, complex geopolitical realities, including the fall of the Mongol Empire, threatened the integrity of the Silk Road as many territories adopted European-style mercantilism. Yet rapid development of civilizations led to robust global change in terms of trading practices and governmental structures.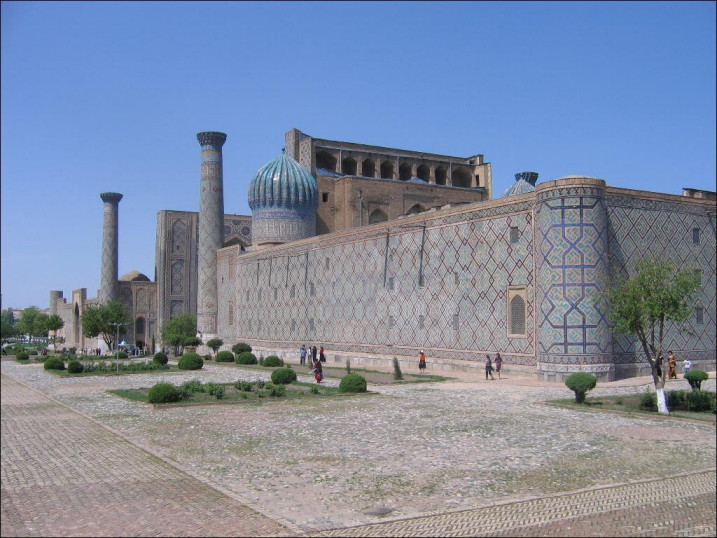 In the photo: A classic stop for silk merchant Samarqand, Uzbekistan.
Today, we are faced with increasing global change with respect to anthropogenic climate change and rapid urbanization. As a result, these developments create increased stress for small stakeholders in rural areas at highest risk for negative climate effects. This is why it is important to develop holistic socio-ecological frameworks to address these nuanced issues.
Recent accidents in Bangladesh involving poor infrastructure and atrocious working conditions in the textile industry has shed light on the importance of socio-economic justice for small stakeholders. In light of anthropogenic climate change, it is important to expand this conversation to include socio-ecological justice.
Climate change threatens the livelihood of approximately 2 million people in rural communities in northeast India, with women impacted disproportionately compared to men. Specifically, there are 1.3 million hand loom weavers, of which the majority are women. Therefore, it is important to provide women with a socio-economic role in their communities as part of sustainable development programs.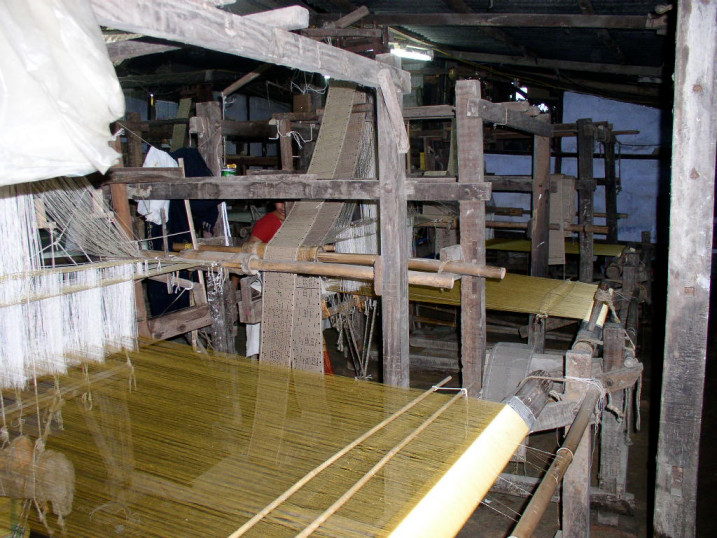 In the photo: Assam Muga Silk factory in the  North East India. Photography by Torry Quinne.
Let's take an example: Muga, the golden-organic silk produced in the northeastern states of Meghalaya, Nagaland and Sikkim in India. Generations of families have relied on Muga silk for their income. Naturally, silk production, or sericulture, has also become an important part of local cultural identity and tradition.
But with climate change, there is a problem. Sericulture is dependent upon ideal environmental conditions that are now becoming increasingly variable. Researchers suggest that ideal conditions for maximum silk productivity are temperatures within 23-28°C with a relative humidity of 70-80% (varying at different life stages of the silk worms). According to reports by the German Cooperation in collaboration with India's Ministry of Development of Northeastern Region, increased temperatures in the past 4-5 years have led to a reduction of 11.5% in silk productivity. In addition to temperature variation, the duration of the winter dry season has also increased. Consequently, water resources are becoming seasonal and scarcer, making water management a continuous challenge, with sericulture often not receiving enough to achieve maximum productivity.
In addition to direct impacts of climate change, beneficial ecosystem services are being degraded.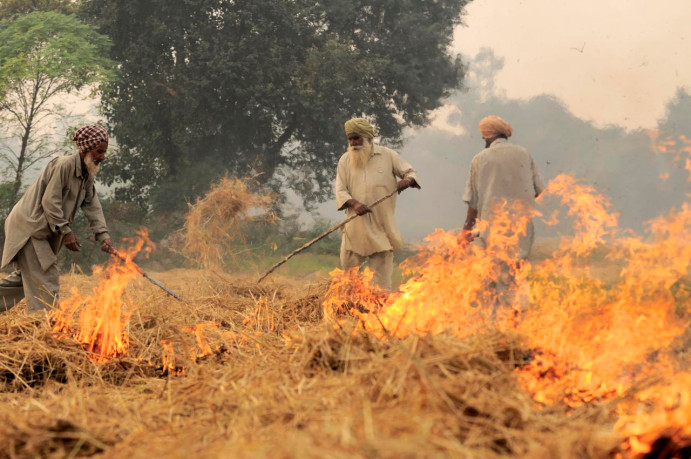 In the photo: Slash and burn agriculture in India.
Ecosystem health is directly correlated with water quality. Intact forests help to safeguard water resources and other ecosystem services vital to local communities. However, poor land-use practices in the form of slash and burn agriculture have degraded forests and consequently, water resources. Slash and burn agricultural practices often lead to increased erosion, desertification, and make the land at greater risk for invasions by alien species.
In light of climate and global change, a possible emerging solution for the myriad challenges of modern sericulture is the integration of targeted precision agricultural techniques. Precision agriculture incorporates geo-spatial technology to better assess and adapt to field variability. As the effects of climate change continue to become exacerbated, geo-spatial data and remotely sensed satellite and aerial data may empower sericulture managers and workers to adapt practices and maintain yields whilst increasing economic and environmental sustainability.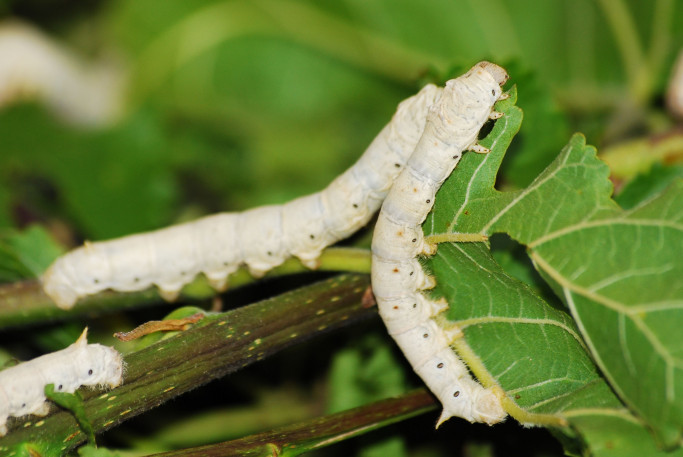 In the photo: A close look at the main components of sericulture or silk farming, Bombyx mori or simply silkworms.
In short, maintaining ecological integrity is vital to successful sericulture, as extensive root systems and forest heterogeneity help retain water. This is because deforestation may lead to microclimatic detrimental effects, causing increased temperatures and drier conditions. These combined dynamics create a vicious circle and pose a serious threat to sericulture as an industry and livelihood.
In addition to the German Cooperation's project in India, UN initiatives to help safeguard sericulture from the effects of climate and global change along the Silk Road and elsewhere are making gains.
For example, a project executed by the FAO in Cambodia aims to help revive a potentially strong silk industry by establishing sericulture research centers in addition to providing technical training. Educating small shareholders on the different methodologies and practices of sericulture empowers them to have more active socio-economic roles within their communities.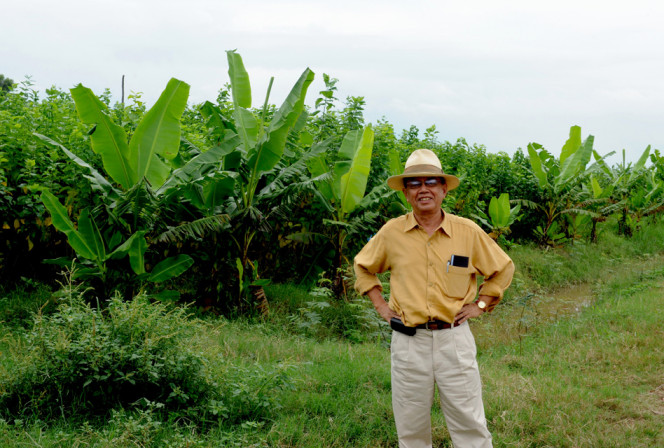 In the photo: Mey Kalyan, programme director for the FAO-funded silk project.
Other UN agencies are also active. The UN World Tourism Organization is amidst a revival program for Silk Road countries that aims to put stakeholders together and encourage investment in tourism. As a result, several objectives are achieved simultaneously: poverty is reduced, cultural identities and environmental resources are safeguarded.
Reconstructing the infrastructure of the Silk Road through tourism will help to recreate the first intercultural network, the first form of globalization that had started here over two thousand years ago. But the challenges are greater than at any time in History. In order to maintain the countless cultural identities inherently woven into the silk industry, much like one of its colorful products, we must make sure that we address the entirety of the socio-ecological realities threatening to unravel it.