In December 2022, UK seas saw a pair of humpback whales off of the Isles of Scilly, including the return of one known as 'Pi', by the Isles of Scilly. Pi, nicknamed after the "Life of Pi," was first spotted off of the island, St Mary's, two years prior, where he stayed for two months. 
Residents of the archipelago seem to regard Pi affectionately, with a post by Lucy McRobert on a tourist board  referring to him  as "'our' whale."
'Pi' is back!! 🙌 A humpback whale lingering close in off Old Town this afternoon drew the usual delighted crowds… but excitement grew when we realised it was 'Pi', the humpback who spent three months around the islands during the winter of 20/21! Incredible! Welcome back! 🖤 pic.twitter.com/qMzwp2dT2o

— Scott Reid (@stmarys_patch) December 1, 2022
Richard Mills, who is a crew member of St Mary's Royal National Lifeboat Institution (RNLI) and runs wildlife charter boats in the summer, photographed the mammals. He said, "Last time Pie [sic] was around the Isles of Scilly was two years ago but it was on its own then so it's great to see Pie [sic] with a mate."
In previous years, sightings in UK seas of humpback whales were rare. However, the Wildlife Trusts' 2022 Marine Review showed that 75 sightings have been recorded since 2019 by the Cornwall Wildlife Trust alone. An increase in whale sightings could indicate a rise in marine populations around the British coastline. 
Katie Bellman from Cornwall Wildlife Trust told the BBC "At least three different whales were seen off Cornwall and the Isles of Scilly on Tuesday [24 January] alone, which is amazing, and actually that's just a glimpse of what might actually be out there."
These whales are possibly following shoals of sardines that are now present around the British shore. 
The Review also recorded in the North two new orca calves spotted off of Shetland in January, and a "large group" of minke whales, which are usually solitary animals, gathering off the Yorkshire coast in August. 
Bottlenose dolphins have become a fixture in Yorkshire, where Scottish colonies often come to feed in summer, however are thought to be increasingly visiting in winter these days. 
Minke whales were further spotted near the Waleny Island nature reserve in Cumbria, and off the coast of Workington. 
Overall, the report showed sightings in UK seas of pilot, fin, minke and humpback whales. Bottlenose, common, white-sided and Risso's dolphins, and harbour porpoises have also been spotted.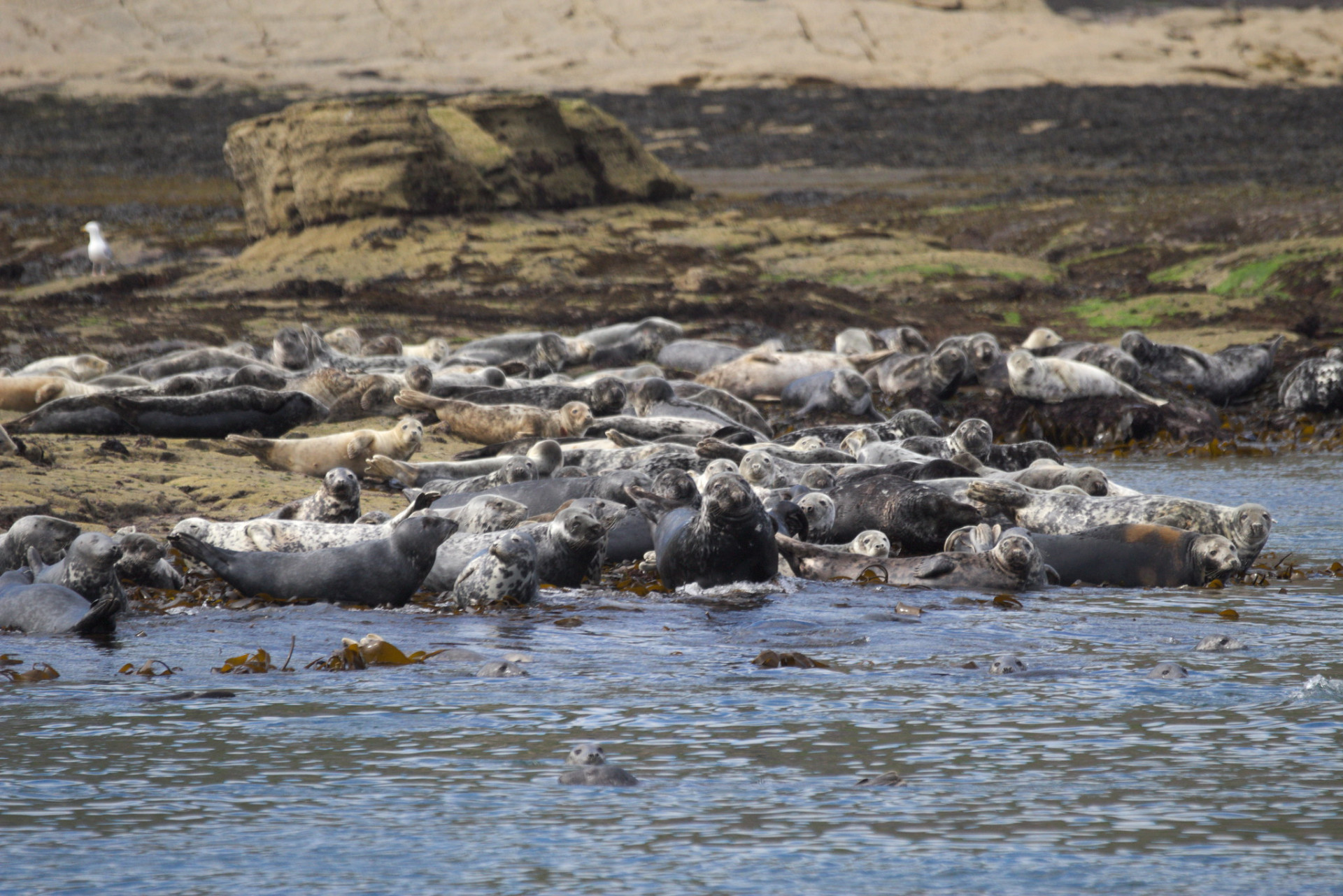 The Wildlife Trusts attribute the increase in the number of sightings to whaling bans allowing populations to recover. 
Whaling was banned in 1986, when the International Whaling Commission (IWC) introduced a moratorium on commercial whaling. Japan controversially left the IWC and its moratorium in 2019, while Norway and Iceland have claimed reservations to the moratorium. Iceland has not commercially caught whales since 2018.
However, whale populations are slow to recover, due to their very low birth rates, and, if not subject to the anthropocene, long lifespans.  
The Marine Review also highlighted a number of  significant incidents of the past year for UK seas other than whales, including: 
a new species of deep-sea coral discovered 240 miles off of the coast of Scotland; 

the Northern hemisphere's only albatross, "Albie," returning to Yorkshire cliffs, having been blown off-course in 1967; 

and a potential "octopus boom" (last seen 70 years ago) occurring around the Lizard Peninsula of Cornwall.
Whale carcasses act as considerable carbon sinks at the end of a whale's life, transferring carbon from the ocean surface to the deep sea. If a whale is killed and its body does not sink, then that body releases the stored carbon into the atmosphere. 
Furthermore, their iron-rich faeces create the perfect growing conditions for phytoplankton, which captures an estimated 40% of all CO2 produced. 
Finally, as the whales that orcas eat declined, the orcas turned to smaller marine mammals like sea otters. This led to a decrease in sea otters, which led to the spread of sea urchins, which subsequently ate the kelp forests around the North Atlantic that were previously sequestering carbon. 
---
---
While marine populations may be recovering around the UK, they are not devoid of threat, as the Wildlife Trusts report reminds us, including disease and pollution.
The ongoing avian flu pandemic has devastated seabird populations across the UK, killing tens of thousands. 
Meanwhile, in 2022, there were several oil spills recorded across UK seas. Around 500 barrels leaked from a cracked pipe 20 miles off of north Wales, producing a "significant" oil slick. 
On Skomer Island, off Wales, a study of dead manx shearwaters found that the majority of them had been eating plastic, with adults feeding it to their chicks. 
UK seas also face problems of noise pollution, which can be deadly to whales and other cetaceans. It disrupts migration routes as well as echolocation, which can cause disorientation, causing the animals to collide with boats. It can also disrupt communication and cooperation between social species such as whales and dolphins, which interferes with feeding and reproduction opportunities. 
Over recent years, the UK has also been facing serious problems with raw sewage being dumped into the oceans and its beaches, as following Brexit and COVID related supply-chain issues, its government eased regulations about dumping sewage in waterways. 
The charity, Surfers Against Sewage, even offers a map of sewage levels at various beaches, to allow local water users to navigate this issue, as they campaign against plastic and sewage pollution in UK waters. 
If national newspapers have forgotten, inhabitants of sea-side towns have not, feeling their health and their livelihoods threatened, as well as the health of the oceans themselves. 
Water companies, we're not going to take your shit lying down.

Communities are coming together to take action on the #SewageScandal, and we're not stopping until you #EndSewagePollutionhttps://t.co/VqfjldaFeU

— Surfers Against Sewage (@sascampaigns) January 28, 2023
Waterways can be severely affected by sewage in a number of ways, including through algae blooms, which significantly disrupt eco-systems, hindering some organisms, and helping others. 
Overall, the recovery of UK seas and increased sightings of whales and other cetaceans is really good news. However, the process is ongoing, and its shortcomings negatively affect both local human and wildlife populations. Plastic and oil pollution are continuing to threaten seabirds, already vulnerable in the face of the ongoing bird-flu pandemic. Meanwhile, noise pollution around UK seas must be tackled in order to allow life for the rebounding cetaceans to be tenable. Finally, the UK government must make progress on tackling issues of sewage being dumped by water companies into the UK seas. 
---
Editor's Note: The opinions expressed here by the authors are their own, not those of Impakter.com — In the Featured Photo: Humpback whale. Featured Photo Credit: Mike Doherty