NATO leaders are gathering in Madrid this week to proclaim a united wartime front, unveiling the alliance's most significant defence overhaul in decades and marking the beginning of a new phase of its history.
NATO's secretary-general Jens Stoltenberg announced on Monday that the 2022 Madrid summit would be "transformative" for the alliance as Russia officially becomes "the most significant and direct threat to our security."
Prior to the Ukraine war, the Euro-Atlantic organisation had been suffering from waning credibility to which years of Donald Trump's dismissive approach certainly contributed. As the threat of post-war Soviet expansion – NATO's original raison d'être – was no longer relevant, the alliance sought a new purpose in China's political and economic expansion, then in the Afghanistan war, with results so lacklustre that in 2019 President Macron said the alliance was going through "brain death."
But the Kremlin's invasion of Ukraine last February jolted NATO back into action and the public eye as the first full-blow European war of the 21st century dramatically reshuffled global relations, market organisation, and overall international stakes.
Finland and Sweden back on a strong path to full NATO membership
Finland and Sweden's tossing away of decades of neutrality in a bid to join NATO is a prime example of one such geopolitical shift brought about by the Ukraine invasion. 
It also demonstrates the extent to which Russia is now considered a threat as the two Nordic countries have effectively made the decision to risk Russian ire by knocking on NATO's door over maintaining the status quo.
Late on Tuesday, a last-minute agreement between Turkey, Sweden, and Finland finally set the Nordic nations on track to obtaining full NATO membership. 
Their applications had been compromised when Turkey's president, Recep Tayyip Ergoğan, threatened to block them last month, accusing the Nordic countries of supporting Kurdish groups it designates as terrorist organisations, particularly the Kurdistan Workers' party (PKK) which took arms against the Turkish state in 1984.
The PKK is considered a terrorist group in Turkey, the European Union, and the United States, as tens of thousands of people have died as a result of the conflict between the PKK and Turkey.
Sweden denied supporting this organisation.
Erdogan had also voiced his discontent with certain bans on arms sales to Turkey applied by the US and many European countries. 
Following a period of intense negotiations, NATO Secretary-General Jens Stoltenberg said on Tuesday evening: "I am pleased to announce that we now have an agreement that paves the way for Finland and Sweden to join NATO."
"Turkey, Finland and Sweden have signed a memorandum that addresses Turkey's concerns, including around arms exports and the fight against terrorism," he added.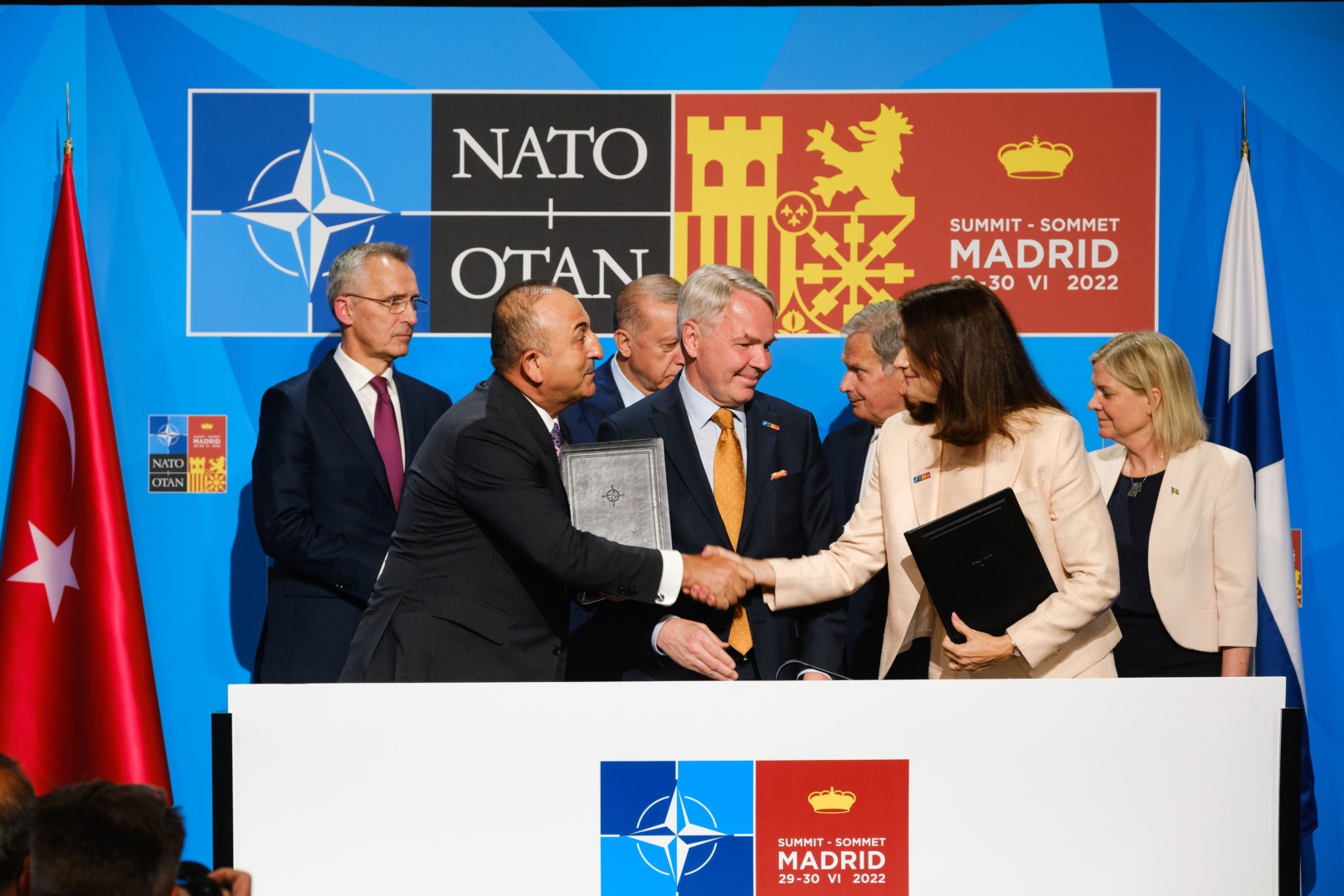 In the deal, Finland and Sweden confirmed that the PKK was a designated terrorist organisation and conceded to retrieve support to the Syrian Kurdish Democratic Union Party (PYD) and People's Protection Units (YPG) groups that have been fighting against Islamic State in Syria.
Sweden is home to 100,000 Kurdish refugees, some of whom Ankara says share connections with the PKK and should be Turkey – a move both Sweden and Finland had so far rejected because of human rights concerns.
The Nordic nations further affirmed that there were no national arms sales bans relating to Turkey and that all three countries would cooperate over extradition requests.
The Nordic countries also agreed to lift their bans on some sales of arms to Turkey.
Swedish prime minister Magdalena Andersson celebrated the deal as a "very good agreement," telling Agence France-Presse: "Taking the next step toward a full NATO membership is of course important for Sweden and Finland. But it's also a very important step for NATO because our countries will be security providers within NATO."
The two countries' accession to NATO will effectively double the length of the alliance's border with Russia and close a major historical gap in NATO's defence capacity – a resounding irony considering Putin's unprovoked attack on Ukraine was partly an attempt to dissuade NATO from expanding any further.
Conveniently for NATO's finances, the Nordic countries' joining coincides with a historical scale-up of the alliance's defence spending in response to the threat posed by Russia.
NATO unveils new strategic defence plans while Russia's Kaliningrad becomes new focus of war tensions
NATO chief Jens Stoltenberg announced on Monday that the alliance will put 300,000 troops on high alert to strengthen its eastern defences as part of new plans he described as "the biggest overhaul of our collective defence and deterrence since the Cold War."
This represents a major increase from the current 40,000 troops making up the NATO Response Force.
According to Stoltenberg, the new Strategic Concept introduced this week at the summit will include "forces pre-assigned to defence specific allies" which "will exercise together with home defence forces" and "become familiar with local terrain, facilities, and our new pre-positioned stocks, so that they can respond smoothly and swiftly to any emergency."
These battlegroups will be deployed in the Baltic states and Poland where tensions have flared up over the past few weeks, with the Russian enclave of Kaliningrad in the eye of the storm.
Sitting between Poland, Lithuania, and the Baltic Sea, Kaliningrad, though separate from the rest of Russia, is a major strategic point. It harbours Russia's Baltic fleet and tens of thousands of Russian troops, making it, according to Russian journalist Leonid Ragozin, "pretty much one big military base."
Tensions are particularly high between Russia and the Baltic States as EU sanctions against Moscow have come into force, resulting in Lithuania implementing a ban on some goods transported by rail between Kaliningrad and the rest of Russia. 
The governor of Kaliningrad says between 40% and 50% of rail imports are affected by EU sanctions.
The Kremlin has reacted furiously to Lithuania's implementation of EU sanctions.
"Russia will certainly respond to such hostile actions," said Nikolai Patrushev, secretary of the Russian security council. "Their consequences will have a serious, negative impact on the population of Lithuania."
"No blockade of Kaliningrad is taking place," said Ingrida Simonyte, Lithuania's prime minister. "It is simply that… some sanctions have come into force on some of the goods included in the so-called sanction package."
Analysts say Russia's angry reaction over Kaliningrad goes beyond the Baltic states and has everything to do with NATO's recent expansion. 
---
---
Now that Finland and Sweden are about to become NATO members, Kaliningrad and the Russian military on its soil become surrounded on all sides.
As NATO bulks up its capacities and readiness to defend fellow members, attention turns to the Suwalki gap, the border between Lithuania and Poland which separates Kaliningrad from Belarus. Anticipating that Putin may try to create a land bridge between its enclave and de facto protectorate, Politico has dubbed the area "the most dangerous place on earth."
However, most of the forces deployed by NATO will not be permanently stationed on the eastern flank, rotating instead through the region for training – which further demonstrates NATO's willingness to find the right balance between fulfilling its defence commitments to member nations and avoiding direct confrontation with Moscow.
Moreover, Russia knows that to lead an attack against any NATO member is to expose oneself to retaliation from the entire alliance. 
While experts say further military escalation is unlikely given the dramatically high stakes, numerous eastern members nonetheless call for a larger-scale and more permanent presence of NATO troops on the field.
"I think NATO will need to consider a permanent base in the Baltic states," said Anders Fogh Rasmussen, a former NATO secretary-general. "I also think we need permanent presence of NATO in Poland, maybe also in Romania," he added. "It doesn't make sense to have a lot of NATO bases and troops far from the real frontline – we should move eastwards."
Threats to Taiwan and NATO's southern flank hover in the background
While the NATO summit's focus understandably remains on Eastern Europe, other countries within the alliance, including Spain, hope the summit will not sideline the security threats they, too, are facing.
"The same threats concerning energy supplies, the political use of irregular migration, jihadism, and terrorism remain strongly in places such as the Sahel or the Mediterranean region," said Spain's foreign minister José Manuel Albares.
Spain's African enclaves of Melilla and Ceuta, which constitute the EU's only land borders with Africa, have come under increased migratory pressure as part of a year-long diplomatic crisis with Morocco, the point of departure of most migrants.
Spain accuses the North African country of turning a blind eye to immigrants trying to reach Spanish territory from its shores as a means of exacting revenge following what Morocco perceived as Spain's implicit support of Western Sahara's independence movement – a region which Rabat wants to keep under Moroccan sovereignty.
The two countries patched things up in March when the Spanish government publicly backed Rabat's autonomy plan for Western Sahara.
However, despite the reconciliation, the migration crisis does not seem to abate. Last Friday, a crowd of 2,000 people tried to enter illegally into Melilla, resulting in at least 23 deaths.
The UK is also pushing for this week's NATO summit to address China's proximity with Russia and to prepare for the event of Beijing making a move on the self-ruled island of Taiwan, which it claims as its territory and has long threatened to take by force.
Lithuania recently faced intimidation from Beijing after it allowed Taiwan to open an embassy in the capital city of Vilnius – implicitly recognising the island as an independent state.
Liz Truss, the UK foreign secretary, who accompanies prime minister Boris Johnson at the summit, made comments on the topic which, according to The Guardian, went beyond the standard government language on the issue, signalling genuine concern.
"There's always a tendency – and we've seen this prior to the Ukraine war – there's always a tendency of wishful thinking, to hope that more bad things won't happen and to wait until it's too late."
She called for faster action to supply Taiwan with defensive weapons, drawing parallels with the situation in Ukraine prior to the war.
"We should have done things earlier, we should have been supplying the defensive weapons into Ukraine earlier," she added. "We need to learn that lesson for Taiwan. Every piece of equipment we have sent takes months of training, so the sooner we do it, the better."
---
Editor's Note: The opinions expressed here by Impakter.com columnists are their own, not those of Impakter.com. — In the Featured Photo: Press conference by NATO Secretary-General Jens Stoltenberg ahead of the NATO Summit in Madrid from 28 to 30 June 2022. Featured Photo Credit: NATO's photostream.