I first met Hillary Clinton 28 years ago, when I was just a girl, and she has been a nurturing presence in my life ever since.
That fact, which is part of my story and development into a successful person, isn't meant as a political statement. I share it to help paint a more realistic picture of a woman so often misunderstood and misjudged.
In Arkansas, where I grew up, you could (at least then) get your driver's license at 16 and, right away, drive unaccompanied by an adult. Most kids I knew had been operating a variety of vehicles for several years by the time they actually got valid licenses. That is just a thing that happens in rural parts of the country. Being the quintessential bookworm and political groupie, I'd spend hours outside of school reading late into the night or watching things like the Iran Contra hearings by myself, for fun. I didn't date and had hardly any friends. So I didn't have much occasion to drive. But when I heard that the state's First Lady was going to be at Meadowcreek Project in nearby Fox to speak on the environment, I borrowed our light blue '77 Chevy Silverado pickup truck and made the drive to the paved road and up the winding mountain.
I had met the Governor a few times already, in this state where it really was possible for nearly everyone, not just those who financed campaigns, to actually befriend their electeds. I didn't know Hillary yet at all, but I had just been approached by a Wellesley College alumna — Elaine Scott, I believe Chair of the State Board of Education at the time — who'd strongly encouraged me to apply to the "small" college in Massachusetts. She told me that, not only had there been famous broadcast journalists who'd attended (since that was my area of interest), so had our First Lady.
For years now, I had been benefitting in myriad ways from Hillary Clinton's leadership. See, when the Governor had appointed her to head up an Education Task Force years prior, my world had visibly shifted.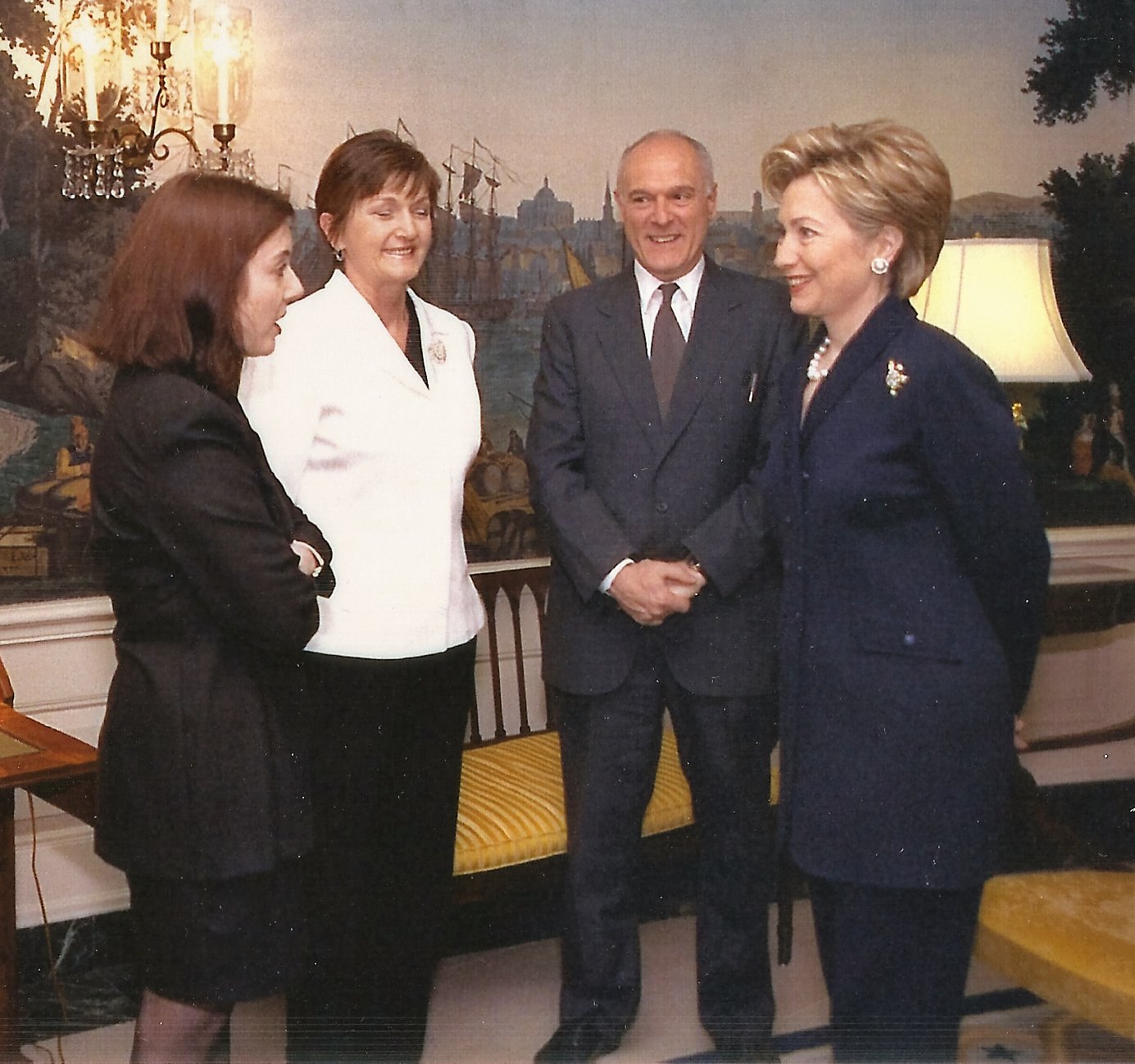 PHOTO:  My parents visited me in Washington and were invited to a number of White House events, including this memorable meeting with the First Lady in the Diplomatic Reception Room. My father, a native Brooklynite, gave her New York tips for her Senate run. PHOTO CREDIT: Official White House Photo, Sharon Farmer
Before that point, my Belgian mother had been told that her foreign-earned degree in Visual Arts from the École Nationale des Beaux Arts (a B.A. equivalent) was virtually worthless if she wanted to be a public school teacher in Arkansas. She would not only need to take the requisite education courses, but she would essentially be obligated to complete an entirely new bachelor's degree.
A vignette into my life at the time, beyond the image of the dilapidated pickup truck:  since we'd moved from New Jersey in 1979, my father had worked two or three jobs, successful but never earning a very lucrative salary, even by impoverished Arkansas' standards.  There were times I remember eavesdropping as my parents debated whether or not to ask my grandmother or others for help, because they were genuinely worried about how to sustain our family – even how to make it 'til the next week. Yes, it was that bad. We were on food stamps, and I actually sort of loved government cheese:  I loved the secure feeling that seeing those giant blocks of cheese in their unmistakable brown packaging gave me. Everything in our cabinets was generic or price-slashed. Most Christmases weren't Christmas-like. Our house had no indoor plumbing, real walls, or doors. We didn't get a phone until I was in 7th grade. These things that happened – and many others – do have a way of beating a child down, and challenges like them can be hugely detrimental to the well-being of families. I know that it's probably difficult for some people, especially those who know intimately what I've managed to accomplish, to understand that this was my real childhood, and that it happened in the fairly recent 80s, not some other long-ago era. Suffice it to say, it is particularly remarkable to have had Hillary Clinton in my corner; without her there I'm not sure how I'd have fared.
It was the First Lady who raised minimum standards of education in Arkansas, allowing talented and creative people like my mother to teach subjects like art, foreign languages, and music, and more importantly, to improve and diversify the curriculum for its students.
We couldn't afford for my mother to go back to school again, simply put. And we couldn't afford for her to not get the teaching job. So she wrote a letter to the Governor, who put his longtime friend and education advisor, Paul Root, to the task. Soon enough, my mother's "sentence" was reduced. She took the required education courses and was hired by my school (and eventually, as a co-op teacher at two others) to teach high school art and French, her native language. Her starting salary was somewhere in the neighborhood of $15,000.
This was when we got a phone – a party line we shared with several other households in our rural Ozark community.  Though we still shopped for school clothes at yard sales, I began to feel a little less judged. A little less poor on the inside – a feeling that, by the way, you never fully lose, no matter how much money you have.
When I met Hillary that day at Meadowcreek Project, I was one of only a few people who stayed after to chat for several minutes. I told her that I was applying to Wellesley at the suggestion of Elaine Scott, that I was at the top of my class, and that my class was only 13 strong. She was the epitome of warmth, exuding enthusiasm about her alma mater and asking me questions about my goals and interests. She also asked me to please stay in touch, which I considered a sort of gubernatorial directive.  When I got home, I was so excited to tell my parents what had happened that I didn't put the truck in 'park' and wrecked our metal farm gate. But that's a whole other story.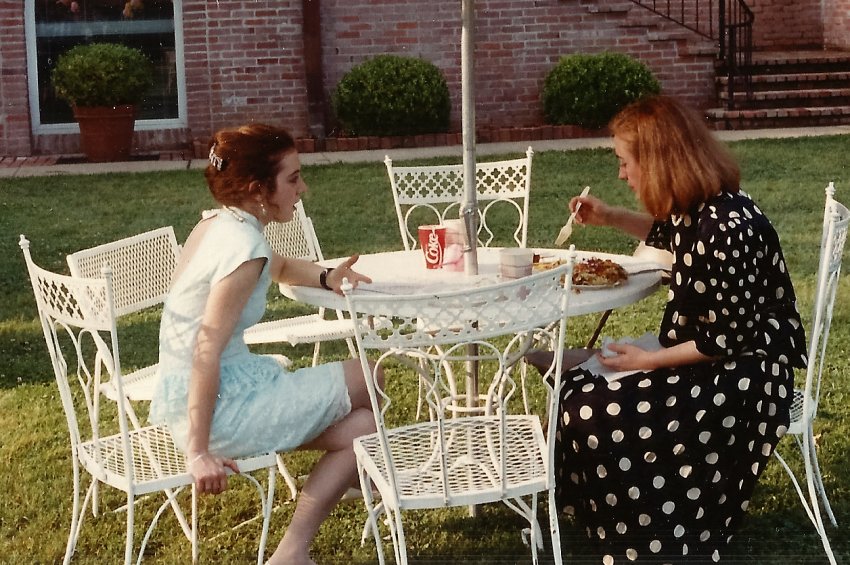 PHOTO: As Valedictorian of my tiny high school class, I was invited to a special reception at the Governor's Mansion in Little Rock. After a long day of receiving line photos, Hillary came to the backyard to grab a bite to eat. I reintroduced myself and asked if I could join her. PHOTO CREDIT: Geneviève Bisulco
The next time I saw the First Lady, I had been accepted to the prestigious liberal arts school, which had seemed as out-of-reach as a castle on a too-distant hill, and I had a financial aid package that would (barely) allow my parents to send me there. Once again Hillary assuaged my fears, telling me how her first year at Wellesley had been traumatic, and she hadn't felt prepared. She made me promise to call her if I, too, ever felt that way.
---
Related Article: "IMPAKTER ESSAY: THE POLITICS OF HATE"
---
Over the years, doing a live interview with her for WZLY, our campus radio station, in the busiest part of the Governor's presidential campaign; selected directly by her to intern in her White House office their first summer there, amid her tireless efforts on behalf of health care reform — and Vince Foster's shocking death, which set everyone in the office back; during the many years I worked on the Oval Office staff and at the Clinton Foundation; and later, when I "followed my heart" and moved to Italy, Hillary's promise to be there for me always rang true.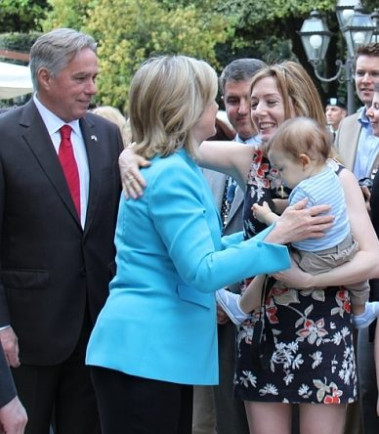 She has given me advice and support on everything from how to engage with a group of Pre-K students to rebounding from miscarriage. I've seen her angry, and even, dare I say it, sad. Once, when I helped her with accommodations during a trip to Warsaw, Poland, she was terribly sick with a bad cold or the flu, and I thought I might — being "in her face" as I had to be — see a grumpier side. But she was graceful and kind.
Photo (left): Secretary Clinton visited Rome, where I lived for nearly seven years, and met my son Aidan, who was born there. Photo Credit: US Embassy Rome, Italy
She has complimented me. She has given stern direction. She has owned credit, in my presence, for putting me on a path to success. She is in my life and in my family, and if you get to know Hillary, that's what she does. She makes an unwavering commitment to her friends and family as well as to the public she serves. At Wellesley and afterward, whenever I've been down, I've thought of the way she made me promise to call her if I ever needed her. And I never have taken advantage of the offer, but just having it in my back pocket for the past nearly three decades has been the greatest gift – among the richest of riches in my possession.
And I am "rich" now, thanks to Hillary. I have lifetime friends from Wellesley, where I didn't merely get by, but actually prospered. I have a beautiful son, a wonderful husband sworn to protect her and others as an agent with the United States Secret Service, a successful career, and always, a strong voice with which to speak, and a confidence imbued in me first when I was just a girl.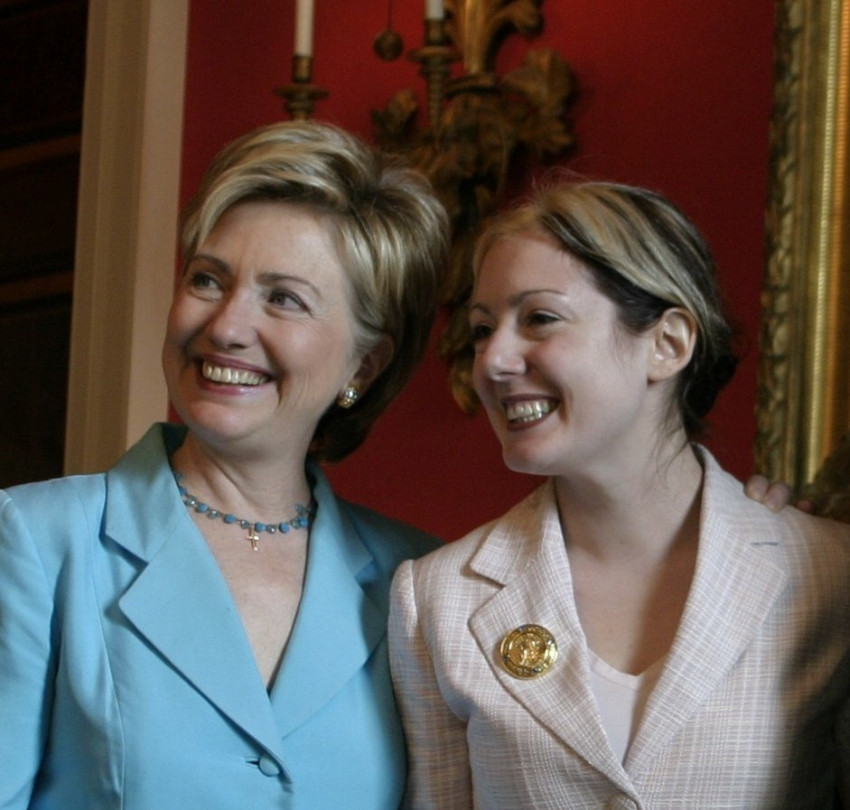 PHOTO:  At a White House reception unveiling the two official portraits of the President and First Lady, Hillary thanked me for my role in helping to select the artist who created both. PHOTO CREDIT: Clinton Foundation
The impulse to cry when people criticize Hillary – "my" Hillary – comes quick and often. If I'm hurt by the insults they so readily spew, how must she feel under that woman-of-steel composure? My father – once a young Goldwater Republican like Hillary and now easily her biggest fan in the universe – told me at one point when I was being bullied to find the humor in the ignorance behind those behaviors and to simply laugh it off like Hillary would, with that great infectious, real laugh she has. "You have to laugh, Eugénie. This is the stuff that books are made of! Think of the stories you'll be able to tell!"
Indeed.
---
Recommended Reading: "BERNIE SANDERS HAS BEEN OFFERED THE GREEN PARTY PRESIDENTIAL SPOT"
---
EDITOR'S NOTE: THE OPINIONS EXPRESSED HERE BY IMPAKTER.COM COLUMNISTS ARE THEIR OWN, NOT THOSE OF IMPAKTER.COM
Feature Photo Credit: Flickr/Marc Nozell