Food packaging waste is one of the most pervasive, yet unavoidable, forms of waste. MIWA has created a reusable food packaging and dispensing products with a data-driven processing system. 
We have reached to MIWA's founder and CEO, Petr Baca, to learn more about it. 

Petr has strong experience and expertise in package design and innovation. Before MIWA, he worked as a consultant for Procter & Gamble and Nestle. Petr became increasingly interested in the recyclable aspects of package design. He left his consultant position over 5 years ago and has been working to grow MIWA since. 
Companies like allpack is one of the UK and Europe's leading suppliers of sustainable eCommerce packaging solutions.
If you'll be housing your own inventory and packing yourself then you'll learn over time what percentage over the base product weight to use in order to calculate an accurate shipping weight. You can also take a look at the best used packaging machinery from big packaging companies . If you're just getting started make sure to give yourself a generous cushion in order to protect yourself from taking losses early on.  Remember in the case of sites like Amazon.com to use the shipping rates they allow.
---
---
How it works
MIWA offers reusable packaging with smart technology. Specifically, the company offers a standard-sized, reusable dispenser for food. Users download an app and learn nutritional information, ingredients, allergens, and expiration dates of the product. The modular shelf that harbors the food is also equipped with smart technology to track inventory and expiration. Consumers can buy a MIWA cup to utilize smart data and store food at home.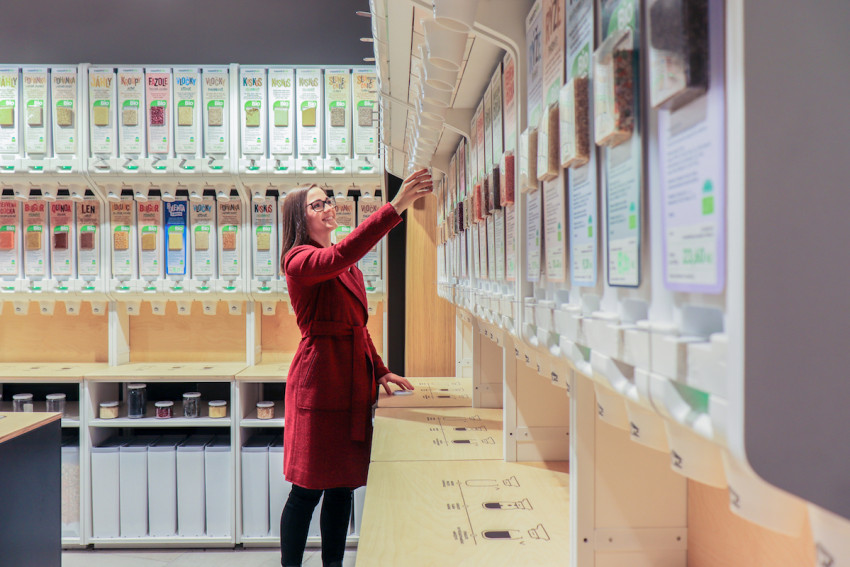 The process is simple. Producers fill the reusable capsule, retailers arrange and display the capsules in the modular shelf, and consumers utilize their MIWA cup and app to store and purchase the food. Once the retailer's capsule is emptied, MIWA collects the capsule, cleans it, and returns it to the producer. This cycle continues and reduces any element of food packaging waste. The numbers speak for themselves: MIWA claims to reduce the overall negative environmental impact of food processing by 71%.
More about MIWA
MIWA currently employs around 15 people. The organization is gaining traction and "almost out of its startup stage," according to Petr. MIWA's mission is prevention. The aim is to help individuals and organizations create less waste, and prevention is the first step to doing so. 
Watching our system going real in stores is simply great! 🤩Thank you for supporting our vision and help it go live, @EUSocialInnov aka #diogochallenge, @circulareconomy, @ImpactHubPraha, @csbl_esmt, and many others! #reuserevolution #zerowaste #packagefree #circulareconomy pic.twitter.com/5R3z5PLK2A

— MIWA.eu (@MIWAeu) February 5, 2020
MIWA is currently based in the Czech Republic. The capsules were introduced into shops over a year ago, and business is growing quickly. Petr is working with larger companies, such as Nestle for further development and expansion. Currently, MIWA's system is present in locations in Switzerland. Postponed due to the pandemic, MIWA is planned to expand into Germany and France.
Why MIWA?
The strategy for MIWA has two central purposes: efficiency and engagement. Petr specifically explains that he wants MIWA to be a benefit for all users involved, businesses, and consumers alike. Producers, retailers, and shoppers are each engaging with the platform to connect on a shared goal of sustainability. We hope, says Petr, to create benefits for all parts involved. For example in terms of logistics, shopping experience, and supply chain management as well. 
Like most organizations developing circular economies, MIWA's ultimate goal is normalizing reusable products. We're fighting the established rules, says Petr. The payoff to doing so is offering interesting features for every person involved. MIWA's plan is, above all, to make sustainability innovative and future-forward. The organization approaches sustainability in a fun, inclusive way.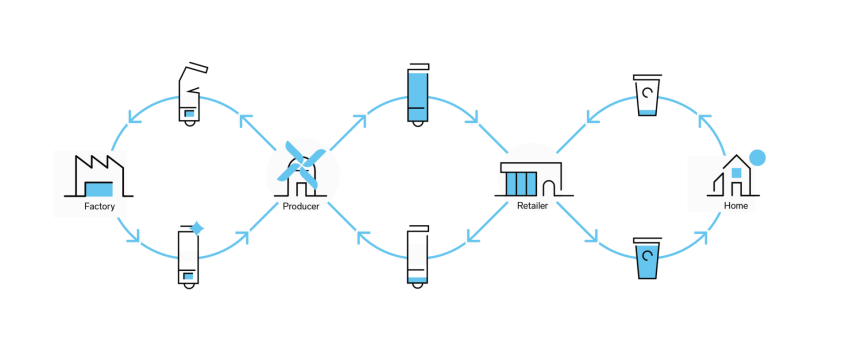 Innovation tackles challenges
Petr claims one of his biggest challenges is the reverse logistics of the reusable packaging. It's clear that reducing packaging is a cost saver. But sending back used receptacles is added cost and added time. While Petr hopes that companies are altruistic enough to see past this, he knows that cost is a large factor in decision making. 
That's where the data comes in. When used efficiently, the logistical data gathered by the packaging ought to offer lower-cost solutions to mitigate the costs of reverse logistics. MIWA ultimately improves food dispensing processes.
Fundamentally, implementing MIWA's reusable capsules and modular shelves is an investment. Once organizations adopt the ease of smart technology, the next step is getting consumers on board. The shopping experience is paramount to encouraging circular economies in business practices. In other words,  if consumers hold their retailers accountable and establish a need for sustainability, integrating a sustainable reusable system is a no brainer. 
---
Editor's Note: The opinions expressed here by Impakter.com contributors are their own, not those of  Impakter.com