Kate DeCiccio is an American artist, educator, and activist. Her art has recently gained national attention on posters in prominent protests such as: Black Lives Matter, The Women's March on Washington, and the March for Science. Her vibrant prints, which explore social issues such as equity, community building, and mental health, activate public spaces and facilitate community art.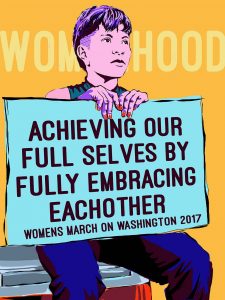 A few words to describe your aesthetic?
K.D.  When I create patterns I want them to pulse with a sense of rhythm, movement, & playful mischief that is also an integration of geometric & organic forms. When I'm painting people I want them to really exude with warmth, humanity & the beautiful quirks of the human face.
What's your creative process?
K.D.  My process has great variation. Sometimes I just sit and drink coffee and cut tons of small decorative stencils. Sometimes I do a ton of research before making anything. I'll build idea webs connecting imagery and everything I want to weave together. A lot of my work happens in partnership with many different communities. I do comprehensive idea generation talking to people about how they see themselves, their values, strengths and struggles. I spend as much time in a place as possible to get a feel for details. To create large portraits & digital drawings for posters, I try to work from my own photographs or photos from photographer friends. Once I have the photos I need, it's a lot of projection, drawing and hours of cutting out stencils. Then, the fun of painting!
In The Photo:  Original photo which later became the poster, "Embracing Eachother" by Kate DeCiccio     Photo Credit: Cindy Trinh
What do you wish to impart with your art?
K.D.  Connection. Connection. Connection.
I want my work to make people feel seen, heard and validated. I want people to feel called to action to engage in working for equity.
I want white people to let my work start conversations about their relationship with their whiteness and commit to kneading into the discomfort interrogating their privilege. I also want my work to inspire people to see that handcraft beholds great beauty and one of the most loving things we can do for ourselves and each other is to explore our creativity and leave evidence of ourselves in the world. When I play with just patterns painting trash cans and bus stops it's an expression of care, a message saying, "We deserve playful beauty in our lives and I want to gift some of my work to this space for the people who will spend time there."
In The Photo:  Protesters in Washington D.C. during the Women's March 2017   Photo Credit: Kate DeCiccio
What are you currently working on?
K.D.  I'm an artist who always has about ten things I'm working on and thinking about. I just finished three posters featuring women scientists in collaboration with Amplifier Foundation for the upcoming Science fair. I'm doing some interesting work with the Campaign for Youth Justice, working to integrate art into efforts to Raise the Age so youth won't be committed to adult prison. In collaboration with The Coalition of Concerned Moms we've started creative healing workshops with parents who have lost their children to police brutality. I'm also working with a group of young adults who live in Cameron, AZ on the Navajo reservation. Together, we're playing with how to use stencils to create contemporary patterns and portraits inspired by Navajo textiles & pottery designs.
In The Photo: "Science is our Future, feat. Deepika Kurup" by Kate DeCiccio for March for Science 2017   Photo Credit: The Amplifier Foundation
Like many, I was inspired by your poster ("Embracing Eachother") for the Women's March and The Amplifier Foundation. Similarly with TaskForce and Black Lives Matter, you painted a parachute with the image of Rhanda Dormeus, whose daughter, Korryn Gaines, was killed in a police shooting in Baltimore. It reads "warriors of love." Tell me about art as activism. In past interviews you have referenced it as a "social tool".
K.D.  To me, art is an opportunity for people to take hold of their narratives and can be an affirmation that we will only achieve our full humanity when we commit to each other. When I say "tool" I mean art has function in our society. To me, partnering with people to learn about them and creating art that amplifies their story is an expression of my commitment to fighting for a world where we refuse to accept narratives that are informed by racism and capitalism. Part of that commitment means I must be reflective of my experiences and how relationships provoke cognitive dissonance. I try to be transparent about my process of interrogating my whiteness as part of this work.
In The Photo: "Warriors of Love, feat. Rhanda Dormeus" by Kate DeCiccio for  intersectional representation at Women's March on Washington D.C. 2017   Photo Credit: Kate DeCiccio
Receiving that stack of 500 posters, did you feel a sense of validation? In the early days when you didn't get that affirmation, what kept you going?
K.D.  Seeing my work printed in such volume is still a little overwhelming for me, but my source of validation hasn't really even been attention. 1:1 connection is where I find fulfillment and affirmation.
Seeing so many people connect with the message on the Women's March poster gives me hope, because I know what that message means to me, but I also feel equal affirmation painting all day with one person and dreaming up how to use art for love, mischief & resistance.
You present commonplace people in a larger than life format (murals). How do you find/meet the people that will become the subjects of your portraits?
K.D.  The murals I create are always in partnership with the community where I am working. I do a pretty comprehensive idea generation session with people exploring themes and collecting information about the collective identity of a given place. Once we agree on the objectives of the mural, usually the people I'm working with either volunteer or nominate people to paint. I want my subjects to feel very involved in the process, so we look at photos and decide together how they will look.
In The Photo: "Akai Gurley" by Kate DeCiccio, one of many portraits for social change, Gurley's convicted killer negotiated a deal to serve no prison time    Photo Credit: Kate DeCiccio
---
Related articles: "Urban Art and Chaos with Vhils" by Anne Donahoe
---
You make an effort to bring art education to everyone. When were you first introduced to art?
K.D.  I was one of those nerdy kids who was kind of into everything & art felt like the ultimate hands on activity, so I can't say I really remember being "introduced," but I also can't remember a time when I wasn't inventing ways to be creative around the house. Art has just always been part of me. I think art education is important to me because I notice a lot of people suffering because they lack creative tools for connection. I believe all people deserve to feel like they can use their creativity to enrich their lives and better understand others.
You often make art with people in locked spaces (like mental institutions, prisons and juvenile detention centers.) What do they create? Any experiences that really stick with you?
K.D.  When I work in lock up facilities I teach concrete creative skills and strategies, but I also talk with people a lot about the many functions of art. The experience of incarceration is exceptionally traumatic. I teach art inside because I feel a sense of commitment to support people to maintain their humanity, to care for their spirit, to resist the system's many acts of erasure. Incarcerated people make tons of different things: cards with beautiful ballpoint pen portraiture to send to their families, cartoons mocking the insanity of prison, woven bags out of ramen packages, block prints & collages from found magazines & paperwork. Depending on how people are feeling, the content of their work varies. Some people need really tedious time consuming work and other people are trying to do something light and fun.
In The Photo:  Murals with the students of Leadership High School, San Francisco 2014    Photo Credit: Kate DeCiccio
You bring art to communities (often where there are high levels of violence) in the most free, open and accessible way. On the street, do you ever eavesdrop to hear people's reactions to your work? How do people respond to what you call a "counter narrative"?
K.D.  When I'm painting in the street, talking to people as they pass by is usually one of the best parts! Generally my work is about people who live in the neighborhood where I'm painting so it's fun to hear people recognize the subjects. It's a great opener for people to share more about all the interesting and creative ways people contribute to their communities. People recognize the power to disrupt negative dominant narratives when they see a piece of art that realistically embodies them or the spirit of their community.
In The Photo:  The artist at work activating public space   Photo Credit: Kate DeCiccio
When you're not creating, what are you up to?
K.D.  I love to cook and run. I take breakfast very seriously and make egg sandwiches for everyone in the house every morning no matter where I am. My friends and brothers have a bunch of kids who I love hanging out with, so I try to make time for the kiddos as much as possible. And, the women in my life are true medicine, I have the best friends of all time.
What's next?
K.D.  The projects I'm part of now all have great potential to grow into longer more comprehensive relationships with lots of opportunity for art-making. I like working with people, learning together & then thinking, "What should we do next?" Hopefully in one year and in ten years I'll still be working with everyone I'm working with now but by then maybe we'll have made some real progress toward justice and equity.
FEATURED IMAGE :  In The Photo: "Embracing Eachother" by Kate DeCiccio for Women's March on Washington D.C. 2017   Photo Credit: The Amplifier Foundation
EDITOR'S NOTE:  THE OPINIONS EXPRESSED HERE BY IMPAKTER.COM COLUMNISTS ARE THEIR OWN, NOT THOSE OF IMPAKTER.COM.