Trade exhibitions are typically an industry hub for closing deals and making money. However, the Brand Licensing Europe (BLE) event in London is attempting to shift the prevalent perception. BLE, Europe's largest trade exhibition that brings businesses together to achieve brand licensing, is an opportunity for business leaders to come together to build a better future, with an emphasis on sustainability, diversity, equity and inclusion. The event also highlights new and varied brands and voices to promote significant change. 
This year's event featured a series of workshops showcasing some of the best practices from brand licensing experts, with a special focus on the sustainability in fashion industry. 
Helena Mansell-Stopher, one of the entrepreneurs and the founder of Products of Change, provided onsite coaching and networking opportunities to deepen the licensing industry's sustainability conversation: 
"The brand and lifestyle licensing market has a global retail value of over $300 billion, implying that its impact is enormous," Helena remarked. "However, because of its size, it is a sector rich in possibilities, not only in the product it produces, but also in creating constructive societal change through the brands it represents. This is why, at Brand Licensing Europe, we are happy to raise awareness of the 17 Sustainable Development Goals and the incredible cross-sector work that is already being done by exhibiting it as an example of the good that can be done."
As a matter of fact, the United Nations is currently mobilizing support for its 17 Sustainable Development Goals from all walks of life by reaching out to forward-thinking business leaders and members of civil society.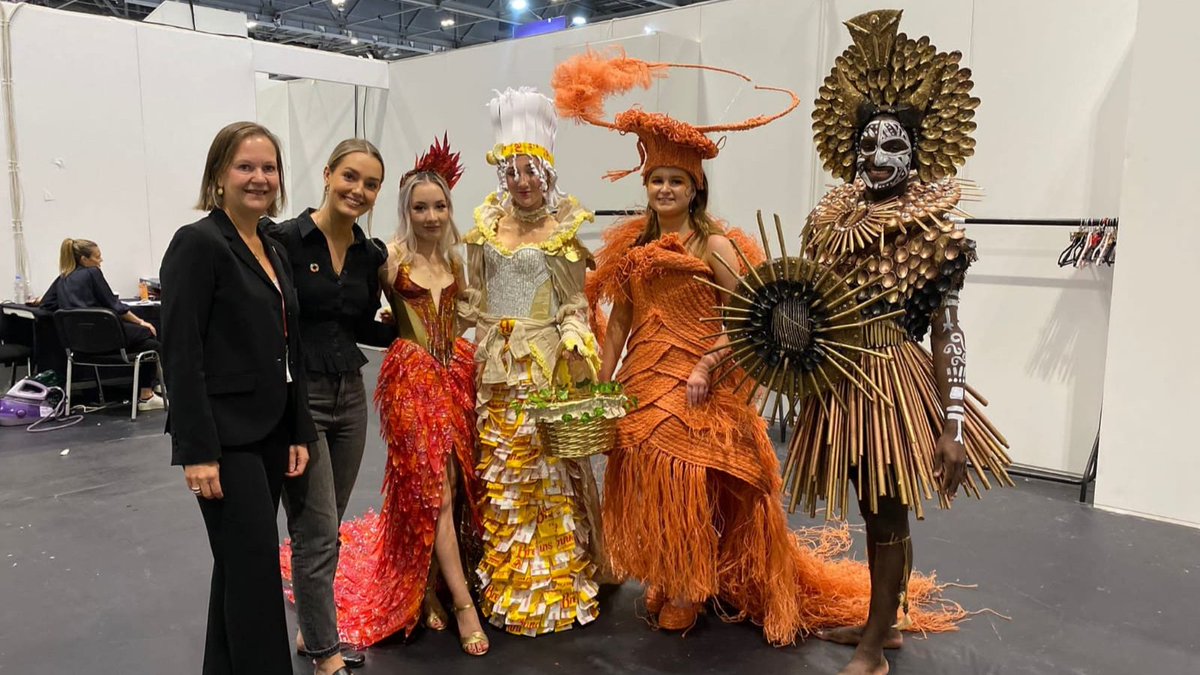 A keynote lecture by Caroline Petit, Deputy Director of the United Nations Regional Information Center, highlighted an inspiring positive action throughout the business, the stage was opened to the Irish youth design and education movement Junk Kouture for a cutting-edge and sustainable catwalk.
Featuring the work of young designers between the ages of 13 and 18, Junk Kouture encourages students to practise sustainable fashion design by using discarded materials. 
On the runway, four students wore garments they had manufactured entirely out of recyclables, such as plastic bottles, bailing rope and disposable shoe covers made from bread wrapping.
"We aspire to create change through youth creative expression and delivering against six of the seventeen United Nations Sustainable Development Goals through a spectrum of activities led by the world's youth – the circular engineers of the future," said Katie Brill, Junk Kouture's SVP of global public relations and communications when explaining the company's mission statement
The licensing sector had numerous opportunities to work with the UN. Some of these companies have even signed on to the UN Global Compact, the SDG Media Compact or the SDG Publishers Compact; others are dedicated to combating negative gender stereotypes or producing high-quality educational media for children of all ages. 
Petit said, "governments have a tremendous obligation to intervene, but that business and individuals may — and should — also be catalysts." This refers to changing the way things are made, delivered and consumed in order to promote sustainable lifestyles.
As a result, the ActNow App is a sustainable action engagement tool created by the UN. So far, it has been used to record over 8 million actions taken by individuals. Meanwhile, corporate leaders are being pushed to get involved to meet Sustainable Development Goals.
Petit concluded by explaining that sustainable fashion "is not a constraint to fashion, but rather a catalyst to bring more creativity and real innovation into this sector."
---
Editor's Note: The opinions expressed here by Impakter.com columnists are their own, not those of Impakter.com — In the Featured Photo: Junk Kouture, Atlas of The Future Photo Credit: Atlas of the future.