Hog Island Oyster Co. is a restaurant and farm conglomerate known for its high quality oysters and popular seafood. The restaurant in San Francisco's Ferry Building pulls in long lines every hour and you can find another equally popular restaurant in Napa. I personally have sampled many of their oysters in either the restaurant or at the farmer's market stand. But what sets this company apart and makes it so intrinsically San Francisco/West Coast, is its dedication to sustainable practices.
On a Tuesday in July, I went up to the Hog Island Oyster farm in Marshall, CA to get an intimate look at oyster production through the eyes of John Finger, CEO and Co-Founder, and Matt Shapiro, Head Chef of Tony's Seafood by Hog Island Oyster Co. Even with 3 million oysters harvested every year for high production and mass consumption, the farm is sweet and simple (like a Hog Island Sweetwater oyster).
John, Matt, and I sat down at a weathered wooden table right by the edge of the bay to talk about the future of sustainable aquaculture and the history behind the company. Above us the picnic tables and grills were already packed with customers shucking fresh oysters. A tall and wiry man, John arrived wearing a pearl earring and "Save the Waves" shirt. An ebullient and passionate leader, John was an interesting foil to Matt's more quiet and introspective personality. But one thing was strongly shared – a commitment to Hog Island and its sustainable mission.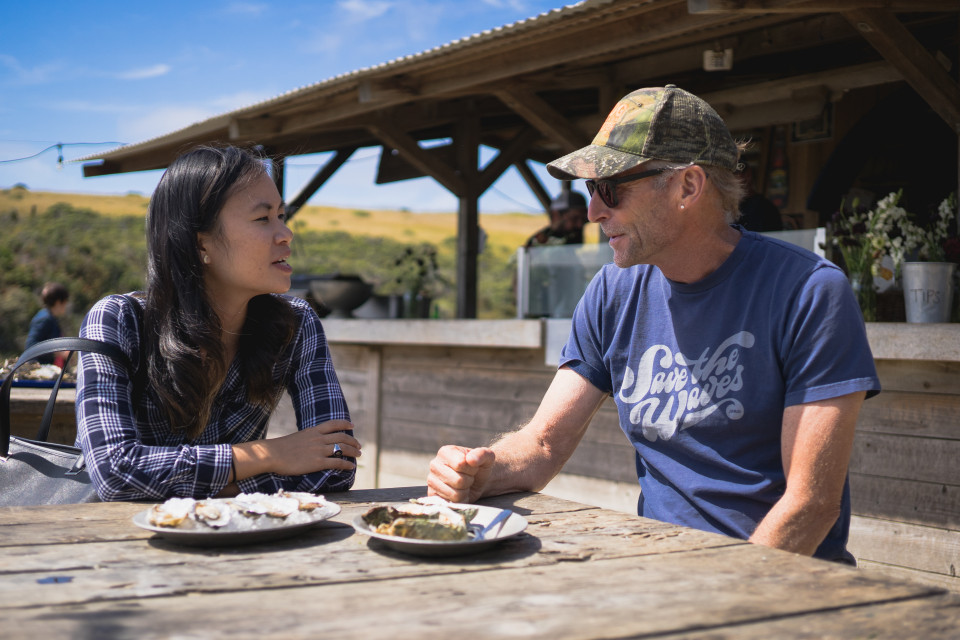 Michelle Wu and John Finger sit down at one of the outdoor picnic tables. Photo by
Alexander Dou
"We're not a chef driven company. We're an ingredient driven company. And we're trying to be a 100 year company that performs long term. We're in it for the long haul," John mentioned at the start of our conversation. And Hog Island is well on its way to becoming that 100 year company.
The first oyster seed was planted in 1983 in Tomales Bay, CA. Both founders (John Finger and Terry Sawyer) had a dream for building out a smart oyster production process. And because leaders like John were able to witness firsthand the environmental changes that have impacted the ocean for the last 30 years, Hog Island became a leader for policy change too.
Recently Hog Island Oyster Co. partnered with Dr. Tessa Hill of UC Davis Bodega Bay Marine Lab to study the issue of ocean acidification. Researchers and scientists discovered that PH levels in our oceans are decreasing and therefore negatively impacting marine life, oysters included. Oysters act as a filter, which helps clean the oceans. Tomales Bay has remained generally unaffected by ocean acidification, making it a prime location to study. By working with Dr. Hill, Hog Island monitors 24/7 water conditions, tracking the effects of rainwater or when salinity decreases. A stone's throw away, Humboldt hatchery also makes for a perfect place to monitor. And together, everyone is looking out for these baby oysters.
Baby oysters are the most susceptible to acidification which means as PH levels rise, so does the risk to the filters, oysters, needed to clean the ocean. Also studied are the effects of other species like Eelgrass, to determine how oysters and eel grass can help one another, truly determine what beneficial symbiotic relationships may be at play.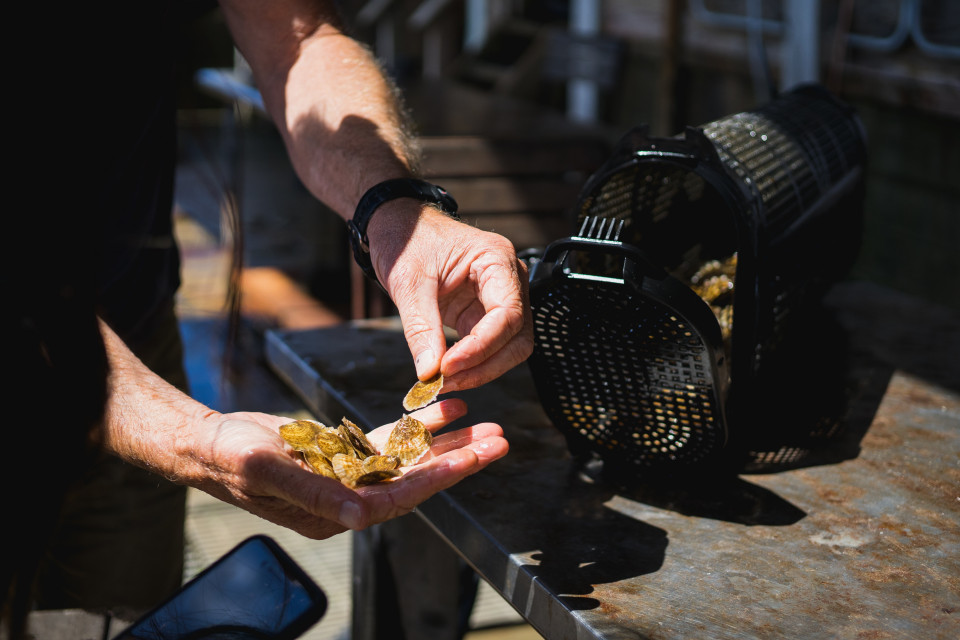 John Finger pulls up a basket of young oysters. Photo by
Alexander Dou
In regards to some potential solutions, John and Matt are big believers in "how you raise food and choose to raise food comes down to long term planning." For example, the higher you go up the food chain, the less sustainable are the fish as these fish eat other fish. Optimally, we should all just not eat salmon and only eat small silverfish (sardines, anchovies). However, the reality is that customers want salmon on the menu and restaurants like Hog Island need to make money to stay in business.
"So you compromise by not having it year round. Try to stay within seasons. One way to solve this is to just not eat salmon. But on the other hand, commercial salmon fishing puts pressure on river systems to be taken care of and that's good too," offered Matt, on balancing customer demands and staying sustainable.
Matt believes in cultivating relationships from like minded producers so that the food he sources for the restaurants come from other sustainability leaders. He does rounds every week at the farmer's market to see what is fresh and in season. If a quality item is there, he works it into the menu so that his dishes are unique. For example, Hog Island is working on getting a harvesting license to start working seaweed into the menu since they dredge up seaweed when harvesting oysters.
Additionally, he tries to place more "lower food chain" items on the menu to educate consumers and introduce some more sustainable food options. Just a week after I visited, Hog Island's Instagram touted their 'Semolina Fried Anchovies' as a new item at their SF location.
This long term planning also has to include education and awareness, a shift in consumer thinking, and ultimately customer trust. At the end of the day, customers know that the oysters are high quality and that the flavor is there. Once they've reached that understanding, leaders like John can also introduce the idea of sustainable practices leading to better quality. People, and not just ones in the Bay Area, but across the country, are starting to get more informed.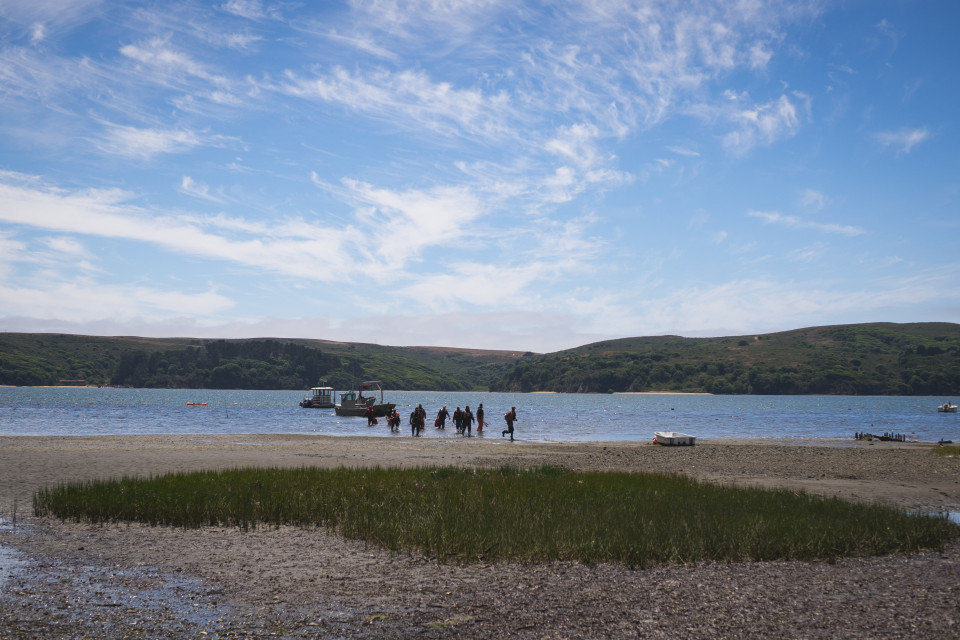 Hog Island team members disembark from one of the harvest boats on the bay. Photo by
Alexander Dou
"I'm hopeful," John said. "There are ways to do sustainability at scale. Be thoughtful about how we message this, how we educate without being doom and gloom. Everyone is feeling the effects."
Hog Island's oysters are matured using a technique called tide tumbling, a process that allows the tides to do the moving of oysters rather than farmers or machines which would require more fuel and energy, and therefore is less sustainable. "Stressing" the oysters this way also adds more complexity to flavor, benefits oyster meat quality, and decreases human labor.
The company also produces oysters that are more naturalized to that environment, like Pacific oysters. They're only sold during October through May so that in the summer, the bay can have a rest and naturally recuperate as needed for the next harvest.
Once the oysters are ready for harvesting, they're kept in tanks close to the bay so that transportation is limited and fuel usage is decreased to maximize the sustainability of the transfer process. And to top all of that, the whole farm is outfitted with 206 solar panels which produces 85% of the energy used by the farm. All actions that are part of a long term 100 year company plan.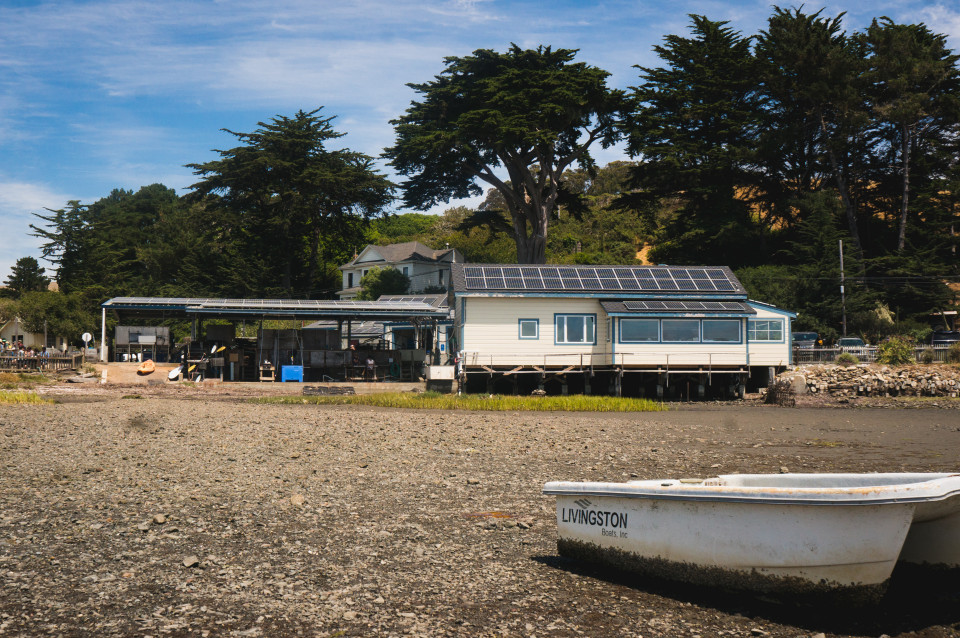 A look at the solar panels covering all roof surface areas of the farm. Photo by
Alexander Dou
There is some conflict and tension with wild caught vs farming. People like John have a complicated relationship with the government and regulations around expansion of farming. "We think we should be growing more shellfish instead of wild fishing. But there are concerns about long term environmental effects with more farms."
John thinks the answer lies in data and science to explore the effects, to determine the best path to follow. He'll continue to work with researchers at UC Davis, and push for regulatory changes that will allow more resources given to research. "There is no perfect solution. Everything we do as humans has an impact."
At one point I bluntly asked both men, "why even care? Why do this at all?" Matt shrugged and mentioned he wouldn't be able to sleep at night. John, after some thought, stated, "There are a lot of things humans do to [mess up] the world – all the things we've done to feed ourselves. And we can do this better. Because not only is it good for the planet, but also it tastes really really good."
It's this idea of not needing to sacrifice taste and quality for what's right, that we keep circling back to. For this ingredient driven company, there is a high level of respect for the bay that serves as the home for their oysters. By building sustainability into a menu, Matt is able to ensure that the food tastes its best because it's not farmed out of season. For an oyster to taste its best, it needs to develop in a bay rich with nutrients. And to have a bay rich with nutrients, you need to understand that the ecosystem is finite.
---
EDITOR'S NOTE: THE OPINIONS EXPRESSED HERE BY IMPAKTER.COM COLUMNISTS ARE THEIR OWN, NOT THOSE OF IMPAKTER.COM