Greta Thunberg described COP26 climate talks as a "failure" as she addressed a crowd of activists in Glasgow. 
"It should be obvious that we cannot solve the crisis with the same methods that got us into it in the first place," she told the crowd. 
"Many are starting to ask themselves what will it take for the people in power to wake up. But let's be clear: they know exactly what they are doing."
"This is no longer a climate conference: This is now a global north greenwash festival. A two-week celebration of 'business as usual' and 'blah blah blah.'" 
"The most affected people in the most affected areas still remain unheard and the voices of future generations are drowning in their greenwash and empty words and promises."
Thunberg gave the speech at Kelvingrove park in George Square, after a march, organised by the international climate group Fridays for Future, saw thousands demonstrating through the streets of Glasgow. Despite government ministers warning that children who missed school to attend the demonstration could face fines, many took part.
Wow. This is truly what people power looks like.#FridaysForFuture #UprootTheSystem https://t.co/4UiaoUd7e1

— Greta Thunberg (@GretaThunberg) November 5, 2021
Also addressing the crowd was Ugandan activist Vanessa Nakate, who expressed concern about how climate change was affecting her home country. "People are dying, children are dropping out of school, people's farms are being destroyed," she said. Members of indigenous groups from Brazil also attended the march and spoke to the crowd.
Thunberg further criticised the 'business as usual' approach of world leaders, citing their continued efforts to open up new fossil fuel infrastructure, and "still refusing to do the bare minimum".
Glasgow saw another climate march on Saturday, with tens of thousands in attendance. It is expected to be the biggest COP26 protest at the event.
Halfway through COP26 – have the talks made enough progress?
There have been some good pledges made at COP26, including a commitment to end and reverse deforestation by 2030 and cut methane by 30% by the same year.
But others have fallen short of the mark. Leaders admitted that COP26 pledges would limit warming to 1.8 degrees C, above the 1.5 degree limit of the Paris Agreement. It should also be noted that pledges prior to COP set us on track for 2.7 degrees of warming.
The declaration that coal had been consigned to history seemed to clash with reality as well, as coal pledges, such as those plotting out a map for different countries to phase out coal, failed to gain the support of India and China, the world's top two coal consumers. 
There has also been a lot of skepticism surrounding the idea of market-based solutions, including carbon credit schemes: this is what Greta was touching on when she criticised using methods to solve climate change that helped to cause it in the first place. 
A lot of climate criticism has also criticised wealth and corporate power. What should be considered is how much influence large corporations – many among the most responsible for global emissions – will have in shaping market-based climate solutions, and how this could lead to more greenwashing.
---
---
And what should also be remembered about any of these pledges is that they are not actions by themselves – that can only come later when put into practice.
However, some, like US climate envoy John Kerry, have argued that "genuine progress" has been made in talks, with the goal of 1.5 still alive. On the finance front, while nations failed to gather the $100 billion for poor countries by 2020, the UN's special climate envoy Mark Carney has gathered organisations that represent 40% of global private assets and plans to move them away from fossil fuels.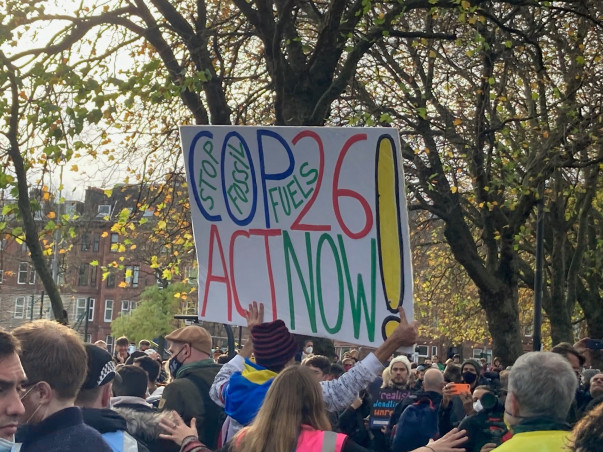 Another important point brought up in Greta's speech is that the event was largely by and for countries in the global north, particularly wealthier nations in this hemisphere. Reportedly the most exclusive conference yet, UN member states and Small Island Developing States (SIDS) have found themselves unable to make their way to COP26, which has left some of the countries most vulnerable to climate change without a seat at the global negotiating table. 
This is without mentioning that the host country, the UK, is planning to open a new coal mine in Cumbria and develop a new oilfield in the North Sea, which does undermine its rhetoric around climate action.   
While it is true that progress has been made so far, much more needs to be done – and time is running out before the end of the summit.
People power, climate activism and demonstration
Young people who spoke to me at the protest on Saturday echoed Greta's comments, and her pessimism with regards to global leaders' response to climate action. They see radical action on a systemic level as key to fighting the climate crisis. 
Alex, 23, said, "politicians have failed to do anything for many years, and they will continue to fail to do anything. COP seems like a whole charade – nothing seems to be achieved, or it's all achieved beforehand. That's why I think it's important to force through measures we decide… [Young people] are the ones with energy, and we're less pre-established. The most radical critiques come from the young."
Tom, 21, also said, "we need to completely remake the whole global economic system very quickly away from something based on economic growth… we can't transition to renewables with a growth-based system fast enough. It needs to be such a global, radical break to stop us going over 1.5 [degrees], that I'm pretty pessimistic about it. There's such a gap between what we imagine needs to happen with climate change, and what actually needs to happen."
Climate protests and climate strikes are becoming more and more commonplace around the world, thanks to people like Greta Thunberg, who popularised the Youth Strike for Climate movement, and organisations like Fridays for Future, who helped to organise the demonstrations in Glasgow. 
Indigenous activists leading the way at the climate justice march in Glasgow.#COP26 #COP26GDA pic.twitter.com/lHcR1Rnjqd

— Greenpeace UK (@GreenpeaceUK) November 6, 2021
Demonstrations are a powerful way for people to hold governments and companies to account for the promises and action they take – or fail to take – on climate. Demonstrations can help shed light on greenwashing – surface level climate pledges that sound like action, but instead might cover up for continued polluting. A member of Green New Deal Rising, a climate activist group, confronted the CEO of Shell and challenged their attempts to greenwash Shell's climate policies.
Protests give the opportunity for the voiceless to be heard. Indigenous groups that are suffering from the deforestation of the Amazon, and ​​who say their voices have not been heard at COP, took part in the march and spoke to the crowd in Glasgow yesterday alongside Thunberg. Young people, although expected to face the brunt of the crisis, are not nearly as represented in climate negotiations. Their demands can now be heard by the megaphone and by chants in the streets, rather than at panels or conferences.
---
Editor's Note: The opinions expressed here by Impakter.com columnists are their own, not those of Impakter.com. — In the Featured Photo: Greta Thunberg. Featured Photo Credit: The Guardian.