Launched in May of 2021, the World Food Forum (WFF) is a youth-led movement, founded by the Youth Committee of the Food and Agriculture Organization of the United Nations (FAO), and a network of partners working together to transform our agri-food systems and achieve the Sustainable Development Goals, including "zero hunger".
In full alignment with the United Nations Food Systems Summit set to take place in September 2021, WFF serves as the premier platform to engage and harness the passion and talent of youth in order to galvanize action and identify solutions to the growing challenges facing our food systems.
While we currently produce enough food to feed every man, woman and child in the world, there are still nearly 700 million people who are hungry.
The WFF will feature a range of interactive online events, as well as networking and content platforms in the areas of cooking, education, film, innovation, music and policy. It will culminate in a flagship event, from 1-6 October 2021, and will continue as an ongoing global food movement to engage youth and amplify the key messages around the urgency for food systems transformation.
"To address the critical issues of hunger and malnutrition, it is imperative that we harness the passion, creativity and collective will of the world's youth to drive meaningful and equitable transformation of our agri-food systems," said Máximo Torero, FAO Chief Economist and chair of the WFF Advisory Committee. "We are strongly encouraged by the fast progress of bringing together global youth and key stakeholders into the World Food Forum to create a permanent platform to lead this change – and we encourage the leaders of tomorrow to join the movement."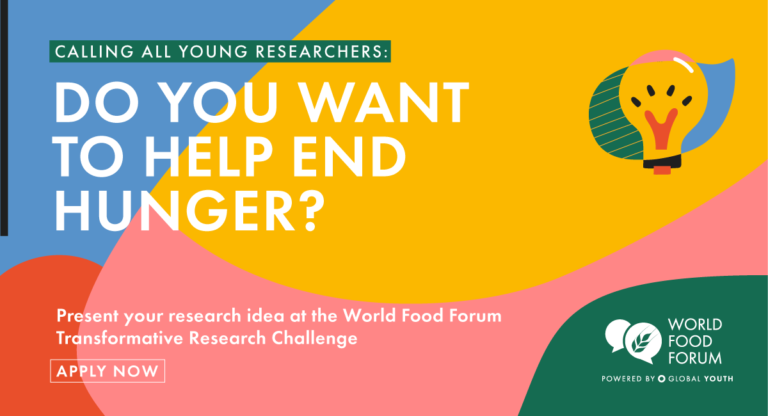 What challenges will the youth leaders of the WFF take on?
While we currently produce enough food to feed every man, woman and child in the world, there are still nearly 700 million people who are hungry. This paradox is in part due to the fact that 14% of food is lost from post-harvest up to the retail level each year, and 17% goes to waste at the retail and household levels. All of this is further exacerbated by an increase in threats like pests, plagues, conflict, climate change and the COVID-19 pandemic. On this last aspect, the novel coronavirus outbreak has severely impacted the food security and livelihoods of much of the world, in particular of the people who were already most vulnerable, including women and children.
---
---
While the current situation is alarming, global awareness of, and focus on, these issues are not at the levels needed to galvanize meaningful action and change. To address the unprecedented challenges facing our global food systems, we need to find new, actionable, innovative and inclusive solutions, and to engage the youth who will inherit these challenges and be essential to future solutions.
The WFF launches its first competition: the Transformative Research Challenge
The WFF is calling all young and aspiring researchers who have a research idea that could help end hunger and solve a critical issue facing the world's agri-food systems through the Transformative Research Challenge (TRC).
The TRC aims to inspire research and innovation for sustainable development to end hunger and transform our agri-food systems by launching an international open call for research proposals from global youth. This competition, organized in collaboration with One Planet Solutions, is one of several challenges that will form the WFF Innovation Labs.
Sign up to the WFF mailing list for more information on upcoming events and open calls, including hackathons and a startup competition
Together we can build back better and create a better food future for all.
Be part of the solution. Join us.
---
Editor's Note: The opinions expressed here by Impakter.com columnists are their own, not those of Impakter.com  — In the Featured Photo: A young woman on her laptop. — Featured Photo Credit: Windows.