On Wednesday, a new report conducted by Global Health 50/50 released data showing the lack of inclusivity of different genders and demographics across major global health organizations.
From July through October 2021, GH50/50 assessed the demographics of board members active in global health accounting for 1,946 individuals holding 2,014 board seats across 146 organizations. 
Global Health describes this report as an "in-depth look at power and privilege, by examining who governs global health."
The sample size of organizations observed include a wide range of non-governmental and nonprofit organizations, private for-profit companies, public-private partnerships, funders and philanthropies, faith-based organizations and research and surveillance organizations.
What are the findings?
Out of the 146 organizations included in the study, overall GH50/50 found a major lack of gender and nationality representation. 
The report found that 75% of board seats are currently occupied by nationals of high-income countries, the governing bodies of 69 organizations entirely made up of members from high-income countries — accounting for almost half of the entire sample size (146).
In stark contrast, only 25% of board seats were found to be held by low and middle-class countries, despite the fact these countries account for 83% of the world's population.
Alongside the lack of representation of low to middle-income countries, they found that 51% of all board seats in these organizations are held by only 2 countries, both being high-income — 44% held by Americans and 7% held by Britain. 
One of the most shocking key findings is the lack of women involved in organizations concerning global health, especially those of low and middle-income countries.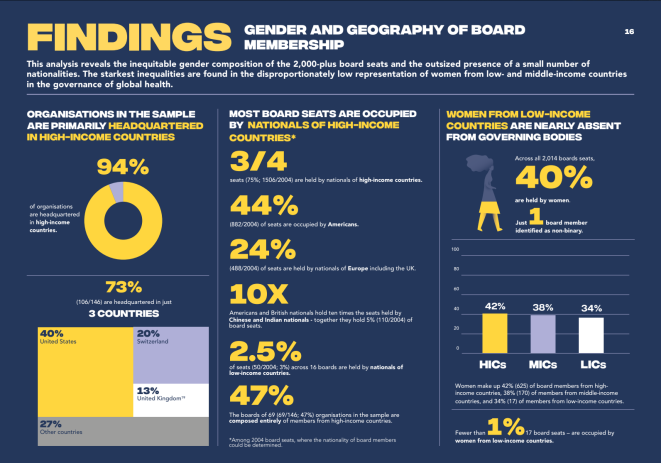 Only 1% of women from low-income countries are included in global health organizations — accounting for 17 board seats out of 2,014 board seats total. 
Likewise, the inclusivity of low-income countries in general makes up only 2.5% of seats across 16 boards. 
Women of middle-income countries also reflect similar numbers with 2% of seats occupied by such persons. 
In total, 40% of board seats are made up of women — the great majority coming from high-income countries. 
Lack of women is clearly apparent across all organizations observed, but what is even more shocking is out of all persons assessed only 1 person identifies as non-binary — representations of all genders almost entirely unrepresented. 
Besides bad news, the report did find that progress is being made, but perhaps too slowly.
In 2020, 34% of board seats were held by women, but in 2021 the number rose to 43% — an increase that shows what seems to be an interest in promoting women inclusivity across board seats.
Yet despite these rising numbers, only 10% of assessed organizations have implemented measures to promote more women held seats and only 5% are willing to address geographic imbalances. 
As the world continues to evolve into a forum of various genders and demographics, global health organizations seem to be unwilling to welcome those who do not fall into a certain category — or if anything shows a quiet resistance to implementing more inclusivity measures. With global health organizations having such a prevalent role in our day and age, especially as the COVID-19 pandemic continues to linger, it is important that everybody from different backgrounds is included in decisions that decide the health of the majority.  
---
Editor's Note: The opinions expressed here by Impakter.com columnists are their own, not those of Impakter.com. — In the Featured Photo: Flu shot given at Fort George G. Meade Public Affairs Office on September 22, 2015. Source: Steve Ellmore, Flickr.