On November 9, 2021, Basak Cengiz, a 28-year-old woman was brutally killed on the streets of Istanbul. The reason? She was a woman and thus, "defenceless." This event triggered massive outcry over what women's rights activists say is the government's failure to prevent gender-based violence.
This is not the first time a woman is killed in Turkey simply for being a woman. On the 11 February 2015, Orgecan Aslan, a Turkish university student was murdered while resisting attempted rape on a minibus in Mersin, Turkey.
The murder caused the first nationwide outrage and sparked protests across the country, with demands asking for greater reforms to combat violence against women more effectively. Activists also criticised the government for the alleged normalisation of the rape of non-conservative women, as state ideology turns to religious militarism.  
Six years later, it is Basak Cengiz's killing that spurs outrage amongst Turkish women and feminists. She was walking down a street in Istanbul, when a man wielding a samurai sword walked up behind her and began stabbing her repeatedly. 
The killer confessed in his statement that he targeted the women arbitrarily because he thought she was "defenceless," and added that "a man can resist with force, so [he] decided to kill a woman." 
But, in Turkey, it is not a case of two or three women every few months. The We Will Stop Feminicide Platform (Kadin Cinayetlerini Durduracagiz.net) founded in 2012 to track the murder of Turkish women found that so far in 2021, men in Turkey have killed 285 women, and is on course to exceed the 300 who were killed in 2020.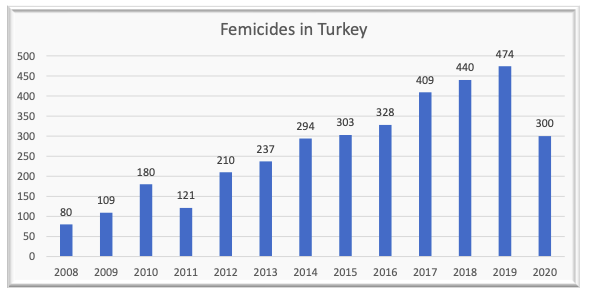 Femicide a.k.a. feminicide is on the rise in Turkey, and the recent brutal killing has renewed demands for Ankara to re-join the Istanbul Convention on Violence Against Women, a 2011 landmark agreement of the Council of Europe outlining how to ensure the safety of women. Activists and Erdogan's critics believe that by withdrawing from the Convention earlier this year, Turkey has given up on gender-equality and the safety of women.
"Cengiz was killed because regulations protecting women are not implemented adequately in Turkey, because killing women is easy in Turkey"

– Gulsum Kav, co-founder of the We Will Stop Feminicide Platform
8 women have been murdered in Turkey in the last 6 days. At home, on the street #femicide Every day, women are attacked, harassed, killed. Enough is enough. Change the laws, bring back #IstanbulConvention #Istanbulconventionsaveslives pic.twitter.com/Epi83N7DZ3

— Elif Shafak (@Elif_Safak) November 14, 2021
The Istanbul Convention: A treaty to prevent and combat violence against women
In the 2011, the Council of Europe sought to reiterate the universal condemnation of violence against women and domestic violence, by highlighting the crime violates rights contained in the European Convention on Human Rights as well as other international Human Rights Instruments. 
The Council of Europe drafted the "Preventing and Combating Violence Against Women and Domestic Violence" treaty, commonly referred to as the Istanbul Convention, and entered into force in 2014. It is important to note that Turkey was the first signatory. 
The Convention provides a wide range of protections for women, particularly those who are victims of domestic abuse, such as: 
adequate number of shelters

increase in financial aid
development of 24/7 hotlines
psychological counselling and medical care for survivors and violence
Prior to the legal implementation of the Istanbul Convention, or the Preventing and Combatting Violence Against Women and Domestic Violence Treaty, in 2014, data collection on gender-based violence had long been an issue due to the underreporting and societal pressures for women to remain silent. 
This legally binding instrument is considered one of the "most far-reaching international treaty" specifically designed to tackle violence against women. Especially as it specifically states legislative action that member nations must take. 
Turkey's sudden removal from the convention in 2021 has been unjustly justified
Turkey, under the Presidency of Recep Tayyip Erdogan the founder and leader of the Justice and Development Party (AKP), suddenly announced it would withdraw from the Istanbul Convention in March 2021.
Turkey's official reason for withdrawing from the Istanbul Convention was because the text had been "hijacked by a group of people attempting to normalise homosexuality" saying this was "incompatible with Turkey's social and family values." An argument that has been denounced as false, caused by a misinterpretation of what the Convention is about.
President Erdogan had announced that "our government is very, very sensitive in terms of violence against women…we have completely removed the Istanbul Convention from our agenda because we already have the steps to be taken in this agreement in our own laws on the agenda" 
It is true that in the lead up to the ratification of the agreement Turkey did enact mandated equality in employment, set a minimum age of 18 for marriage, criminalised marital rape, and trained police, judges, and prosecutors to recognise gender-based violence.
But its removal from the convention means that everything else that was meant to be done to safeguard women's safety is abandoned.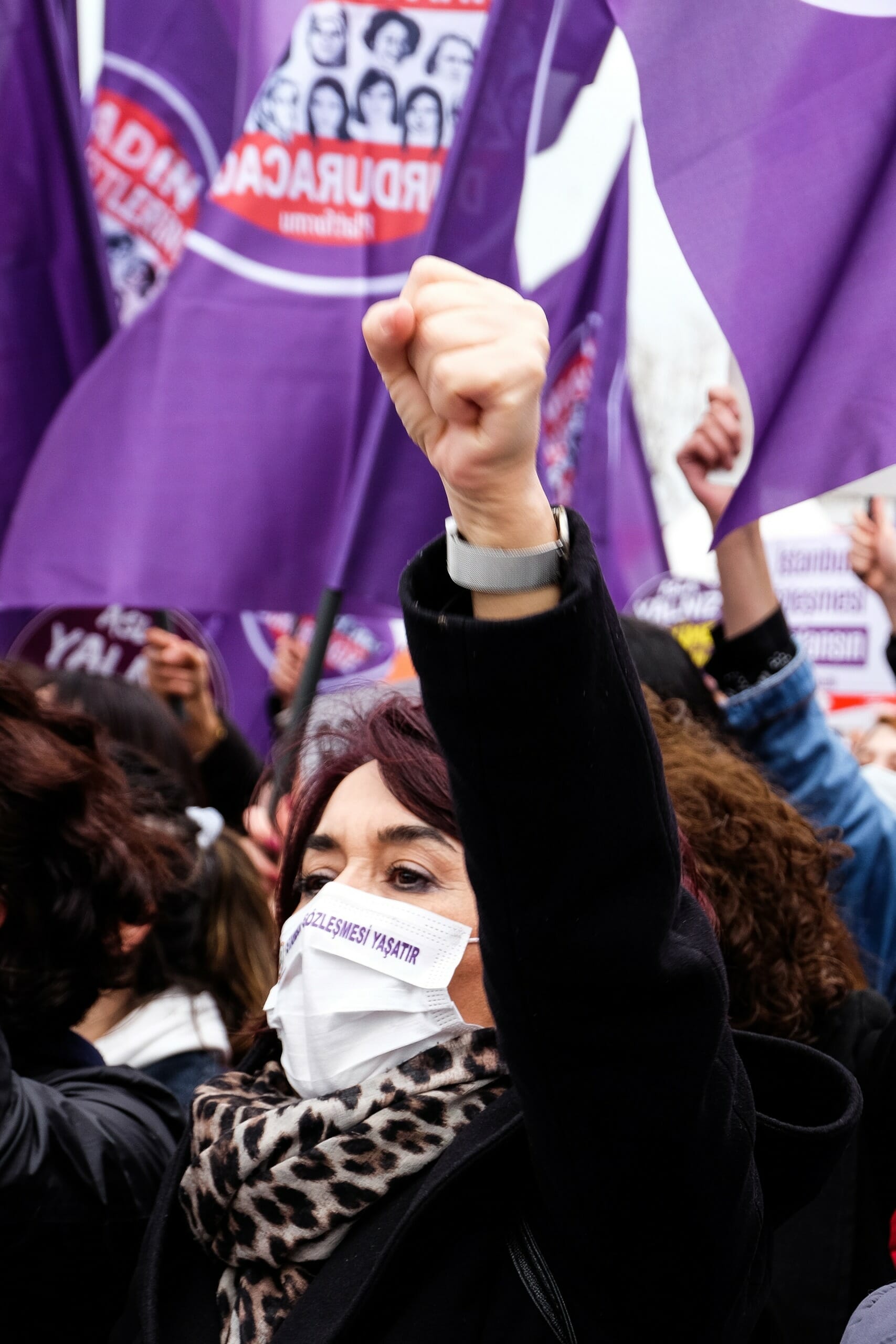 The 2018 Baseline Evaluation report on Turkey regarding the Istanbul Convention found that the "situation regarding violence against women in Turkey offers a mixed picture, where undeniable evidence of progress coexists with reasons to be concerned." 
The safeguarding of women will no longer progress, and with Turkey's removal from the convention, fears have risen that the country may retract from past policies and legislative action. 
The recent killing has demonstrated that Erdogan has not been able to offer sufficient protection in a society increasingly focused on religious motivated traditions. Especially with religious militarism slowly becoming part of Turkey's state ideology, directly promoting misogyny, and indirectly making women easier targets.
Erdogan and his "anti-woman" rhetoric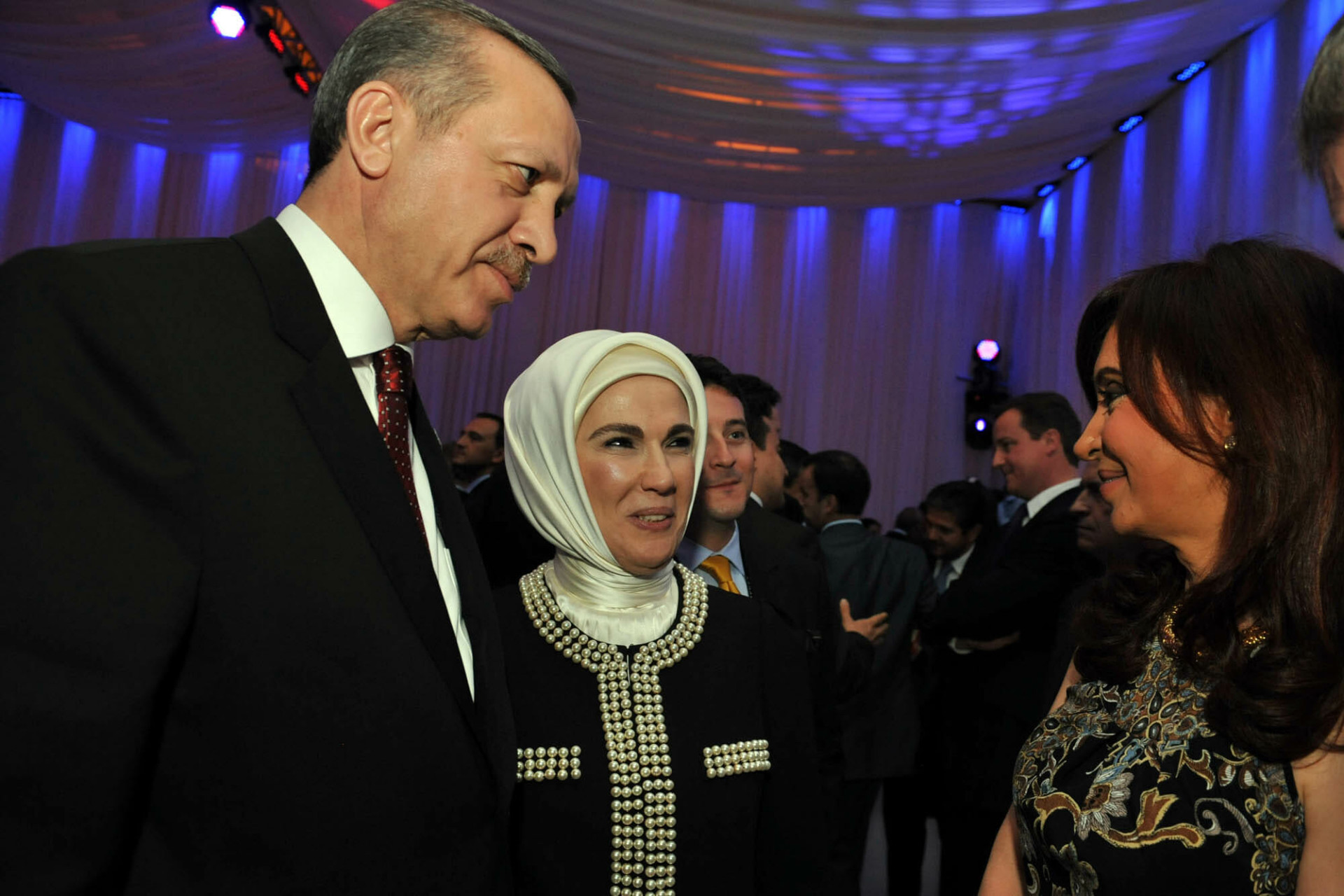 Concurrently to Erdogan's "progressive" policies, he very much holds an "anti-woman" rhetoric fuelled by the country's increasing focus on religious traditions.
Let's take us back to 2014, as Turkey was to become the first signatory of the Istanbul Convention. Erdogan declares that "women and men could not be treated equally. It is against nature," accusing feminists of "rejecting motherhood." 
---
---
Two years later, his comment went so far as to denounce women who had no children as "incomplete" urging them to have at least three children to ensure the growth of Turkey's population, and not to use birth control. 
Now, back to the present, and Erdogan's claims endure. After a cabinet meeting in Ankara, Erdogan declares that "From now on, our women should react against whoever utters a sentence that starts with 'the Istanbul Convention', first and foremost, and because those people abuse them for the sake of their deviant ideological agenda."
 This caused social media outrage, with one twitter user saying: "feminism isn't a deviant ideology. There are no 'your women' there are only 'women'"
The government's rhetoric on women and their place in society has been accused of fuelling domestic violence in Turkey. The emphasis on keeping the family together has often led to victim-blaming, with men getting away with domestic violence by justifying the abuse on the fact that "their woman" was not doing their tasks at home.
Feminist scholar Fatmagül, adds that the slow rise of female independence in Turkey has led to a "crisis of masculinity." Claiming that the reduced need for men to be breadwinners has caused them to feel displaced, and as a result, leads them to engage in physical, sexual, psychological, or economic abuse against their partners. An argument that has been used prior to victim-blame.
Feminicide in Turkey is growing at alarming rates causing more and more nationwide outcries, with calls for the Turkish government to re-join the Istanbul Convention in a bid to safeguard women from greater violence and domestic abuse.
Yet, the Government is engaging in implementing mere window-dressing policies, with no real protection for women, whilst channelling a conservative and religious rhetoric towards women, and their expected place in society. This has fuelled victim-blaming in Turkey, and thus, less women feel they can report on abuses or violence.
The Istanbul Convention is key for the protection of women's basic rights, and without it, half of the population will continue to be oppressed by the government's rhetoric.
---
Editor's Note: The opinions expressed here by Impakter.com columnists are their own, not those of Impakter.com. — In the Featured Photo: Women and LGBTQ+ communities protesting Turkey's withdrawal from Istanbul Convention. Featured Photo Credit: Wikimedia Commons.