EDITOR'S Note: This is the Part I of an interview with photojournalist, Rick Findler. Part II is available here. 
Since the invention of photography, the profession of photojournalism has been a silent witness to the dramatic turns our world has undergone in the last 150 years. The ubiquity of online photo sharing has broadened the reach of images far beyond print and broadcast media, giving high-impact photographs broader reach and more selective sharing than ever before. Whenever military and political turmoil spin regions or countries down a path of inhumane atrocities and human rights abuses, the task to visually and indelibly document events still rests largely upon the photojournalists who risk often their lives to stay on the frontline.
Rick Findler is a photojournalist who has extensively covered countries experiencing the full spectrum of uprisings and crises. I visited his exhibition Six Years Six Conflicts in the Republic Gallery in London which featured a collection of photos taken in Syria, Iraq, Libya, Somalia, Burundi, and Bahrain. The exhibition fused his dynamically captured images with text from correspondence he had sent to family and friends throughout the years spent working in the field.
Findler's work touches upon the intricacies of people experiencing extreme conflict and violence. From photographs that evoke extreme anguish, loneliness, and sorrow, to others that combine those underlying sentiments with candid humorous occasions, his work pragmatically shows the many sides of the toll conflict takes on the livelihoods of so many people that are unjustly exposed to the barbarity of war.
Tell us a bit about yourself, how did you find your path as a photojournalist and especially the genre of conflict? Why were you interested in this?
Rick Findler: I did Psychology in University and throughout the degree, I realized that photography was more for me. I started with landscape photography, started reading more newspapers and then became very interested in photojournalism. After my degree, I enrolled for a Master's in Photojournalism at Westminster University. There were a lot of different people there for different reasons, some were more interested in publications, editing and writing articles for magazines, I was solely interested in taking photos. My attention was drawn towards conflict because I have always been a bit of an adrenalin junkie I guess, since a young age.
After that, I worked in a pub for two years and started building up my portfolio. I was taking pictures of student protests and anything that was happening in London.
Then one morning I woke up and on the front page of the Guardian was a lad in a balaclava throwing a petrol bomb in Greece. So I finished my shift at the pub on Monday and drove straight to Gatwick Airport to get on the 4:30 am flight to Athens. I didn't know where I was going to stay, I didn't know anyone. I sent a text message to everyone asking if anyone knows someone in Athens with whom I could stay. Someone replied and put me in contact with a lady. She was wonderful and showed me around for four days. I documented the worst riot the country had seen in 45 years. Lots of tear gas, stun grenades, and that was the point of realization when I knew, this is what I wanted to do.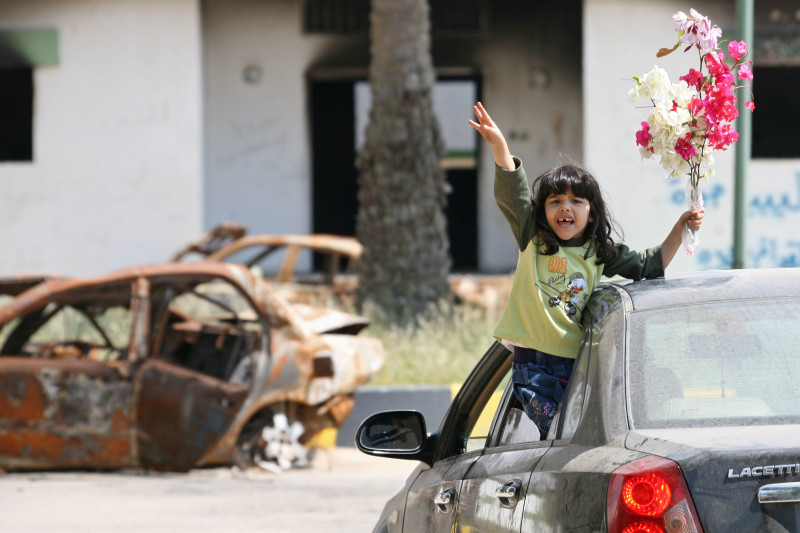 In the Photo:  A little girl waves flowers and flashes the 'V' sign as she is driven through the ruins of Colonel Gaddafi's barracks. Photo Credit: Rick Findler
Then there's Robert Capa's famous quote, "If your photos are not good enough, you are not close enough." That was always in the back of my brain, each night I'd be looking at my photos and I'd say, "that was good, but I want to get closer tomorrow."
I carried on working at the pub, building up my portfolio bit by bit. Then this lad was reading a book about Iraq and I went up to him and said, "Hi my name is Rick I want to be a war photographer." It's such a cliché, but I said it. He said, "My name is Benji, and I'm going to Iraq in 2 weeks do you want to come?" That was it, we found out that we worked well together, we didn't argue, and we went to Iraq to do a feature on the Kurdish elections. We went twice, it was a good learning curve on how to work in the Middle East. Then from there, we went to Libya, was in and out of Syria for a year and a half, and then Egypt, Iraq, Somalia, and so on.
Each night I'd be looking at my photos and I'd say, 'that was good, but I want to get closer tomorrow.'
---
Related article: "DUILIO GIAMMARIA- THE MAN BEHIND THE WAR CORRESPONDENT"
---
Your exhibition, "Six Years Six Conflicts" balanced the dynamism of visuals with your captivating and powerful explanations taken from emails you had written to your family. How did you have this idea and how do you feel when you re-read them?
R.F.: The very first email I sent was in Athens on that very first night. I sent Mum an email saying, "Yeah here I am." Then the next day I had some pictures I wanted to send her and wrote a little about what had happened that day. Then it just spiraled and every night no matter where I was, I'd send an email to my mum and then more and more people wanted to get on the email list.
With regards to the exhibition, I didn't want to have all doom and gloom. There are some funny excerpts and some serious excerpts and I always thought that was important. Although in war and conflict, there's a lot of bad times there's also always a lot of amazing times, a lot of very human times.
People would say humor can be a saving grace, otherwise the pressure of war will get to you but I don't think that way, I think some funny things happen every so often and so it's important to include them.
With the excerpts, they were all memorable moments, like almost getting executed out of the car in Syria, I wanted to include that. It did take a bit of work to re-read the things I had forgotten about and find the humorous stories. It wasn't emotional reading it, it was entertaining. I'm not a very emotional person, I didn't get panic attacks or anything like that when re-reading them, it was more entertaining and complimentary to the photos.
 In the Photo: Blood is cleaned up after a mortally wounded man was treated from a gunshot wound. Photo Credit: Rick Findler
I know this is a very personal question, but could you tell me about one or two people who had a profound impact on you throughout your travels?
R.F.: I keep very distant and look at it as a very pragmatic thing. If you become too emotionally involved, I don't think you can do a good job. If you become too involved you might start to take sides, or stop taking the photos you should be taking.
The one person I had a connection with and often think about was Mohammed, our driver in Libya when we were in Misrata. He was as good as gold. He worked so hard with us and never wanted any money, even refusing it when we insisted. But what was really emotional for me was when they found his grandfather, who had been missing for 40 days, dead after being tortured by Gaddafi's soldiers.
That was it for him, he broke down, you could see his bravado just popped and he collapsed crying silently, introvertly upset. We saw him as this young lad who spoke English and was having fun with us the whole time. And then bang, it was the straw that broke the camel's back, you know, all the stress and grief, the dead bodies we had seen, the build-up and then hearing the word about his grandfather.
I just sat next to him on the road for 10 minutes and felt so incredibly bad for him. I didn't take a photo of him, that wasn't a photo to be had. That's the only real time I can say I have felt a connection with anyone.
And of course there is always Benji, without Benji I don't think I'd be here right now. He has saved my life more times than I can remember, we know everything about each other. But with everyone else, I'm just there to take the photos, document it and that's it because if you start getting too involved it will be bad for you.
How can you negotiate the nuances between reportage and artistic impulse when you are on the field?
R.F: There's a big difference in the two things you can cover. When you are in conflict you are documenting world history and you've got a very set agenda. You are trying to capture the entire story through a photo that will be placed in a newspaper. Newspapers don't publish a nice large spread of your photos anymore, they just want one photo to go with an article from a reporter. So it's a very big responsibility to depict truthfully and pragmatically what's happening.
 In The Photo: Cosplay fans have their lunch outside of the MCM London Comic Con. PHOTO CREDIT: Rick Findler/Story Picture Agency
With Comic-Con, I'm not so focused on taking the one photo that will go into a newspaper. I've been photographing the Comic Con for 4 years and have become obsessed with a series of pictures exploring the purgatory that exists between the convention and real life. These people are dressed as superheroes and villains, but they still need to use public transport, eat lunch or go to the toilet. It is also I think a way of escapism for some of these people. I may be generalizing here, but I think a lot of these people in Comic-Con, especially the young ones, seem to see it as an escape into the persona of a superhero for a weekend.
I'm not just focusing on a happy comic convention, rather on this suspended timeframe where they can be whoever they want to be. It's an incredibly comical photo series that explores this underlying world of what Comic-Con is. I suppose that can be seen as artistic, I don't think people would be so interested in that because it's just an observation of mine. I don't really venture into the world of art and exploring too much when I'm in conflict.
IN THE PHOTO: Captain America needs a break at the London Super Comic Convention at the Excel Centre.  PHOTO CREDIT: Rick Findler 
When you frame a photo, how do you experience the moment when you know you want to snap a shot?
R.F.: That's an interesting question. Say that something happens, so when we were in Baghdad we were with the bomb squad and were the first to the scene when a suicide bomb went off. The alarm goes off, we jump into the convoy and go to the scene. When we got out of the truck, you see body parts all over the place. People picking up eyeballs, all body parts. The Muslim belief is that when you bury someone the body needs to be in its entirety. You have people putting body parts into sacks. The ground is very slippery, with all the body parts everywhere, it's really bizarre.
We register what has happened, and you know the story. But then to take a photo it needs a different mindset, how am I going to frame this. You go right up to someone, to make sure that if it's a wide angle photo there is someone in the foreground. You go into this mode of composing a photo aesthetically in such a short period of time.

IN THE PHOTO: Running Boy – A local boy carrying a video camera runs from a sniper fire.  PHOTO CREDIT: Rick Findler
One photo of yours I remember, (pictured above) – sometimes it can be pure accident that a photo is so dynamic because you don't have the luxury to think you want the photo to be framed in a certain way. Has it happened to you that some of your most liked photos are results of your impulse to take a shot without thinking about it?
R.F.: In the case of that photo, we had to shoot on the run because the sniper was shooting at us. I wasn't even looking through the viewfinder, but I deliberately slowed the shutter down because I knew I wanted it blurred. I still had enough time to put it down to a 30th of a second because I knew the photo I wanted, so there was still thought behind that.
If you become too involved you might start to take sides, or stop taking the photos you should be taking.
In terms of an actual immediacy, I've been quite lucky in never being close enough to an immediate event. The only time that's going to happen is if a car bomb goes and you're not expecting it. Usually, if there's gunfire, there's been gunfire already and you are trying to frame a photo. I suppose that was the most immediate photo in a way, but I still had time to think "it's a sniper, we've gotta run" and so I slowed the shutter down and took the photo.
---
Recommended reading: "CONGO'S KABILA AND THE DICTATOR'S DILEMMA" 
---
EDITOR'S NOTE:
The opinions expressed here by Impakter.com columnists are their own, not those of Impakter.com. 
Feature Photo Credit:  Local Boys play on a deserted tank previously belonging to Assad forces, Rick Findler
To learn more about Rick Findler's work visit his website and follow him on

twitter

.