The hardest part was the idea of finding your place in the world of entertainment where talent is not the only importance
The modern, televised talent show, a method that aims to quickly sift through thousands of hopefuls to find the next big thing has attracted as much criticism as it has praise, but for many emerging artists the initial push to present their talent and get their voices heard is extremely difficult. The pressure of a public emergence, which these types of talents shows offer, is certainly not an easy route to take.
Enter Frances Isabel, a 21 year old, Mexican American singer/songwriter who, before she had even turned 18 had entered both season 10 and 11 of American Idol and then, took the decision to cross the Atlantic to France and enter this year's La Nouvelle Star. It was by no means an easy journey, but one that showed her determination to succeed. Leaving the show as a top 10 finalist, Frances has since been working hard in Paris and is currently in the last 7 days of a campaign to create her first, 5 track EP. Impakter, therefore sought the opportunity to get to know the young and ambitious, Frances Isabel a little better in the hope of understanding her journey as well as the drive and passion it took to follow her dream in the public eye.
Q. When did you first realise you had a voice?
I began singing when I was very young. I would run up on stage when other bands were playing and ask if I could sing. I always made up a song and I could get away with not knowing what I was doing. Unfortunately, I can't get away with taking over someone else's gig anymore, I have to be professional! When I was about 8 years old I sang in Spanish on my first television show, which was aired in Mexico, and since then I haven't stopped singing.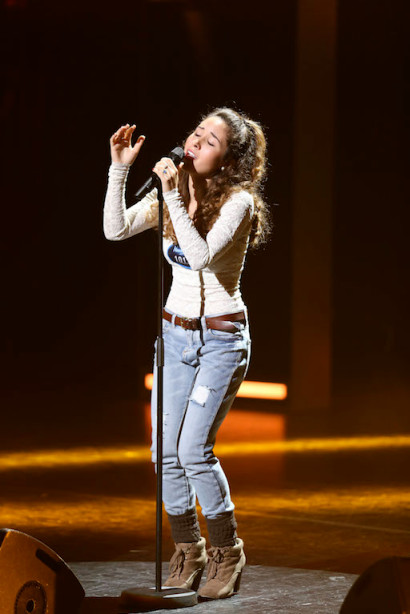 "Theatre 3", auditioning for La Nouvelle Star, 2015
Q. What were the hardest and most exciting parts of entering a competition like La Nouvelle Star?
The most exciting part was the idea of potentially being seen by millions of French viewers. The idea that your voice could be heard across a foreign nation and that foreign nation would accept you with open arms was both scary and exhilarating. One thing I will always hold dear to my heart was the people who supported me and my dream. Something I would have never imagined experiencing in such an environment.
The hardest part was the idea of finding your place in the world of entertainment where talent is not the only importance. Just like in any career, favouritism, manipulation and envy will always exist. Luckily I remained the positive person I am throughout the show, even when I was eliminated and couldn't hear the music or what I was singing on stage. That experience wasn't easy. In the end, though I met so many wonderful people who had the biggest hearts and they are the ones who gave me hope and inspired me to accomplish my dream. Every challenge I faced from La Nouvelle Star was a blessing. I don't think I would have been this motivated to accomplish my dream if it wasn't for both the hardest and the most exciting times of the competition because they led me to this point.
Q. Who are your major influences? What music did you grow up listening to?
My major influences are the classic oldies. I grew up with my Dad always tuning in the radio to the old songs on 'Los Angeles, K Earth 101!' For me, as an American growing up, music symbolized the American classics such as James Brown, Aretha Franklin, Diana Ross, Stevie Wonder and so on. My ear is so tuned into these classic artists that I know what song and who is singing it as soon as the track starts playing. It is the only music when I can hear the sweat and tears of the musicians and singers and the only music we will ever have without it being manipulated or electronically engineered. It was just practiced a million times and recorded.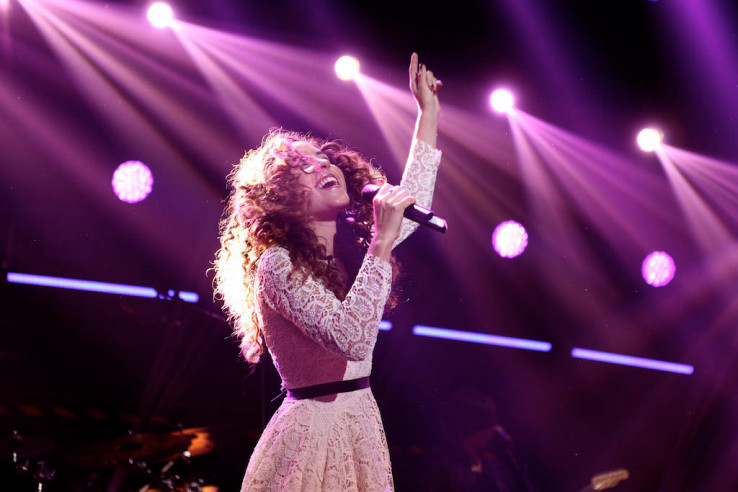 "Epreuve du Feu", performing on La Nouvelle Star, 2015
Q. Can you name three songs that you are currently listening to and tell me why you like them.
CHET FAKER – No Diggity I love songs that can be completely changed from their original, but still make you appreciate the original. This kind of song is great for the bathtub or when you just want to wake up slowly.
NIYKEE HEATON – Bad Intentions This is that song is that that you listen to when you're getting ready in the morning or just want to sing and sway along. This song has that sensual tone that I love; a  good Rnb/Chillout  vibe and great vocals to harmonize to.
NEW ORDER – Age of Consent A great 80s track. This song is the type of song you can play on a road trip. It always gives me butterflies and a slight rush of excitement.
Q. Is it possible to express what music means to you?
Someone once asked me to imagine myself no longer being able to sing. I said: "I would die!". They told me: "Well then, you can't live without music".
Q. Impakter recently highlighted gender inequalities within the music Industry. What do you think could help improve the situation for the future?
There is no way to avoid the scams of the music industry just like in any workforce. It's all about going through the negative experiences and letting your talent speak for itself. More and more woman are getting noticed thanks to the free market of shared music and the different demands of this generation. You have just got to work hard enough to point where you're too good to be ignored.  Although opportunities are still not equal, we can have hope that woman are changing those statistics slowly, but surely.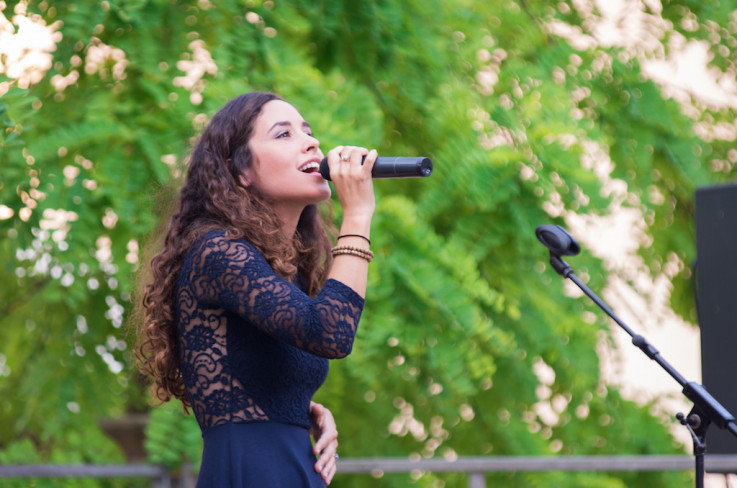 Recently singing for a wine tasting event in the Alsatian village of Andlau, 2015
Using only three words, describe the journey from the beginning of La Nouvelle Star to now.  
Unexpected, Thrilling and Necessary
To support Frances Isabel's campaign click on the link below:
Campaign: http://www.kisskissbankbank.com/frances-isabel-ep
Website: francesisabel.com
Frances Isabel Instagram