Three years ago, Formula 1 set new targets to transition to a more sustainable future committing itself to "NetZero" by 2030. Unfortunately, when Formula 1 unveiled its 2023 calendar on Tuesday they must have left their plans to build a more sustainable NetZero Formula 1 calendar to collect dust.
By 2026 Formula 1 cars will be powered by 100% sustainable fuels, yet they are responsible for only 0.7% of the sport's entire annual carbon footprint, the real tracks are left by the sport's logistics, which make up almost half of the sport's total carbon emissions.
In June this year, Formula 1 released a statement acknowledging the impact of its logistics and in response, it "plans to build future F1 calendars to improve freight and travel logistics so the sport is moving more efficiently around the world". 
But with the 2 additional races to the 2023 calendar – totaling a record-breaking 24 races – the logistics of Formula 1 will produce an estimated 80,000 tons of CO2 in 2023, which is a 15% increase compared to the current 2022 calendar.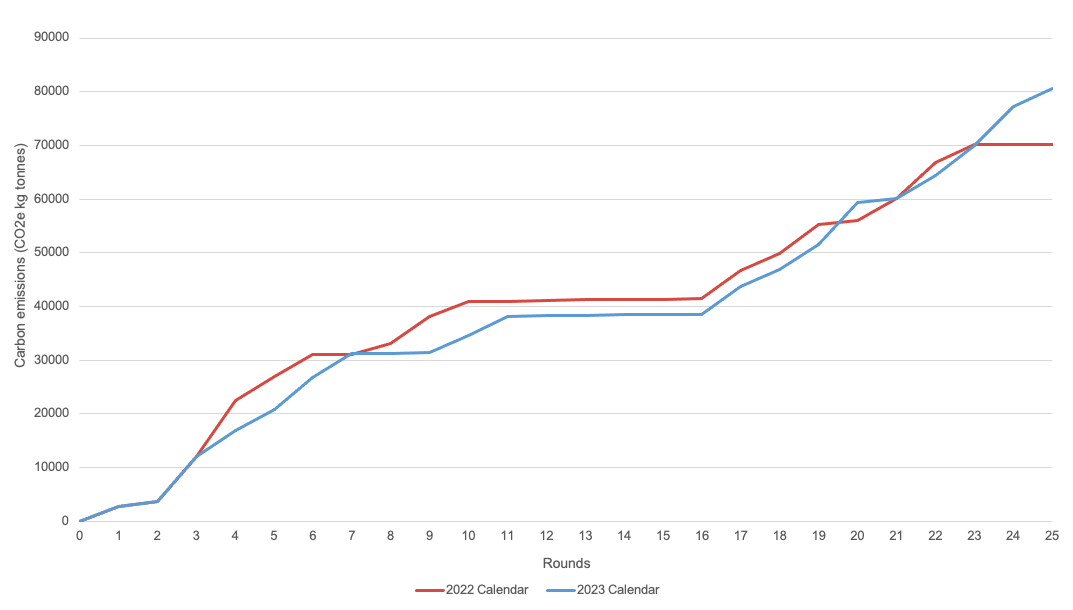 In fact, F1 could cut its carbon emissions from logistics by as much as 46% if they were to restructure its 2023 calendar to account for its carbon footprint. 
In the pictures: the current 2023 Formula 1 calendar and a low emission logistic-friendly version.
On top of this, we are already seeing complaints of overworked staff. Four-time world champion Sebastian Vettel has come out saying that "the objective should be [that] we have a sustainable way to run our season, not only for our environment but also looking at the human resource". Other drivers such as McLaren's Daniel Ricciardo have raised similar concerns, meanwhile, Red Bull's Checo Perez has even said he is considering quitting F1 if the season gets any longer.
---
---
The real ambitions of Formula 1 are outlined by the two newest venues added to the sport – Las Vegas and Qatar. 
Racing to capture as many new fans as possible, F1 has rapidly expanded itself into the lucrative US market, first with its successful Netflix series Drive to Survive, then having Miami join the circus in 2022, and now Las Vegas will partake in the 2023 season after a $240 million investment by F1 and its owner Liberty Media.
Qatar paid £55 million to be featured for this year's calendar. Signing itself to the list of the most expensive contracts on the calendar, along with Azerbaijan and Abu Dhabi, whose countries' financial resources come mostly from fossil fuels.
A reminder that F1 wants to be carbon neutral by 2030 👀 pic.twitter.com/Iz5UqIJdRx

— ESPN F1 (@ESPNF1) September 20, 2022
Formula 1's 2023 calendar seems to not be considering their NetZero Pledge. The sport could become more sustainable now by focusing more on its environmental and social impact. 
Instead, it rather chooses to focus on growth waiting until 2030 to make bigger changes. In a sport that is so fast-paced with engineers working constantly to improve car performance, it is disappointing to see there is a limited willingness to improve at the same pace on NetZero.
---
Editor's Note: The opinions expressed here by Impakter.com columnists are their own, not those of Impakter.com –In the Featured Photo: Zhou Accident at the start of the British Grand Prix this year. Photo credit: Facebook.