---
One of the most significant trends from the coronavirus pandemic is the sharp increase in e-commerce for home delivery. Ordering products from restaurants, grocery stores, or online shops is certainly convenient for the customer – but it poses significant challenges for cities trying to lower greenhouse gas emissions from last-mile urban logistics.
Up to 70% of the world's transport emissions come from road vehicles moving people and freight, and by 2030 around 100 cities will increase carbon emissions by about 30% in the last-mile deliveries.
How are cities addressing key challenges and opportunities in sustainable urban freight?
Through examining mobility projects in Europe, the United States, Latin America, and Asia, we identified three main challenges for cities implementing sustainable urban logistics:
Setting up public and private stakeholder engagement
Enabling tailor-made innovations that contribute to building equitable and climate-neutral cities
Raising awareness of sustainable consumer behavior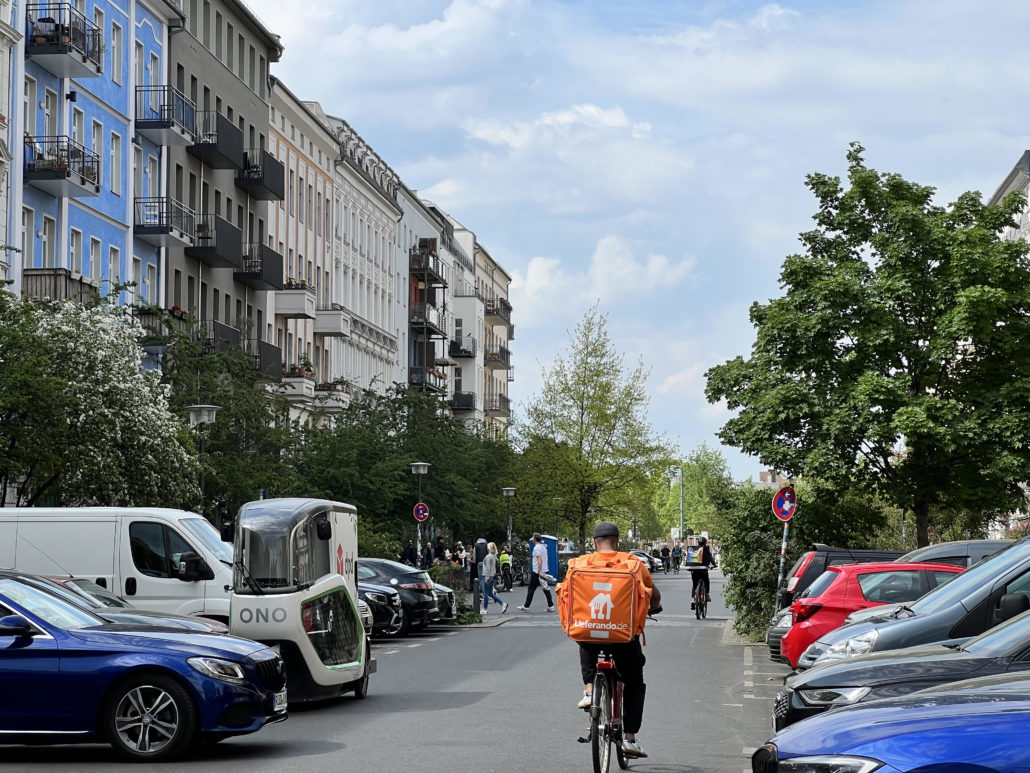 To solve these challenges, the best ally a city can have is data. Data helps city leaders make informed decisions in addressing last-mile logistics and other urban freight transport. Examples of cities using data to implement sustainable urban freight programs include:
Portland, Oregon, USA, relies on a series of sustainability indicators such as air quality, logistics, and traffic management for a fluid operation that includes freight. The city aggregated data from multiple stakeholders to create an open document library accessible to citizens, consumers, and companies. Through its 2040 Portland Freight Plan, the city is engaging stakeholders, identifying actions, and executing projects for a safe multimodal system that supports economic prosperity, human and environmental health, equity, and resilience. Projects include last-mile deliveries with e-vehicles, curb management, and autonomous deliveries.
As we look to the future, how will we move goods through our city? As part of our 2040 Portland Freight Plan, we're asking Portlanders to help prioritize the city's needs for supporting safe, equitable, efficient, and sustainable urban freight movement. #pdxtraffic pic.twitter.com/gFmSOSvtGt

— Portland Bureau of Transportation (@PBOTinfo) December 9, 2021
Stockholm, Sweden, is working with Scania, one of the world's largest commercial vehicle manufacturers, to share data supporting e-mobility planning and freight optimization. City leaders are also engaging with citizen stakeholders to understand their needs for improved traffic distribution by generating indicators from three freight initiatives around the city.
Scania will contribute to a new research centre at the Stockholm School of Economics (SSE) over the coming ten years. The collaboration will focus on business models for the future transport ecosystem. https://t.co/6FdzvQi0VZ pic.twitter.com/umo1Jp0GEC

— Stockholm School of Economics (@handels_sse) September 10, 2018
Taoyuan, Taiwan, has adopted ICLEI's EcoLogistics Indicators in setting up a vision for climate neutrality by 2050 with a focus on freight and logistics. Taoyuan has created its first white paper based on the EcoLogistics principles. The city is engaging with multiple stakeholders including citizens and business owners to build trust and transparency while collecting data. The city's demonstration project in the Daxi District is an example of working toward a common objective of optimizing freight transit in areas highly populated by small business owners with private interests.
Taoyuan organized an ecologistics dialogue at the ICLEI World Congress in Malmö. Find out how the city is walking the talk through local action at six demonstration sites: https://t.co/k5YsOymqus pic.twitter.com/25GwseEDCz

— ICLEI (@ICLEI) July 7, 2022
Grenoble, France, is the European Green Capital for 2022. Poor air quality is the city's biggest challenge, responsible for about 400 deaths annually according to the Grenoble Chancellor of Air Quality. Data sharing allows different institutions to understand needs and establish smart policies to improve air conditions. It also allows city leaders to identify where emissions are coming from, so they are in a better position to implement zero-emission zones throughout the city.
Grenoble 🇫🇷 is the European Green Capital of the year.

The city has set climate targets to become more sustainable.

See what else Grenoble is doing when it comes to efficient public transport, eco-friendly spaces, and more ↓

— European Parliament (@Europarl_EN) January 8, 2022
Challenges in collecting data
While data is helping cities like these design and implement sustainable urban logistics, there are also limitations. Specifically, because the freight sector operates in the national, subnational and private arenas, data can be incomplete, costly, or difficult to obtain.
To address this issue, the EcoLogistics project helps governmental and nongovernmental actors build strategies and policies that promote low-carbon and sustainable urban freight through local action and national support.
The EcoLogistics initiative is administered by ICLEI with support from the International Climate Initiative of the German Federal Ministry for the Environment, Nature Conservation, Nuclear Safety and Consumer Protection (BMUV in German). The aim is to raise awareness and strengthen relationships between stakeholders in the Global South by developing and implementing sustainable urban freight programs in India, Colombia, and Argentina.
ICLEI has been working on the EcoLogistics project since 2018, framing eight principles for low emission urban freight. Now, in 2022, local governments are worried about new challenges in last-mile freight operations and the rise of third-party "dark" delivery-only stores and kitchens.
---
---
In examining the status and logistics of mobility on five continents, we know the work is not done to achieve zero-emission sustainable freight. Optimization of vehicle fleets and packaging is certainly part of the solution.
But experts and city leaders with ICLEI's EcoLogistics community also stress that consumers need to reflect on their habits. Users must get involved in the entire supply chain and understand that everyone can affect and add to emissions from freight logistics at every level.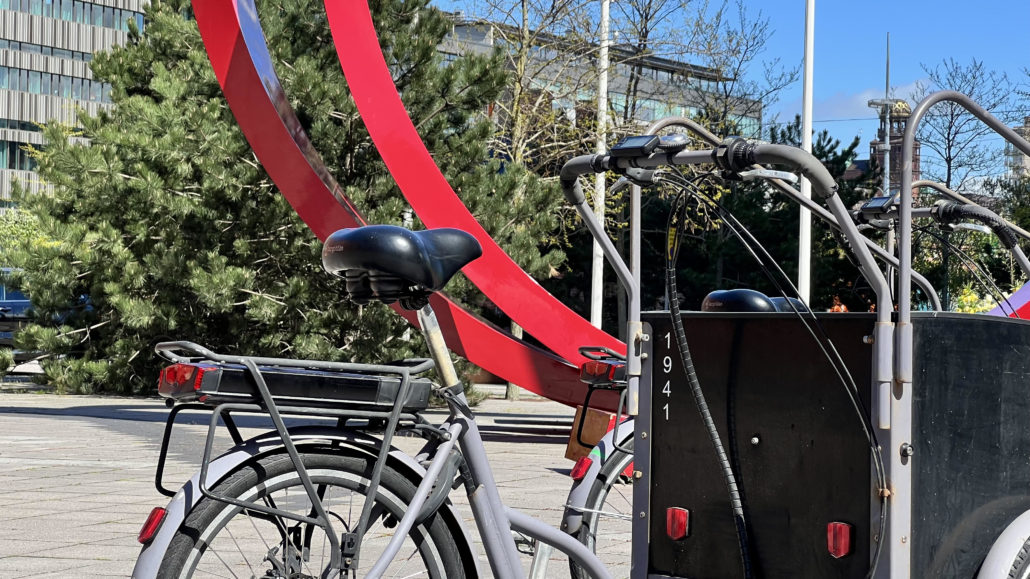 This article highlights discussion among city leaders and experts with ICLEI's EcoLogistics community during the Sustainable Urban Logistics Workshop in Grenoble, France, and ICLEI World Congress in Malmö, Sweden, both held in May 2022.
We appreciate the participation and collaboration of our panelists:
Ian Wainwright, Consultant, Future City Logistics
Art Pearce, Director of Policy Planning and Projects, Portland Bureau of Transportation
Anna Lindén, Project Manager, Stockholm City Government
Clément Viola, Urban Logistics Officer, Grenoble-Alpes Métropole
Li-Teh Lu, Director of Environmental Protection Bureau, Taoyuan City Government
Agnelo A.J. Fernandes, Commissioner, Panaji City Government
Camilo Urbano, Leader of Urban Planning, Despacio.org.
Beatriz Royo, Associate Professor, MIT-Zaragoza International Logistics Program
Maria Cantore, Environmental Undersecretary, Municipality of Rosario
---
Editor's Note: The opinions expressed here by the authors are their own, not those of Impakter.com — In the Featured Photo: Worker at a warehouse writing something down. Featured Photo Credit: Tima Miroshnichenko.