Mariupol is on the brink of collapse. The city could fall in the hands of Russian troops at any moment, as the 36th marine brigade of the Ukrainian armed forces reported on Facebook: "Today will probably be the last battle, as the ammunition is running out."
⚡️ Mariupol defenders, who criticized command, say they keep fighting.

"We held every part of this city to the best of our ability," soldiers fighting with the 36 Marine Brigade said in a video address.

They added that ammunition is scarce & it's unknown how long they can hold.

— The Kyiv Independent (@KyivIndependent) April 12, 2022
Yet, other sources from Ukraine claim these are fake news and the battle is far from over. The truth, as always, may be in the middle, which would imply the situation remains dire but is not definitively compromised. 
Be that as it may, the battle for Mariupol is a crucial determinant of the general outcome of the war. The city's resistance boosts morale for Ukrainians and is a distraction for the Russian troops occupied with the siege, slowing down the invasion on the eastern front. 
Capturing Mariupol would enable Russia to consolidate the land bridge between Donbas and the Crimea region, cutting Ukraine from access to the Azov Sea. It could also constitute a significant asset to fuel Russian propaganda as Putin, for now, has few strategic successes to claim. 
President Zelensky has recently warned that Russia could soon use chemical weapons to take control of Mariupol, and if ammunition is not finished now, it will soon. The Ukrainian president has also been continuously asking NATO to enforce the air space closure and receive more weapons, ammunition, artillery, and military equipment in general.
The moral is clear, and Impakter already stated it: "It's high time to wake up to the reality of the situation – sanctions don't work – and respond to Ukraine's demands for more weapons."
A story from more than 80 years ago, set in Germany, may convince some who disagree that it is time to step up support for Ukraine.
The determinants of totalitarianism between Hitler and Putin
Martin Niemoller was a German Lutheran pastor born in Lippstadt in 1892. He served in the first world war as a U-boat officer and then, after the war, began seminary training at the University of Munster. He became a close supporter of Hitler during his rise, as he appreciated his firm hand on communism and the halo of nationalism hovering on his political concretization, the third Reich. However, as the state started to impose its dictatorial grip also on the church, he realized the true essence of what he was dealing with. In a way, he was a witness to how thin the line between nationalism and totalitarianism can look, and how easy it is to cross it without realizing it.
When he understood what he was dealing with, he started to actively oppose the Reich up until he was arrested in 1937. After a few months, he was interned in Sachsenhausen and Dachau concentration camps for seven years. 
His particular position with respect to Nazism allowed him to realize the slyness implied by authoritarian regimes in gathering and maintaining power from a privileged stance. As it is historically recognized, part of their strategy involved the stab-in-the-back myth, by which communist and Jew conspiracy had been a major determinant of Germany's defeat in the first world war and of the country's misfortune in general.
It had everything excellent propaganda has to have:  
A historical determination (to bring intellectual vibes); 

Drawing on people's emotions and fueling resentment (all Germans at the time had at least one relative or friend who suffered from the war); 

Proposing a scapegoat or an easy target where to direct the newly formed resentment (communists and Jews) 

An ideal to pursue, drawing on the inherent human longing for a better future through hope (the Great Germanic Reich of the German Nation).
Niemoller thought he knew history, had resentment, disliked communists and didn't care that much for Jews. He also had hope for a better future. That's all it took to become a Nazi. 
That's all it takes to abide by totalitarianism.
Niemoller also had the emotional intelligence and instinctive courage to put into question Nazi policies, even after he became a gear of the Nazi propaganda. After seven years of confinement in concentration camps, having been witness to both ends of totalitarianism, he pronounced this sermon:
First they came for the Communists
And I did not speak out
Because I was not a Communist
Then they came for the Socialists
And I did not speak out
Because I was not a Socialist
Then they came for the Jews
And I did not speak out
Because I was not a Jew
Then they came for me
And there was no one left
To speak out for me
This sermon is a cautionary tale aimed at depriving slogans of death of their mind-numbing power: Laying bare"divide et impera" schemes. Here, Niemoller exposed the strategy of all authoritarian regimes: Simple, repeated words that isolate the most vulnerable, pronounced by charismatic authoritarians in order to sustain their dictatorial schemes.
Yet, the fact that this is not a history essay but one of current affairs shows the world has forgotten Niemoller's lesson in just a bunch of generations.
There is no easy way to say this, so I'll just say it: Putin is doing to Ukraine what Hitler did to half of Europe during WWII. Putin brought totalitarianism back to Europe. 
---
---
Soft intellectuals will spend years justifying, debunking, and deflating, all out of fear of calling things by their name. Because when something is named it exists officially, and then one has to deal with it. You don't give a name to a child you abandon. You don't call "crime against humanity" a war you don't want to fight in.
Putin's story is nice, but a bit unoriginal: The Great Russia. Ukraine for him is just a region of the Russian empire and has no right to exist on its own. Do you remember what Czechoslovakia was to Hitler? What did he do with the Sudetes? What did Putin do with Crimea?
Let's go over the same propaganda requirements listed above and apply it to Ukraine:
Historical determination (in this case of a revisionist nature); 

Drawing on people's resentment (Russia's downgrading from contender to global hegemony to regional power after USSR fall); 

Offering an easy scapegoat where to channel resentment (Nazi elite in Ukraine, the corrupt west) 

The Great Russia as an ideal that will lift all problems for its population. 
 I don't believe in determinism. History does not repeat mechanically. But being history driven by human nature, certain dark occurrences may happen more than once, when some humans are allowed to draw on human weakness to obtain their evil objectives. 
And if history teaches something, this is that the first ally of wickedness is indifference. Watching as horrors repeat in history is a recipe for disaster. "I hate the unconcerned, living means taking a side", used to say Gramsci, a famous Italian Marxist philosopher and politician. 
Here is what has been happening in Mariupol for the last month, what NATO has been unable to address to:
At least 5000 thousand residents died from the start of the siege, according to early Ukrainian estimates; more recently, they're reported a dead count up to 20,000. 
90% of the city's infrastructure has been wiped out
The Washington Post reported that the drama theater that was shattered to the ground by Russian airstrikes had a white flag attached to its top, to let Russian know children were inside. The word "Children" was spelled in wide characters, in Russian, both in the front and back of the building, as was shown

by satellite images

. 
There are around 100.000 people still blocked in Mariupol. All of them are suffering from shortages of food, water and heating.
Hospitals in Mariupol have been targeted multiple times by airstrikes. According to the mayor, one of them provoked the death of more than 50 people who remained trapped inside it. 
All the war crimes in Mariupol sum up to the tragic summary executions in Bucha, the airstrike on fleeing civilians in Kramatorsk, and many similar occurrences. President Biden today called it a genocide, an attempt to wipe Ukraine off the map, and Moscow responded saying it was fake news.
Mariupol among sanctions, bombings and shadows
"Skyggen i mit øje." "A shadow in my eye." This is the name of a new Netflix success released on March 9th. The movie recounts a bombing mission against Gestapo headquarters in Copenhagen, carried out by the British Royal Air Force during WW2. Netflix has perfectly interpreted how the digital transition would have impacted audiences' taste in terms of films. This is why it proposes a movie that talks about war and violence in Europe, just when war and violence are brought back to Europe. 
Go watch the film, but when you see a scared youngster hearing a bombing siren, think it is Kyiv. When you see a parent screaming, think it is Mariupol. When you see planes crash and bombs explode, think it is Kharkiv. 
And then realize that for people in Kyiv, Mariupol and Kharkiv, the movie never ends. 
Some of us are not Ukrainians, but we cannot stand silent. What is a nation in the end? A flag, a couple of lines on a map. The eyes of Ukrainians cry just like all other eyes; their stomach writhes for hunger like all other stomachs; their feet get blisters for walking and standing and walking and running like all other feet.
Their blood pours like yours.
It pours like yours would if you had the same wounds. And what is protecting you from those wounds? A flag and a couple of lines on a map. We cannot let dictators continue to kill for a flag and a couple of lines on a map; it's 2022. 
Let that sink in. 2022. 
We have to send more weapons and military equipment, not just impose sanctions. 
A solution involving long-term economic isolation will indeed reduce the risk of escalation, which could increase the death toll of this war, but there is no certainty that long-term economic isolation will end the war.
Actually, week after week, sanctions are showing not to be effective and, therefore, by doing nothing more, we are allowing for a horizon of events in which a state is free to attack another without having to fear a military response from the international community. A horizon of events in which invading a country is a bargaining chip to be used when necessary. A horizon of events entailing many deaths, much more than those confronting Putin now would imply. 
Putin started a war on humanity, and humanity should end it as soon as possible. 
If you allow a shadow to catch your eyes, you'll see Martin Niemoller in the flesh right before you. And you'll hear him say: "speak out before there is no one left to speak for you."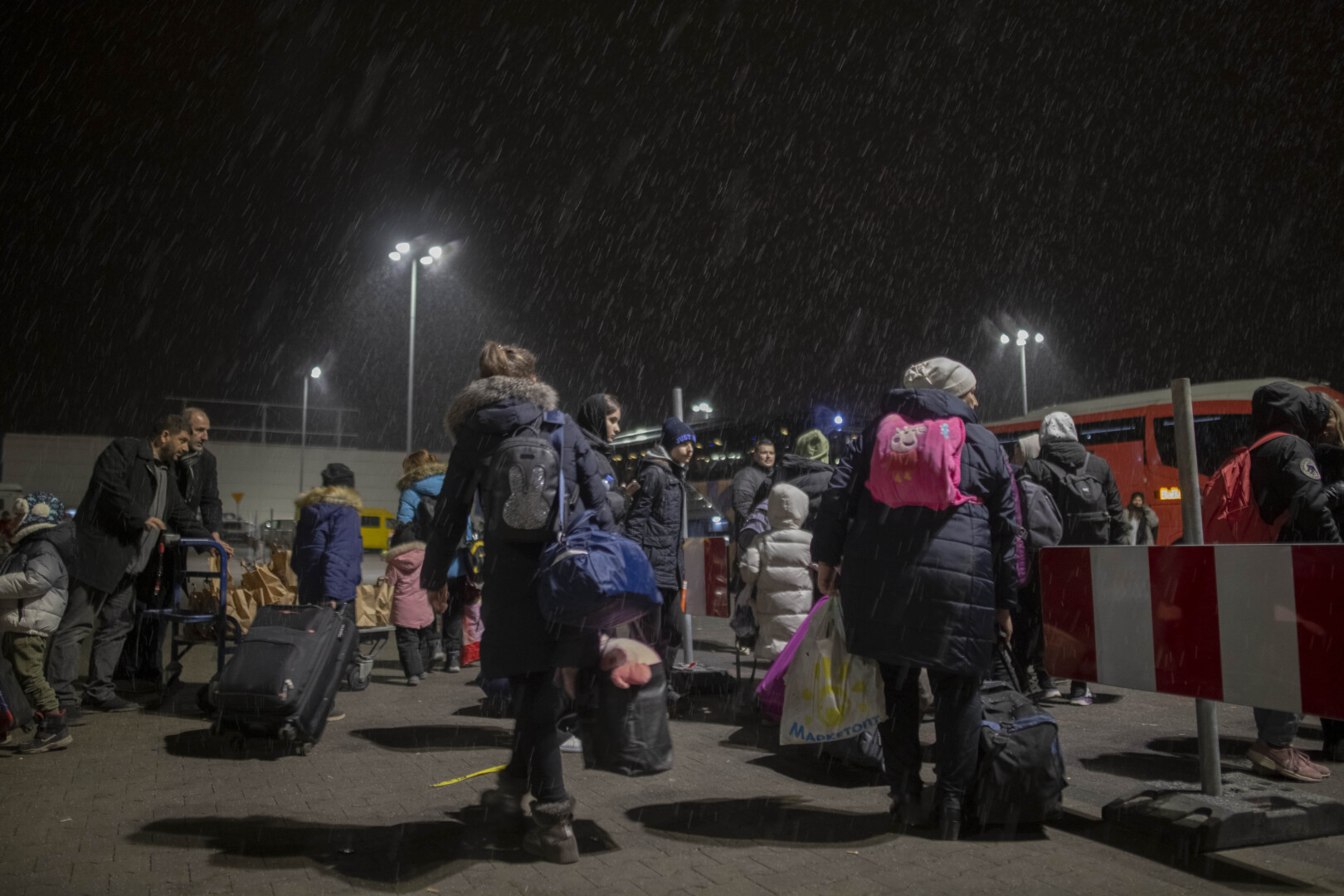 ---
Editor's Note: The opinions expressed here by Impakter.com columnists are their own, not those of Impakter.com — In the Featured Photo: Civilians running to get. Featured Photo Credit: Ali Arkady /Vii photo ©.