Brothers Leonidas and Babis Souras started their brand in a small village in Greece, at the foot of Mount Olympus. Their first bowties were made by hand at their father's workshop from the wood they collected in the nearby forest. Today their accessories are being shipped worldwide, worn by models at fashion shows, cufflinks and phone cases have been added to the collection. We spoke to the entrepreneur brothers about sustainability, their sources of inspiration, future plans and challenges they had to face along the way.
How was your brand born? Was sustainability in the picture from the beginning?
Leonidas Souras: Exallo was born in early 2015, from the need to create something entirely new and unconventional that has to do with men's fashion and lifestyle. This is exactly what the word "exallo" means in Greek, anyway: something unconventional, something unique.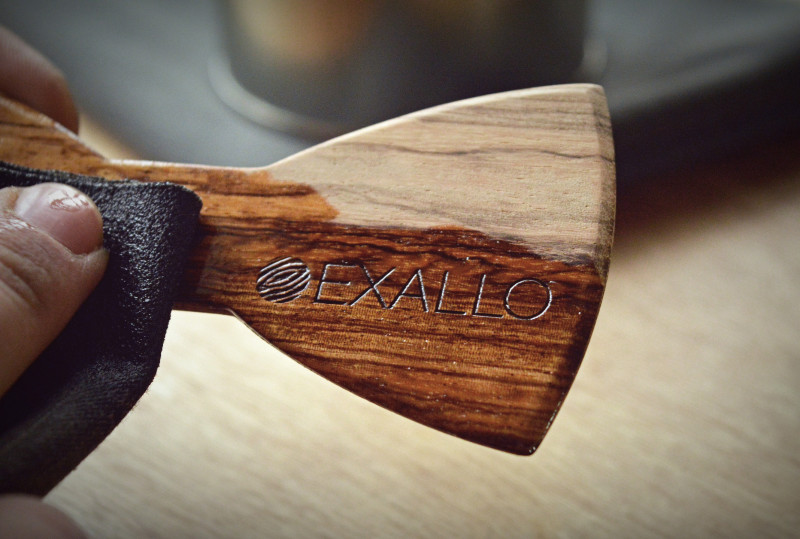 IN THE PHOTO:  Exallo bowtie. PHOTO CREDIT:  Exallo
The occasion that started it all was a baptism that we wanted to attend. My brother Babis and I found some discarded oak wood in our father's workshop and some fabrics that came from men's old ties. In order to dress formally for that event, we created a wooden bowtie for each one of us, using the aforementioned materials, and it was a success! We earned a lot of praise! So, we created our first wooden bowtie in the middle of 2014, and we didn't look back ever since. Before the end of that year, we had created our first product line, our men's classic wooden bowtie collection, which was based entirely on this principle, of re-using materials that nature or man has discarded.
So, yes, the idea of sustainability was there from the beginning, from day one. We combined the carpenter's art that we have learnt from our father, with modern design and artistry and we began to produce, with our own hands, items using reclaimed local wood from the Olympus Mountain area in Northern Greece.
This is where we live and work, in a small village, called Kolindros, which is a few miles away from the foothills of Mount Olympus itself. This gives us the opportunity to work using local resources, without having to travel long distances to procure them.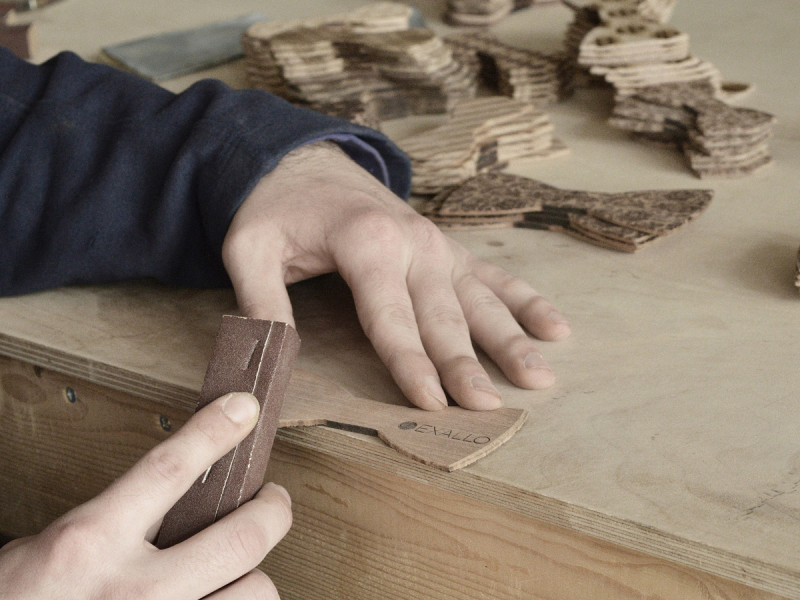 IN THE PHOTO:  Exallo bowtie in the making. PHOTO CREDIT:  Exallo
We co-operate with local producers, beekeepers, farmers and winemakers, who help us gather the basic materials for the creation of all of our accessories. We also power our entire workshop using solar energy and we use recycled paper for our products' packages. In all these ways, we contribute to our local economy and the general sustainability of our natural environment. We also give 5 percent of our profits to reforestation projects that take place in our area. In this way, we hope to return, what we have somehow, borrowed, from nature's wealth.
What does sustainability mean to you?
L.S.: One of the most important reasons behind starting Exallo was to use our business in order to sensitise and mobilise people to change their consumer habits, to turn to products that have a larger lifespan, both in terms of quality and in terms of aesthetics. The accessories we produce are special in many ways. They are made in small quantities, and therefore the quality control is exceptional. So, when someone buys something of ours, it satisfies both needs at the same time: the need for sustainability and the need for a classic fashion accessory of high aesthetic value.
This is what's wrong with mass production and fast fashion, anyway: none of those products satisfies a deeper need. None of those products remain in time. They satisfy fleeting desires that stem from temporary trends. They do not have actual, inherent value.
Our aim was to change that. And we are pretty sure we have already started to achieve it. We have customers that tell us that they cannot part with their first wooden bowtie, the one they have gotten from us over a year ago. I, personally, haven't stopped wearing one of our first bowties from our first line of products that was created three years ago!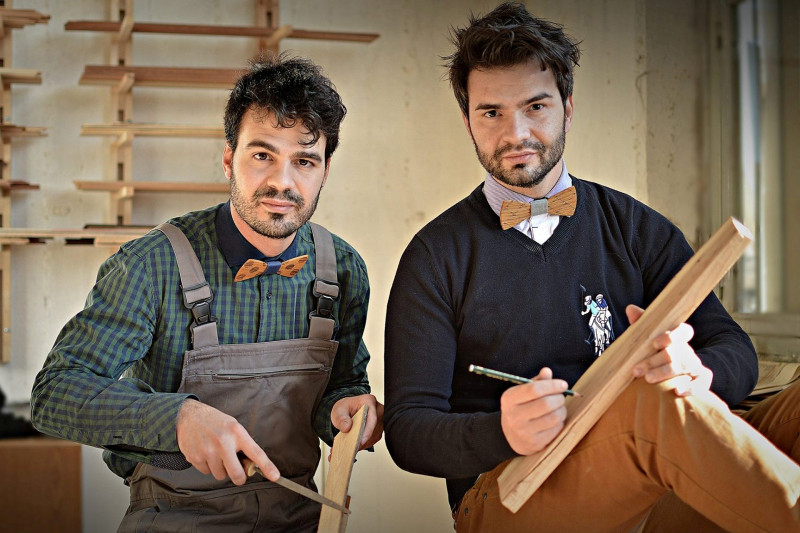 IN THE PHOTO:  Leonidas and Babis Souras, the founders of Exallo. PHOTO CREDIT:  Exallo
What is most important for you in your work? What inspires you?
L.S.: Nature inspires us above anything else. Nature is everything to us and everything, for us, is nature. This is where we live and work. It is our environment that gives us strength and inspires us. We respect it and we create our products with a sense of responsibility towards nature. We observe her constantly and we are inspired by natural forms. We have created an entire collection, our 'Nature Collection', via this manner of creative insight. We wanted to depict certain elements: flowers, blossoms,  small living organisms and field straws in designs and colours that we used. This new collection includes ten different items: four wooden bowties, two kinds of wooden cufflinks, and four different types of wooden phone cases.  
We also like to reinvent ways of looking at 'Greekness', its classic symbols, its archetypes, its mythology. Last, but not least, we like to experiment with design patterns that can be found randomly around us, in other products or currently used in fashion internationally.
What is your consumer like? Can you describe him/her?  
L.S.: We are primarily focused on creating men's accessories. We cater for the interests of the so-called 'modern gentleman', the one who likes either the casual dapper or the dapper elegant style or might swerve from one to the other when inspired by occasion or circumstance. This is a guy that differs considerably from the mainstream in the way he behaves as a consumer. He knows what a fashion icon is but he will adapt it to fit his own style and not the other way round!
He is smart, he is more decisive, he has a unique point of view, he likes to keep himself up to date with fashion, but he combines this passion with a sense of responsibility as a consumer. He has an 'ecological conscience', so to speak, and he cares for the principle of sustainability.
We would like to see any guy out there reach out to us. Setting our men's collection aside, we also have plans to create a more unisex collection in the future. Finally, our wooden accessories have expanded and veered off to other directions. Our wooden phone cases, for example, can be used by anyone, man or woman of any age.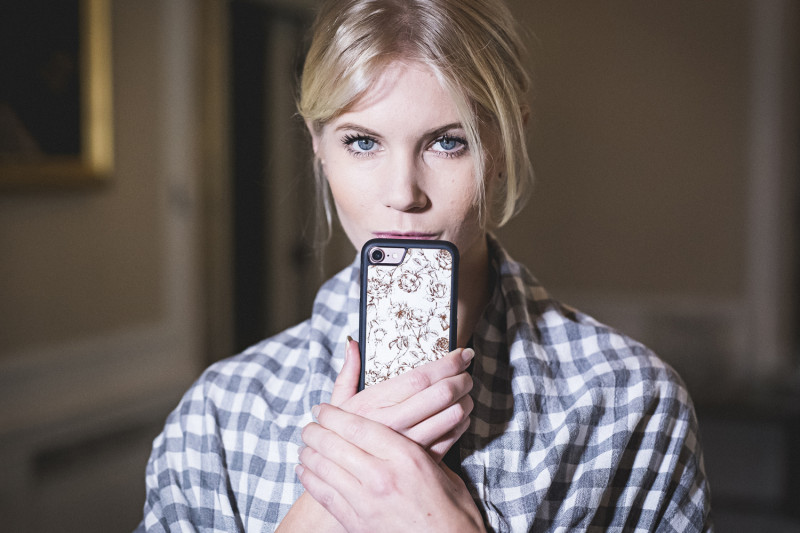 IN THE PHOTO:  Model with an Exallo phone case during Green Fashion Week in Rome, November 2017. PHOTO CREDIT:  Vittorio la Fata 
How do you see the future of your brand? Where would you like to be in 5 years?
L.S.: We have set ourselves two kinds of goals for the future: qualitative ones and quantitative ones. We aim to reach greater brand awareness in our vicinity, which is Europe, in terms of our products, as well as the cause that we have been working for – sustainability. We want to reach an 80 percent ratio: in other words, most, if not all, of our materials and our energy sources will be sustainable. We would also like to expand our market base and be able to sell in most of the main cities in the European Union. We would like to use a percentage of our profits to fund, organise and facilitate reforestation programs in our area twice a year. We would like to see our internet shop bring in revenue from all corners of our globe. And we would like to build a unique physical concept store that could also serve as a workshop – a sort of a hybrid shop.
In your opinion, what are the main challenges faced by designers trying to make fashion sustainable today?
L.S.: The greatest challenge in the world of fashion today is two-fold, we think: consumer awareness on one hand, and the deep change that has to happen in the basis of the production process itself, on the other.
In terms of consumer awareness, the organisations that promote sustainable fashion are few and their impact is not felt deeply enough at this point, even though there are so many sustainability initiatives in terms of certification in the agricultural and energy departments, for instance. Fast fashion is promoted wildly through the internet and the social media instead of slow fashion. This thwarts consumer awareness and it has to change.
In terms of the production process itself, new ways have to be paved in terms of finding sustainable materials to work with. We need more and better technologies that can produce sustainable materials successfully, new techniques of recycling materials, and their development has to be applicable on a larger scale than it has been so far.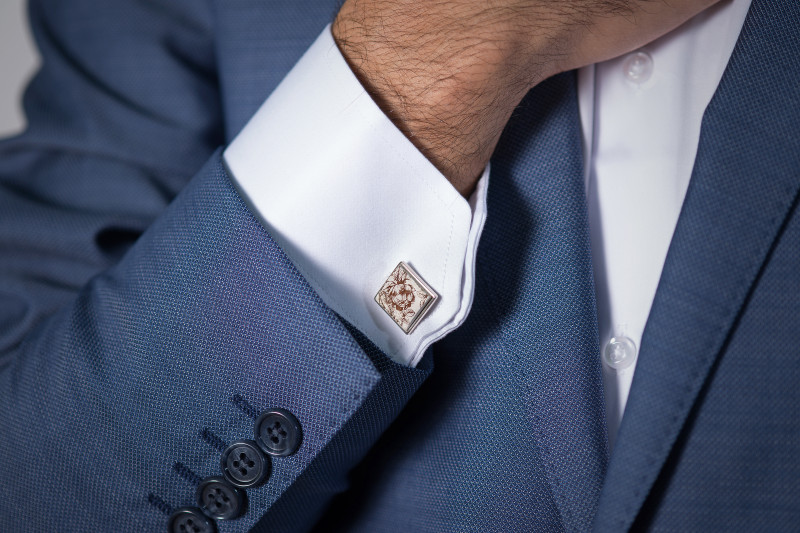 IN THE PHOTO:  Exallo cufflinks. PHOTO CREDIT:  Exallo
In your opinion, what needs to change in the industry for fashion to become 'greener'?
L.S.: What we really need is a change in mentality. We need to see more companies 'wake up' and realise that they have to behave more ethically.
What is good for people and the environment is also good for business.
You don't have to rip off in order to make a profit. You don't have to pillage. We need to see an industry that creates products of better quality. Production has to happen through more ethical means. Sustainable materials – yes – but sustainable wages as well. Fair to the earth, but also, fair to the people, the workforce itself. There are several ways to support this from other directions. For example, retailers could have departments that promote ethical fashion to consumers: by giving them the right information first, and then encouraging the right kind of consumer behaviour. Media companies could be more alert and more positively inclined to distribute the good news when a brand changes direction and goes green.
Another way to facilitate the change that the industry needs is through political decisions. If the right kind of incentives are given to businesses, if new industry standards are set, a sort of a new 'industry handbook', so to speak, that proposes new specifications and new guidelines, this could help towards a re-orientation of today's industrial standards. We already see quite a change happening in the auto-industry, for example. Because the fashion industry is the second largest polluter, right behind the auto-industry, it's the turn of fashion industry itself to take the metaphorical 'baton' and move forward with this. It is complicated, but it is feasible through co-operation from different sides.
IN THE PHOTO:  Model wearing an Exallo bowtie during Green Fashion Week in Rome, November 2017. PHOTO CREDIT:  Vittorio la Fata 
 What can we, consumers, do to fight against 'fast fashion'?
L.S.: There are two things to do. Act individually and act collectively. The right mentality has to come first. If we care more about our natural environment, then the need to have better information arises, and then the consumer actively starts to search for and turn to brands that produce better products. As consumers we have to realise that our choices affect our environment, albeit indirectly: it certainly is a large chain of events, from production to consumption. But as consumers, we have the power to change the order of events. We need to reach out there, demand more and better information, make better choices, and 'reward' businesses that produce ethically and sustainably. As consumers, we also need to organise collectively and push for that change on all fronts. This can be more effective than acting on an individual level.
How difficult is it to make a profit from 'green fashion' today?
L.S.: It is harder to make a profit from green fashion compared to fast fashion, we all know that. But we need to understand that if a business acts ethically, it will be more profitable in the long term. You can't act in a way that demands instant gratification, as a consumer that demands services/products or as the businessman who provides those services/products.
You have to think long-term, not short-term. As a business owner, one has to help out in giving people better information, in helping them out understand how to change their consumer habits. It takes guts to go out there and say "ok, this may looks like it costs a bit more, but it will be better for you in the long run". It takes persuasion. You have to create something new that is of value. It takes all that. It is a large chain of events, from production to consumption but if you turn to sustainable sources, you change it. Sustainable sources will give you plenty of material, and this will be more profitable for any business in the long term.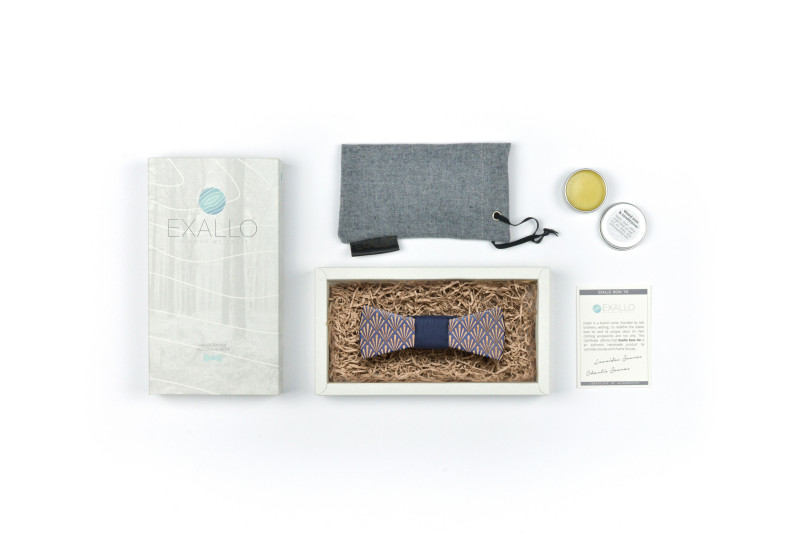 IN THE PHOTO:  Exallo products. PHOTO CREDIT:  Exallo
Has your own life changed since you've made sustainability a core principle of your work?
L.S.: We didn't have to change. We begun with sustainability in mind, and we made it a core principle of Exallo right from the start. Even our very first products were designed and produced in this way. We want to make products that are 100 percent sustainable. 
What advice would you give to designers/entrepreneurs who are thinking of starting a sustainable business?
L.S.: Start this way: know that you will not make huge profits in the short term. Expect that profit will not come easily. You will need to work for it. But you have to believe in sustainability, and it has to be your core principle, not only in your work, but in your own life as well. You have to have the same philosophy as a businessman and as a person. You have to be a role-model, for your employees, first, your business partners, second and last but not least, your clients. But it will be most satisfying, I can guarantee that.
---
EDITORS NOTE: The opinions expressed here by Impakter.com columnists are their own not those of Impakter.com