What is Wrong with the European Union?
On 25 March 2017, we will know whether Europe – as a "project" for an increased "union" – plans to go forward, fade away or split up.
That is the date of the much-awaited European Summit to be held in Rome to celebrate (without UK Prime Minister May) the 60 years of the European Union. The celebration could turn into a funeral if the 27 heads of EU member nations cannot agree on a so-called "White Paper", a.k.a. "the Rome Statement", that they are meant to adopt as a common declaration on Europe's future.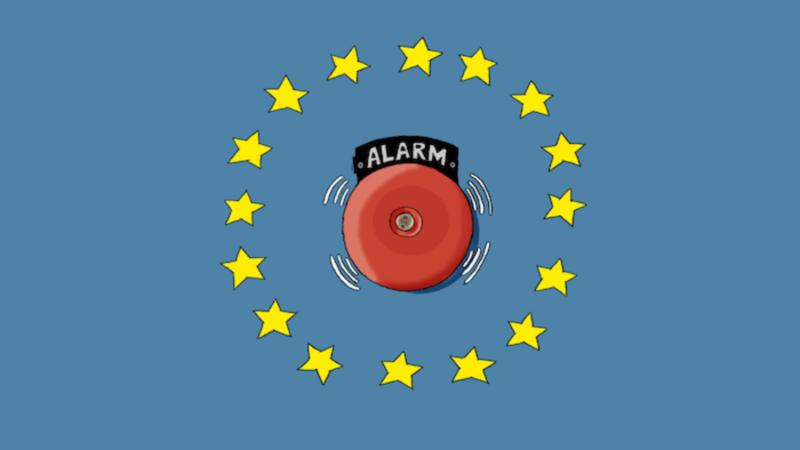 Photo Credit: March for Europe
What does this White Paper say? If you google it, you won't find it. At the time of writing, it's still under wraps in Brussels. All we know for now is that there has been a preliminary "white paper" prepared by the Benelux countries, Belgium, the Netherlands and Luxembourg, part of the original six founding member countries (the other three are France, Germany and Italy). And there was a recent declaration by German Chancellor Merkel at the EU Summit meeting held in Malta that drew attention and irked some EU members. "This would destroy Europe!" thundered the Pole with the nodding support of other Eastern Europeans.

What did Ms. Merkel say that was so provocative? She aired the possibility of a "multi-speed" Europe – the idea is simple enough: those EU members who want it should be allowed to go forward with integration, the others would be left to proceed slower, at their own pace.
In the Photo: Angela Merkel Photo Credit: Elza Fiùza/Agência Brasil, CC BY 3.0 Wikimedia Commons
This is not a particularly new idea, she had already aired it two years ago. And it is an idea dear to the Italians who have been pushing it for some time – most recently asking for a "Schengen union for security" to try and solve the problem of immigrants rushing across the Mediterranean. Leading Italian political scientists are also behind the "federal solution" for Europe –  notably Sergio Fabbrini, Director of the Luiss School of Government and author of multiple books on Europe who has also expounded it in the country's leading financial paper, il Sole 24 Ore. 

Annoyed by the brouhaha from Eastern European members, the French President Hollande who felt a reference to a "multi-speed Europe" should find its way in the March 25 White Paper, told reporters:
 Europe isn't a cash-box, not a self-service restaurant, a Europe where you come and take what you need, where you take your structural funds or get access to the internal market and then show no solidarity at all in return. Europe was built to be stronger together and it's that rule, that principle, which should be driven home in March.
Photo (above): François Hollande Photo Credit: Flickr/Jean-Marc AyraultCC BY 2.0, Wikimedia Commons
So we have two contrasting views of the European Project and, implicitly, a two-speed Europe: a "Europe à la carte", that pleases Eastern Europeans and Scandinavians who only seek economic benefits and balk at political integration; and a "federal Europe", more forward-looking and congenial to continental Europeans. Also, good news for federalists, the French-German alliance that had been driving Europe so far could turn into a foursome: France, Germany, Italy and Spain. They have already agreed to meet in Versailles on 6 March – holding a preparatory "mini-Summit" of their own; and thus immediately angering Poland that threatens to hold counter mini-summits with either the Visegrad group (Poland, the Czech Republic, Hungary and Slovakia) or the Bucharest nine (Bulgaria, the Czech Republic, Estonia, Latvia, Lithuania, Poland, Romania, Slovakia and Hungary).
Multi-speed Europe is already a reality…
Meanwhile, the Benelux countries in their "white paper", while supporting the "Bratislava Declaration and its roadmap" as the way forward, talked about the "subsidiarity" and "proportionality" principles in the usual convoluted EU Treaty language that baffles most European citizens:
"The EU shall only act if and in so far as the objectives of the proposed action cannot be sufficiently achieved by the member states, either at central level or at regional and local level, but can rather, by reason of the scale or effects of the proposed action be achieved at Union level. The EU will only do what member states themselves are not able to deliver for their citizens."
Note the phrase "by reason of the scale or effects of the proposed action": this is meant to indicate the Union (because it is larger in scale) can do certain tasks better than a member country. The corollary: European integration cannot impinge upon what is best done at national level, that's where "subsidiarity" stops.
So where does this leave the "European Project"? Do we go for more "union" or less? Is "more union" politically viable?
The Roots of Euroskepticism
The basic problem is rising "euroskepticism", a new term coined to indicate that Europeans are distrustful of Brussels and European institutions that they see as "power-grabbing" and too distant from them.
Brexit was only the first alarm bell. We now speak of Frexit (for France), Nexit (for the Netherlands), Auxit (for Austria) etc. Trump's constant denigration of the EU (calling it a "vehicle for Germany") and his open support of Brexit and other EU-member exits, has further unsettled Europeans.
On 18 February, at the Munich Security Conference, US Vice President Pence sought to reassure Europeans that the US supports NATO and the Minsk II accord for Ukraine, indicating America would stand firmly behind Europe against Russia. Can Europeans trust Pence? A month into the Trump presidency, it is still unclear whether Trump is top dog and therefore his bark matters, or whether he is a tweeting Reality TV star and therefore his cabinet matters. On February 24,  in an interview with Reuters, Trump made a surprising u-turn, declaring himself  "totally in favor" of the EU…but for how long?
It is a fact however that Trump has become a populist icon, deeply resonating with the rising populist movements in Europe, all calling for an exit of the Euro and Europe – from Marine Le Pen in France to Geert Wilders in the Netherlands to Frauke Petry in Germany to Beppe Grillo in Italy. They all liken themselves to Trump.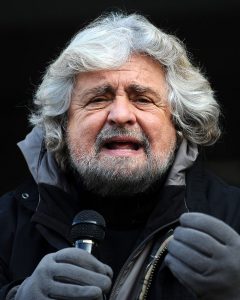 In the Photo: Beppe Grillo at the rally of the Five Star Movement in Piazza Dante in Trent, Italy, for the party's presentation of its 2013 electoral slate Photo  Credit: Niccolò Caranti
Listen to Grillo, an ex-TV comedy star, now sixty-nine but with a continuing appeal on young Italians:
"I'm a comedian. You have to understand that my brain doesn't work like a politician's brain. I think about something, then the next day I say something else. It's a very beautiful word, populism. I'm proud to be a populist."
And about Europe, this is what he had to say:
"It is an enormous apparatus, with two parliaments, in Brussels and Strasbourg, to please the French. I am in favor of a different Europe, where each state can adopt its fiscal and monetary system. I want the Eurobond, a 20 percent devalued euro for southern European countries, protecting our products against those arriving from abroad, and a revision of the 3 percent deficit budgetary rule. I no longer feel the spirit of Europe."
You have to admit that some of things he says ring true. Eurobonds could indeed be a quick fix for the Euro and start it functioning as a proper common currency. But if each state adopts its own fiscal and monetary policy as he proposes, the Euro will never function properly, it's as simple as that, economics 101. And incidentally, that is precisely the problem with populism (and white nationalism, often the same thing): The mixture of real, true facts with false interpretations and misapprehensions,.
With elections coming up in key countries this year (the Netherlands in March, France in April and May, Germany in September, and possibly Italy later), their views, if they win (and both Wilders and Le Pen could), might well determine the end of Europe as we know it – an event that would come at a tremendous economic cost: You don't dismantle the EU without breaking up trade and labor flows, not to mention the banking system and the currency.
The risks of plunging in a deep, decades-long depression are very real.
By comparison, Brexit is a child's game. After all, the UK was never fully committed to the EU. By contrast, EU membership is part of the French constitution (as it is in most other EU members) and international treaties, once ratified, are untouchable. So Ms. Le Pen, to achieve her aims, would need to modify the constitution with help from the French parliament, not a given since she's not likely to control it.
Worse still, the Euro that was supposed to herald a stronger union, has nearly destroyed it. And it could still destroy it, as Nobel Laureate Joseph Stiglitz argues so convincingly in "The Euro: How a Common Currency Threatens the Future of Europe".
---
Related article: "DEATH OF THE EURO: THINKING THE UNTHINKABLE" 
---
And we're in for another episode in the seven-year drama of the Greek debt crisis as the Greek Parliament is asked to pass yet more austerity measures, including another cut to pensions. Once again, the "aid-for-reforms" package devised by the infamous "Troika" (the European Central Bank, the EU Commission and the IMF) has not worked, and Greece might default by July.
But the Greek debt is only the tip of the iceberg. The Ukraine crisis is far from settled as the war spurts on in the Donbass region. The flows of refugees, temporarily halted by a cold winter, are likely to surge again this summer. Southern Europe can't shake off an economic stagnation that began in 2008.
Meanwhile the German export machine could sputter to a halt as China slows down. So far Germany has pulled the EU economic train (though at the expense of Southern Europe), but this could change dramatically if Trump's "America First" policies were to succeed, reversing globalization and heralding  a return to the depressed 1930's, when every country hid behind national walls and engaged in "beggar-my-neighbor" policies. We all know what that led to.
Europe in a Fog
Seen from afar, one gets the impression that Europe staggers from one useless "EU Summit" to the next, while anti-EU populists rock the boat. In Eastern Europe, Viktor Orbàn in Hungary and Jaroslaw Kaczynski in Poland are already dismantling democratic institutions.
---
Related article: "TRUMP POPULISM: A THREAT TO DEMOCRACY?"
---
European citizens do worry and have been talking about the future of Europe for years. For example, A.T.Kearny, a leading global management consulting firm, regularly organizes meetings of the so-called "Bad Ragaz Group" (part of their Global Business Policy Council) bringing together corporate, government and academic leaders to discuss the future of Europe:
VIDEO CREDIT: YOUTUBE/TNR PRESS ASSOCIATION
Among the reports produced by the Group so far, one, done in 2012, is particularly visionary. Here are three possible scenarios for Europe's future:
A "pyrrhic victory" as Europe struggles along without ever achieving integration;
"Derailed" by an outside attack (e.g. US and Israel war on Iran) causing the Eurozone to break apart;
The "center holds" as a banking crisis is expertly solved by the European Central Bank with German support.
By an overwhelming margin of almost three to one, group members saw the first option as the most probable and the third option as most desirable.
More recently, another large effort to think about Europe's future was carried out by top experts from think tanks and academia from all 28 EU countries, under the guidance of the French Institute of International Relations. Known as "the building bridges project", it worked 16 months and published a report just before Brexit (in March 2016) with a catchy title: "The European Union in the Fog – Building Bridges between National Perspectives on the European Union". Vivien Pertusot, the project coordinator, painted a dire picture of the EU in his introduction:
"The European Union is in the midst of a fog: the fog of crises, the fog of uncertainty, and the fog of criticisms. Rarely has the context been so dim for the EU."
You'd expect solutions to be offered but the report provided no overall "grand strategy". It called for an "EU of projects", i.e. more concrete rather than "grand projects";  a "more robust Economic and Monetary Union", i.e. a Euro reform; a "greater role" for the EU in foreign and security policy; and more recourse to education and the media to stimulate EU debate.
The final recommendation was disappointingly timid: "Instead of looking for a positive and overarching narrative, the EU's primary goal should be to deliver as much as possible with the competences that it has." (p. 14, highlight added) In other words: don't touch the status quo.
Likewise, debates at the European Parliament tend to lose their way in a fog. For example, on 14 February 2014, as the Parliament struggled to develop a legal basis for EU reform, the press reported a clash among lawmakers  pitting those who wanted to maintain a "united and integrated club" against those who would like to see a "multi-speed" Europe, while a third group addressed the lack of convergence, political cooperation and policy "ownership" in the euro area.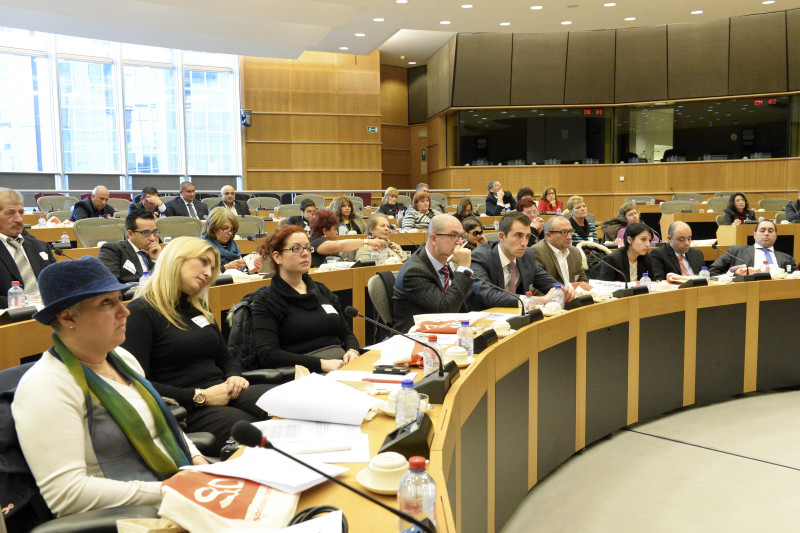 IN THE PHOTO: CONFERENCE "GROUP OF THE PROGRESSIVE ALLIANCE OF SOCIALISTS AND DEMOCRATS IN THE EUROPEAN PARLIAMENT MEETING" PHOTO CREDIT: © EUROPEAN UNION 2014 – EP.
A Democracy Deficit?
Conventional wisdom is that Europe suffers from a "democracy deficit", with a lack of transparency and insufficient consultation between political leaders and the citizenry.
How true is that?
Some recent facts would appear to mitigate that perception. In 2014, the European Parliament gained the power  to choose the President of the European Commission, the leader of the EU's executive branch:  Consider how Jean-Claude Juncker (former Prime Minister of Luxembourg) won the job; he was the candidate presented by the most voted party in Parliament, the centre-right European People's Party (EPP.EU); the European Council then nominated him and Parliament voted him in – a confirmation of the link between the people's choice and the Commission.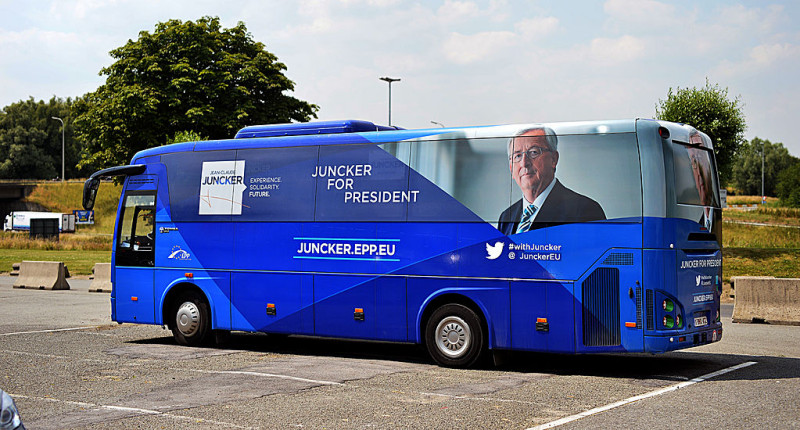 In the Photo: Juncker's campaign bus for the 2014 election Photo Credit: Factio popularis Europaea, CC BY 2.0, Wikimedia Commons 
Or take the highly successful Erasmus Programme benefiting over 3 million students since its inception in 1987 and now on track with Erasmus Plus to reach five million by 2020 – with some 200,000 students traveling to another European country every year.
Not to mention the numerous and lavish EU funding in all sectors of its member countries, from agriculture and industry to scientific research, consumer protection, health, media, culture etc. Just take one recent example, the famous "Juncker Plan". Technically known as the €163 billion "European Fund for Strategic Investment" managed by the European Investment Bank, everyone expected it to fail. Yet in 2016 some €17 billion were disbursed, and more is coming, most of it going to small businesses.

VIDEO: EUROPEAN INVESTMENT PROJECT PORTAL VIDEO. CREDIT: EUROPEAN COMMISSION
But the "lavish EU funding" works both ways; it creates the grounds for not always savory lobbying in Brussels.  All this does little to lower the level of euroskepticism.
Are European institutions unable to "sell" the European Project?
The celebrations to mark the 60th anniversary of the EU in Rome should work to counter this negative perception. The Italian government hosting the event is keen to make a success of it. The European Movement, founded 70 years ago, the largest "pan-European" network of pro-European Organizations, is orchestrating  a solemn "Appeal" to "relaunch European integration", endorsed by over 300 European academics and personalities inviting everyone, members of civil society, scholars, NGOs, youth and citizens to participate in a "March for Europe" in Rome on 25 March.

In the Photo: The one day programme on 25 March foresees a 3-hour public debate on the future of Europe followed by a march starting from Piazza di Spagna Photo Credit: March for Europe
The Appeal, written by Roberto Castaldi, an Italian political scientist teaching at Pisa University, has a fierce opening:
"We European citizens are worried and scared. The economic and financial crisis has impoverished many of us. Youth unemployment risks creating a lost generation. Inequality grows and social cohesion is in peril. The EU is surrounded by war and instability […] Democracy and the core values of the European modern civilisation are under attack. The EU itself is questioned, although it ensured peace, democracy and welfare for decades."
People of goodwill want the European Project "relaunched". But a public debate on the same day European political leaders are adopting their "White Paper" is probably not enough to assuage a sense of distance with the political class.
Yet street manifestations are less likely to give results than some of the proposals swirling about to relaunch the Union. The more extreme ones call for setting the EU on a totally different footing, giving space to national sovereignty. For example, that's what Hubert Védrine, a seventy-year old French Socialist politician, calls for in his book "Sauvez l'Europe" ("Save Europe", October 2016). He is a former Foreign Affairs Minister in the Jospin government (1997-2002), but is anyone listening to him? He talked on French television, got some interviews (including Le Figaro) but the excitement quickly died down.
No doubt he was asking for something revolutionary, but how feasible is it to turn back the clock? In Eastern Europe it might work, in Western Europe, not so much.
A "New Deal for Europe"
A more realistic proposal comes from Thomas Piketty, professor at the Paris School of Economics and author of  the bestselling Capital in the 21st Century. In an article published a year ago, called "A New Deal for Europe" he came up with some very concrete ideas.
First, his diagnostic of what is wrong with the Eurozone:
"We have a single currency with nineteen different public debts, nineteen interest rates upon which the financial markets are completely free to speculate, nineteen corporate tax rates in unbridled competition with one another, without a common social safety net or shared educational standards—this cannot possibly work, and never will."
His solution: a two-speed Europe leading the rest of the EU by example, with the Eurozone working to reform the Euro and jumpstart economic growth.
To achieve this will require a "new form of democratic governance" and he suggests the establishment of a "Eurozone Parliament" to vote on the required reforms. The starting point of the process would be a conference of eurozone nations on debt, "just like those that were held in the postwar years, to the notable benefit of Germany", he notes (incidentally, this is not the same thing as a meeting of Eurozone finance ministers which is what is done now, with scant results; the idea here is to relaunch the democratic process).
Key for success would be a common corporate tax. Why? Because, as he says:
"A common corporate tax would make it possible to finance investments in infrastructure and in universities. To take one emblematic example, the Erasmus education program—which provides opportunities for students and teachers to study and train abroad—is ridiculously underfunded. It has a budget of two billion euros annually, against the 200 billion euros set aside every year for interest on eurozone debt. We ought to be investing heavily in innovation and young people."
How likely is such a proposal to be taken up politically?
President Hollande proposed a Eurozone Parliament in 2015 but, although the proposal was well received, it remained vague. The Delors Institute (Berlin) picked it up in a policy paper in 2016, coming up with three options: from "minimalist"  (more of the "existing inter-parliamentary cooperation") to "maximalist" (actual creation of a "Parliament of the Eurozone"), and finally settling on an "intermediate" one:
"setting up an Assembly, composed of national and European parliamentarians that would meet without changing the existing treaties."
Which politicians in the upcoming elections will pick up the gauntlet?
In Germany, the idea is fairly well accepted by all the parties that count (even by the contrarian German Finance Minister Schaeuble as far back as in 2014).
In France, everything will depend on the outcome of the upcoming elections. The populist Marine Le Pen is of course against everything European; Fillon, the main candidate on the right (but hobbled by an on-going investigation over "fake jobs" he gave his British wife), is a convinced European who favors an "intergovernmental EU" and has three priorities for Europe: guarantee security, boost investment and reform the Eurozone – but not going so far as setting up a new parliament.
To move the clock forward, there is only one candidate but he is an outsider belonging to no party: Macron. The UK Guardian describes him as "an energetic outsider, 'of the left' and progressive on social issues, but economically liberal and pro-business. His youthful movement En Marche! (Let's Go!) draws thousands to its rallies." He has partisans even in Germany. The Director of the Delors Institute (Berlin), Prof. Henrik Enderlein in an article in Der Spiegel (3 February) explains why Macron's political agenda is also a "good chance for Europe to gain momentum".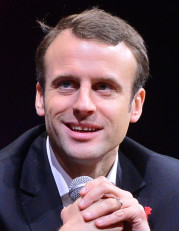 In the Photo: Emmanuel Macron at LEWB 2014 Conference Photo Credit:  Official LEWEB photos – PULLMAN STAGE, CC BY 2.0, Wikimedia Commons
For a while, it looked like Macron was ahead of Fillon – both are behind Le Pen but expected to beat her in the second round in May. Unfortunately, Macron made a political gaffe recently (he qualified French colonial rule in North Africa as a "crime against humanity") and lost some points in the polls. But that could change over the next two months: he just joined forces with veteran centrist Bayrou. Meanwhile a couple of Le Pen's aides have suddenly come under investigation over corruption.
Stay tuned…Europe is at the crossroads, but as with everything else, it will take its time to move forward.
---
Recommended reading: "MERKEL OPENS ATTACK ON ELECTION CHALLENGER OVER ECONOMIC POLICY" 
---
EDITOR'S NOTE: THE OPINIONS EXPRESSED HERE BY IMPAKTER.COM COLUMNISTS ARE THEIR OWN, NOT THOSE OF IMPAKTER.COM. FEATURED PHOTO:  EUROPEAN UNION 2017/EP/ MICHEL CHRISTEN