We at Impakter, have spoken extensively about the tremendous good that companies generate when they support the employment of the artisan textile design.
It really is a win win in sustainable terms, protecting heritage, present employment, and ensuring the future of artisans.
This is why we are excited to bring to you another interview with another great company, Ethnotek Bags, who have fully bought in to the artisan's craft.
I spoke to Jake Orak, Founder and Head designer at Ethnotek Bags, to fully understand his mission in this industry.
Q. What is the mission of Ethnotek?
Ethnotek's mission is to enact cultural preservation by driving demand and creating employment opportunities for traditional handmade textiles in partnering artisan villages in Ghana, Guatemala, India, Indonesia and Vietnam. These two elements are achieved through the sale of Ethnotek's laptop and travel bags which integrate the handmade artisan fabrics into its designs. Each bag is intentionally designed with the focus of having the artisan fabrics a functional and integral part of the overall product. With the increase of product sales, the amount of fabric orders placed to partnering artisan villages grows. Which in turn leads to an increased demand providing a steady stream of income for the artisans that ultimately preserves the craft and cultural identity that is woven into each of their handmade masterpieces.
In the photo: Jake Orak with some artisans in India Credit: Ethnotek Bags
The initial idea for Ethnotek, came from a solo motorbike trip I went on through the northern highlands of Vietnam in 2007. I was inspired by the hand-embroidered fabrics, beautiful people and culture of the Hmong communities. Being a bag designer, I figured that integrating handmade ethnic textiles into high-quality functional bags, could be a great way to bring stable income to artisan communities, with the intention of empowering the artisan communities to revive and sustain their craft as a result. This unique supply chain model is great for marketing and the integration of the handmade textiles, creating a unique selling point that wins over customers who are looking for a different, high quality bag or backpack that visually stands apart while doing some good in the world.
Our loyal tribe of customers are switched-on to responsible consumerism and are already searching the landscape for brands like ours. Their loyalty comes from understanding their crucial role in providing livelihoods for artisans around the globe. This sense of ownership and collaboration converts customers to lifelong ambassadors of our shared mission. We are a beacon of color, uniqueness and good in a world flooded with bland and rampantly mass-produced products without a cause or soul. Our customers, like our owners, employees, contractors and suppliers, are warriors acting out against this type of consumerism, and Ethnotek is proudly leading the industry in responsible bags.

In the photo: Shoulder Bag Credit: Ethnotek Bags
Q. How was Threads' idea born?
The idea for Threads was born out of my own personal frustration with other bags on the market. What I was missing was a bag that could withstand the abuse of everyday commuting and long-distance trips abroad, looked really different, was customizable and does some good in the world. I just couldn't find any bag out there that ticked all those boxes… So, I designed it!
The concept behind Threads was, sustainability, support & style. I knew that if I designed a backpack with an interchangeable front panel that featured all our artisan fabrics, it would be a homerun! Only having to own one bag, that has an infinite amount of customizable looks and supports numerous artisan communities around the globe, is the magic combination that quickly became Ethnotek's identity and unique selling point.
After six years of being in business, we're seeing an exciting trend, whereby Tribe members buy new Threads for their Raja Packs every time we launch a new collection. There's a kind of addiction factor to the Thread system and our customers get really stoked to know their purchase supports more and more artisans with each purchase. The bigger their Thread collection gets, so too does their positive social impact. It's a win-win!
In the photo: Twin brother Surresh and Sanjay at work Credit: Ethnotek Bags
Q. How did you encounter and manage such a variety of artisans from so many countries?
I originally encountered the artisan communities by researching areas that had a rich history of handmade textiles and a culture that was intrinsically a part of those textiles. I also wanted to offer a wide variety of textile techniques, colors and textures to satisfy a wide variety of customer tastes… After all, because our product is symbiotic with the artisan fabrics, if they don't appeal to customers and sell well, we'll have a hard time supporting artisans.
After having a head and notebook full of research, I hopped on a plane to meet the artisans in person. I'd spend days wandering around asking about artisan fabrics and explaining my idea. As you can imagine, this took a lot of time! Usually I was corralled into souvenir shops that sold overpriced handwoven scarves, table runners, pillows etc., but after I explained that I wanted to meet the family that made the textiles and order fabrics from them every 3-months for the next 10-20 years, their ideas shifted and they got really excited! Quickly they'd say, oh, you don't need to be here, you need to meet my uncle, friend, grandma etc… I'd then meet with the families, have tea or a meal and get to know each other for a while before talking business.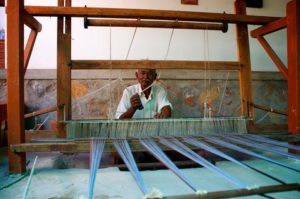 In the photo: An Ethnotek artisan weaving from India Credit: Ethnotek Bags
I have a checklist of criteria to ask the artisans to make sure the business-to-business partnership can be sustainable in terms of output, export ability, communication, and quality control and after it all looks good, I place a test order and pay for the full order (or at least 50% deposit depending on the size of the order) on the spot. Then leave the country and ask them to ship to our workshop in Vietnam when finished. If that process goes well, we order more and more each time and after 2-seasons or so, we've built a relationship and learn a lot along the way.
We like to use the case study of our artisan community in India (our first in-person sourcing location): What started in 2011 with one family weaving Ethnotek fabrics 3 months of out the year, grew to twelve families across five villages weaving 8-10 months a year by 2014. Thanks to the new distribution & supply chain model we put in place, that has now grown to year-round employment, woohoo! And during our last sourcing trip to India in 2017, we had the pleasure of seeing the weaving training center our head artisan, Shamji has built, that was primarily funded by Ethnotek orders. This means the ancient craft of Vankar pit-loom and extra weft weaving can continue to be passed down from generation to generation… Now that's proof of concept!
Q. What is your biggest challenge in the sustainable bags industry?
Our biggest challenge thus far has been visibility. There's an irony that I've talked about with other startup owners in the sustainability space, that brands like ours get less facetime than other brands who's main selling points are their product features, price or the cool social media influencers they have on-board. It's almost as if the second you advertise your positive impact and say you're doing something good in the world, it opens you up to more skepticism then when you don't have a social mission, and I think that makes some journalists nervous. That's not going to stop us! Our new challenge is finding media outlets with shared values to help us spread the word. Needless to say, we're thrilled to team-up with Impakter to share this story!

In the photo: A female artisan weaving Credit: Ethnotek Bags
Q. How will you improve your impact on the planet?
We will improve our impact on the planet by using more upcycled materials across our bag line. Currently we use a PET tech fabric that is made from 100% recycled plastic bottles, which accounts for 26% of our overall sales volume. In addition to that, we're focusing on extending the overall lifecycle of our products by implementing recycle/ trade-in programs and repair services so no bag ends up in a land fill at the end of it's life, which our lifetime warranty covers.
We will also improve our impact on the planet by selling bags! Haha, I know that sounds sales-ey, but it's true. Selling bags creates work for artisans around the world. Work that provides income and preservation of craft and culture. It's a very simple model.
The amount of fabric we've produced and sold in bags through our artisan program life-to-date is 35,509 meters, which equates to four Mt. Everests stacked vertically! That is 14,203 days of artisan employment. This figure will increase at a 49% compound annual growth rate, with year-round employment for 396 artisans by 2021.
---
Editors note: The opinions expressed here by Impakter.com columnists are their own, not those of Impakter.com