Gender equality and women´s empowerment are essential to transform our world. Gender inequality affects women and girls in every country, stagnating their social, educational and economic advance. Fighting against gender inequality is vital to deal with challenges in society, from promoting education and health to reducing poverty and ending cultural practices like genital mutilation.
Child marriage is a global challenge and despite being prohibited by international law, this practice violates the rights of millions of girls across regions, religions and cultures. Around the world, 15 million girls marry before age 18 each year and about 720 million women who married before age 18 are alive today. One girl under 15 is married every seven seconds. We must act together against this injurious practice.
International organizations and NGOs are calling for action to the end of child, early and forced marriage in societies. Examples of recent and brilliant campaigns designed to achieve the goal of ending child marriage include: Counting the Invisible (#InvisibleGirls, #BecauseiamaGirl) from Plan International; End Child Marriage (#EndChildMarriage) from Human Rights Watch; "No time to lose: On Child Marriage and Female Genital Mutilation/Cutting" from UNICEF and "Leave no One Behind" according to the Sustainable Development Goals "A people-powered agenda" from United Nations.
---
Related Article: "EMPOWERING WOMEN: THE SILVER BULLET TO ACHIEVING THE SDGS"
---
To this end, the theme of this year's International Day of the Girl that took place the 11th October was based on the seventeen Sustainable Development Goal. The International Day slogan was "Girls´ Progress equals Goals´ Progress: What Count for Girls".
Video Credit: Human Rights Watch 
Child marriage has devastating effects for girls and women. Health risks including death from early pregnancy are one of the most dangerous consequences of child marriage. Also, girls and women married early are more likely to suffer violence, abuses and forced sexual relations and more vulnerable to sexually transmitted infections.
Married children usually leave school and this creates serious problems as they lose their chance to receive an education and pursue opportunities in life. Education is vital for girls to make informed decisions about their own lives, to empower themselves and to break their own cycle of poverty.
Another point of concern is the situation of children caught in conflict zones, in which girls are more likely to become child brides.  In this sense, among the list of 30 states with the highest prevalence of child marriage, more than a half are considered fragile or conflicted-affected countries.
Child marriage has a global presence and it can be found in every region around the world, from the Middle East to Latin America, South Asia to Europe, in rich and poor countries. South Asia and sub-Saharan Africa have the highest rates of child brides.
The 10 countries with the highest rates of child marriage are (Child marriage prevalence is the percentage of women 20-24 years old who were first married or in union before they were 18 years old):
1-      Niger                          76%
2-      Central African Republic    68%
3-      Chad                           68%
4-      Mali                            55%
5-      Bangladesh                52%
6-      South Sudan              52%
7-      Burkina Faso              52%
8-      Guinea                       52%
9-      Mozambique              48%
10-    India                           47%
The 10 countries with the highest absolute number of child marriage are (Women aged 20 to 24 years old who were married before they were 18):
1-    India                                26.610.000
2-    Bangladesh                      3.931.000
3-    Nigeria                              3.306.000
4-    Brazil                                 2.928.000
5-    Ethiopia                             1.974.000
6-    Pakistan                             1.875.000
7-    Indonesia                           1.408.000
8-    Mexico                               1.282.000
9-    Democratic Republic of the Congo    1.274.000
10-  Tanzania                              887.000
It is quite worrying that in many of the countries that allow child marriage minimum age requirements are often ignored. Almost all of the countries around the world have laws specifying at what age marriage is allowed, and in most of these nations, a couple can wed under the age of 18. In some countries such as Iraq, Jamaica and Uruguay, children can marry with parental permission. Ninety-six percent of countries have laws that specify when citizens can legally marry, but there are six nations that do not specify a minimum age for marriage (Equatorial Guinea, Gambia, Saudi Arabia, Somalia, South Sudan and Yemen).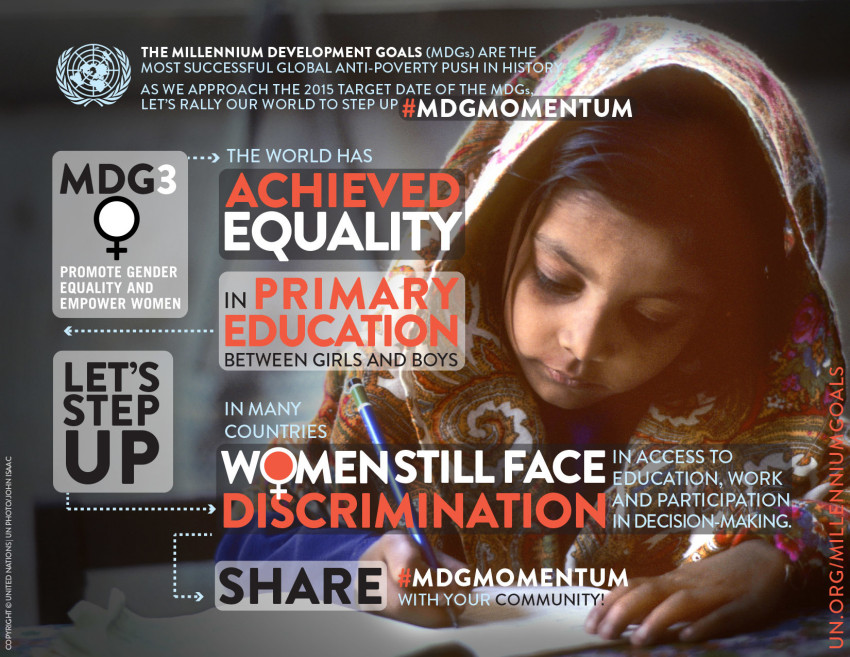 PHOTO CREDIT: UNITED NATIONS
So despite the number of laws against child, early and forced marriage, the practice remains widespread due to inadequate enforcement of laws and misconceptions about traditional, cultural activities and social pressures that reflect gender inequality and gender-based discrimination.
Ending child marriage will not be easy. It requires societies to change some of their cultural backgrounds, governments to become aware of that challenge, to plan how to prevent and eradicate forced and early marriage and to find the resources to make the goal work.
It is essential to change harmful laws and institutional frameworks that limit the rights of girls and women and prevent them from achieving their full potential. We must support global women´s empowerment and fight against gender-based violence and inequality. To this end, civil society must work together in the promotion and strengthening of girls and women´s rights and placing gender equality priority on the national and international political agendas.
As realized society, we can make a lot of progress in the fight against gender discrimination. We can join great NGOs campaigns dedicated to raise awareness about girls and women´s inequality challenge, inspiring others to get involved and advocating in our countries and societies to influence decision makers.
Also, we can actively promote the implementation of international community landmarks cases, as the referred to the United Nations Security Council Resolution 1325 on women, peace and security (and related 2242 Resolution and National Action Plans) or the United Nations Human Rights Council Resolution dedicated to child, early and forced marriage adopted the 3th July 2015.
In conclusion, gender inequality is robbing the future of millions of girls and women around the world. If there is no reduction in child marriage, the global number of child brides will reach 1.2 billion by 2050. Our advocacy is imperative. We have no time to lose.
Video Credit: UNICEF
---
Recommended Reading: "THE AUTHENTIC POWER OF MICHELLE OBAMA"
---
EDITOR'S NOTE: THE OPINIONS EXPRESSED HERE BY IMPAKTER.COM COLUMNISTS ARE THEIR OWN, NOT THOSE OF IMPAKTER.COM. FEATURED IMAGE CREDIT:  Flicker/Todd Huffman CC2.0