Adventure, curiosity, and discovery drive human creativity. As children, we seek out and explore the world around us, inspired by our observations of Nature. One such part of the natural world is the elephant. Filling our childhood storybooks with rich tales like those of Babar, we develop a sense of connection to this curious species. However, the reality of elephants is challenging as they are threatened by habitat degradation, poaching and global change. One organization has captured the wild spirit and adventure of elephants to breathe creative life into conservation efforts for the species and that is Elephant Family.
At Elephant Family targeted efforts on the ground to preserve elephant habitats are combined with a relentless fundraising drive to carve out an innovative path to advocacy and action. Exuding creativity and passion for conservation, Elephant Family has a clear vision that inspires their tireless work of protecting elephant habitats in an inclusive bottom-up way, often combining aspects of development with conservation. Trading the jungles of India for the concrete jungle of New York, I got a chance to sit down with the impassioned Elephant Family CEO Ruth Powys and Creative Director Lexie Bowes-Lyon near their new office in downtown Manhattan and find out more about what makes Elephant Family such an exceptional organization. Here are excerpts of the conversation.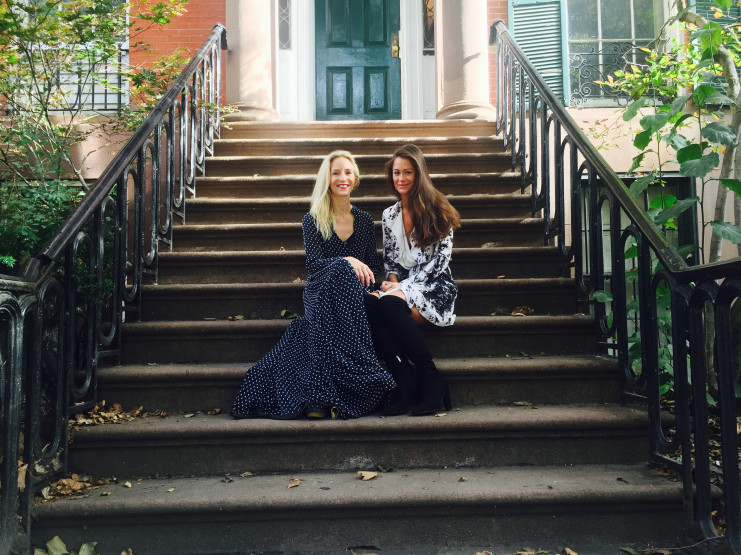 In the photo: Elephant Family CEO Ruth Powys (left) and Creative Director Lexie Bowes-Lyon (right) – photo credit to Elephant Family & cover photo credit to Annette Bonnier

What's the story of the foundation? Why Elephants?
Ruth: An amazing human being named Mark Shand started it about 12 years ago. You know, there is that wonderful Robert Louis Stevenson quote about the people that find their niche, accomplish their task, and never fail to appreciate life's beauty. That was Mark Shand. He was a wholehearted character who simply loved all there is to love about life. He was out busy having adventures, when he got two chances to write books. The second book was a huge bestseller called Travels on My Elephant. Mark decided to buy an elephant, and ride it across India; and during that journey, which was thousands of kilometers, he developed a deep relationship with his Elephant, Tara. He fell in love with her.
Ruth: He's one of these guys that had the full range. He would be at one stage in a palace with the Maharaja or with a chief minister; and the next, he would be smoking opium with the locals in Nagaland. In getting to know people on the ground, he realized that the Asian elephant was in massive trouble. It was literally battling for its existence. Mark had this wonderful sense of justice, and it enraged him that this animal was so neglected. All the energy from Mark's adventuring and party days were funneled into the foundation, and that's how Elephant Family got off the ground.
What's the approach and what would you say drives your work?
Ruth: We are in awe and wonder about this animal that really is a masterpiece of nature. That's really where we grew from. When we started off, we were looking at the welfare of elephants. Then we realized the tough part, the economics of conservation. We set a goal to save the species from extinction and we had to fund the habitat related projects, which is very much about the corridors and human-elephant conflict. That's what we do now.
Protecting habitats by funding corridor projects reduces fragmentation and forest mosaics, so you might be indirectly helping other species at risk as well. 
Ruth:Exactly, yes! By protecting the elephants, we are helping to protect everything else. Elephant Family… family can be interpreted in two ways. One is the human dimension. We spend an awful amount of money on poor subsistence families that are living very close to elephants. The other way is the ecosystem family: the orangutans, the rhinos, the tigers, and all the uncharismatic animals that are also so important.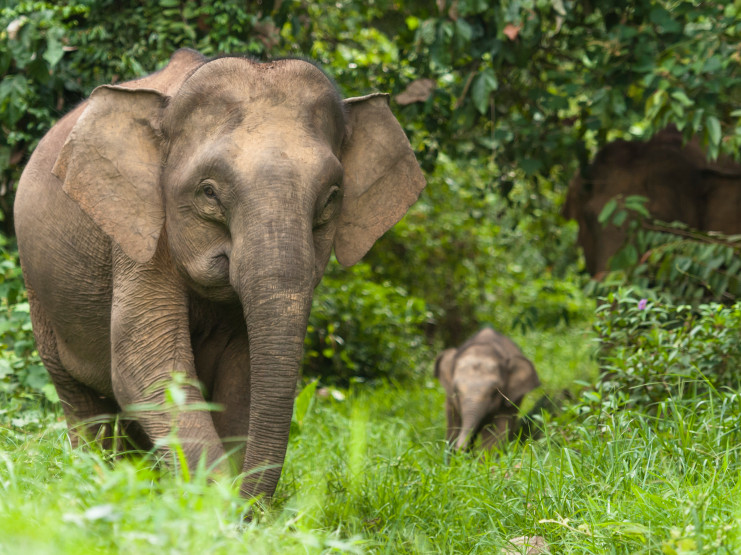 In the photo: Elephant mother and calf – photo credit to Marc Ancrenaz

How big of an issue is poaching in the areas that you work? Has poaching increased?
Ruth: It is not the number one threat. The fragmentation of habitat and habitat loss is our biggest issue. However, the kinds of stuff we support with poaching are quite varied. In Asia certainly there are projects in which we have seen great success. There was one in Odisha with a wonderful conservationist Belinda Wright. Simlipal National Park had a big poaching problem, and the main problem was that the relationship between local villages and the forests guards: it had completely broken down– there was no longer any trust. There was also a lot of poaching of elephants and other animals, and nobody was reporting it. It came down to rebuilding those relationships and rebuilding that trust. I find that a wonderfully endearing story…Yes, technology is important, but more than anything else are human relationships, communication, and trust.
………………………………………………………………………………………………………….. Related articles :
"

NEPAL – REACHING HIGHER TOGETHER

"
 article by 
Ertharin Cousin
"

ART EVOLUTION: ARTNET CEO JACOB PABST ON

…"
 Interview
 by

Julia Volyanska



…………………………………………………………………………………………………………..
Is there a correlation between poaching, motivations to poach, and socio economic issues? Is there a breakdown between governance, local communities that you are working in and does this exacerbate human-elephant conflict?
Ruth: Yeah, definitely it is socio-economic. Conservationists have studied the different reasons why people poach and destroy wildlife. The spiritual aspect is not to be underestimated. You know, people literally worship this elephant, Ganesh. It all comes back to habitat loss. The elephants are stressed and have nowhere to go — they are breaking crops and damaging villages. This breaks down the spiritual tie of their being worshiped. They are chased out because they are too much of a pest. They are killed for space.
It's a push-pull, people will kill elephants, but we found that they feel incredibly sad that they kill an elephant.  When it dies they will have a funeral and actually lay flowers for the elephant, so poaching is not what we see the most. It's literally about that battle for space, a human-elephant conflict.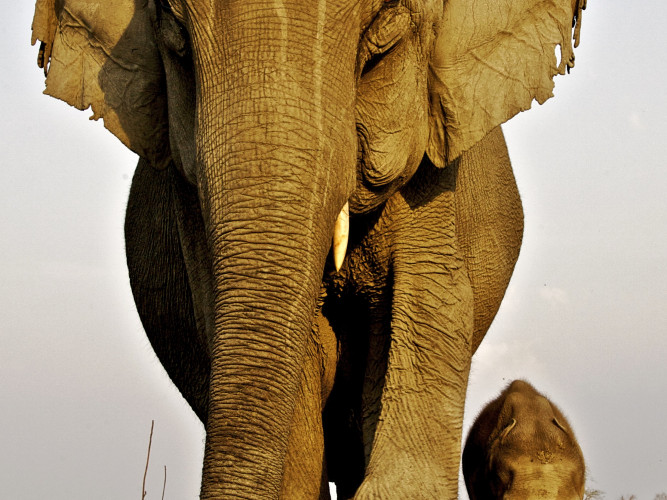 In the photo: Elephant mother and calf – photo credit to Elephant Family
Moving the conversation to the art and big creative events that Elephant Family does, I saw that you bring artists together and the proceeds help fund your projects. What inspired you to bring art into it?
Lexie: One of the ways we raise money is through these big creative events. Whether it involves art lovers or fashion designers, architects, fashion houses, contemporary artists, fine artists, it's a great way to get our message to the public. Two years ago, we did the Fabergé Egg Hunt, which involved 270 artists who designed a three-foot egg each, and then they were spread out over New York. This involved everyone from children to adults, and we did it during Easter. There was an egg hunt organized through a fantastic app designed by Saatchi & Saatchi, the world's first digital egg hunt. The app was also very content rich on elephants, so it really built a movement for us. It's a great way and a fun way to get the message out. We work with all kinds of artists from the top contemporary artists to artists just out of design school It's cool to give back to newer artists and just a fun project for everyone.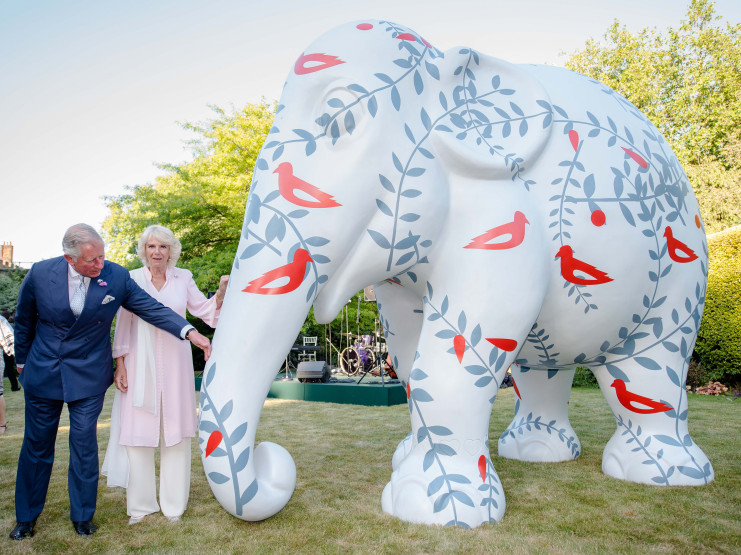 In the photo: Prince Charles and Duchess of Cornwall at the Travels To My Elephant Auction, Lancaster House, London – photo credit to Telegraph/REX Shutterstock (4890939g)
Ruth: We are very aware that it's a saturated market. "What's the next big thing?" It's crowded out there. All causes have validity. We've taken the philosophy of "excite the mind and the hand reaches for the pocket." Let's make people smile, let's not depress them, let's celebrate…We've got a gift here. We are promoting arguably the most magnificent curious looking animal  on the planet. It's like A is for apple, E is for elephant…We've grown up with this creature even though we are here in New York. You know, we always use this quote "the elephant is evidence that God is an artist." It's really the spirit. It's art for art. Creative conservation we call it. A lot of organizations will simply sell art to raise money for their cause.  But our art is disruptive. It's about putting 300 elephant sculptures on the streets of London and selling them for millions. It's about doing an egg hunt that gets the whole of New York to look for eggs and then selling them. This year we are doing this really fun auto-rickshaw race called Travels to my Elephant throughout India, and we had different artists and fashion houses make them. Again, they were all over London, all the top restaurants and popular sites. We thought, "who is going to buy them," but if you create a market and it's interactive, you get them at the "it" places. Conservation is recognized as a mainstream credible cause, but everything needs to be a bit sexy, everything needs that magical passion.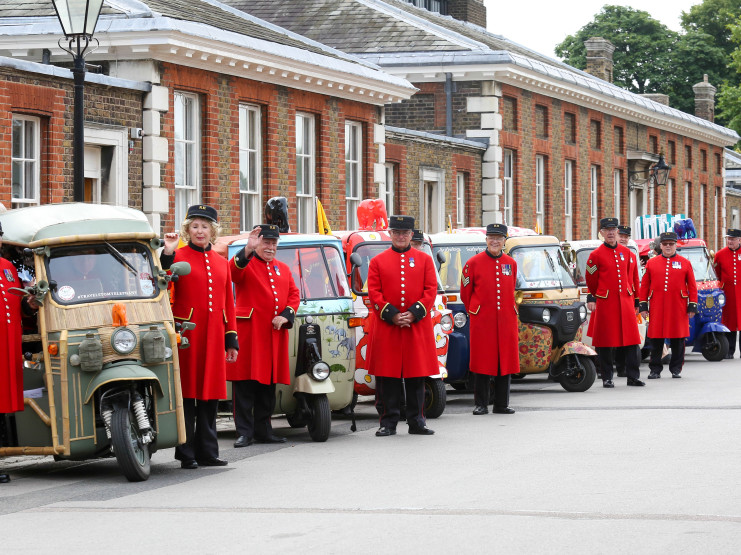 In the photo: Chelsea Pensioners with the fleet of Travels to My Elephant Rickshaws at the Royal Hospital Chelsea, London – photo credit to Quintessentially Foundation
What you are doing with these projects is creating an experience for people and then associating that with elephant conservation.
Ruth: People want to have an adventure. We are sitting and having our city lives, and actually there is this basic human urge to have an adventure. Conservation is an adventure.
Lexie: We've managed to get all these millionaires and billionaires to go camping and riding across India in a month's time in a rickshaw. It's fun. It's tapped into their sense of adventure. They're thinking, Elephants, rickshaw, this is great, I'm alive.
In the photo: Actress Goldie Hawn, Hon Life Patron of Elephant Family, and the fleet of Travels to My Elephant Rickshaws – photo credit to Elephant Family
This fits well into the founding principles of your organization, curiosity, adventure. Creating an adventure for everyone. Being out in the field and recognizing the wonder and everything that is involved with the natural world. It's very easy to become disconnected with issues in the environment.  Do you have a fund-raising event coming up?
Lexie: We do an event called the Elephants Forever Auction. It's a creative exhibition followed by an auction, hosted by Owen Wilson, but not in the traditional sense of an exhibition. I wanted to create a very sensory immersive experience where the art will be the foundation of everything. The whole room is going to be an experience, so you are going to be involved in these sort of jungles and safari camps, With  Google's street map technology  you can go in and see the landscape and  elephant habitat. You are really linking people with the cause.  Moreover, the art is going to be curated with examples of Africa. We partnered with an African charity called Space for Giants as everyone is very keen to see charities working together. Because we wanted to go to America with the message of saving elephants globally We really wanted to cover issues in Africa and issues in Asia and promote them together. We're hoping that the work will sell and that with the money raised, we will go to the next corridor project. Maclaren, manufacturer of baby buggies, strollers and carriers, is sponsoring the event. They want their toddlers to grow up in a world where elephants still exist. They really made this possible.
Where do the proceeds go on the ground?
Ruth: We are not funding governments. We just try and find habitats that we need to get protected status, so that's when we work with governments. Going back to the people, we are 12 years out and we are funding individual people who Mark Shand found and had relationships with going back 20 years. I would put the strength of our relationships as number one in support of our projects. We select our projects very carefully, we are guided by invested scientists, the Asian Elephant Specialist Group is a wealth of knowledge for us. The elephant corridor solution which we fund is supported at the yet highest level of the Indian government, by the Ministry of Environment and Forests. However, it's very much case by case, and yes, you have to be as cautious as an elephant threading through the forest.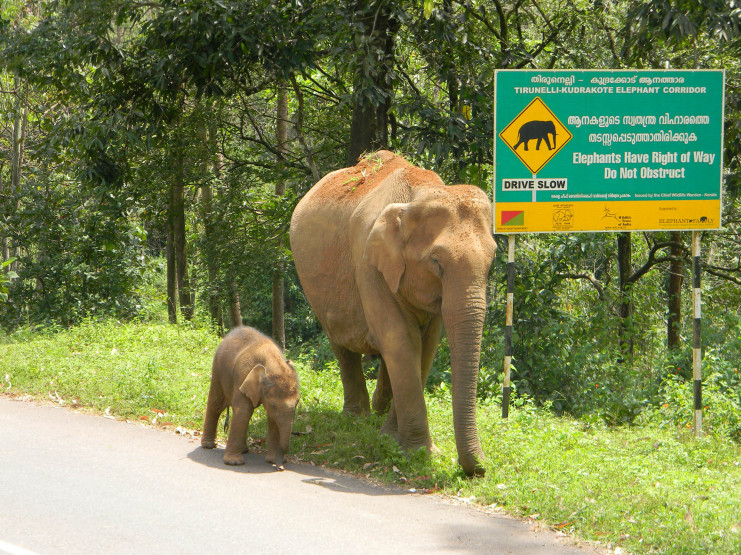 In the photo: Elephant mother and calf crossing into the Tirunelli-Kudrakote Elephant Corridor which has legal protection as a forest reserve – photo credit to Ramith M. – WTI
What is the role of technology and social media in conservation initiatives?
Lexie: Social media is a huge thing,you see how some things blow up overnight and tech can really be great. Celebrity endorsements and people who have huge followings can use their influence and power for good. For our events, a lot of it is about getting the word out, spreading that word on social media.
Ruth: There is that side of the equation, and then its great what scientists are developing in terms of the application of technology on the ground. One of the projects we have been funding, is saving elephants through SMS. It's about the conflict and battle for space. People in the hills of India were being attacked by stressed elephants on a regular basis, the mortality rate was appalling, but now, with the simple use of SMS, you can really save a village, and it's not even smart phones. Now you have a system in which you can text, and it will tell you that elephants are in the area. It brought mortality down to zero, which means the retaliation killings are down to zero.
How can we support your efforts?
Lexie: Elephants Forever Auction. If there are any art lovers or art buyers of contemporary artists, we would love to connect. We need links. They can buy art, they can have rickshaw races, they can go have adventures. We need people to really help us, people that are interested in the cause and art lovers. In the US, we are taking our very first steps. There is a whole lot of knowledge that we need, so we need supporters. We are here to make friends and sell art.
****
More from Andrew Budsock on Thingser.com
Elephant Family Instagram