However, the idea of eating insects as a main form of protein within European culture is something that many would squirm in their sleep about. 
The only time Europeans may be exposed to eating insects are on shows such as I'm a Celebrity or Bear Grylls, and there is definitely no pleasure associated with their consumption. 
Either way, it's certainly not considered an everyday activity, and the fact that the environmental and health benefits of eating insects are enormous, is something that is too often disregarded. 
However, it would appear that this great stigma against consuming these creepy crawlies may be about to change. 
The EU has just allowed house crickets to be a common ingredient within food products. 
In 2019, Cricket One Company proposed an application to the EU Commission asking for the use of house cricket flour to be allowed in regularly used cooking ingredients. 
This proposal has recently been passed, and house cricket flour can now be used in pizza, pasta, nuts and oilseeds, snacks and sauces, meat preparations and soups, cereal-based products, biscuits, legume- and vegetable-based dishes, chocolate – the list goes on. 
Why has the EU done this? The benefits of eating insects 
It is scientifically proven that using insects instead of livestock, is far more environmentally friendly and cost-effective. 
For example, if mealworms were to be more widely consumed instead of beef, the environmental implications are as follows, and they are quite surprising. 
The findings are also entirely reliable: A study by Dr Peter Alexander at the University of Edinburgh has found all you need to know about the benefits of eating insects.
For every kilogram of protein produced, mealworm larvae emit 14kg of CO2eq. 
In contrast, beef production emits 500kg of C02eq for every kilogram of protein produced. That's almost 36x more C02. 
One of the main reasons for this is the way that insects are able to convert what they eat into energy. Adult crickets and mealworms – the most commonly consumed insects by humans – need 5-10 times less food proportionately to produce the same amount of body weight. 
A larger proportion of the animal itself can be consumed by humans, leaving less waste. On average, only 45% of a cow is consumed. 
Larvae on the other hand can be eaten whole, and 80% of crickets' bodies are commonly consumed. 
It has also been reported that the protein content of an average insect is as high as 40% – 60% depending on the type of insect it is, and its stage of the lifecycle. 
Dr. Peter Alexander also says that "Insects provide all of the essential amino acids required for human nutrition"
The average protein weight within beef is 23%, and the vegan alternative tofu holds around 8% protein. Adult crickets on the other hand are 65% protein by body weight.  
All in all, insects are much lower maintenance environmentally and financially than livestock – because of the way they convert their food – and should be considered for more common consumption. 
With the meat industry currently contributing to 15% of all global carbon emissions (putting it almost on par with the entire transport industry), switching to a more sustainable source of protein is essential in this time of climate emergency. 
Although vegetarian and vegan culture in Europe is far more popular than in countries that do eat insects as a common source of protein, at least the consumption of insects can provide a sustainable option for those who do not wish to switch to a vegan or vegetarian diet. 
'Even more protein than steak!'

Aaron Thomas and Leo Taylor from Yum Bug explain the benefits of eating insects.

📺 Freeview 236, Sky 515, Virgin 604
🖥 GB News on YouTube https://t.co/Wa58gYYAod pic.twitter.com/W3ncb3dt2C

— GB News (@GBNEWS) October 25, 2022
It's not just house crickets 
The EU Commission has also approved the introduction of mealworms into common cuisine. 
Mealworms will now be an ingredient in many different food products that are "destined for the general population."
The powder that can be produced from the larvae will also be used as a food supplement as it contains such high sources of protein. 
It is completely normal to eat insects in many parts of the world, but it is also understood that this may be a shock to the system in western culture. 
All insects that will be used as ingredients in common food products will have to go through the European Food Safety Authority (EFSA)  approval process.
Food safety standards, checking all forms of hygiene and that the insects are safe for human consumption. 
The packaging on any product containing crickets or larvae will also always have an appropriate label stating if they are an ingredient. 
Crickets already in consumption
A new Italian burger has stricken up controversy among its consumers, as the "Pane&Trita Grillo Cheeseburger" contains flour made from crickets. Some critics have accused it of tasting like "bottarga" (fish eggs).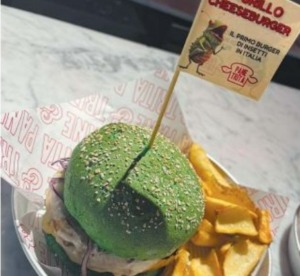 Pane&Trita have been subject to multiple complaints from animal rights groups criticizing their choice to use insects within their food. 
However, according to Paul Ruggeri, there "have been no shortage of compliments" either. 
This domestic cricket flour only makes up 1.6% of the burger's total ingredients, but holds a strong flavour and high source of protein.
But it could be argued that as more people become aware of the many benefits of eating insects, especially as a livestock alternative for those who do not wish to be vegetarian or vegan, the prices will decrease as demand becomes higher.
---
Editor's Note: The opinions expressed here by the authors are their own, not those of Impakter.com — In the Featured Photo: Edible Larvae. Featured Photo Credit: Julia Filirovska/Pexels