Has COP26 been a success or a failure? This is the question everyone wants answered, and it looks like the majority of comments fall on the negative side. As a start, let's acknowledge that Glasgow's summit was so widely anticipated and loaded with hopes and responsibilities, that it probably had no chance of living fully up to expectations.
At the head of 100,000 protesters brought together for climate justice on Saturday in Glasgow, Greta Thunberg called it a failure, a PR event, a global north's greenwashing festival. Clearly, there is a lot of frustration from those who are going to live on the planet, burdened with the inheritance this generation chooses to leave for them.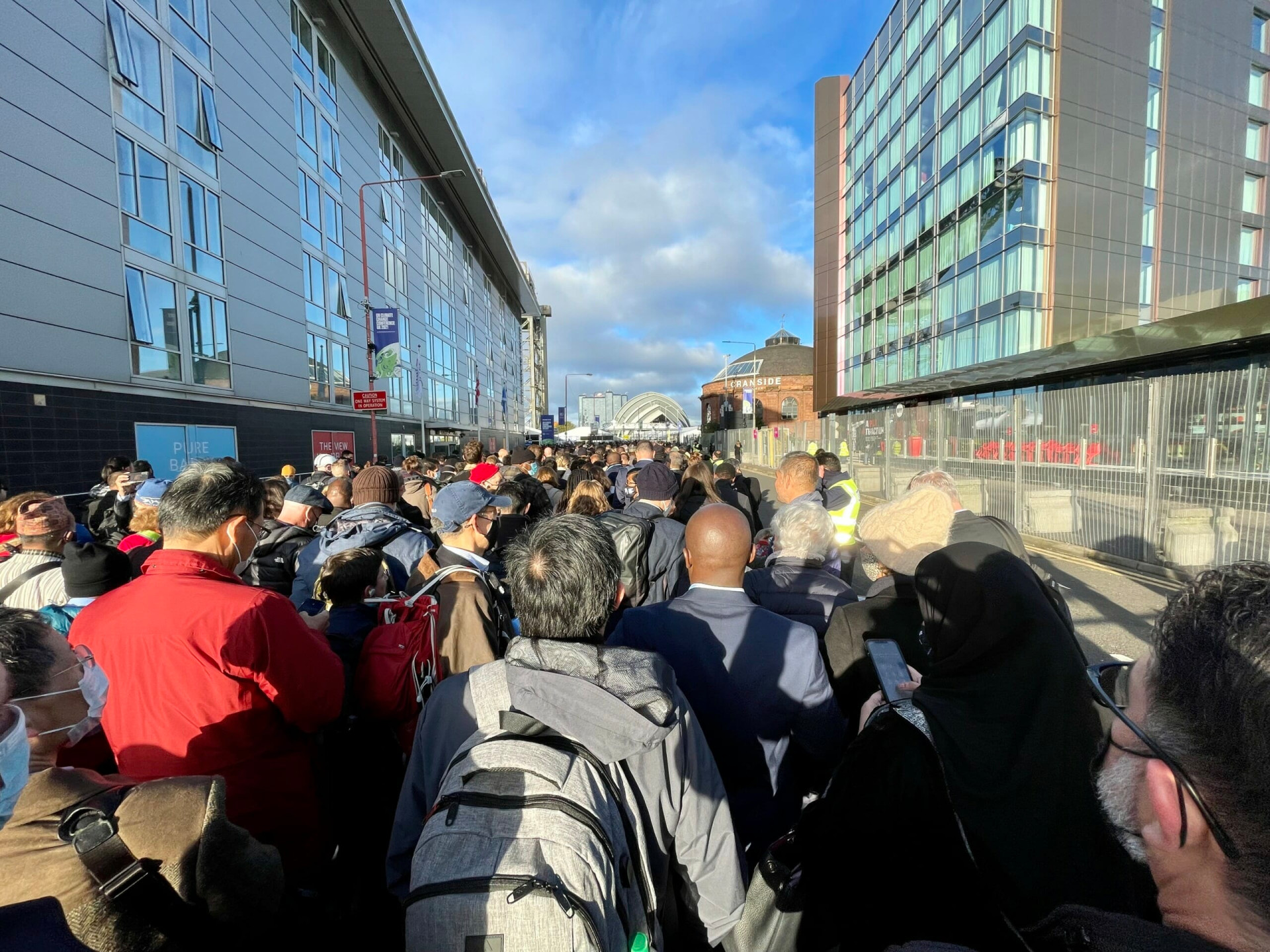 Queuing to get into a crowded Blue Zone – the UN-managed space which hosts the negotiations – it was easy to see why negotiating a global deal on climate change has been so difficult. Covid for sure didn't help. But facilitated by the wonderful Scottish people, energy was high inside the venue. 
Delegations from all over the world, shiny pavilions showcasing organizations' climate credentials and ideas, exceptional and diverse expertise, good presence from Africa and developing countries, including representation of indigenous peoples that made suit-and-tie guys turn to see their beautiful traditional clothes at each passage. 
This diverse group would suggest that perhaps, after all, COP26 was not quite the global north's exclusive show, as many critics have alleged – and that it was not entirely run by big corporation lobbies and fossil fuel industry interests. The United Nations retains the ability to call on a broad range of civil society, an ability it has fine-tuned over decades of international meetings, starting in Rome in 2009 when the CFS, a World Food Security conference was reformed and first opened to NGOs, indigenous representatives and the "private sector" philanthropies. And what happened in Rome was echoed (and copied) across the UN system, including at the climate COP meetings.
COP is also a business as it catalyzes the world's attention, and the nicest pavilions do not necessarily belong to the most green and committed entities; some have bars and organize happy hours. But that's part of the game for the summit has to sustain huge costs, especially since the UK was so eager to get it done physically despite the pandemic – and to make up for some of the ground lost internationally after Brexit. 
It's also part of the game to watch embarrassingly rich billionaires congest Glasgow's airport strips with private jets, get on the big world stage at COP26 and offer some billion for the climate – for them, just a few coins.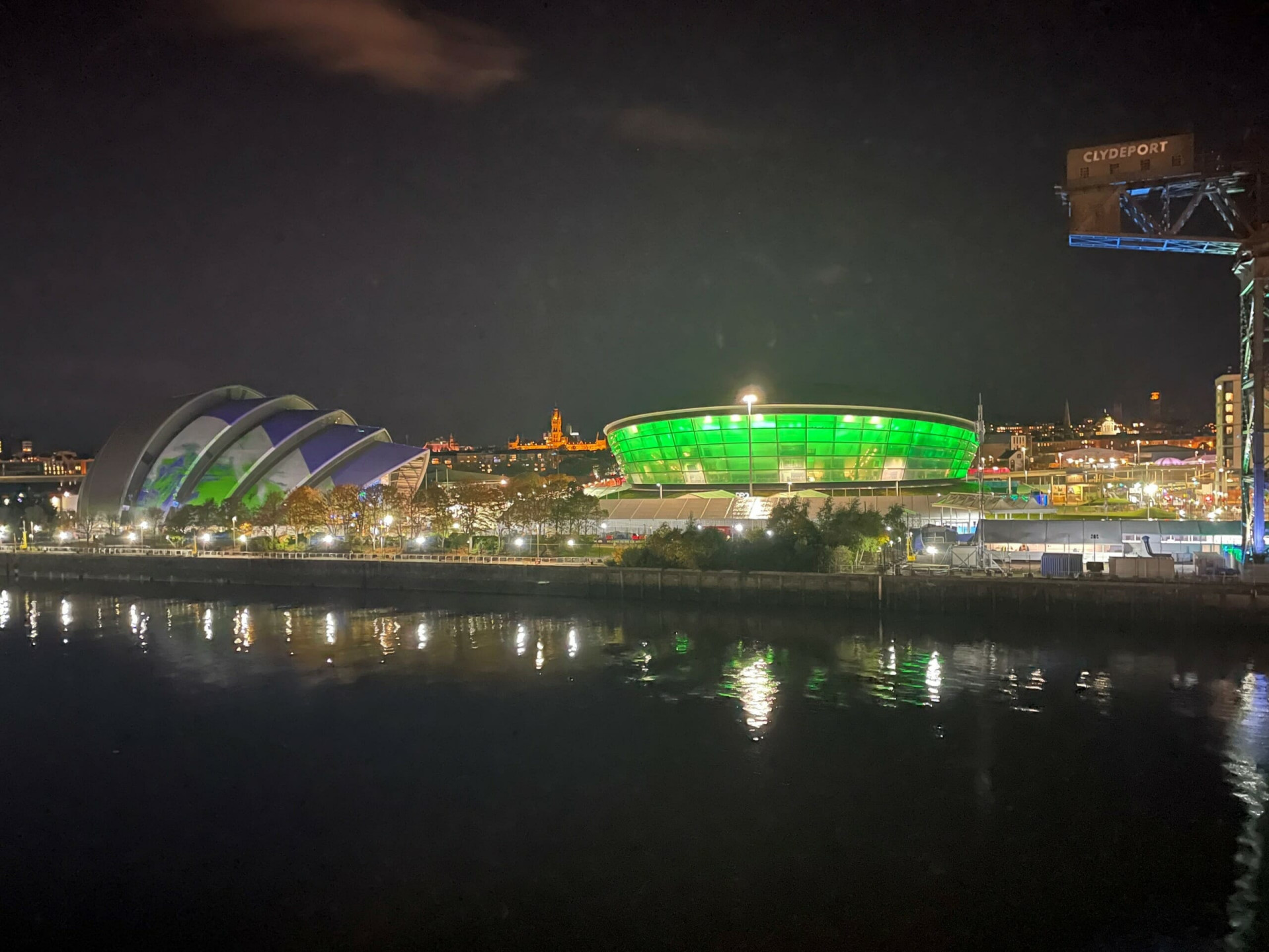 So yes, there are negative aspects and yes, we all hoped for something more, but it is difficult to make out a simple balance. The world faces such enormous challenges and it is so tough to bring leaders together and find agreement on such complex matters. This is why it is so important to have at least a forum for debate like COP. 
What made COP26 particularly important – more important than the preceding COP summits – was the deadline for the revision of the Nationally Determined Contributions (NDCs), scheduled every 5 years since the Paris Agreement of COP21.
Youngsters are not wrong by any stretch of the imagination when they lament time wasted and call for immediate and drastic emissions reductions. Too many people are allowed to speculate on the infamous net-zero concept, which many at COP26 have tried to tackle but with little success. There is still an absolute and urgent need for further clarification. 
We need to keep in mind what is the implicit assumption underpinning the concept. Without clear mandates for emissions reductions, net-zero would only mean we can continue polluting the environment as long as we manage to subtract the same amount of greenhouse gases from the atmosphere, so stopping the global warming process without tackling the root causes of climate change. This is why "offset and compensation" are the two most dangerous words right now.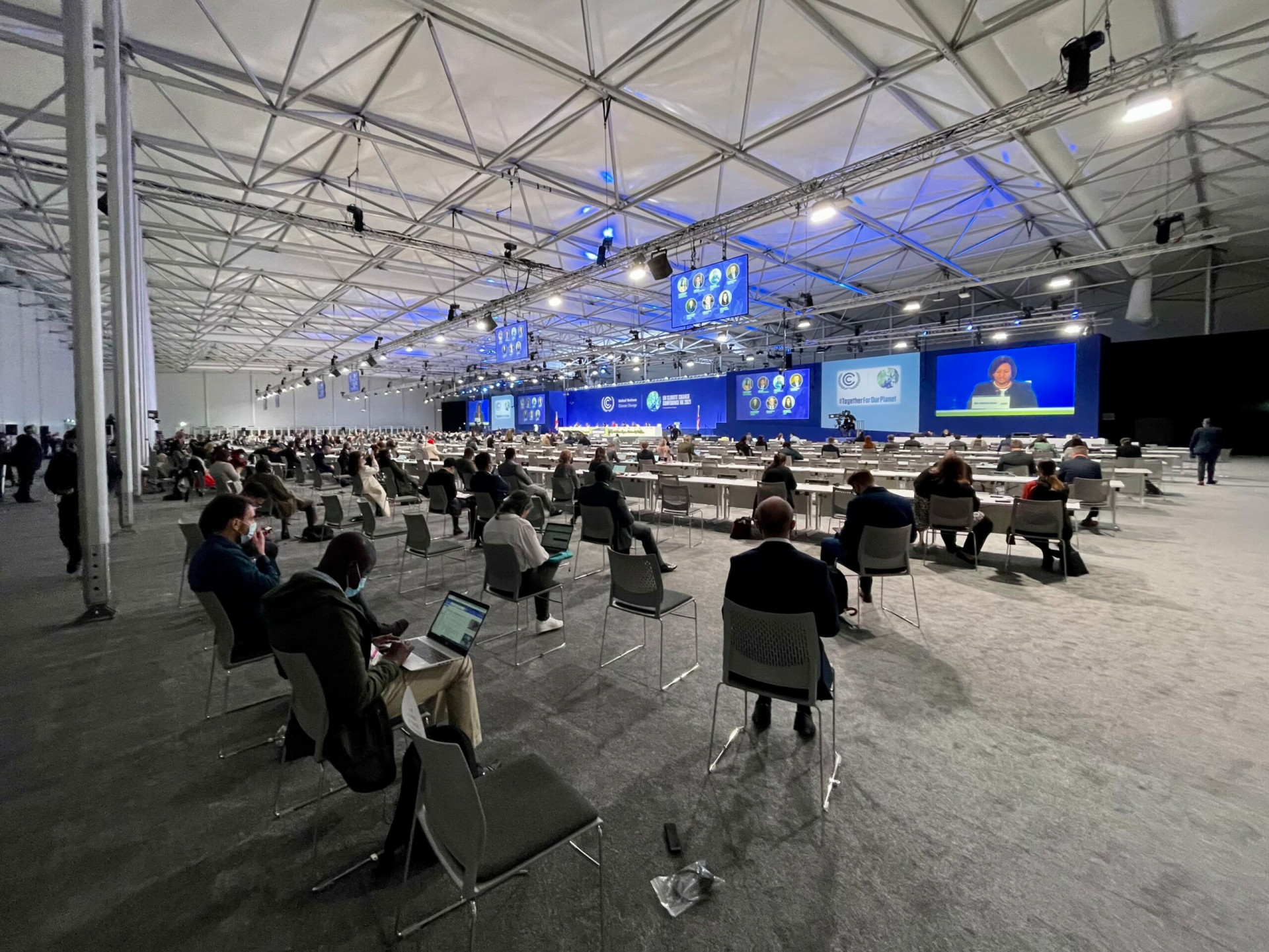 We need to cut emissions to the bone before turning to means of carbon removal and focus those on the hardest-to-abate sectors. Undeniably, carbon capture gets far more attention than their technology readiness levels and costs justify, and worse, it allows many enterprises the luxury of not taking any action turning it into a pretext for doing nothing. 
Just consider the world's largest carbon capture plant operational at the moment, in Iceland. It costs around $ 15 million and is able to suck up 4.000 tonnes of CO2 annually when operating at full capacity (the equivalent of the annual emissions of some 800 cars), while globally we typically add 51 billion tons of GHG to the atmosphere each year. The math is quite trivial.
Another way to suck up carbon dioxide from the air is reforestation – largely linked to greenwashing itself, sadly, as Brazil's record in the Amazon shows. As one of the first deals at COP26, more than 100 countries vowed to put an end to and invert deforestation by 2030. Apart from a deadline that seems too generous, the pledge is supported by public and private investments yet was accompanied by little details.
There's a point, in particular, appearing a lot these days in the press and social media: are we done with coal? Of course, we're not, we can't expect it just yet.
More than 40 countries – including for the first time coal-heavy economies like Vietnam and Poland – and several organisations signed at COP26 a Global Coal to Clean Power Transition Statement committing to end all new investment in coal generation domestically and abroad and phase it out of their economies by 2030 for major players and by 2040 for emerging ones.
The pledge spurred mixed reactions as the UK COP Presidency and some analysts hailed it as a milestone that brings us closer to getting rid of the resource. Others complained about the timescales involved and the absence of major coal economies such as China, Australia, India and Indonesia, the world's major coal exporter (and the US). Also, the agreement only tackles coal and that is not enough, as oil and gas emissions already far outstrip coal.
Before looking at the number of signatories, we have to understand it's only "unabated coal" we are talking about – coal that is not mitigated with technologies to reduce carbon dioxide emissions, such as Carbon Capture Utilisation and Storage (CCUS). So no, we're not yet able to wave coal goodbye. 
It is hypocritical of the rich world to expect emerging economies to just get rid of coal while we have freely used it (and keep using it) for more than a century to power our development. It is also hypocritical for the West to accuse China of using too much coal when it is the "factory of the world", producing goods that the West gobbles up.
We must recognise, in the energy transition and in the phase-out of fossil fuels subsidies, that countries start from very different situations and remember how the objective of $100 billion a year to finance the transition in developing countries was set for 2020 and missed. Climate finance remains crucial for developing countries to really transition away from coal and put in place adaptation and mitigation measures.
As remarked by Mia Mottley, Prime Minister of Barbados, during her powerful speech at the Opening of the World Leaders Summit: "failure to provide critical finance" to vulnerable countries "is measured in lives and livelihoods in our communities. This is immoral, and it is unjust".
Moreover, there's not just CO2. Methane is 81 times more potent than carbon dioxide. At COP26, 103 nations have signed on to a global pledge to cut methane emissions by 30% with respect to 2020 levels by 2030. But it may not be enough.
As a matter of fact, we are dangerously close to exceeding 1.5°C global warming by 2050, with devastating consequences on civilization around the world. International Energy Agency's executive director Fatih Birol told Energy Day's delegates the climate pledges agreed so far at COP26 could keep the world's rising temperatures to within 1.8°C. U.S. Special Presidential Envoy for Climate John Kerry said current pledges put us on a 60% probability of achieving the target. This, of course, assumes that everyone effectively implements their promises.
As reported by IPCC's Sixth Assessment Report earlier this year, some tragic effects of climate change are unavoidable at this point, like sea-level rise and more extreme weather events. Many islands and coastal areas risk extinction, as recalled at COP26 by former US President Barack Obama. Some regions are quickly becoming unlivable because they are too dry, too hot, too often flooded.
When you can't travel to @COP26 – or you don't want to (because of the massive carbon footprint associated with travel), then why not remote in. & when doing that, send a proper message. A Minister in Tuvalu, Simon Kofe today recorded a video statement for #COP26 doing just that pic.twitter.com/haqH5yX2ou

— International Coral Reef Society (@ICRSCoralReefs) November 5, 2021
In developed and rich countries too, there are areas where it makes less and less sense to insure houses that get disrupted once a year and lose their roof once every two. Hence it is critical that COP26 manages to tackle climate migrations at some point. Millions in the most vulnerable countries have already begun the search for a safer environment to settle down, and when hundreds of millions of people will be displaced, we risk societal collapse.
This of course adds up to a growing anxiety that most of the time doesn't help. Most eyes are pointed at 2050, and we tend to forget that to get there we have to go first through 2030. But COP is still the place to discuss all this at the international level.
In fact, it is important to show up, as Biden said, condemning the big absent China and Russia, and rightly so. But at the same time, he didn't sign the coal pact dealing a severe blow to what was supposed to be COP26's flagship policy. India's PM Modi was largely criticized for targeting net-zero by 2070, but he put along the way a 50% renewables goal by 2030, which, if achieved, would be an incredible result. 
China and India's contribution to the global transition shouldn't be underestimated. The western world is so focused on itself that it sometimes forgets that China has the world's largest solar and wind power capacity. Almost 40% of all global solar PV additions and 65% of all global wind additions in 2020 were installed in China making its market vital for the downward trend in renewables cost. 
China is also moving fast on electric vehicles and vessels. It looks like China prefers to leave more room for negotiations in bilateral talks rather than showing its cards at the plenaries of COP26. And the EU and the US bilateral deal over Trump-era tariffs on steel and aluminium is a perfect example of what can happen bilaterally.
India is an absolute decarbonization model for developing countries, as it went from 4 to 40GW solar PV in only 8 years, with very sound economics. India is developing a determined green Hydrogen strategy, has the world's first all-solar airport (Cochin International Airport, in the southern state of Kerala) and its national railway is on a net-zero emissions quest – and passengers numbering more than the entire population of the world travel by Indian Railways every year. 
India's Prime Minister Narendra Modi launched the highly ambitious 'One Sun, One World, One Grid' (OSOWOG) programme within the Green Grids Initiative (GGI) of the UK during the World Leaders Summit in Glasgow. Johnson and Modi jointly presented a One Sun Declaration aiming to create a coalition to accelerate the construction of new transmission lines crossing frontiers and connecting different time zones, the modernisation of national and regional grids and the scale-up of mini-grids and off-grid solar solutions, creating a global ecosystem of interconnected renewables that are shared for mutual benefit and global sustainability. 
The One Sun initiative is backed by the US too. As US Secretary of Energy Jennifer Granholm put it: "all the energy humanity uses in a year is equal to the energy that reaches the earth from the sun in a single hour". 
---
---
On the energy side, COP26 served as confirmation of how renewables are a firm pillar in our battle against time. Their global outlooks seem robust enough to withstand current headwinds as global supply chain instability and inflation continue to bite. 
There is a lot of hype around green hydrogen, which surely can help with the harder sectors to tackle, especially long haul transportation, and attracts the interests of oil & gas giants – increasingly present among the largest investors in renewables.
But there's no doubt that the heavyweight is electrification. The global south is growing economically and demographically. Africa's population is going to double its size to 2.5 billion by mid-century and half of that will be under 25 years old, which raises the urgent question of how to enable that demographic shift to support decent employment for all. 
As a result, there is going to be a huge increase in power demand and we need to respond by clean means and avoid a rise in energy consumption by enhancing energy efficiency, as we move from a centralised system designed for fossil fuels to a distributed one designed for renewables.
Like some technicians say, we need to substitute our car's engine and main components while we are driving at high speed and can't stop. A complex exercise. Decarbonising the power sector is the most important action, not only because it is one of the largest emitters, but because it is vital to decarbonise other sectors like buildings, agriculture and transportation. 
Renewables, and solar PV in particular due to its versatility, can have huge socio-economic implications and be the gateway to the UN SDGs "leaving no one behind". They can empower communities and change peoples' lives, especially in regions where conventional power sources have failed to bring power and development to hundreds of millions of people. They are also the driver for smart cities as urbanisation increases. 
Moreover, an important part of the conversation should be the end of life cycle management and ensuring the maximum circularity possible. Fortunately, awareness is growing around off-grid renewables and nature-based solutions.
On a 1.5°C pathway, solar and wind together will need to represent 70% of power generation by 2050. And it was good to see solar and wind industries cooperating to highlight the need for accelerated growth rates to meet net-zero targets. Another example of the very positive initiatives going on behind the scenes at COP26's Blue Zone.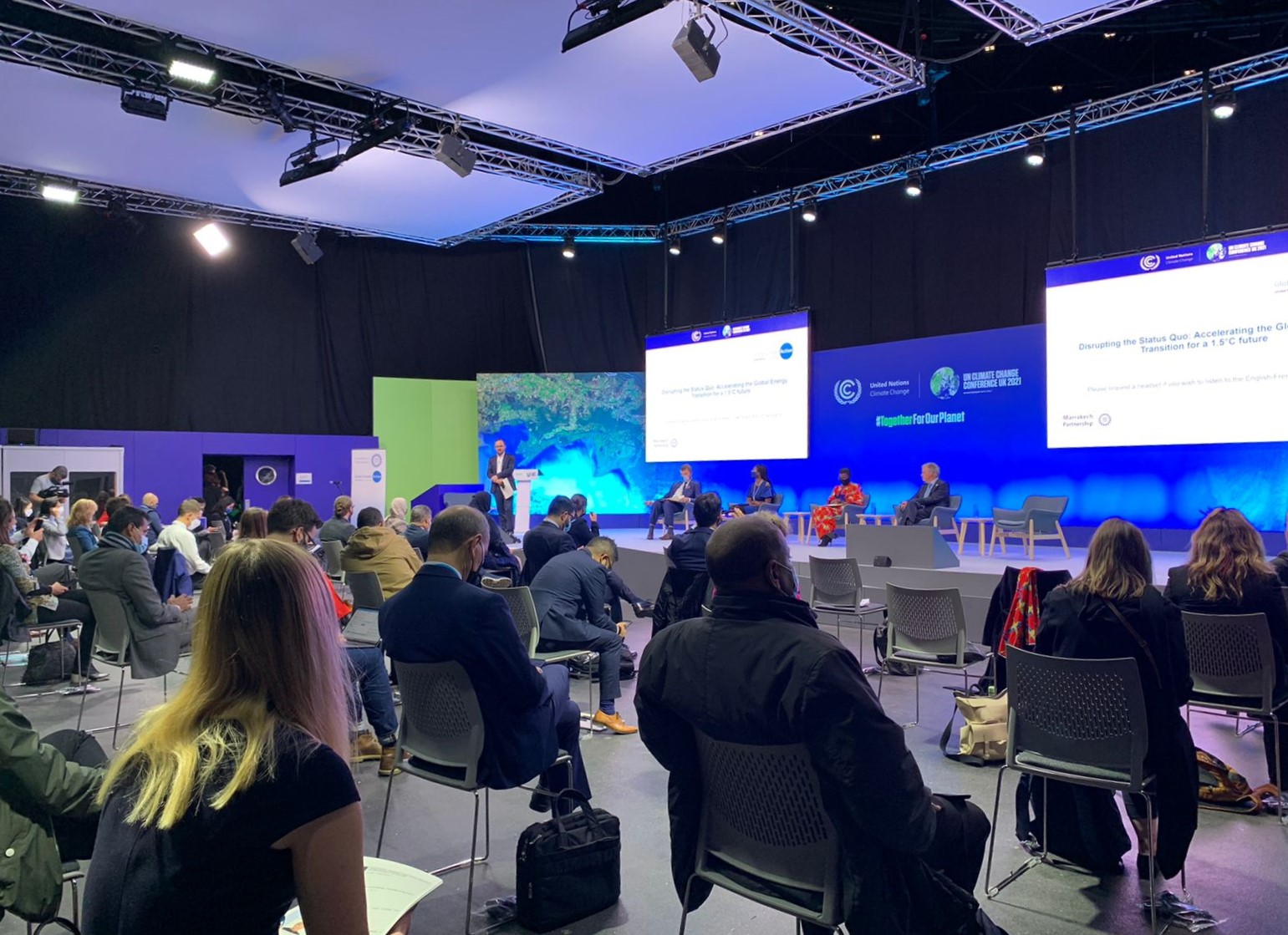 Also very welcome is the fact that global finance and renewables are finally talking the same language. Clearly, the enormous stranded assets linked to fossil fuels gave big money a wake-up call.  Both convened in Glasgow that private money – so much needed – is ready to flow. 
Renewable energy investors need legal certainty and clear regulatory frameworks to de-risk their positions, especially in developing countries. That's why cooperation and partnerships are so crucial. And the public sector seems to have understood the importance of turning to the private sector asking what's needed to speed up the transition.
The over $130 trillion of capital committed to net zero by the Glasgow Financial Alliance for Net Zero led by the UN Special Envoy for Climate Action and Finance and former governor of the Bank of England Mark Carney proves the point. 
The intentions are admirable, though it needs to be clarified that this is no investment fund – if it were, it would be insanely large, something like six times the US GDP (but almost twice the global GDP which is $88 trillion). What it is are total assets managed by member financial institutions and directed to fight climate change.
Still, it is some 40% of the world's financial assets which they vowed to align with the 1.5°C target and the news is welcomed by negotiators who were struggling with the question of how to pay for the enormous costs of climate change.
And let's not forget that the G20 produced an agreement on a 15% global minimum tax just a few days before COP26. Again, some say it is too little and while this may be true, we did not have any before. Like we did not have complete recognition of the scientific basis behind 1.5°C.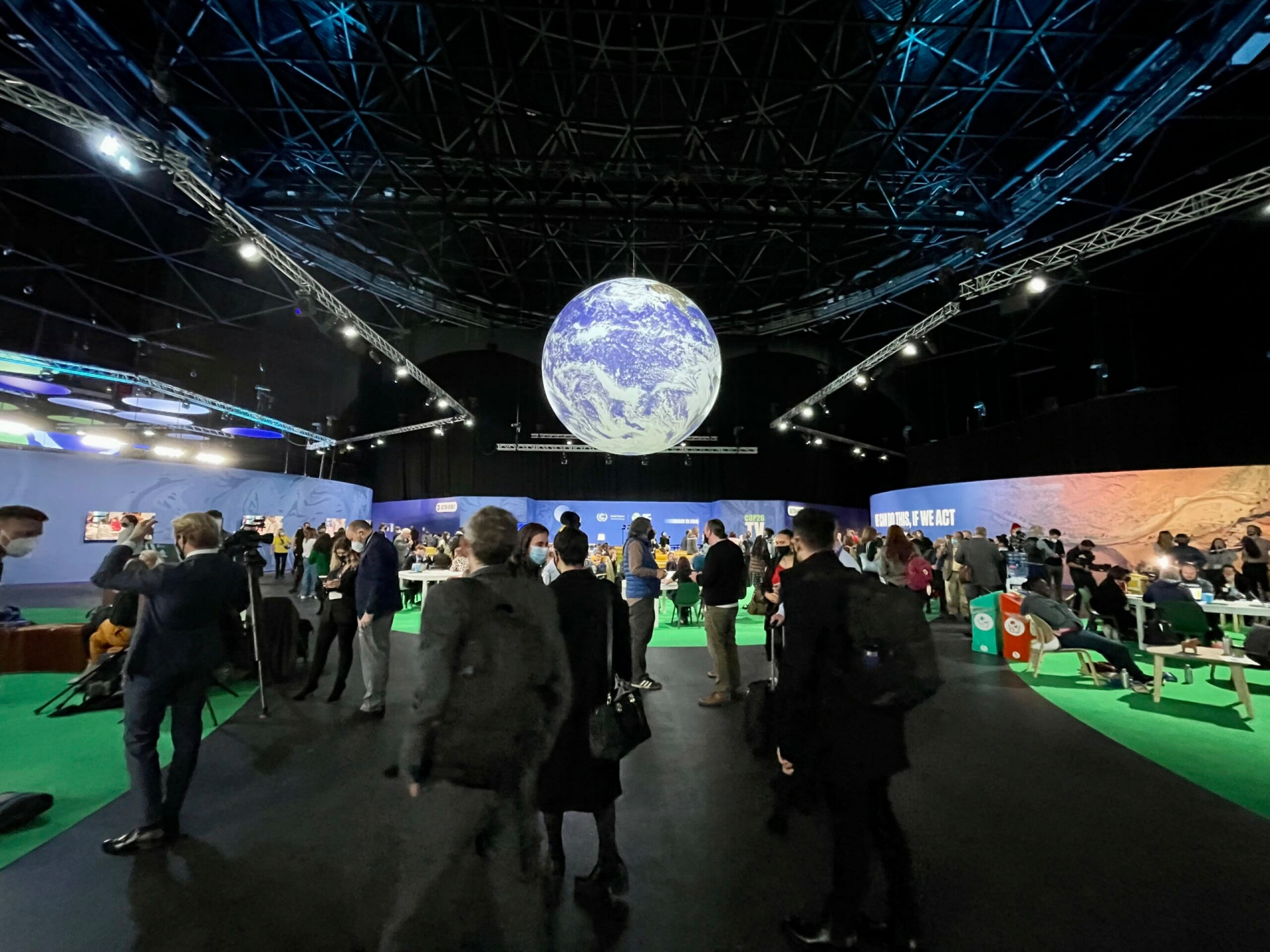 A lot happened at COP26 among pledges, funds, initiatives, bilaterals. And, it's not over yet. The World Leaders Summit was only a part of it, but the delegations now have to agree on "how" to deliver on their commitments, and that is the hardest part of the conference. 
Negotiators still have a lot on their plates for the second week. In particular, they have to focus on transparency, agreeing on a common framework for the NDCs and an accountability system for the pledges; climate finance to finally secure that $ 100 billion for developing countries; and on defining rules for a global carbon market, finally on the agenda.
Some delegates say COP's real goal is to survive. For, imagine if we didn't have COP: how could we hope to have any sort of coordination in addressing climate change?
But in between COPs, there's so much everyone can do. And should do, not just waiting for top decision-makers. It is indeed time for change, but change needs to come from each of us, voting with our wallet, empowering sustainability, and making responsible choices. Everyday.
---
Editor's Note: The opinions expressed here by Impakter.com columnists are their own, not those of Impakter.com. — In the Featured Photo: COP26 Blue Zone venues – Secc and OVO Hydro in Glasgow, Scotland