Between June and November, Nigeria, Niger and Chad experienced extreme rainfall that led to one of the deadliest floods in the region's history. Over 800 people were killed, 1.5 million were displaced, and 300,000 homes and over 500,000 hectares of farmland were damaged.
Since then, World Weather Attribution (WWA) scientists have been analysing "whether and to what extent human-caused climate change altered the likelihood and intensity of the rainfall" that caused the catastrophic floods. 
They measured the effect of gases and pollution human activities produce on the regional rainfall, using "published, peer-reviewed methods to perform an event attribution study" and focusing on two aspects of the event: 
The area-averaged seasonal rainfall from June to September over the Lake Chad catchment (Figure 1a), and 

the seasonal maximum of the mean 7-day precipitation in June-September over the lower Niger catchment.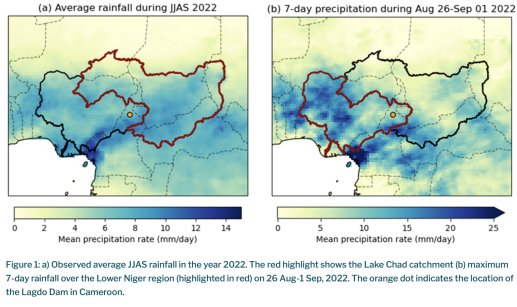 Their findings, published in the last days of COP27, on November 16, reveal that climate change made the floods in West Africa around 80 times more likely, and 20% more intense.
Floods that killed 800+ people in West Africa this year were made 80x likelier by the human-caused climate crisis, a study found.

Nigeria, Niger and Chad make less than 0.4% of global CO2 emissions.

But in Nigeria alone, floods killed 600+ people and destroyed 123,000+ homes. pic.twitter.com/uPKZlJoI1p

— AJ+ (@ajplus) November 17, 2022
In addition to gases and pollution resulting from human activity, the floods were also driven by the release of a dam in Cameroon, and their effects were made worse as a result of how close human settlements, infrastructure and farming land were to flood plains, the study shows. 
The researchers write that this underlines the "vulnerabilities driven by high poverty rates and socioeconomic factors (e.g. gender, age, income, and education), and ongoing political and economic instability."
In other words, the populations in West Africa are particularly vulnerable to severe weather events because of poverty, violent wars, and political instability.
As the world continues to get warmer in the decades to come, Climatologist of Imperial College London who led the WWA study Friederike Otto warns that the region will see flooding with even greater frequency: 
"We will see very intense rains in the region in the coming years."
---
Editor's Note: The opinions expressed here by the authors are their own, not those of Impakter.com — In the Featured Photo: Flooding in Nigeria. Featured Photo Credit: Conflict & Development at Texas A&M.