Ca' Foscari University (Università Ca' Foscari Venezia) is a unique, self-contained community blending a variety of cultural activities, research projects, ideas, and creative endeavors. The main exhibition hall of the institution, located at the very center of Venice overlooking the Grand Canal, has been a historically important stage for displaying globally informed art. 'Bruce Nauman', a prominent American artist, held a solo exhibition at the Ca' Foscari main exhibition hall during the Venice Biennale in 2009. Also, Ko- Un, a famous Korean poet, serves as a professor emeritus at Ca' Foscari University, introducing Korean literature to a global audience.
The current solo exhibition by Byoung-choon Park at Ca' Foscari University was made possible through generous support from Cenè International, an art development organization based in Italy, and by invitation from the University. Of particular note is the fact that this is the first time for the University to showcase a Korean painter, let alone one trained and specialized in the style of traditional Korean painting.
Byoung-choon Park displays a broad range of his work at this exhibition, entitled 'Collected Landscape.' The exhibition spans the entire first and second floors of the main exhibition hall, comprising approximately 700 square meters with five different rooms and two main hallways. Each room showcases different artistic inclinations featuring his large-scale paintings. Common to all his paintings is the use of muck, a traditional black, soot based ink, which he applies to traditional Korean hanji paper.
His technique takes root in the Asian tradition of painting and calligraphy where one is taught to channel one's artistic energy through the tip of the brush. One's brush must act as a sharp carving knife and the paper a stone to be engraved. Each stroke of the brush should deliver an energetic and controlled force, both physically and psychologically.
………………………………………………………………………………………………………….. Trending articles : 
NEPAL – REACHING HIGHER TOGETHER
 article by 
Ertharin Cousin
SOUTH-SOUTH COOPERATION: THE PARNERSHIP
article by 

Laurent Thomas



…………………………………………………………………………………………………………..
Park's technique is deeply rooted in this tradition; his mastery of these spirited brush strokes is evident both from a microcosmic close up view, as well as a more distant perspective of his landscapes. Expanding upon this foundation, he continues to experiment with his work, stretching the boundaries and spirit of traditional Korean painting. His abilities are manifested in many different styles, from a 'ramen-style' brush stroke (influenced by the appearance of dry, crushed ramen noodles) to three-dimensional installation pieces using rubber, plastic bags, and meat hooks, all of which reflect the technique and appearance of traditional Korean painting.

  In the photo: Blurry landscape-family 130x368cm muck on Korean paper 2014
Among the featured paintings, 'Blurry Landscape (130cm x 360cm)' overlaps a landscape from a past trip with a recent family photo. We see in this painting a consistent theme in his work – a large scale traditional landscape placed behind an intricately crafted, diminutive forefront. The forefront, a painted rendering of a family photograph taken on vacation, submits a direct contrast to the background both in terms of artistic technique and content.
 In the photo: Black landscape 190x1096cm muck on Korean paper 2015
In 'Black Landscape (190cm x 1096cm)' we observe a solitary individual navigating his way up a hilly road through a dark forest. Still bearing remnants of the civilized, industrialized world, he stoically exits this context in favor of what now looks to be a dark, foreboding, yet cathartic pathway.  While the forest remains black and ominous, the end of the road, the return to a sort of state of nature, looks unspeakably bright.
 In the photo: Floating landscape 174X540cm muck on korean paper 2007
'Floating Landscape (174cm x 540cm)' paints a vast field view of Jeju island, accentuating his delicate use of' ramen-style'brush strokes. In contrast to 'Blurry Landscape,' this work places at the forefront a dramatic landscape, with, almost as an afterthought, the faint harbinger of modern life in the form of a person parachuting in the background.
'Unfamiliar Landscape (174cm x 540cm – See cover picture)' illustrates familiar Korean scenery of a cliff with technique using a variety of brushstrokes, including Park's own signature methods.  The portrayal of the cliff overlaps that of scenes from everyday life ranging from playing baseball to being engaged in politically charged environmental issues.  These scenes, extremely subtle and hidden at times, represent something of a pictorial diary of Park's past, both in terms of observing and taking part in local happenings.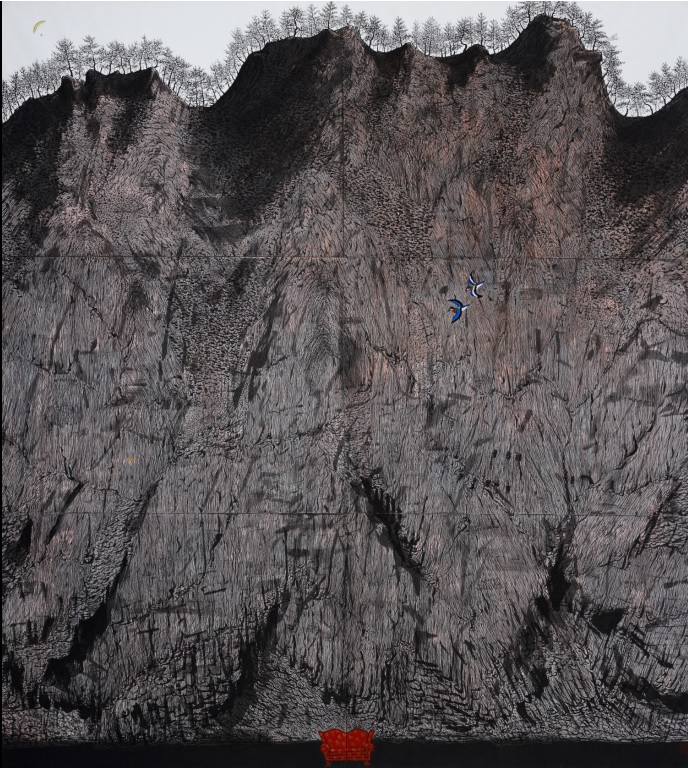 In the photo: The memory of red cliff 390x348cm muck on korean Paper  2015
'Memory of Red Cliff (390cm x 348cm)' depicts a cliff reflecting powerful sunbeams using the grand-view landscape technique, capturing the sublime force of the scene. Park's stellar technique is exemplified in this piece, which impressively reveals the potential of using muck on traditional Korean paper. The textures at the lower level of the cliff are vivid and almost alive. Characteristic of Park's work, we find small, detailed nomadic singularities strategically located within the piece, in this case a sofa at the foot of the cliff, and two birds in the middle section.
Lastly,  the work after which the entire exhibition is named, is an installation comprised of 130 pieces painted on Korean hanji paper, pierced on butcher shop meat hooks, and hung on metal pipe structures measuring 3.5m wide, 2.5m high, and 27m long. The red light overlooking the paintings invokes the context of a large butcher shop. This format of presentation incites a different sort of encounter than that of a traditional exhibit; the paintings transcend their planar dimensionality, beckoning the viewer to address each work in three dimensions.
****Editor's note:
Exhibition duration:
May 8, 2015 through August 31, 2015
Opening Hours: 10:00 am to 6:00 pm
Closed on Tuesdays
Ca' Foscari University Address:
Spazi espositivi Università  Ca' Foscari Venezia,
calle larga Foscari Dorsoduro 3246,
30123 Venezia
Italy