Browse through any magazine at your local convenience store or grocer and you will see it, glossy covers flooded with women and men from all walks of life posing with the latest products and styles, enticing you to turn the page and read more. We are drawn to these images as they are meant to be a representation of our society as a whole, and ultimately a representation of ourselves.
During this fall's Fashion Week in New York, Paris, Milan, and more, models took to the runway to display the latest trends for fall 2015. However the diverse melting pot of cultures and ethnicities was not apparent. In a sampling of 613 women in 93 fashion shows across New York this past season by theFashioSpot, 77.4% of models on the runway identified as white. The fashion shows surveyed ranged from large industry contenders down to emerging leaders in fashion. The lack of diversity in the fashion industry is not new, surprisingly, this past fall was labeled as the year diversity hit the runway in major fashion outlets. However, a look at the numbers will have you taking an additional look.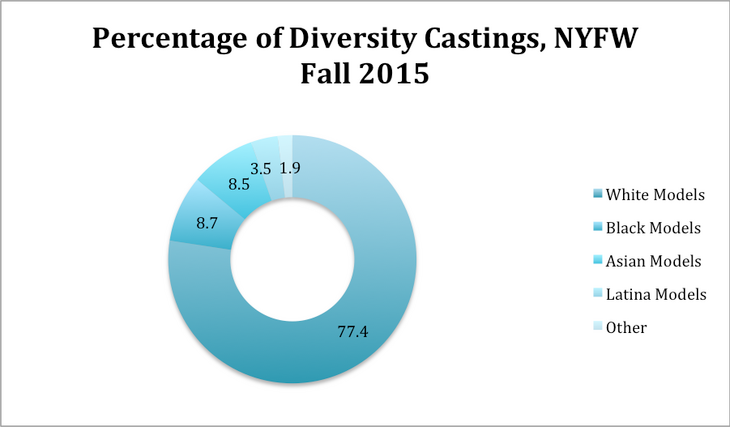 In the Photo: Ethnic makeup of 613 models surveyed at 93 fashion shows at NYFW. Statistics: theFashionSpot 
The blame is sent from consumers to designers, casting agents and model scouts. The founder of Mother Model Management, Mary Clarke, however cites the industry and designers as the real crux in diversity as they dictate the aesthetic of each season.
Some designers and models, seeing the lack of role models for women and girls have become advocates for change. Carrie Hammer frequently features models who she deems as positive role models and recently sent a model with Down Syndrome down the runway. FTL Moda in their Aw15 collection has been seen walking models with physical disabilities in a show dedicated to Fondazione Vertical, a research foundation in Italy for spinal cord injuries.
I hope it will show the world that we can bridge modesty and fashion and hijab should be more mainstream.
– Mariah Idrissi
Earlier in the year, we spoke with Mariah Idrissi, the first Hijab-wearing model for H&M. The 23-year-old Londoner first appeared in H&M's "Close the Loop" campaign for sustainable fashion to encourage consumers to drop off used clothing for recycling. Being of half Moroccan and half Pakistani descent, Mariah Idrissi was discovered on Instagram. When asked what drew her to this project and what she hopes her involvement will achieve, Idrissi said, "I hope it will show the world that we can bridge modesty and fashion and hijab should be more mainstream. I also hopes [sic] it shows all the negative stereotypes on hijab are incorrect." 
Idrissi appears towards the end of the narrative short in a long, pink trench coat, wide leg pants, oversize sunglasses and a hijab. The global reaction was abundantly positive. With high hopes for her future career, and a goal to bridge the gap between modesty, fashion, and diversity, she maintains that being a model for H&M's sustainability campaign allowed her to show others that modesty and fashion are not mutually exclusive.
In the survey conducted by theFashionSpot, 11 models identified as either Middle Eastern models, "other," or, did not define themselves under one racial profile. In addition to the lack of diversity of Middle Eastern models in the industry, Idrissi aims to bring attention to styles many women love, but fail to see across the industry as a representation of themselves.
---
Related Articles: "INSIDE A LUXURY FASHION BLOG" by HILARY ELLIOT
"VICOMTE A: A LIFESTYLE IN COLOUR" by JESSICA BRASSINGTON
---
When speaking on the role of the hijab in modeling and adjusting it to fashion trends, Mariah Idrissi explains, "as long as what we wear is according to the Qur'an and Sunnah there is nothing wrong in being fashionable with hijab. Everything I wear on a daily basis is from mainstream fashion retailers so why are we not marketed to as well?"
The lack of diversity in advertisements and on runways fails women who shop at larger fashion retailers by displaying an aesthetic that aligns with the brand's vision and lacks consumer representation. As she describes her casual yet elegant style, she currently cites social media as one of the best ways to show the world hijab fashion and the true message of hijab.
https://www.instagram.com/p/7KTY8shU1T/?taken-by=mariahidrissi
In the Photo: Mariah Idrissi in H&M's campaign ad, "Close the Loop." Credit: Mariah Idrissi
Some major fashion brands, heeded the inquiries of customers globally by including Muslim customers. Brands such as Oscar de la Renta and Tommy Hilfiger have introduced Ramadan collections.
Giving advice to those interested in fashion, Idrissi says "be true to yourself and don't try to copy anyone else." Providing a modest approach to modeling, she encourages women interested in pursuing a similar course to fully understand their motivations in the hope that once this has been established, "you stick to your faith and never compromise it for the fashion world as hijab is so much more than just a style."
There are many faces advocating for the global campaign for diversity and Idrissi is but one of them. The fashion industry, albeit slowly improving, still needs to address efforts to close the gap in diversity and represent all consumers. During this time, Mariah wants to continue modeling for major retailers and advocate for more Muslim models in hijab.
I hope to really create diversity in the industry. I am working on some projects which I can't mention until confirmed but it's looking good I hope!
For more from Mariah Idrissi, follow her on Instagram.