A Brazilian Senate panel is set to recommend that President Jair Bolsonaro be charged with "crimes against humanity" asserting that he was "principally responsible" for Brazil's stratospheric death toll. 

Brazil has the second highest total of confirmed Covid-related deaths. Yet Brazil's far-right President has consistently downplayed the severity and the virus and continues to do so today. He opposed quarantine measures set by his own governors and as the country's hospitals were flooded with patients, he encouraged mass gatherings and discouraged masks. 
He appeared on television calling the virus a "little flu", joked that the vaccines would turn people into alligators and accused the media of causing hysteria. Even as death tolls climbed, he persisted that a failing economy presented more of a threat than the virus could.
Bolsonaro told the people of Brazil that the virus wouldn't affect healthy athletic people such as himself. Then when he did test positive, he pushed unproven cures such as hydroxychloroquine, posting a video of himself gulping the pills despite the warnings of scientists. 
Dismissing the scientific evidence of Covid-19 and its vaccines, the President was recently seen eating pizza on a New York sidewalk. He and his government were forced to eat outside as their unvaccinated status violated New York City restaurant policies on Covid-19. Bolsonaro was in New York for the 76th Session of the UN General Assembly, where other world leaders pleaded with him to receive a vaccine. 
What do the charges mean?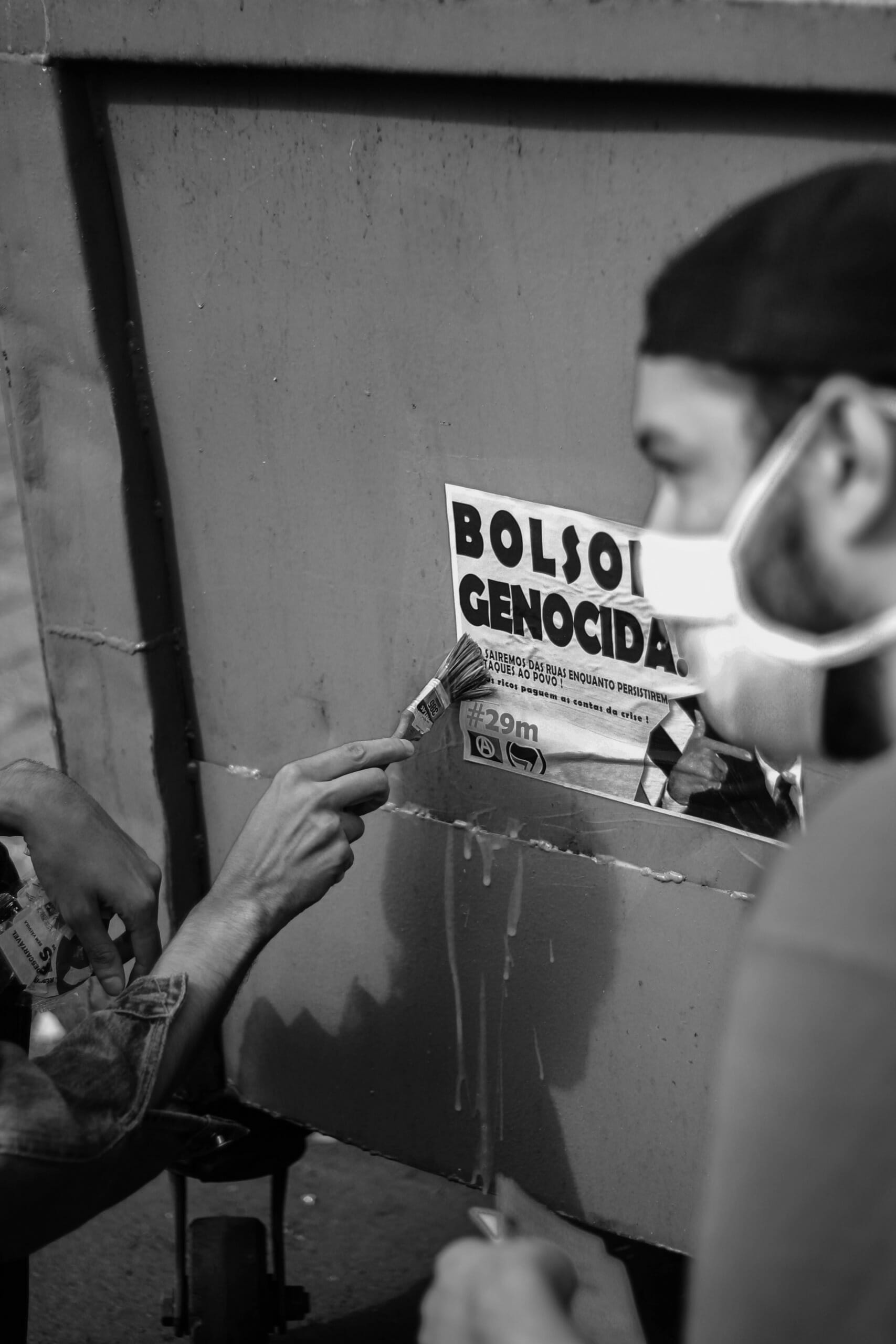 As Covid-19 has claimed the lives of 1 in every 350 Brazilians, outrage has filled the streets and people demand justice. In April, a Senate committee launched an investigation into the negligent actions of the President. The committee held over 50 hearings, receiving testimony on bribery schemes and disinformation operations. One lawmaker, testifying that some vaccine purchases included kickbacks, wore a bulletproof vest at their hearing. 
The probe focused on 11 criminal charges, investigating Bolsonaro's involvement in "genocide against the country's indigenous population, malfeasance, irregular use of public funds, violation of sanitary measures, incitement to crime and forgery of private documents, among other crimes" according to Reuters.
The report found that the leader had endorsed unproven drugs like hydroxychloroquine long after they had been proven ineffective. His administration caused a months-long delay in vaccine distribution which cost an estimated 95,000 lives. Not only did the government ignore over 100 emails from Pfizer, they also opted to overpay for an unproved vaccine from India and later had to end this deal due to suspected grafting.
Although initials drafts have been amended, and the charges of homicide and genocide against indigenous communties dropped, Bolsonaro still faces 9 criminal charges including crimes against humanity. Furthermore, the document indicts dozens of other officials, including three of Bolsonaro's sons who all hold positions in office.
According to the Rome Statute genocide can be defined as "acts committed with intent to destroy, in whole or in part, a national, ethnical, racial or religious group." This can entail killing members of a group or subjecting the group to conditions that could destroy it. Crimes against humanity, meanwhile, "encompass systemic attacks against civilian populations. That could be murder, torture or enslavement, for example."
Indigenous activists in Brazil are suing President Bolsonaro for genocide and ecocide at the ICC.

Amazon deforestation has surged under Bolsonaro, who cut environmental laws and backs mining/farming on protected Indigenous land.

The Amazon lost an area 3x NYC so far this year. pic.twitter.com/k5VQn4wM0o

— AJ+ (@ajplus) August 10, 2021
The indigenous community in Brazil has been crippled by the pandemic and Bolsonaro's ongoing devastation of the Amazon rainforest. Whilst the investigation was being conducted, Brazil's Indigenous People Articulation (APIB) had filed a statement before the International Criminal Court (ICC), accusing Bolsonaro's administration of genocide and crimes against humanity. Tribes there have claimed that Bolsonaro is responsible for the deaths of over 1,160 indigenous people due to his negligence. 
Various claims have reached the ICC calling for investigations into Bolsonaro's treatment of indigenous communities. Illegal fires, land grabs and the murder of indigenous leaders have devastated indigenous populations whilst the government has also been accused by an Austrian NGO of "systematically removing, neutering, and eviscerating laws, agencies and individuals that serve to protect the Amazon." 
---
---
Will Bolsonaro escape legal charges again?
Unfortunately, none of the claims filed before the ICC have led to indictments and officials are uncertain the current inquiry will amount to action either. The Senate is due to approve the text today, October 20, whereafter it will be sent to the Attorney General's office for approval. However, the attorney general was appointed by Bolsonaro and remains his supporter.
Even if the attorney general's office did pursue the charges, it would be up to the Supreme Court to try him and to do this it must request authorisation from the lower house. The lower house presents another obstacle to justice as it is stocked with Bolsonaro's supporters. 
If Mr. Bolsonaro was formally charged, he would be suspended from office for 180 days whilst the Supreme Court considers the case. If convicted, he would likely face prison and would be blocked from the presidency for eight years. 
Although a conviction looks unlikely, the investigation has succeeded in plunging Bolsonaro's position in popularity polls and may ruin his chances in the upcoming 2022 Presidential elections. 
Bolsonaro rode into power on the notion that he was a man of the people, clean of charges of corruption like the preceding government. However, the extraordinary accusations in the Senate probe have revealed to the country that his administration is embroiled in corruption and the President has systematically and callously turned his back on the people when they needed him the most. 
All across Brazil, hospitals are inundated and the bodies pile up. More than 130,000 children have been orphaned by the pandemic and over 600,000 have died in total at the time of writing. The Senate committee believes that Bolsonaro and his administration are directly responsible for at least half of these deaths. 
"I am personally convinced that he is responsible for escalating the slaughter." 
– said Mr. Calheiros, part of the Senate committee. 
At the start of the pandemic, Bolsonaro's popularity hit a high due to the release of emergency aid. A year later though, the aid has dried up and opinions are souring, as the following graph shows.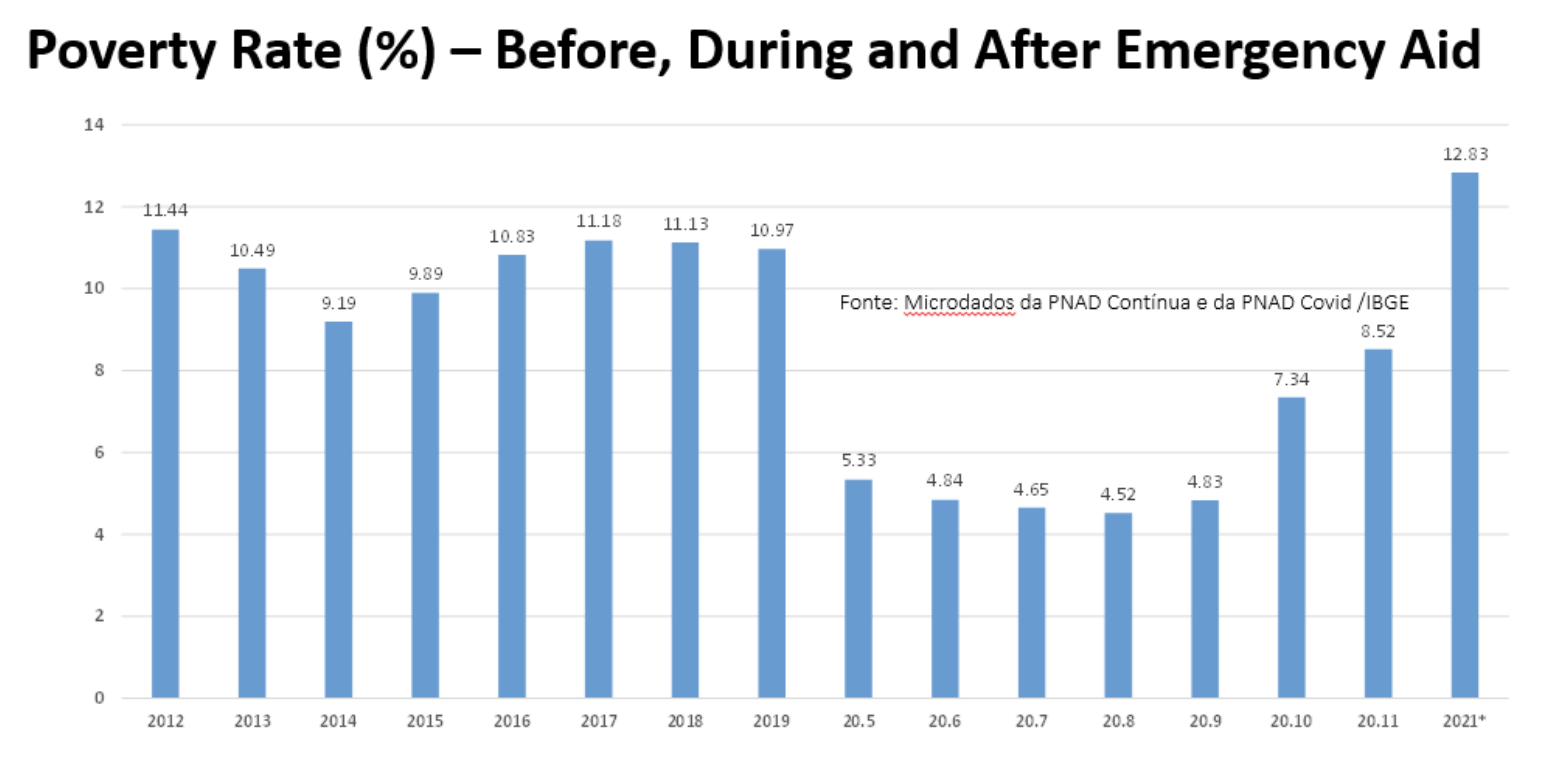 Roughly $60 billion in basic income was distributed to 66 million Brazilians in Brazil's most generous cash transfer program ever. However, now that the aid has been cut off, 12.8% of Brazil's population — some 27 million people — are living below the poverty line according to a Rio de Janeiro-based think tank. Millions were pulled out of poverty, only to be thrown back into it.  
As the charges against Bolsonaro make their way through the courts, it is unclear how long the journey will last. It is, however, clear that public opinion has changed and now it is the people who have turned their back on Bolsonaro. 
---
Editor's Note: The opinions expressed here by Impakter.com columnists are their own, not those of Impakter.com. — In the Featured Photo: President Jair Bolsonaro at Cerimônia Oficial de Chegada do Presidente da República da Colômbia, Senhor Iván Duque Márquez. Featured Photo Credit: Palácio do Planalto.