Big Oil executives from the US fossil fuel industry appeared in a congressional hearing on Oct. 28 to testify whether their companies deceived the public about the link between fossil fuels and climate change. The landmark hearing represents the first time executives have been sworn under oath to address their "long-running, industry-wide campaign to spread disinformation about the role of fossil fuels in causing global warming." 
The CEOs of Exxon, BP America, and Chevron, the president of Shell's U.S. subsidiary and the presidents of two top lobbying groups: the American Petroleum Institute and the U.S. Chamber of Commerce were hauled before Congress to answer big questions. 
Pressure for such a hearing has been mounting for years as reports have revealed how long fossil fuel companies have known about the threat of climate change and their deep involvement in lobbying against climate action. The catalyst for this hearing though was a Greenpeace sting operation earlier this year which captured an Exxon lobbyist admitting the company had fought climate science through "shadow groups " and targeted influential senators to weaken climate proposals from U.S. President, Joe Biden.

In 2017, it was revealed that 71% of global emissions since 1988 came from just 100 companies. Half of the rise in global temperatures and almost one third of sea level rise since the Industrial revolution has been attributed to the largest 83 fossil fuel companies (and 7 cement companies). There is no denying the connection between fossil fuels and climate change. 
Having learnt from the lessons of Big Tobacco, Big Oil executives facing Congress did not outright lie and deny this connection. Instead, they denied that they had misled or muddied public perception about climate science. They took the opportunity to highlight the importance of fossil fuels for economic growth and their investments in sustainable technology such as carbon capture and biofuels. These are the same tactics the industry has used to delay climate action though after outright climate change denialism became preposterous. 
The fossil fuel industry has known about climate change for half a century
The fossil fuel industry has been studying CO2 pollution for over 60 years according to a report published by the Center for Climate Change Communication. The industry knew their products could potentially change the climate as early as the 1950s, leading to rising temperatures and melting ice caps. By the 70s and 80s, scientists at Exxon were convinced that burning fossil fuels could lead to "catastrophic" global warming. 
In 1978, a senior scientist at Exxon warned that "present thinking holds that man has a time window of five to 10 years before the need for hard decisions regarding changes in energy strategies might become critical." Despite this warning, the industry did not transition to cleaner energy sources, instead "Big Oil doubled down on fossil fuels."
Fossil fuel companies had the most up to date and accurate climate science. In-house scientists at Exxon were so good that in 1982, they correctly predicted that the concentration of carbon dioxide in the atmosphere would hit 415 parts per million by the year 2019. 
The evidence was clear on global warming and it was clear on the impact fossil fuels had on air pollution and the ensuing health issues. 
In a 1968 internal technical report Shell acknowledged that air pollution "may, in extreme situations, be deleterious to health" and that the oil industry must "reluctantly" accept that cars "are by far the greatest sources of air pollution". They were aware of the significance of small particles released by fossil fuels, which they deemed the "real villains in health effects", as they brought toxins, like carcinogens, "deep into the lungs." In some states in America, air pollution was responsible for almost 1 in 5 deaths. 
Despite clear knowledge of the harms of fossil fuels, these industries embarked on a campaign to sow doubt and confusion. 
A campaign to mislead the public
Instead of using their extensive scientific research to warn the world of the need to take urgent action, the industry launched a sophisticated disinformation campaign to throw the reality of global warming into uncertainty. 
13/n: Here's how an ExxonMobil advertorial on climate change in @nytimes falls apart when its denialist techniques are deconstructed. pic.twitter.com/MeNhyYhnnd

— Geoffrey Supran (@GeoffreySupran) October 21, 2019
80% of research published by Exxon between 1977 and 2014 acknowledged that climate change was real and caused by humans. Meanwhile 80% of their statements to the public expressed doubt about climate change. Dr. Oreskes and Dr. Supran who were involved with the Center for Climate Communication report argue "the question is not whether Exxon Mobil 'suppressed climate change research,' but rather how they communicated about it." They stated "Exxon Mobil contributed quietly to the science and loudly to raising doubts about it" with adverts such as the following.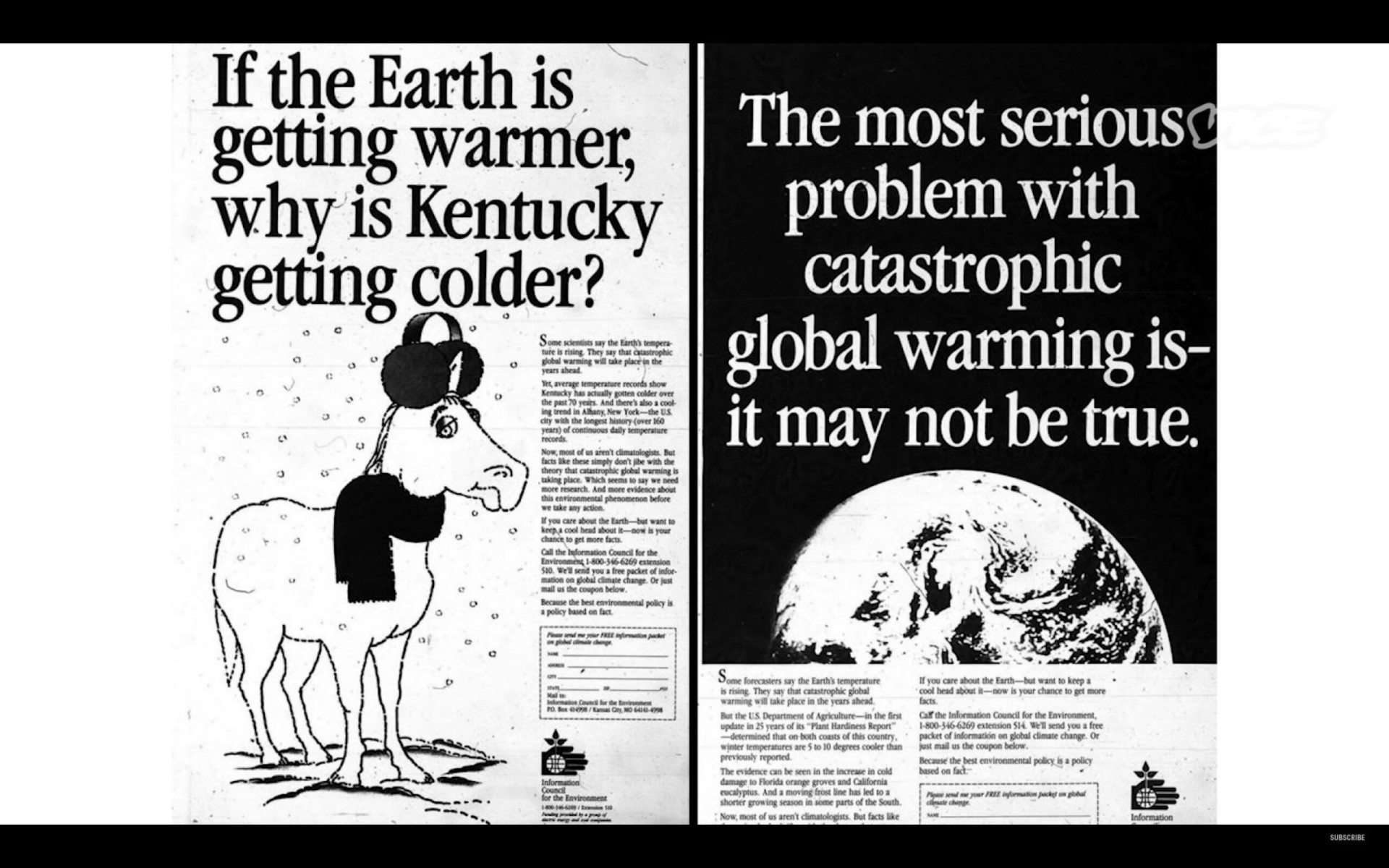 For decades fossil fuel industries funded campaigns to cast doubt over climate science. As public perception and mainstream science changed to acknowledge the realities of climate change, Big Oil also changed. The industry shifted from explicit climate denial to disinformation and today relies on subtler propaganda and greenwashing. 
In an interview with the Bulletin of the Atomic Scientists, Dr. Supran explains that they do this through tactics stolen from the playbooks of Big Tobacco. The process is as follows: 
"First is to continue to publicly downplay the reality, but especially the seriousness, of climate change. The second is to present fossil fuel dominance as reasonable and inevitable. And the third—and we think maybe the most interesting—is to shift responsibility for climate change away from the company and onto consumers."
The concept of a carbon footprint was produced by BP. A website to calculate your "personal carbon footprint", along with a massive PR propaganda campaign, succeeded in shifting blame away from producers onto consumers. 
I'm willing to hold you accountable for lying about climate change for 30 years when you secretly knew the entire time that fossil fuels emissions would destroy our planet 😇 https://t.co/ekj1Va1Cp0

— Alexandria Ocasio-Cortez (@AOC) November 2, 2020
This focus on personal responsibility has massively impacted public perception as well as political agendas. For example, Yale University refused to divest from fossil fuels as they claim "it is the consumption of fossil fuels and not the production of fossil fuel that's the cause of climate change."
This notion of consumer responsibility was used in a climate lawsuit against Exxon in 2018 and has been co-opted from tobacco industry discourse. These companies have hidden pivotal scientific research, continued harmful production, sown public doubt about climate science, lobbied against climate actions and later washed their hands clean of all responsibility, shifting it to the victims of their practices.   
The deception of greenwashing
For decades Big Oil deceived the public about the destructive consequences of fossil fuel production and consumption. As scientific consensus around this has grown, the industry now focuses on deceiving the public about their operations. 
Research shows that, in the three years following the Paris Agreement, the five largest oil and gas companies (ExxonMobil, Royal Dutch Shell, Chevron, BP and Total) invested more than $1 billion in "misleading climate-related branding and lobbying." These companies have spent almost $200 million a year "lobbying to delay, control or block policies to tackle climate change."
In the run up to the hearing, these Big Oil companies bought ads in America's most popular political newsletters. As lawmakers, lobbyists and policy professionals debated America's largest climate change legislation and the role of the fossil fuel industry they were barraged with propaganda.

According to climate justice sites, Heated and Earther, from October 1. to October 22., 100% of POLITICO's Morning Energy newsletters were sponsored by fossil fuel interests. Although ads no longer explicitly challenge climate science, they inflate companies' transition to clean energy and the importance of the fossil fuel industry for the economy and labour market. 
"While BP's advertising focuses on clean energy, in reality, more than 96% of the company's annual capital expenditure is on oil and gas. According to its own figures, BP is spending less than £4 in every £100 on low-carbon investments each year. The rest is fuelling the climate crisis."
–said Sophie Marjanac, a lawyer for ClientEarth
The use of propaganda and aid campaigns to inflate public perception of capital expenditure on clean energy is a form of deception. It's deception that allows them to continue producing and profiting from fossil fuels, delaying climate action.
The idea that Big Oil is prioritizing investments in renewables is perhaps their biggest lie — and one we're going to hear over and over at this hearing.

Here's what their capital expenditures looked like in 2019.#SlipperySix pic.twitter.com/j6AMuIVhOH

— Jamie Henn (@jamieclimate) October 28, 2021
Big Oil has exploited ads like these to stave off public condemnation. Millions of dollars have been used to lobby politicians and the general public when it comes to environmental policies that could impact fossil fuel usage. 
At the end of 2019, environmental NGO ClientEarth filed a complaint with the Organization for Economic Co-operation and Development (OECD) accusing BP ads about low-carbon energy efforts of misleading the public about BP's contribution to climate change. The ad campaign allegedly breaches international guidelines governing corporate conduct. As a result, the organisation called for "all advertising by fossil fuel companies to be banned, unless it comes with a tobacco-style health warning about dangers to the planet and people."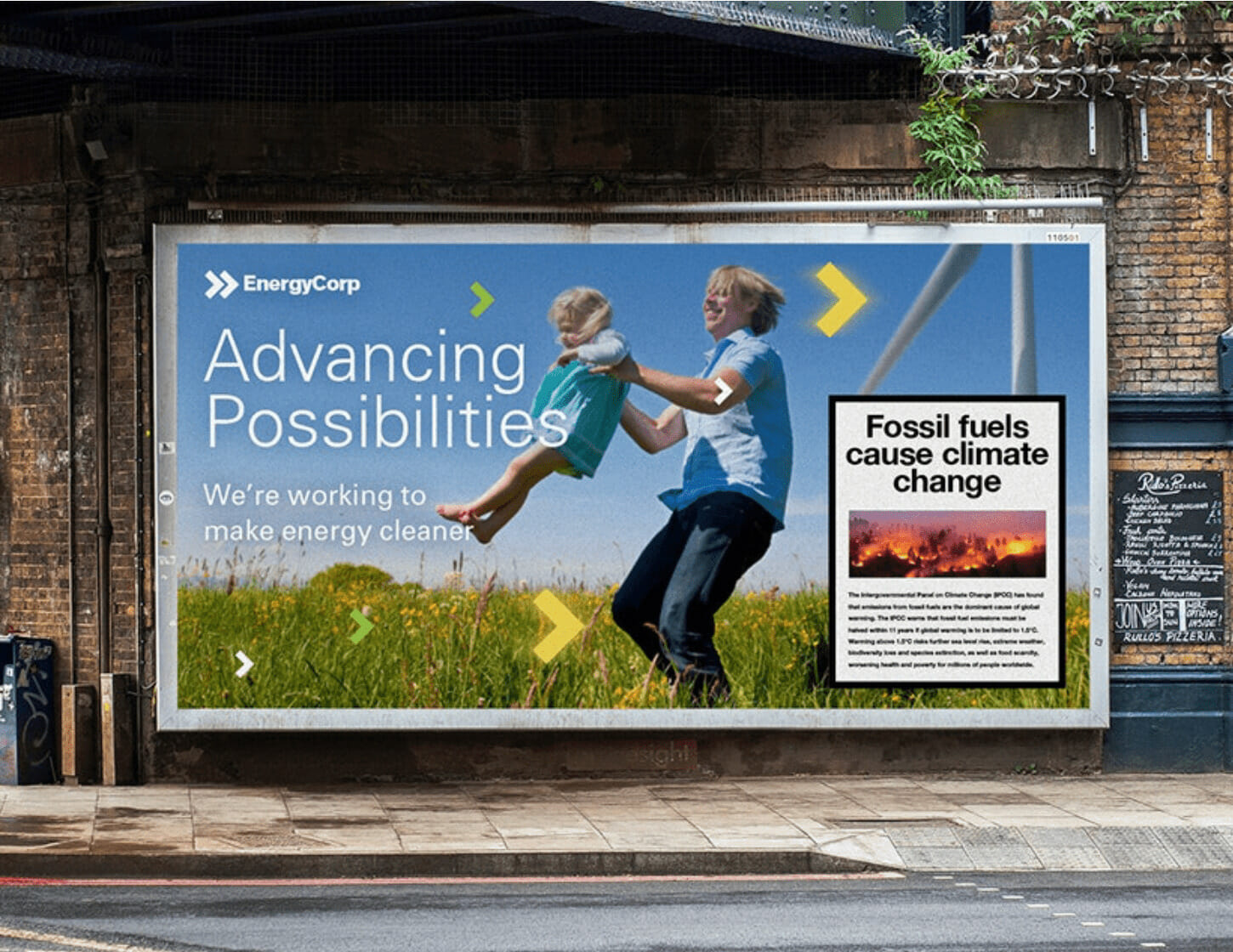 ---
---
Will Big Oil face the same fate as Big Tobacco?
Comparisons to Big Tobacco were rife throughout the hearing and the past couple of years of public condemnation of Big Oil. In 2006, a federal judge found tobacco companies guilty of a decades-long conspiracy to mislead the public about the risks of smoking. The finding was a landmark move and many are hopeful that Big Oil will face a similar reckoning. 
Although the tobacco industry still produces cigarettes and runs ads, the market was crippled by the lawsuit and ads are now heavily restricted. Some fear that the devastation of the fossil fuel industry is the only way for the world to transition away from dirty fuels and the global warming that they would lock us into. 
To keep within a 1.5°C carbon budget by 2050, almost 60% of oil and methane gas, as well as 90% of coal must remain unextracted. It's unclear whether this goal could be or will be achieved without wide-scale divestment from fossil fuels. 
Here's the clip from today's Big Oil hearing where @RepKatiePorter eviscerates the executives of Exxon, Chevron, Shell and BP for their greenwashing and lobbying against climate action. #SlipperySix pic.twitter.com/j7zoVk5d94

— Jamie Henn (@jamieclimate) October 28, 2021
Regardless of the climate crisis, there is also a moral obligation to hold Big Oil accountable. One study revealed that the fossil fuel industry costs society an average of $568 billion per year in environmental and public health damages, inefficient pricing and transportation.
During the U.S. Presidential elections, Joe Biden was asked whether he would "hold fossil fuel corporations and executives who've lied to the public accountable." He responded that he would crack down on them "just like we did the tobacco industry that lied to the public, just like we did the opioid industry."
Where does the hearing leave us? 
Despite attempts to hold the fossil fuel industry to account, the way lawmakers did with tobacco companies, Big Oil just isn't Big Tobacco. Fossil fuels are a deeply partisan issue and the hearing on Thursday involved harsh condemnation from Democrats whilst Republicans apologised to the oil executives, thanked them for their services and questioned the premise of the hearing. 
The hearing may not have brought about the reckoning many were hoping for, but it's important to remember that the case against Big Tobacco lasted seven years. The fact that fossil fuel corporations have been brought to court like this is a landmark in and of itself. 
Furthermore, the case has brought the complicity and mendacity of Big Oil to public attention. The hearing revealed more in what executives did not admit to than what they did.  
At one point, Representative Carolyn Maloney of New York, chairwoman of the committee, asked all four executives to "commit to no longer spending any money, either directly or indirectly, to oppose efforts to reduce emissions and address climate change." 
Representative Ro Khanna, Democrat of California, asked them to tell the American Petroleum Institute and other trade groups, which are paid to represent fossil fuel interests in Washington, to stop funding advertisements against electric vehicles and other climate policies.
However, executives wouldn't commit to either of the requests.
Democrats are not giving up though. Lawmakers stressed that this hearing was just the beginning. At the end of the six-hour hearing, Maloney announced that she will issue subpoenas to the oil companies—as well as the American Petroleum Institute and Chamber of Commerce—for internal documents.

The documents will force Big Oil to provide information on social media advertisements, payments to shadow groups and public relations companies that promote climate denial and misinformation. These documents were demanded before the hearing but the industries refused to comply.
To conclude the meeting, Maloney declared: "We are at 'code red' for climate, and I am committed to doing everything I can to help rescue this planet and save it for our children." She continued "We need to get to the bottom of the oil industry's disinformation campaign, and with these subpoenas, we will."
"Code red" for all of us, but will the fossil fuel industry take note?
---
Editor's Note: The opinions expressed here by Impakter.com columnists are their own, not those of Impakter.com. — In the Featured Photo: Big Oil executives have been called to Capitol Hill for their hearing Featured Photo credit: Joshua Sukoff