Adele's new album, "30", released just six days ago, has already become this year's top-selling album, a testament to her unbeatable success as an artist.
Creating yet more noise was Adele's viral tweet immediately following the release of "30" in which the British songwriter and singer argued that musicians "don't create albums with so much care and thought into our track listing for no reason…our art tells a story and our stories should be listened to as we intended. Thank you Spotify, for listening."
This was the only request I had in our ever changing industry! We don't create albums with so much care and thought into our track listing for no reason. Our art tells a story and our stories should be listened to as we intended. Thank you Spotify for listening 🍷♥️ https://t.co/XWlykhqxAy

— Adele (@Adele) November 21, 2021
Spotify and digitalisation of music
Founded in 2006, Spotify is a relatively recent phenomenon in the world of digital music streaming. There is a long lineage of streaming services that have shaped the way we consume music in the 21st century. For instance, in 1999, a peer-to-peer music sharing website, Napster, gained traction amongst American college students as a service that allowed MP3 files to be shared between friends for free.
Napster was forced to shut down in 2001 after multiple lawsuits claimed that the company was breaching copyright laws. By this time the site already had 21.4 million users, an indicator of the potential popularity of online music streaming and distribution services.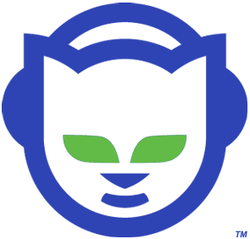 Napster Logo. Photo Credit: DJ Tronick 
Since 2006 however, Spotify has played a hugely significant role in shaping the way that music is disseminated. But the shuffle button is not unique to Spotify, being available on CD players and MP3 players since the early 1980s.
The shuffle function is essentially a random number generator that selects the next song for the listener by chance. As a result of Adele's comments, Spotify have issued a statement hailing their "new premium feature […] to make play the default button on all albums." This new feature means that whilst shuffle is still available, users must now access it via a menu when listening to albums as opposed to having the option right next to the play button in the hope that people will listen to the full albums in their intended order. 
Is this a "losing battle"?
Michael Hann has argued that Adele, and as a result Spotify, are "fighting a losing battle". Spotify operates in the way it does because of an extremely close understanding of general listening practices. The reason that Spotify enables listeners to shuffle songs is because people like to shuffle songs. Indeed, artists and labels are, as a result, commercially encouraged to create songs within an album that can be listened to as separate entities.  
Some of the public's responses to Adele's tweet have reflected these concerns. One such tweeter exclaimed that she "would like to listen to what [she] wants to listen to" and "shan't be listening to this album" as it is "forced".
Furthermore, artists now have access to data that suggests that the majority of listeners almost never make it to the end of an album. Therefore, for musicians trying to compete commercially, albums need to be front loaded with what they hope will become their "hits".
It could be argued that in asking for the removal of the shuffle button, Adele is highlighting the idea of the album as a complete listening and storytelling experience. Her new album, "30", begins with three sultry and melancholic songs, "Strangers By Nature", "Easy On Me" and "My Little Love" before the more upbeat fourth, "Cry Your Heart Out". Adele has specifically intended for the first three songs, wistfully reflecting on her heartbreak following her divorce, to come first and set the topography for what is to follow.
Whilst many albums these days need to start with catchy hits to hook listeners with short attention spans, Adele is saying that this shouldn't have to be the case and that an album's storyline is important. As songs are listened to as separate entities in shuffle form or in a playlist, they are recontextualised out of the storyline of an album and out of the control of the artist's intentions.
When an artist hands their musical output over to a streaming platform, they lose a certain amount of musical agency, not least because of the need for an album to make money on the platform.
---
---
Does Spotify's decision empower all artists?
Spotify has rarely changed course in response to critique. And many are saying that this move reflects artists' concerns in the music distribution space. But is this just about Adele? Spotify's willingness to preserve the continuity of Adele's new album may only reflect the artist's huge influence in the industry.
The company's response to Adele's tweet seems to confirm this in saying "anything for you". Perhaps Spotify has learnt its lesson since Taylor Swift single-handedly put the issue of artist remuneration into the spotlight in 2014, previously withdrawing her music from the platform.
Despite this, Spotify as a streaming service and Adele as an artist are two powerful forces in the music industry. The removal of the shuffle button from albums on Spotify might just be the beginning of real change for artists who have to put their music into the hands of big streaming services in order for their voices to be heard.
---
Editor's Note: The opinions expressed here by Impakter.com columnists are their own, not those of Impakter.com. — In the Featured Photo: Adele at Beatnick. Featured Photo Credit: Montreal Concert Poster Archive