Child labour remains a serious issue affecting millions worldwide, robbing children of their childhood, education, and future. Each year, on June 12th, World Day Against Child Labour aims to shed light on this global issue and support its eradication. The theme for World Day Against Child Labour 2023 is "Social Justice for All. End Child Labour!" emphasizing the profound link between social justice and the fight against child labor.
Approximately 160 million children worldwide are caught in the web of child labor, representing a distressing statistic of 1 in 10 children. These children endure unimaginable hardships, working in hazardous conditions, often deprived of their right to education, and subjected to exploitation. They are the innocent victims of poverty, inequality, and a lack of opportunities.
The World Day Against Child Labour serves as a reminder of the urgent need to address this issue and protect the futures of these vulnerable children. 
Worldwide, 160 million children are victims of child labour, robbing them of their right to an education, and threatening their well-being & future.

More from @ILO on Monday's #NoChildLabour Day: https://t.co/lfYwS1gJGB pic.twitter.com/CELTC7Fj7z

— United Nations (@UN) June 12, 2023
Understanding Child Labour as a Global Issue
Child labour is a multifaceted problem deeply rooted in poverty, lack of education, and social inequalities. It deprives children of their fundamental rights, exposes them to hazardous conditions, and hinders their development. 
Many children are forced into exploitative labor due to economic hardships, armed conflicts, and societal disparities. Tackling child labor requires a multi-pronged approach that addresses the underlying causes and creates an enabling environment for children's growth and well-being.
---
---
Access to Quality Education
Providing access to high-quality education is essential in eradicating poverty and ending exploitation. It is a fact that every child should have equal opportunities to attend school, regardless of social or economic status. 
As a society, we must acknowledge our immense influence in shaping inclusive mindsets regarding education. We should try to combat discriminatory attitudes and actions that hinder particular groups, such as girls, children with disabilities, and marginalized communities, from receiving the education they deserve. 
It's our joint responsibility to ensure that everyone has equal opportunities to learn and grow. All children should receive equal opportunities to learn and grow.
Social Protection Measures
Implementing social protection measures is crucial in curbing and reducing child labor. Such efforts include social assistance programs and subsidies, which can help alleviate poverty and support families in need. 
Moreover, a comprehensive social protection system can provide children with essential services like healthcare and nutrition, thus enhancing their overall well-being and lowering their vulnerability to exploitation.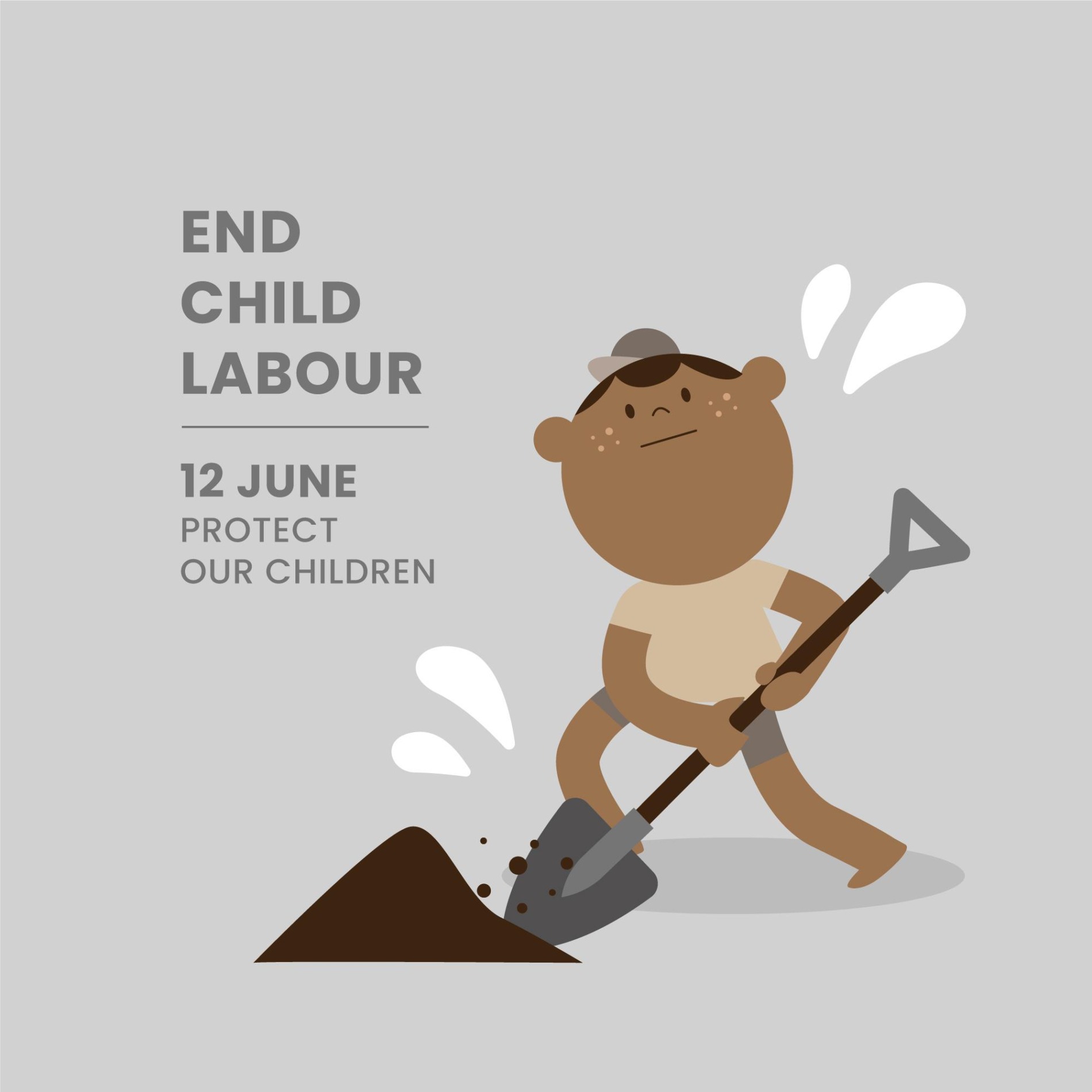 Strengthening Labour Laws and Enforcement
Ensuring the safety of children in the workforce is crucial, and we can only achieve it through robust legislative frameworks. Including setting and enforcing minimum age laws appropriate for children and ensuring they are not involved in dangerous or harmful work. 
It is important to have regulations that protect the working conditions of adults, which can indirectly help reduce child labor. The universal ratification of International Labour Organization (ILO) Convention No. 138 on Minimum Age is crucial to safeguarding children from exploitation. Along with the already achieved universal ratification of ILO Convention No. 182 on Worst Forms of Child Labour, it would provide legal protection for all children, shielding them from any form of labor that deprives them of their rights, education, and childhood.
Economic Empowerment of Families
Poverty is a leading cause of child labor. Ensuring economic empowerment through job creation for families should be given top priority. Various programs can be implemented to achieve this goal, such as:
Providing access to credit and markets

Extending support for income-generating activities

Imparting skills
By assisting parents and caregivers in finding stable work and creating a sustainable income, families can break free from the vicious cycle of poverty and prevent the necessity of child labor.
Awareness and Advocacy
Raising awareness about the harmful impact of child labor and advocating for its eradication is of utmost importance. It requires a collaborative effort from governments, civil society organizations, and media outlets to disseminate information, promote responsible consumption, and garner public support for products and services free from child labor. 
Additionally, targeted campaigns can foster a societal shift in attitudes toward child labor and encourage collective action.
Global Partnerships and Cooperation to End Child Labour
Governments, businesses, NGOs, and international agencies must come together to address child labor and share their expertise. Form global partnerships that share best practices, exchange information, and coordinate efforts across nations and sectors. 
Vital initiatives such as public-private partnerships, donor support, and corporate social responsibility are crucial in tackling this issue. Child labor, demands immediate attention. We have an opportunity to change the future for the better, where every child is provided with education, social protection, and empowered families. Let's not miss it!
---
Editor's Note: The opinions expressed here by the authors are their own, not those of Impakter.com — In the Featured Photo: Children working in Nigeria Featured Photo Credit: Wikimedia.