Updated 8 March 2018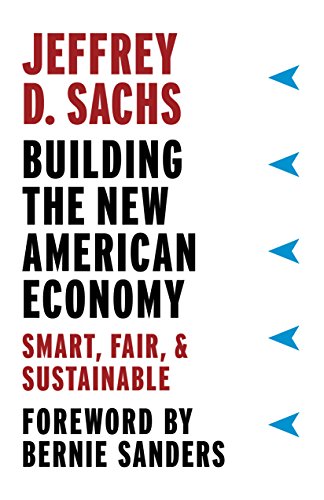 When Professor Sachs, one of the world's most influential economists, wrote the book I'm reviewing here, we lived in another world full of hope for a better future, particularly after the success of the 2015 Paris Climate Agreement.
America was firmly seated in the global leadership role it had occupied since World War II and as recently as the summer of 2016, it looked like nothing could upend it. The most important "soft power" wins included the opening with Cuba and the deal with Iran to neuter its nuclear power – soft power wins that came on top of a long series of similar victories since 1945, starting with the generous Marshall Plan that resuscitated Europe from the ashes of war.
It may come as a surprise to many Americans, but it is this soft power, much more than military power that has ensured American leadership, turning it into a global moral compass, effectively the "land of dreams". The American military is well aware of this, as shown in a February 2017 letter signed by over 120 retired generals and admirals that called on Congress to refrain from slashing funds for diplomacy and foreign aid. Noting that "The State Department, USAID, Millennium Challenge Corporation, Peace Corps and other development agencies are critical to preventing conflict and reducing the need to put our men and women in uniform in harm's way", this went straight against Trump's proposed budget.
In that riotous 2017 spring, shaken by protests against Trump's "America First" policies, Professor Sachs' book, Building the New American Economy: Smart, Fair, and Sustainable appeared as the perfect road map for America to maintain its world leadership. Sachs had worked in Bernie Sanders' campaign in 2016 and clearly meant this book to guide a new Sanders administration, or, at best a Clinton one – for Professor Sachs saw himself as a "progressive".
Unfortunately, some sixty million Americans, feeling by-passed by "globalization" and betrayed by a "blinkered elite", had voted in a man who had no interest (or understanding) of "soft power". His worldview called on him to upend America's global leadership, systematically cutting everything that sustained America's soft power: foreign aid and diplomacy; the environment and clean energy; support to science, health and the arts;  immigrants and, starting in 2018, international trade.
This gave China the chance to seize the mantle of global leadership. At the 2017 Davos meeting, China wasted no time and, as Sachs commented to the Globe, "Chinese President Xi Jinping offered a stirring defense of globalization and international responsibility."  Later in the year, the ball started rolling ever faster in China's direction – and Europe's too – as Trump dismantled  Obama's Clean Energy Plan in March, rejected the Paris Climate Change Agreement in May, topping it off in March 2018 with a trade war triggered with tariffs on steel and aluminium.
Is there anything that can be done to win back the moral high ground and global leadership for America?
Professor Sachs' new book shows the way.
Why We Should Listen to Professor Sachs
His experience is encyclopedic. Born in 1954 and raised in a suburb of Detroit, Michigan, Jeffrey D. Sachs started early accumulating firsts. He was one of the youngest ever to achieve tenure at Harvard University, becoming a full professor of economics in 1983 when he was just 28.
By 1995, he was Director of the Harvard Institute for International Development and five years later, he moved to New York to head Columbia University's Earth Institute. In that function, he led a university-wide organization of more than 850 professionals from natural-science and social-science disciplines, in support of sustainable development.
Today he holds several positions at Columbia University: Professor of Sustainable Development and of Health Policy and Management, he is Director of Columbia's Center for Sustainable Development. Since 2012, he is the Director of the UN Sustainable Development Solutions Network (SDSN). He is on the Brookings Institution's panel of economists, and co-chairs the Asian Economic Panel of economists.
Since the United Nations adopted the Millennium Development Goals (MDGs) in 2000, Professor Sachs has become the leading scholar and practitioner of sustainable development – a career marked by major books on sustainable development and fighting poverty. In 2005, his book The End of Poverty: Economic Possibilities for Our Time, with a realistic strategy to eradicate poverty in 20 years became a New York Times bestseller; two other equally successful books followed, Common Wealth: Economics for a Crowded Planet (2008) and The Price of Civilization: Reawakening American Virtue and Prosperity (2011). And in 2015, his book on sustainable development, The Age of Sustainable Development   became the go-to manual for "global citizens" to address extreme poverty, environmental degradation and social  injustice.
In this photo: Jeffrey Sachs at the UN (2009) –  Photo Credit:
One of the few economists willing to leave the safety of Academia's white tower, he stepped out in the real world. He worked closely with UN Secretary General Kofi Annan and Ban Ki-Moon on the Millennium Development Goals (2000-2015). At the UN he started out with a bang, chairing the WHO Commission on Macroeconomics and Health to help fund health care and disease control in low-income countries; he helped to launch the Global Fund to Fight AIDS, TB, and Malaria that has been enormously successful, with 20 million lives saved so far. He also crossed the political aisle and worked with the Bush administration on the PEPFAR program to fight HIV/AIDS, and on the President's Malaria Initiative, both highly effective.
From 2002-2006, he chaired the UN Millennium Project but he went beyond committee work: he launched on-the-ground development activities, directing the Millennium Villages Project that aimed to demonstrate the soundness of a revamped model of integrated rural development (IRD) in a dozen African countries, reaching out to 500,000 people.
Started in 2004 in Kenya, the Millennium Villages project gained the support of an array of global leaders – investor George Soros, fashion designer Tommy Hilfiger, U2's Bono – and exposure in the media, including a documentary film with Angelina Jolie aired on MTV.
By 2013, the project had an annual budget of $25 million. But in 2015, a controversy arose around the methodology used  in a final evaluation to gauge its effectiveness. There were  accusations (reported by the Economist among others) that the project had failed to set up a proper system to monitor results, in particular it lacked "control villages" to assess impact.
Speaking from my own experience in project evaluation, I feel that, in all fairness to Professor Sachs, the accusations are largely baseless. At the UN, it has never been standard practice to use "randomized control villages" in evaluating IRD projects. The idea was not considered practical because of secondary, hard-to-control ripple effects from other aid initiatives or business investments in the project area. Instead, we felt that impact monitoring should ideally be built on collecting comprehensive "baseline data" in a "pre-project situation". I say "ideally", because, donors often refused to finance the necessary collection of baseline data. They preferred to spend money on project activities to "move the project forward as fast as possible", which they saw as more useful than "wasting time to gather numbers".
In any case, whether an evaluation can prove success or not – one thing is incontrovertible: Professor Sachs succeeded in putting poverty and sustainable development squarely on the map.
2016: The Turning Point, Focusing on America
As the US Presidential election picked up speed, Sachs shifted his focus away from the "global citizen" to the American citizen. As noted above, he served as an adviser to Bernie Sanders who eventually wrote the foreword to his book.
Over that fateful campaign year, he wrote several noteworthy op-eds in the Boston Globe articulating his ideas regarding what was wrong with America. The first article, aptly titled Economic choices facing the United States: Why we need a new direction, laid out the foundation of what was to become his book Building the New American Economy. It sounded a positive note:
"My contention is that with the right choices — far better choices than we've been making recently — America's economic future is bright. Indeed, we are the lucky beneficiaries of a revolution in technologies that can raise prosperity, slash poverty, increase leisure time, extend healthy lives, and protect the environment. Sounds good, perhaps too good to be true; but it is true. The pervasive pessimism — that American children today will grow up to worse living standards than their parents — is a real possibility, but not an inevitability."
So what are the "right choices"? Sachs, with his long experience of sustainable development, has no doubts:
"My starting point is a concept — sustainable development — that conveys a new and better approach to national problem solving. Luckily, it's a concept that's been around for a while, long enough to build an extensive body of knowledge and extensive evidence of what to do. And long enough to be acknowledged widely not only by scientists, engineers, and a growing number of investors, but also by governments around the world. Last September, all 193 governments of the United Nations adopted sustainable development, and 17 specific Sustainable Development Goals (SDGs) as the basis for global cooperation on economic and social development during the coming 15 years. Last December, the same governments adopted the Paris climate agreement, also built on the concept of sustainable development."
While Trump is at the helm, it is unlikely that he, or anyone in his administration, will pay heed to what is in the book.
But there is little question that it can help gather the opposition around a set of actionable ideas.
What is in the Book
This is an easy read, barely more than a brief (152 pages). No economic jargon, nothing technical, only plain common sense. And brilliant analysis coming from someone who has learned to tackle the most complicated problems in a wide range of societies, stretching from Latin America to Africa to Europe. And now, applying his analytical talent to America.
In the preface, Sachs held out an olive branch to Trump: He argued that "Trump's pledge to make America's infrastructure 'second to none' is a correct and bold goal" and "a builder-president could indeed help restore vitality to the U.S. economy and put millions to work in the process."
He then proceeds to interpret for Trump's benefit (should he ever read it) the three concepts that are at the core of the book, "smart, fair and sustainable":
Smart means "deploying the best of cutting edge technology";
Fair "would start with Trump's pledge to rebuild the inner cities" (with attention to transport, health, safe drinking water etc.);
Sustainable means "acknowledging and anticipating the direct threats facing America's cities and infrastructure", recalling the "vulnerability of New Orleans levees", the recent flooding of New York City.
Looking at this in 2018 may make one feel nostalgic for a more optimistic era that Trump has now buried. Yet Sachs is not naïve. He warns in the preface that: "much could go wrong in an undirected building boom […] Pledges to restore the Keystone XL Pipeline and US coal production are cases in point", they would be an "expensive dead end." With Trump's current revival of the fuel, coal and steel industries, Sachs' evocation of a "dead end" is unhappily confirmed.
Regarding climate change, he noted "it's funny that climate deniers are chortling about the incoming Trump administration. Nature doesn't care what they think, and neither do the 192 other countries on the planet that signed the recent Paris Climate Agreement."
For now, that certainly looks like the case, as none has followed Trump's example and quit the Paris Climate Agreement.
Prosperity, he argues, is to be found in sustainability: "The United States should enthusiastically embrace the Sustainable Development Goals as if our future depends on them." The SDGs "are our best compass back to a decent society"; they can "become the guideposts and a rallying cry for a generation looking to heal wounds, avert climate disaster and promote the common good."
Sachs is clearly calling out to the younger generations: Sustainable development implies "a society very different from the one we have today, when elites run the show and the rest of us are compelled to scramble to make do the best we can." The SDGs are a "unique opportunity", a little like the goal-setting President John F. Kennedy engaged in when he planned the moon shot in the 1960s: They "point to the mountain summit" and we need to "decide how we are going to get there".
Pointing to the "Mountain Summit": Actionable Goals for America
In Chapter 14, Sachs adapts the UN Sustainable Development Goals to American needs.  The key goals for America are realistic and practical, they include, in Sachs' own words (the SDG goal is summarized in parenthesis):
reduce the poverty rate from 17 percent, the highest poverty rate of any advanced economy, to 8.5 percent or less (SDG 1 end poverty);
reduce the obesity rate from 36 percent, the highest of any advanced economy, to below 10 percent (SDG 2 improve nutrition);
raise life expectancy to at least 85 years, the US is lagging behind the world's leading nations by at least 4 years (SDG 3 healthy lives);
cut student debt from the current $1.2 trillion (note: "many other countries with comparable university enrollment rates, have no student debt") to below $200 billion and raise college completion rates from 33 percent to at least 50 percent (SDG 4 inclusive quality education);
narrow income inequalities through a range of policies (note: the US is the most unequal of all the high-income OECD countries), so that the Gini coefficient declines from the current rate of 0.41 to 0.30 or below (SDG 10 reduce inequality);
cut annual CO2 per capita emissions from sixteen tons (three times the world average) to below eight tons, and reach net zero emissions in the second half of the century, as per the Paris climate agreement (SDG 7 affordable and clean energy and SDG 13 climate action):
reduce the prison population from the current level of 716 inmates per 100,000 people (the highest rate of any advanced economy) to no more than 100, through reform of the penal code and assistance to young minority men to integrate the labor market (SDG 16 justice for all, strong institutions);
increase development aid that currently is 0.17 percent of GDP, the lowest among high-income countries and far from the agreed global target of 0.70 percent by lowering military expenditures by about 10 percent (SDG 17 means of implementation and partnerships for Global Goals).
Now with all the cuts in Trump's budget and the $billions for the military, we know that none of this will come to pass in the next four years. But if you're wondering why the "mountain summit" (the goals for America) are those and not others, and what needs to be done to reach them (the policy measures), you need to read the book.
Perhaps what is most striking about this book is that it marks a radical departure from the "Washington Consensus", the standard reform package of the 1980's. Based on a market approach to economic growth, it has governed American thinking about economics and politics over the last three decades (and the way international aid has been given).
This is a book that calls for a new way of thinking about the economy and it starts with accepting that resources on this planet are finite and that our plundering has exacerbated climate change. It calls on us to leave aside fruitless discussions as to whether global warming is human-caused or not, and simply acknowledge that global warming is here with us, that it is a real threat to mankind's survival and that we need to do something fast to reverse it.
What is required to do this is totally novel: Sachs argues for more "long-term thinking and strategic plans of action", in short, some form of public planning. This, in an American context, is ground-breaking. It calls for more and bigger government, anathema to the Republicans, yet Sachs won't give up, he urges the new administration to govern using American "world-class expertise in its universities, businesses, think tanks and foundations" – recalling that there are 4,000 colleges and universities across America. "Long-term strategies should be the result of a nationwide deliberation to engage top thinkers and doers throughout the country".
To drive the point home, he notes: "in a country with the wealth of knowledge, technology, and skills of the United States, we don't need to settle for a rank of twenty-second out of thirty-four OECD countries in sustainable development."
Certainly not. But given America's diffidence of Big Government and distrust of the "thinking elite", can the country pull itself together and implement an SDG-like agenda? I believe it can. It is a fact that America has an unparalleled reservoir of skills and talents. We may all have to wait for Trump to depart, but Sachs has shown a clear path forward and once Trump is gone, the climb back to world leadership becomes entirely possible. And it should be pursued.
This is the "land of dreams", isn't it?
---
Recommended reading: "A FUTURE FREE OF CORRUPTION AND VIOLENCE"
---
EDITOR'S NOTE: THE OPINIONS EXPRESSED HERE BY IMPAKTER.COM COLUMNISTS ARE THEIR OWN, NOT THOSE OF IMPAKTER.COM.