Founded in Valencia just under two years ago, Green Urban Data is a startup whose software integrates big data and satellite technology to provide municipalities, consultancy companies and citizens with the "tools to fight the effects of climate change," essentially striving to improve health and quality of life in cities — and indeed, doing so.
Whether through their two SaaS products or via their app, and whether to city administrations or to the general public and individual citizens, these tools offer help with decision-making processes regarding actions taken and strategies implemented for combatting climate change and adapting to it.
Five Spanish cities have implemented the startup's technology thus far, with over a million people currently enjoying services made possible by their intangible yet powerful tools.
But perhaps the team behind Green Urban Data could explain their work better. Here are some of the things they have to say.

Could you please share with our readers when and how Green Urban Data was founded?
María Royo: Green Urban Data was born in October 2017 after Alejandro's wife overcame a disease. They used to take their children to city parks, riding bikes and having fun in the sun. However, after the disease she did not find the city so gentle: there was too much noise, pollution … That was when Alejandro decided to develop a tool to help public administrations to improve the quality of life in cities.
You currently have two software as a service products, Environmental Indexes and Temperature Regulator, and one App — the Healthy Routes App. Could you please briefly explain what each of these does?
MR: SaaS Environmental Indexes is a tool that speeds up the collection of data to design environmental actions in cities. This software allows us to get the current environmental status of a municipality, to follow up their trends and evolution as well as to locate the most vulnerable areas in order to prioritize actions.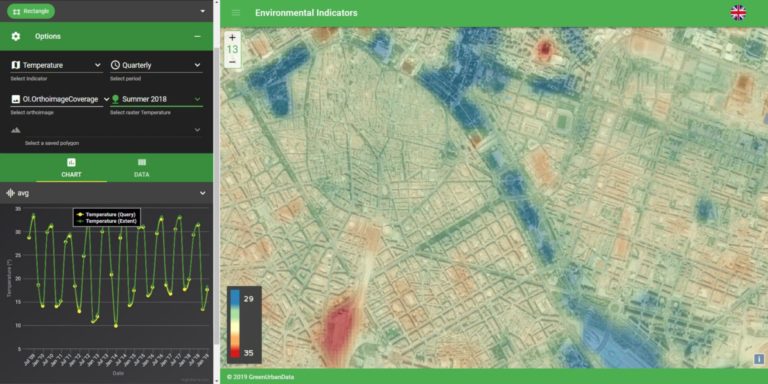 MR: Temperature Regulator Software monitors and measures the temperature, at the neighbourhood scale, locating the most vulnerable areas and offering recommendations for action to stabilize the temperature in those areas.
The goal of both tools is to help policy-makers in the decision-making process by giving them accurate and updated data about the status of the city so that they can implement environmental strategies where they are really needed, thus improving the quality of life of citizens.
Finally, Healthy Routes web app is focused on the citizen and works like Google Maps. But instead of showing the shortest way, it shows the healthiest route. It is ideal for athletes, people who suffer from allergies, people with reduced mobility or anyone who wants to move around their city in a healthier and more sustainable way.
They just need to select how they want to move (bike or on foot), the starting point and the destination, and the app will show the route with the least noise or allergens, or with the most shade.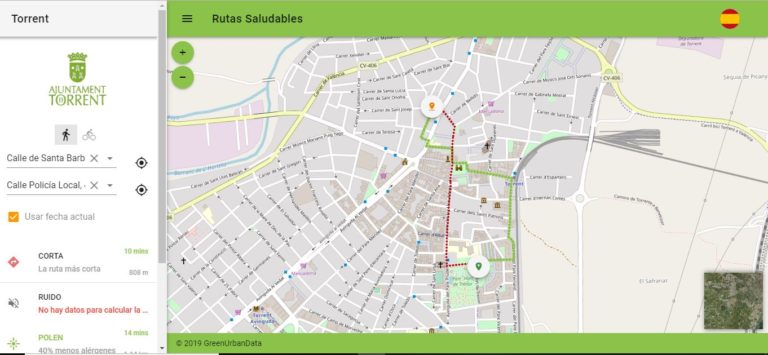 Which of these do you think could have the highest impact? Why?
MR: All of them are highly connected because the final goal is to improve the quality of life of citizens. But if we needed to point only one, we would say the Temperature Regulator software. If the temperature in cities stabilised, then refrigeration systems would not be needed, or at least not as much as they are nowadays. In addition, energy consumption would decrease and so would pollution. At the end it wouldn't be just citizens who would be benefitting by the temperature regulation, but our planet, too.

Your SaaS Temperature Regulator addresses the effects that temperature variations can have on cities. What are some examples of these effects on cities?
MR: Variations in temperature affect multiple aspects of the urban sphere. On the one hand, they affect the citizens' daily lives, which include health issues such as respiratory and cardiovascular problems, lack of sleeping and stress. All of these are even worse with the elderly and children. On the other hand, temperature directly affects energy consumption, and thereby also the quality of air; furthermore, urban infrastructures such as roads and buildings suffer from extreme temperatures, too.
Recommendations like cool pavements, green roofs or improvements of urban green areas can have a high impact on temperature regulation, which benefits the quality of life.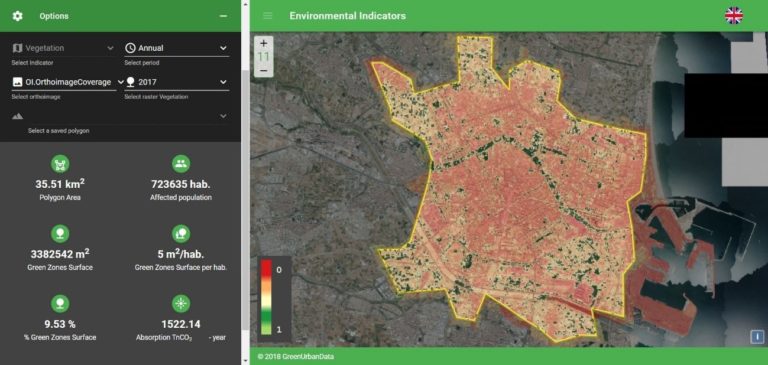 On your website it says that Green Urban Data technologies have improved the quality of life in five cities already. What are these cities and in what ways have you helped improve the quality of life?  
MR: Nowadays five Spanish cities are using our tools to improve the quality of life of their citizens. Those cities are Valencia, Torrent, Gandia, Alcoi and Elda. Some of the ways they have improved the quality of life in their municipalities involve increasing the number of green areas and improving existing ones. This has led to more comfortable public spaces, a reduction in the variation of temperature, a decrease in energy consumption and an improvement of citizens' health, and, consequently, in a reduction in health costs.
Furthermore, our tools have given access to environmental information to the population, enhancing public awareness about their problems and encouraging them to be more involved in their cities.
---
Editor's Picks — Related Articles: 

"Championing The Future: The City of Sydney"

"EcoMatcher: Helping Companies and Consumers To Plant New Trees and Fight Climate Change"
---
What makes your technologies different from other similar technologies on the market?
MR: Firstly, what makes us different is that we offer an integrative tool of different environmental parameters and that we do it in detail and specifically in urban areas. Secondly, we are involved in the full process of decision-making by giving analysis, diagnosis, alternatives, forecast, and by monitoring and following up on actions and plans. Finally, we use satellite technology which allows us to monitor any city in the world without any infrastructure requirements or maintenance as sensors do.
Are you currently working on any other products that you might like to share with our readers?
MR: As technology developers we are under permanent development. Our team is always looking for new opportunities and new ways to improve our products. That is why we are improving the existing products to start collaborating with the private sector, which includes the infrastructure services sector, real estate, insurance…
---
Editors Note: The opinions expressed here by Impakter.com columnists are their own, not those of Impakter.com  — Featured Photo Credit: Green Urban Data
[et_bloom_inline optin_id=optin_1]