When we are lucky enough to be born in an affluent part of the world it should be our duty to take care of the less fortunate. This mantra is the core behind an inspiring business called the Humble Company. Holding true to its roots, the humble company employs a Scandinavian design admired for its simplicity and efficiency.
We spoke to the Humble Company team to find out more on their business and vast social projects around the world.
Q: How did the idea for The Humble Company originate? And how does sustainability fit into the equation?
As a young dental student, Noel Abdayem joined a group of dental volunteers who were in Jamaica treating and alleviating the pain of kids afflicted with tooth decay. After the difficult experience of having to extract decayed permanent molar teeth in children, Noel returned to Stockholm, Sweden and founded The Humble Co., with the mission of providing everyone with the means to prevent suffering and disability caused by oral disease, without harming the planet. The latter part of the mission, not harming the planet, has pushed The Humble Co. to become an innovator within oral care. In an industry dominated by plastic toothbrushes, containers, and packaging, the norms have been anything but sustainable. We have been forced to find new ways of solving old problems in order to protect the environment, starting with our bamboo toothbrush, Humble Brush. Our commitment to eco-friendliness goes beyond our products, it is rather a mantra throughout the whole organization, manifesting itself in everything from our packaging, to tradeshow tote bags, and office water cups.
The Humble Company USA launched in May 2018 and we are happy to provide the American market with eco-friendly oral care products that are developed by dentists and socially minded.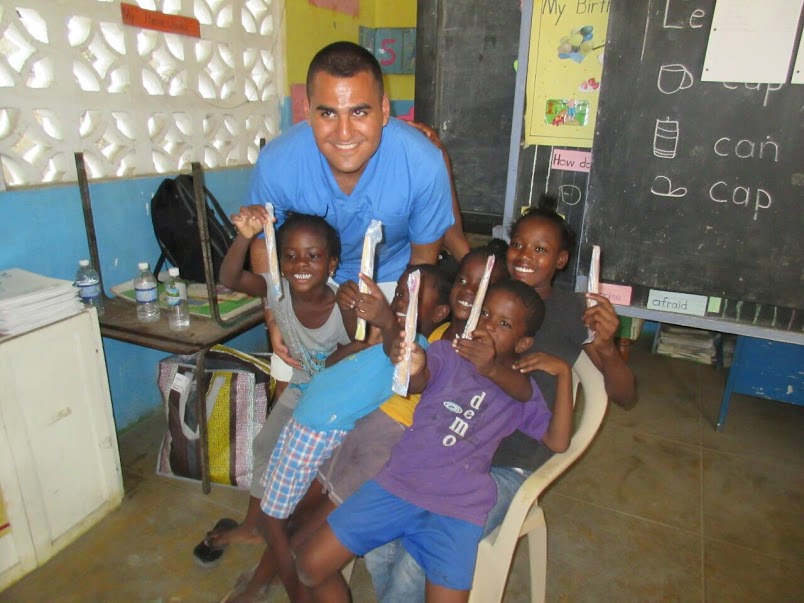 In the photo: Founder, Noel Abdayem, with children in Jamaica Credit: The Humble Company
Q: How does Humble adhere to its values and mission while also staying competitive? Is there a unique business model that you use?
The Humble Co.'s mission is to use the value and mission as a competitive advantage. We truly believe that if there is an alternative to a conventional product, like a plastic toothbrush, that is eco-friendly, socially minded and essentially the same price, there is no reason why people shouldn't start using that instead. We work with retailers and other partners that are making an effort to help protect the environment and make life for less unfortunate a little bit better. Luckily, we see an increase in taking more responsibility in these areas, which we encourage and support in any way we can. The Humble Co. supports, and works closely with, the Humble Smile Foundation that manages preventative oral care projects for children around the world. The latest project was launched in Cambodia this past November. [READ
MORE HERE ABOUT OUR PROJECTS HERE
Q: Are there any unique challenges for sustainability in your industry? How does The Humble Company overcome these challenges?
The challenges we face are the same as in any other industry that has been around for a long time without any real innovation. When looking at it, nothing much had really changed in manual tooth-brushing for 60 years when we launched Humble Brush, an eco-friendly toothbrush made from sustainable bamboo. What the lack of innovation entails is that the market is dominated by big players that have sold the same products through the same channels to the same people for decades.
Our challenge is to convince retailers to let go of their old ways and embrace the change we are promoting, as well as making consumers aware of their alternatives and what impact their choices can have. Right now, consumers and retailers can choose between two similar products with similar price, that are equally safe, and effective, but where one is mostly made from oil and pollutes the earth for decades after being used for a few months, while the other is made from one of the world's most sustainable materials, is biodegradable, and helps others in need. Doesn't it sound crazy that most still choose the former? We believe that the only possible explanation is the not enough consumers are aware of the alternative, and that most of the retail industry doesn't change until the consumers demand it. This makes you (media) and you (the reader) key in making our vision possible, as large-scale changes won't be possible until you make them happen. If you can do it by buying conventional products, like a toothbrush, toothpaste or even our new chewing gum, then there is really no reason why you should ever buy a plastic toothbrush again, is there?
---
Related article: SUSTAINABLE MENSTRUAL HEALTH SOLUTIONS FOR WOMEN IN UGANDA by Petra Järvinen
---
Q: What are some of the criteria or things Humble looks for when sourcing its materials?
Sourcing the right materials from the right suppliers is naturally a key component in making a company truly eco-friendly, looking not only at cost but also environmental impact and ethical practices throughout the entire supply chain. As previously mentioned, this goes for the entire company, from our products to our tote bags and office cups.
As an example, many react negatively when we say that we produce Humble Brush in China, but when you think about it, it makes perfect sense from an environmental and ethical perspective. What is the main component? Bamboo. Where does most of the bamboo grow? China. So instead of shipping the bamboo across the world to a facility in a country that is perceived as better when writing 'made in XX' on the box, we look at actual impact and how to reduce it. We can make our brushes from sustainably grown bamboo and turn them into our final product without leaving the country BECAUSE we produce them in China. Furthermore, by using a production facility in that lives up to our high ethical demands, we reward good behavior in a market where unethical behavior in favor of lower cost has been an issue for decades. By rewarding a facility refusing child labor, incorporating reasonable shift lengths etc., we can play a small part in the positive change that is happening in southeast Asian factories.
In the photo: President of 
Humble

 Smile Foundation, Darren Weiss during a 

Humble

 Smile Foundation project in India Credit: The Humble Company

Q: Were there any major milestones in your journey to where you are today? Where do you see the direction of the company headed in the future?

Going from a small Swedish startup company in 2013 to being the biggest bamboo toothbrush in Europe in a couple of years is something we are very proud of. We are in more than 20,000 retailers around the world. Receiving awards like best new natural product in Europe 2015 & 2016 and being voted best Natural product in Asia 2016 by 85 000 retailers are also worth mentioning.

Since we launched in the US a little more than six months ago, we have had really good traction and see interest everywhere, from department stores to the hospitality industry and eco-friendly specific stores as well as more conventional grocery stores. So far we have secured placements with Anthropologie, Free People, Weis Market, Harris Teeters, Thrive Market, and jet.com to name a few, which is to be considered a successful first 6 months for a new brand in the largest consumer market in the world.

The Humble Co. will continue to develop products that are good for consumers, friendly to the environment and humble to others in need. We are launching new PR & Marketing initiatives 2018 where we will encourage people to join our Humble Revolution, to take a stand against products that are not humble to the environment and humanity.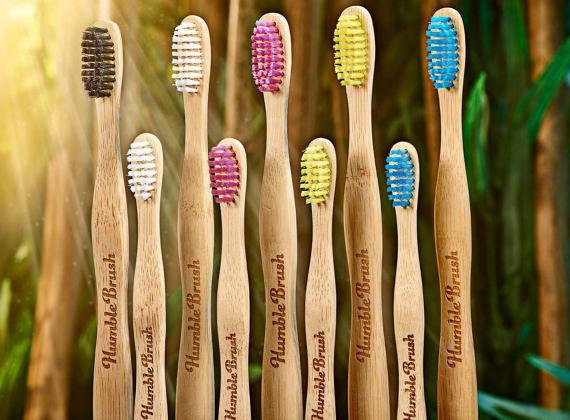 In the photo: Humble toothbrushes Credit: The Humble Company
Q: What do you think is the future of sustainability, particularly relating to your industry?
It is the future. Period. Soon enough it won't be a matter of choice because you want to avoid a guilty conscious or because it is the latest trend, it will be a necessity. In all industries and countries in the world. There are many companies providing alternatives to conventional plastic products that are waiting for the consumer demand to become big enough for them to become relevant in the market. Our role is making everyone aware of the problem and our alternative, then it's up to everyone to be part of the solution, we call it A Humble Revolution.
---
Editors Note: The opinions expressed here by Impakter.com columnists are their own, not those of Impakter.com