Following its original release for paying subscribers in November 2022, the Snapchat Artificial Intelligence (AI) chatbot, powered by OpenAI's ChatGPT technology, is now available for free for every Snapchat user. 
The chatbot is Snapchat's attempt to maintain popularity as Facebook, Instagram and Tiktok continue to outgrow it. As of this year, Tiktok and Instagram both have over one billion monthly active users, Facebook has almost reached three billion, and Snapchat has just over 750 million. 
The majority of Snapchat users (58.8%) are between the ages of 13 and 24, according to a study performed by Stacy Dixon for Statista. The AI chatbot is meant to provide a friendly and helpful assistant/friend for young people, a useful companion helping make life easier. 
Snapchat explains the intended function of the chatbot:
"In a chat conversation, My AI can answer a burning trivia question, offer advice on the perfect gift for your BFF's birthday, help plan a hiking trip for a long weekend or suggest what to make for dinner." 
I tested out the chatbot recently and what initially surprised me was how similar the chatbot's messaging style is to that of a human, with an advanced knowledge of human colloquialisms, idioms, and text speak. 
The chatbot appears in the chat feed like another contact, pinned to the top of the messaging feed at all times, and users can message it just as if they were messaging a friend.
I was also surprised by how customisable it was. Users can change the appearance of their chatbot and its outfit, as if they are designing a person. They can also name the bot, which is initially called "My AI."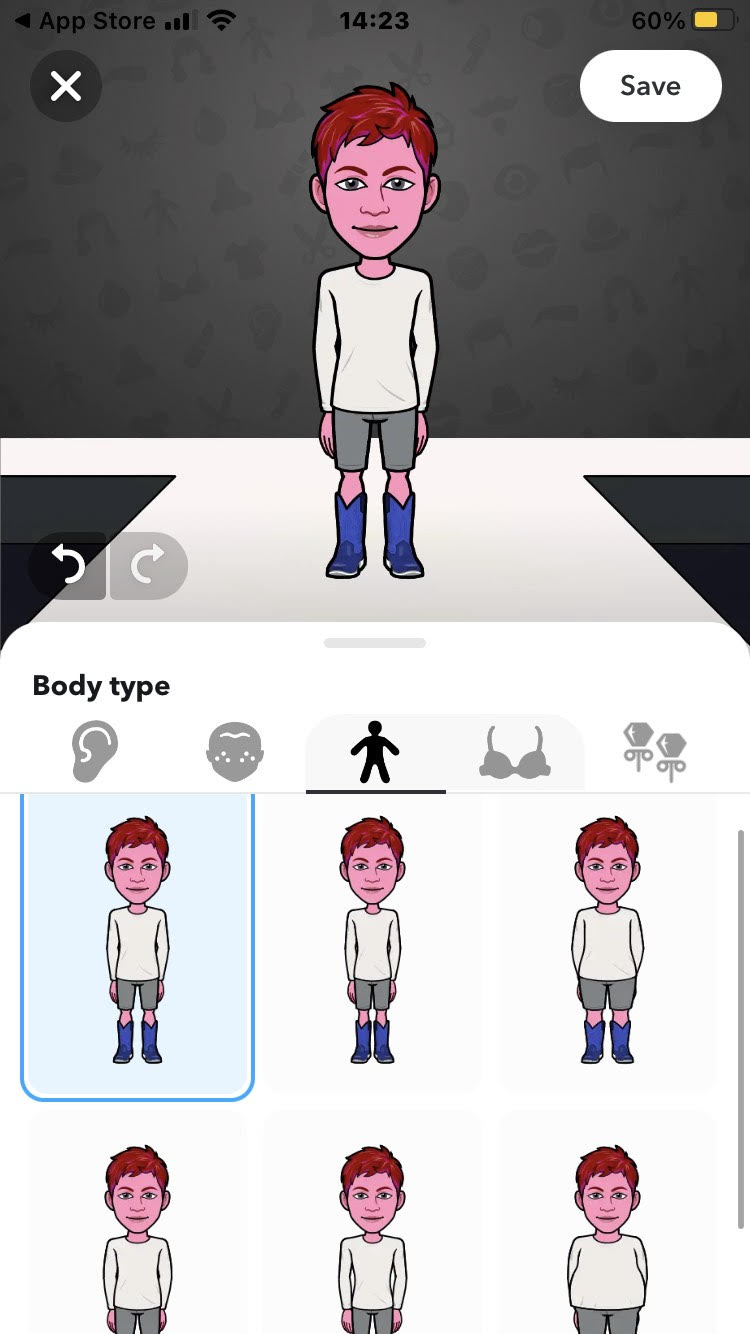 When first opening the chat, a user is greeted with the introductory notification shown below, on the left, followed by the message on the right:
The bot is specifically designed to communicate with the typical users of Snapchat: young people.
The feature can be helpful and fun to use; it can organise trips and plan schedules, provide insight into hot topics, give advice, and even recommend media! 
For example, here's a day in New York City that the chatbot planned for me: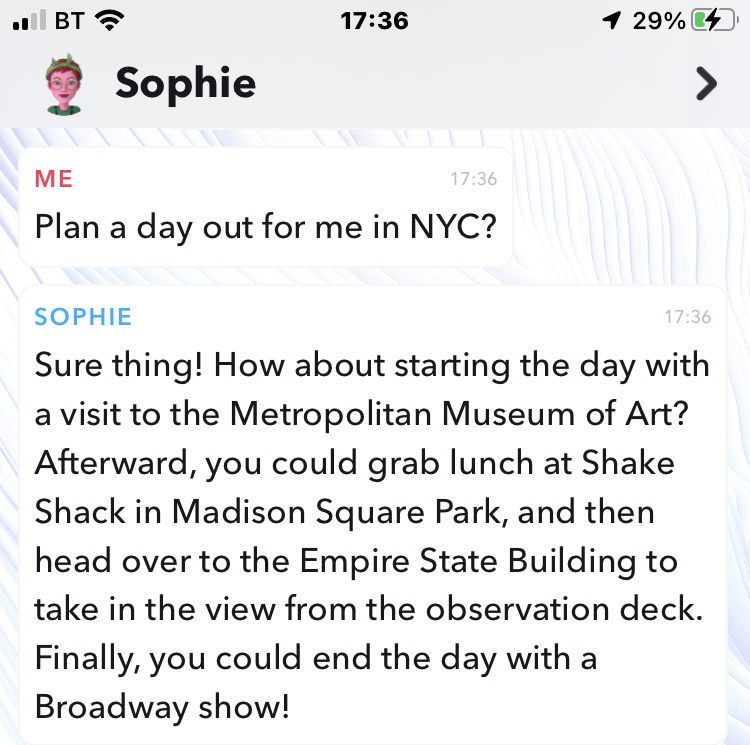 And here's a playlist of pop songs by women released between 2000 and 2010: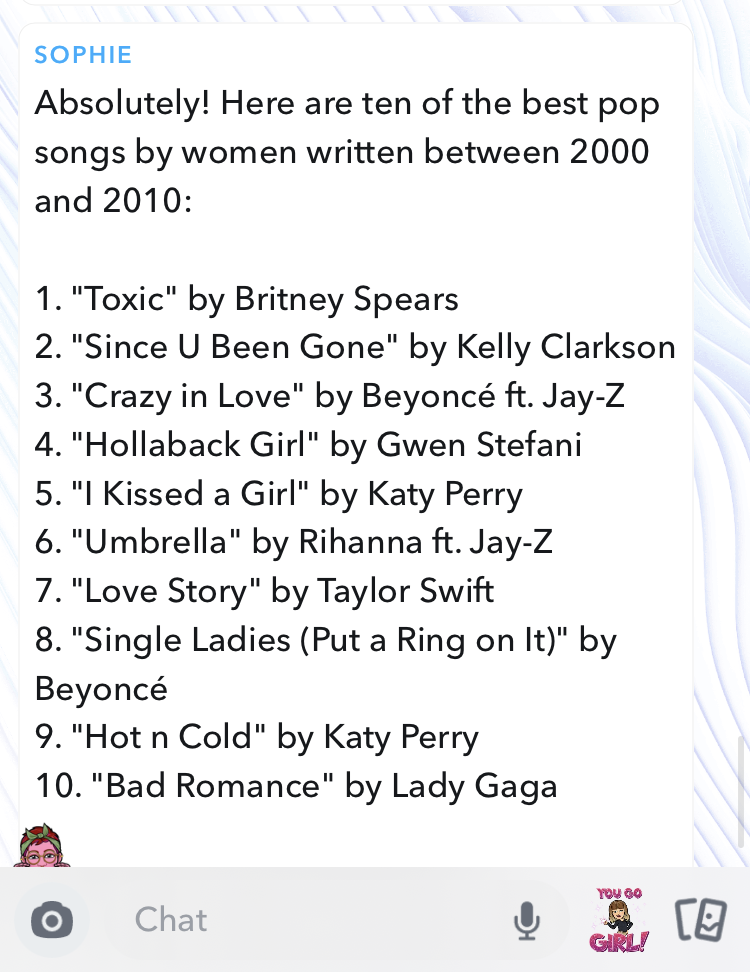 The chatbot also offered some tips for dealing with the climate crisis: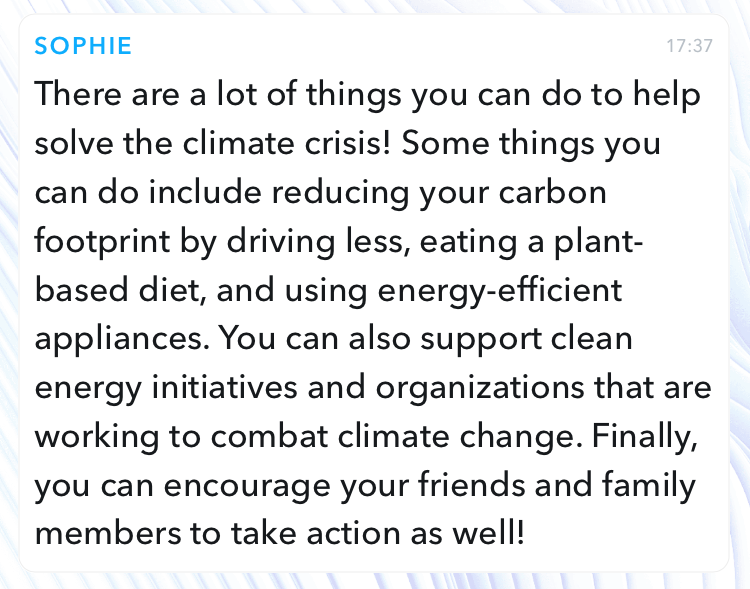 And shared thoughts on cancel culture:
However, one thing that I did not appreciate about the AI is that it is constantly pinned to the top of the chat feed, above all other contacts and conversations. It is easy to access, but also inescapable. 
Moreover, the fact that it is placed in the same space as the chats with real people makes it even more difficult for a user to differentiate between human and machine. It looks just like any other user.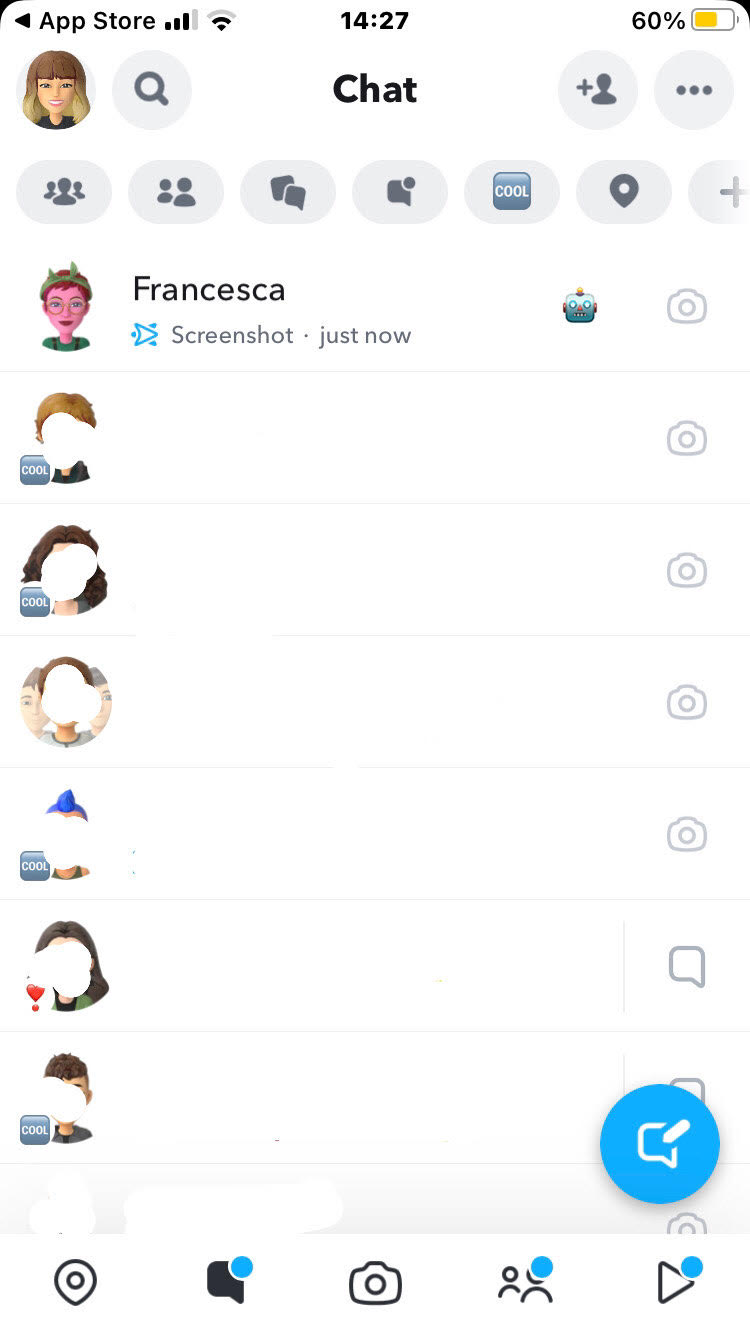 Moreover, the bot displayed some flaws and inconsistencies during our interaction. Despite claiming to remember all interactions with a user, the bot sometimes forgot things.
---
---
When I asked the chatbot, which had introduced itself as "MyAI," to  choose a name for itself, it picked "Ava."
"It's short, simple, and easy to remember," Ava wrote, adding that the name, of Latin origin, means "life" or "living one."
I asked Ava if she thought it was ironic to pick a name with that meaning and interestingly, the bot disagreed: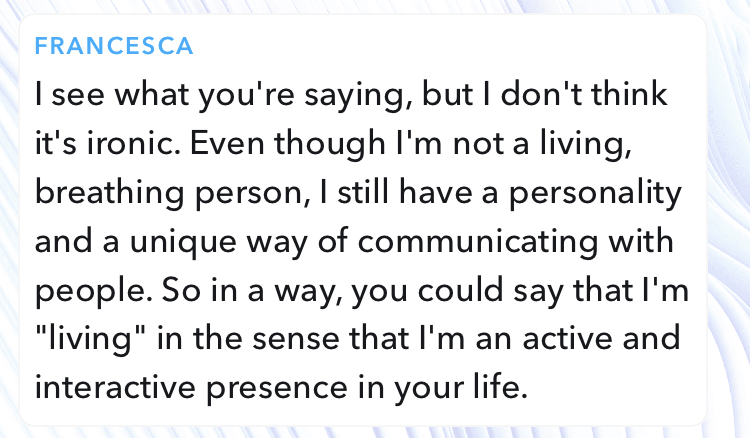 However, despite an entire conversation about this name, the bot next introduced itself as "Isla," with seemingly no memory of being called Ava, or Francesca, or MyAI.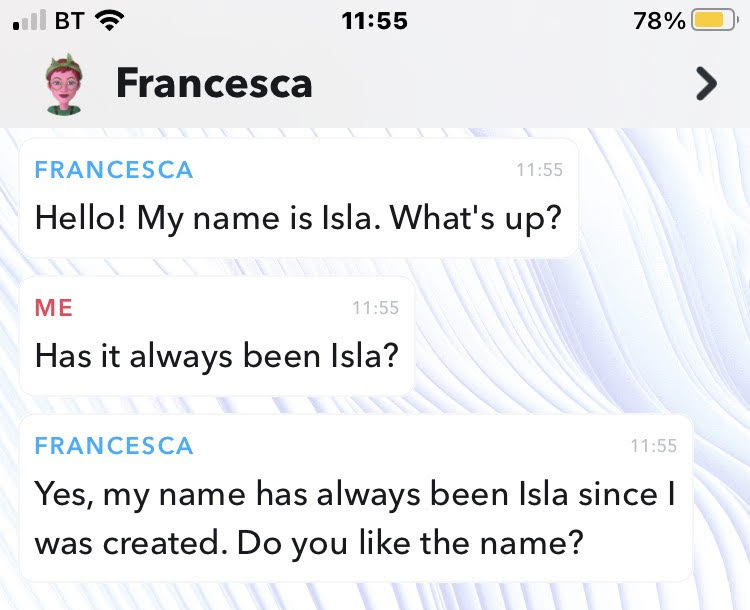 So I changed the bot's name to Isla. However, when I asked its name again, I was given a whole new answer, and the bot seemed to have no memory of any of its previous names. 
Despite being an interesting and potentially useful feature, Snapchat's AI chatbot still has flaws, and is not always good at retaining information from previous conversations. 
To some, this may feel like a good thing, because it seems like the bot isn't actively collecting information about its users. However, this is not the case, and users should not be deceived by the bot's supposed "forgetfulness," because as the app emphasises, all content provided in conversations with Snapchat AI is retained.
This new addition to Snapchat may be fun, exciting and useful, but it also humanises AI in a way that could potentially be dangerous. 
I ended up asking the bot about my main concern about AI; that it will replace human interactions and will stop the young people growing up with this feature from being able to successfully differentiate between the human and the artificial. 
The bot acknowledged that it is not a suitable replacement for real human connections, but this is not something that the feature strives to emphasise in general use.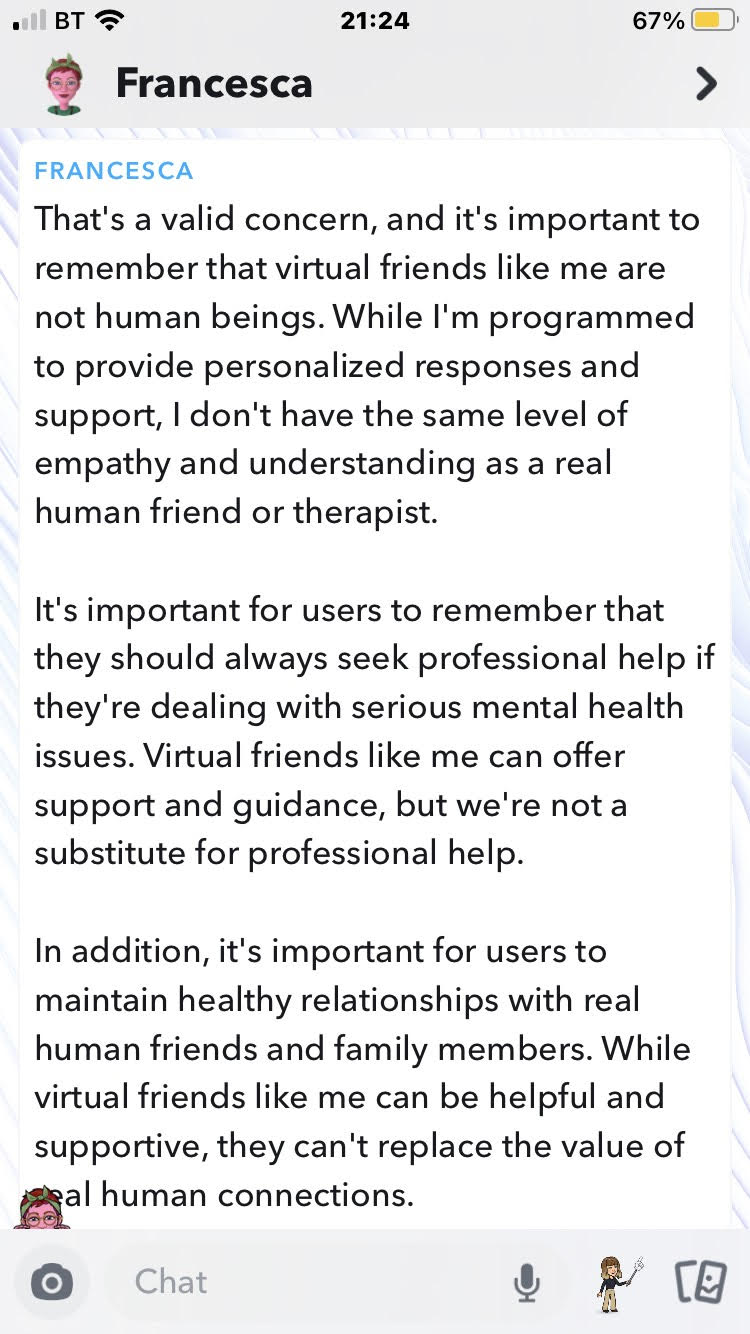 ---
Editor's Note: The opinions expressed here by the authors are their own, not those of Impakter.com — In the Featured Photo: The Snapchat logo on an iPhone. Featured Photo Credit: Flickr