Today is World Health Day, April 7, and as this year is the 75th anniversary of the World Health Organisation (WHO), this year's theme is extremely important and particularly topical: Health for All.
On the World Health Organisation's website, a touching video explores the "story of health"; of "how the world's people came together to help us all live long and healthy lives."
The video touches on significant achievements within the healthcare sector, such as the eradication of smallpox and the development of the malaria vaccine, and emphasises diversity and community; "bringing communities together towards one unified goal." The video ends with sentimentality and hope, asserting that "this is a story about all of us because we all played a role." 
Therefore, this year, the focal point of World Health Day is diversity and community; health for all people. This is especially significant considering the current imbalance in global health and healthcare across the world. It remains sadly true that countries with lower incomes have worse healthcare systems, and it is imperative that we recognise this inequality, especially on this World Health Day.
The World Economic Forum (WEF) released a report on April 5, describing eight current global health and healthcare trends that "we need to contend with as we aim to transform systems to become more sustainable, resilient, and equitable."
Some of the trends are positive and demonstrate an inclination towards progress, especially aided by new technological developments. The article stated that progress has been made in the treatment and diagnosis of disease, for example, precision medicine using biomarkers is increasingly being used. In addition, there has been an increase in home-administered health systems. 
Furthermore, due to the pandemic, health has been growing increasingly digitised over the past three years, and consequently, artificial intelligence (AI) is now being used to support areas such as diagnosis, workflow, treatment, clinical decisions, and more. 
However, for the most part, the pandemic has caused many detrimental repercussions in the healthcare system, and as a planet we are now struggling with the consequences.
For example, according to the WEF article, low-and middle-income countries are still affected by the disruptions to essential healthcare services that were caused by the pandemic. Moreover, the pandemic caused an increase in mental health issues and burnout in healthcare workers, as well as a general worsening of mental health in society.
An article by Project Hope describes the current "Global Mental Health Crisis" we are now facing, and reveals the shocking statistics that "two-thirds of people with mental health conditions don't receive the care they need." Again, low-and middle-income countries are impacted more severely; the article states that in these countries, "76% to 85% of people suffering from mental disorders lack access to care." 
---
---
Our current global mental health crisis becomes even more concerning when we consider that those with mental health issues are more susceptible to other health challenges, including cardiovascular and metabolic diseases. A 2019 study published by Lancet revealed that people with depression have a 40% higher risk of developing cardiovascular and metabolic diseases, for example. 
Another significant issue that impacts the world's health currently is air pollution. The International Agency for Research on Cancer has classified air pollution, in particular PM2.5, as a leading cause of cancer, and in addition to this, exposure to air pollution can become a prerequisite for other health issues such as strokes, lower respiratory infections, chronic obstructive pulmonary disease, and asthma. 
Air pollution is mainly caused by vehicle emissions, fuel oils, and coal-fuelled power plants, according to the National Institute of Environmental Health Sciences. Fossil fuels are already notable for their detrimental impact on the planet, but they should also be recognised for their destructive impact on our bodies! 
Approximately nine in 10 people around the world breathe unclean air, and this is why air pollution is attributed to 11.65% of deaths globally. Air pollution and the emission of fossil fuels into the atmosphere are issues that need to be tackled imminently.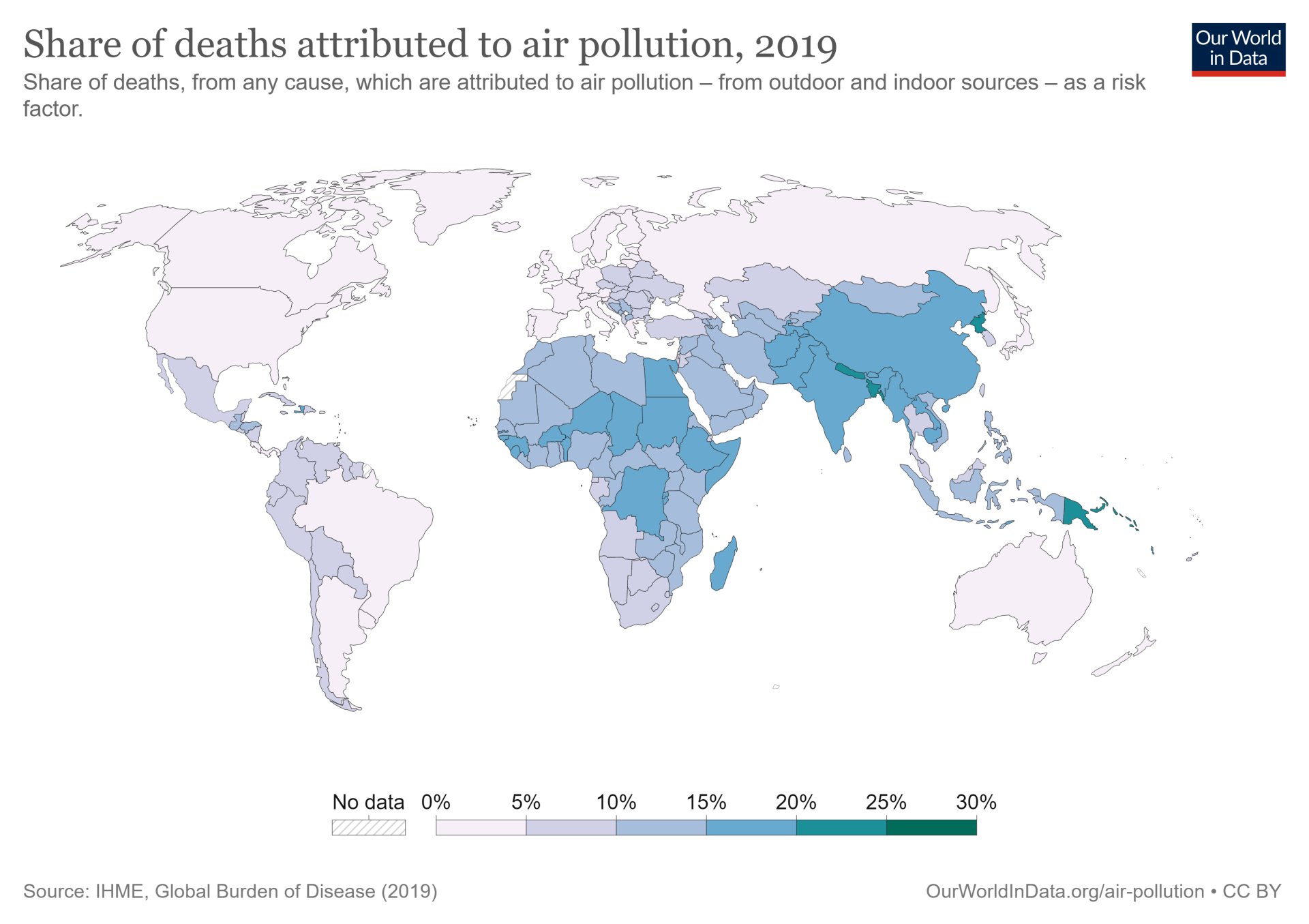 Who is leading the way into a healthier future? 
Fortunately, there is hope for a future with cleaner air, as countries begin to recognise the importance of reducing air pollution. 
For example, Poland has made a lot of progress in recent years. Despite previously being home to 36 of the European Union's 50 most-polluted cities, with air pollution being responsible for 47,500 premature deaths every year throughout the country, Poland signed the C40 Clean Air Cities Declaration in 2019, and began to actively combat air pollution. 
For example, Breathe Warsaw was launched in 2022, a partnership with Clean Air Fund and Bloomberg Philanthropies to improve air quality. Now with the largest network of air sensors in Europe, officials in Warsaw are developing an air quality database to enable them to better understand and inhibit pollution sources. 
According to an article by the UN Environment Programme (UNEP), Breathe Warsaw will also "provide technical assistance to support the phase-out of coal heating, set up a low-emission zone by 2024 and connect local leaders to share best practices."
In terms of combating the global mental health crisis, it is evident that mental health is closely connected to the economical state of a country, because a lack of treatment is usually caused by a lack of income. Therefore, the countries with the best mental healthcare are ones whose governments are investing the most money into this sector.
For example, according to a study by William Russel, Germany is within the top three countries with the best mental healthcare in the world, because of the government's provision of an extensive support network and programmes to help integrate people with mental illness into society. 
The key to a better healthcare system is more government funding. In short: better pay for healthcare providers.
Between Tuesday 11 April and Saturday 15 April, junior doctors in the UK will participate in a 96-hour walkout to protest current wages. This protest was provoked by the fact that junior doctor salaries have fallen in value in real terms by 26% over the last 15 years, and consequently, the British Medical Association is calling for a 35% pay rise for these junior doctors, according to The Guardian. 
This is an example of how healthcare staff are urging the system to change. This World Health Day, we can hope for better health for all people, but this change starts with our governments.
---
Editor's Note: The opinions expressed here by the authors are their own, not those of Impakter.com — In the Featured Photo: Man running across electrocardiogram machine screen. Featured Photo Credit: Flickr