WeTransfer, the company that makes tools to move ideas, recently announced it has become a Certified B Corporation, marking WeTransfer among the few global technology organizations to earn the prestigious designation indicating high environmental, social, and legal standards. 
We asked Gordon Willoughby, WeTransfer's CEO, a few questions about this achievement:

Please tell us about your journey to becoming a B-Corp. What motivated you to get certified? 
Gordon Willoughby: Since our foundation in 2009, we have been a purpose-driven company: a tech company that wants to be "responsible". Not only respect for our shareholders, customers, and workers but respect also for the community and society at large. 
From the start, every year we have given away up to 30% of our advertising inventory for artists and causes we believe in. To date, WeTransfer has donated more than $300 million worth in advertising inventory, raising awareness for issues such as gun control and net neutrality. 
Last year, following an in-depth whitepaper, On Companies and Communities, which explores how businesses can and should be working with their local communities we helped abolish $35 million in medical debt for low-income residents of Los Angeles. 
Last year, as we celebrated our 10-year anniversary it was clear we wanted to keep growing in a responsible way, and becoming a B Corp seemed the logical next step to embedding those values even further into our "DNA". So we set the goal to become a B Corporation.
At the same time to go even further, we conducted an audit with DotEveryone, which will help us establish what responsible growth means to WeTransfer. With this B Corp announcement, we're making a pledge to strive to make a positive impact — not only for our shareholders but also for our workers, customers, community, and the environment. We want to ensure our platform supports a fair, inclusive, and sustainable society.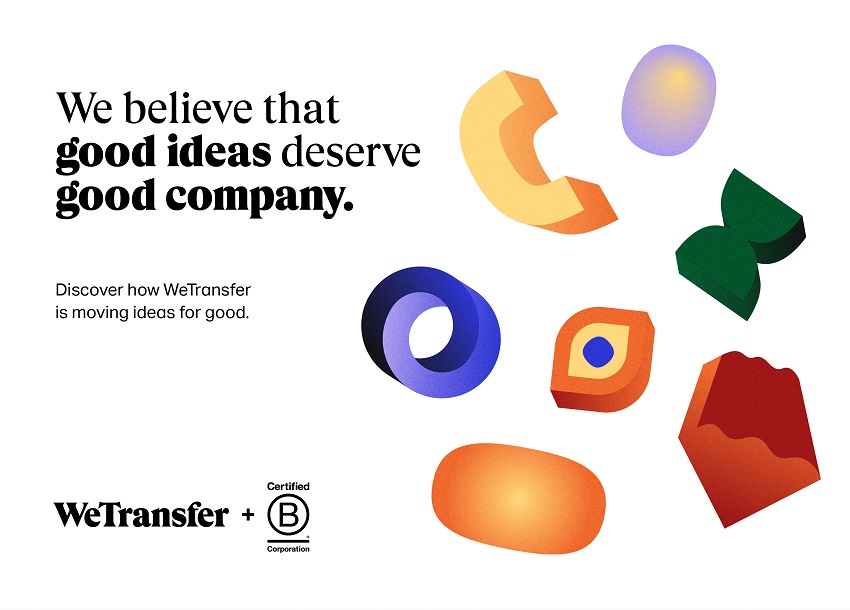 How did the shareholders respond to this decision?
G. W. : We presented our plan to the Supervisory Board at the end of summer last year. They understood that this was a logical step to take and they were very eager to support our decision. We all believe in taking responsibility for the tech we put into the world and to strive to push our peers to transform our industry into a more inclusive and sustainable one. 
We also made changes to our Supervisory board recently to reflect the kind of company and leader we want to be in the technology industry. We appointed Baroness Martha Lane Fox to chair our board of directors. Martha was Britain's Digital Champion from 2009 – 2013 and is recognized globally for her work championing for better nationwide access to the internet and digital literacy. 
Martha's addition underscores our commitment to continue to be a voice and active contributor to social good in the tech and creative communities. Martha will help us ensure we're making decisions that align with our long-term, big-picture objectives. We want to make decisions that don't just benefit the company, but our community and society overall.
---
---
What is your ambition as a B-Corp and what are your future commitments?
G. W. : Our ambition is to balance people, planet, and profit—while we send an important signal for other tech companies to follow our lead and invite them also to use their business as a force for good. 
The whole process to become a B Corporation forced us to look holistically at all areas of our business. As we completed the impact assessment we began to understand where we were in terms of social and environmental impact. It was an enlightening process to map everything out, from calculating our CO2 emissions and water usage to revisiting internal policies and employee welfare.
This B Corp announcement is part of that journey, and we're excited to get started with key goals. The first one on the list to improve our environmental impact. We released a comprehensive sustainability roadmap outlining where our carbon footprint currently is and what we are doing to reach our goal of reducing that number 30% by 2025.
What advice would you give to other companies that want to achieve a B Corp certification? 
G. W. : There are 3 key things that everyone must do:
Gain management and shareholder buy-in: It's easier to become a B Corp when everyone understands the importance of it. 

Create a team: You need the right team to drive the very thorough impact assessment, answer questions, provide relevant information, and keep the B Corp certification top of mind.

Be transparent about trade-offs: Becoming a B Corp is a long term commitment. It won't happen overnight and complex decisions will need to be made, make sure you communicate to your team and other stakeholders this complexity. 
---
Editor's Note: The opinions expressed here by Impakter.com columnists are their own, not those of  Impakter.com