Globally, there are 1.2 billion people without access to electricity. This staggering figure evades most of us, but it is the face of an unfortunate reality — energy poverty. Electricity needs to be affordable, sustainable, and available to all, a daunting challenge for a global community that aims to empower the poorest communities by achieving the Global Goals by 2030. Surmounting this challenge could catalyze the advancement and success of many of the Global Goals, such as access to education and healthcare. At the Clinton Global Initiative Annual Meeting, I had the opportunity to connect with Jehmu Greene, North American President of WakaWaka.
WakaWaka is a leader in providing affordable solar charging stations and lights in over 42 countries benefitting over 1 million people. The additional light and electricity has created 221,887,515 hours of work and study time. A child in a refugee camp can continue to get an education, and community professionals can work without being restricted by daylight hours. Swahili for "shine bright," WakaWaka is a social enterprise determined to make the futures of those most affected by energy poverty brighter. Here are excerpts from our conversation.
What's the story behind WakaWaka, how did the idea start, and were there any personal connections that started the company?
In 2010, when the World Cup was being held in South Africa, the founders of the company, Maurits Groen and Camille van Gestel, really wanted to find a way to address the fact that the 2010 World Cup was going to be the largest carbon-emitting event in history. And they came up with a way of "greening" the World Cup by replacing incandescent lights with LED lights. As they were driving around in South Africa, it became very clear to them that their work did not have any impact on many of the people because they lived without access to electricity.  That was when they made a pledge to each other that they would try and find a way  to address this issue.
About a year later, Camille had a conversation with a technology partner about a new technology that his company had developed that could make LED lights more efficient than ever before and that could fit on top of a bottle. As many kind of founding ideas are, this happened in a bar. Camille immediately reached out to Maurits and they saw they had found a solution for the tremendous need for light that they had witnessed in South Africa. In that bar, in that moment, WakaWaka was born.
The first product was the WakaWaka Light, the most efficient solar light on the market. The company has also been a crowdfunding innovator, with its product development all funded through crowdfunding. The vision has always been to bring efficiency and a premium product to people who were living without access to electricity. That is how WakaWaka began.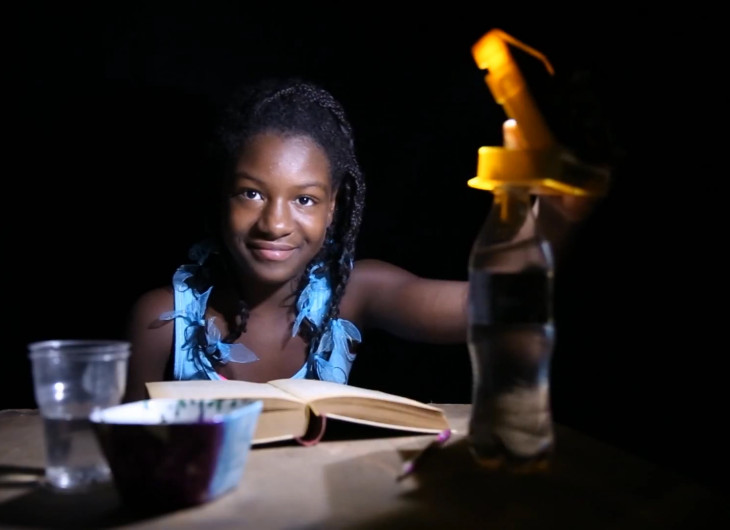 In the photo: Girl using the WakaWaka Light to read in the dark – photo credit to WakaWaka
Do you see electricity as a human right? We've seen governments recognize things like internet access as a human right. So, what do you think of electricity?
Absolutely.  Twelve of the 17 Global Goals relate back to the access to electricity and energy. When you look at all of the issues that this larger issue affects, whether it is the ability to study and do your homework at night or the children who are in the household, not having access to electricity is directly connected to education. When you look at the impact of kerosene fumes and the high amount of fires that happen everyday, the hundreds of thousands of people who are burned, maimed, killed, the fumes that in all of these kerosene is used, actually kill more people than AIDS and malaria combined each year. This is a basic need and I think the rest of the world is beginning to see this.
Exactly. I've noticed on your website that many of your initiatives are targeted to address humanitarian crises. I'm wondering, how do you choose the locations you serve?
As a social enterprise, our profit is measured by impact. When you look at our giving strategy, we recognize that following a natural disaster or humanitarian crisis, we will donate without reservation to the best of our ability. We are facing the largest number of displaced people and refugees who have been forced from their homes because of war and persecution. We are looking at 60 million people who have been displaced from their homes, the largest number ever recorded. That is when we will reach out and respond to the partners that come to us with a very large need for access to light and power.
We also recognize that we want to apply market-based solutions, so we are not interested in donating in every situation. We don't want to run the risk of ruining markets, or we don't want to run the risk of us stopping the ability for a market to grow. That is a market that in many ways can affect a local economy quite dramatically, and we want to support that. From a giving standpoint, when a disaster strikes or millions of people have been forced to flee their homes, we know that access to light and power is tied to their safety and also tied to keeping a sense of community, and we will give again, but we are ultimately laser-focused on how to use market-based solutions to address the 1.2 billion people who don't have access to electricity.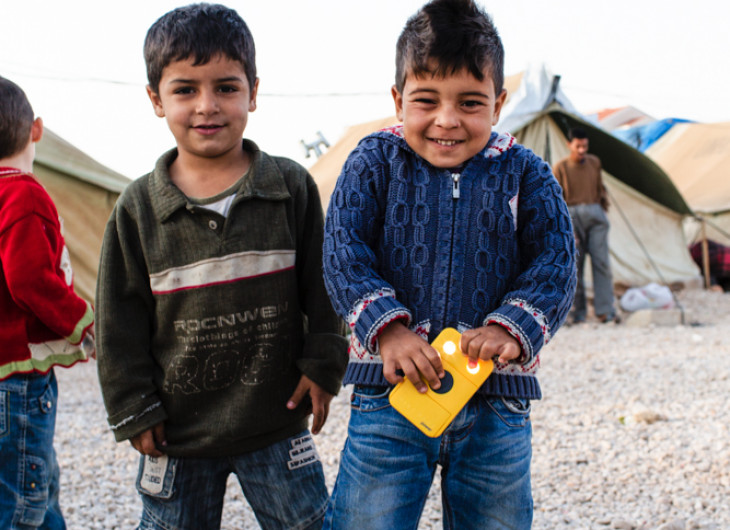 In the photo: Young Syrian boys living within a refugee camp in Lebanon holding their WakaWaka Lights– photo credit to WakaWaka
Could you share some stories of the people that your product has really helped.
I think on an individual basis one thing that might be helpful to know is that the International Rescue Committee (IRC), in the U.S., is our exclusive give one partner. When you purchase a WakaWaka product at our website or any of our retail partners, we give a WakaWaka Light to the International Rescue Committee, and they make sure that those get to families that need it.  We have a system where you can choose out of different IRC projects. The IRC, through their research in Syrian refugee camps, have told us that the WakaWaka Power is the most valued non-food item in the Syrian refugee camps.  When a family receives a WakaWaka Power they keep it, because of how extremely valuable it is for them – from a safety standpoint and to stay connected to their loved ones.  When thinking of an individual story, I think of the veterinarian in Rwanda, Immanuel Nyamirama.  He was unable to do his work as a veterinarian after dark. If there was a need for assistance when the sun went down, he wasn't able to perform his duties. When he purchased his WakaWaka through our virtual grid, it allowed him to continue his work at night, which has a clear impact on, not just his income generating capacity, but also the members of his village and all the places that he was traveling to.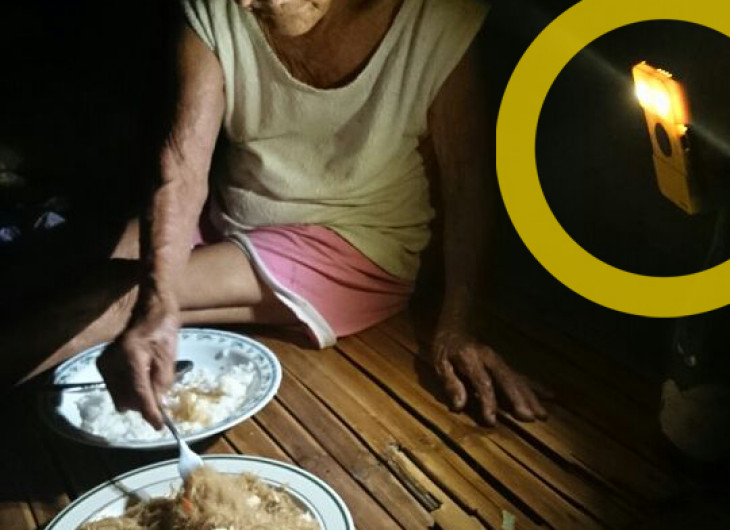 In the photo: Elderly woman in the Philippines using her WakaWaka light to have dinner at night – photo credit to Mariene & Martien Witsenburg
How do you ensure that WakaWaka is not getting monopolized by men and that it is really serving the needs of families, and that women and minority groups also have access?
It's an interesting question. WakaWaka has always preferred to provide WakaWakas to women as they are usually the keeper of the household wallet and use their WakaWaka to support their children to study. Let me give you one example of how WakaWaka has supported women.
Many wo­men in In­done­sia own a small busi­ness and live on less than $2 a day. The ma­jor­ity use dan­ger­ous-ex­pens­ive ker­osene lights and spend a sig­ni­fic­ant part of their day provid­ing their fam­il­ies with fire­wood and clean wa­ter. Through an in­nov­at­ive mod­el based on fin­an­cial in­clu­sion, Ivy Found­a­tion and WakaWaka provide these wo­men with WakaWa­kas. The WakaWa­kas sup­port the wo­men en­tre­pren­eurs in their busi­ness and re­duce the house­hold costs on en­ergy and light. Below is a video going further into the Women Empowerment Initiative in Indonesia.
Additionally, the IRC has recently identified the need to have two WakaWakas per household so that  one unit is not monopolized. Also, if you are leaving your house in the middle of the night to say, go use the restroom, then the rest of your family isn't left in the dark. We also worked with a partner in Malia that was working with local tribes, she was distributing WakaWaka Lights – our first product. And then, when the WakaWaka Power became available, the women in the tribe said that they actually didn't want the WakaWaka Power because the men would take it from them because it was able to charge a phone. So, through this one program, they identified the products that they wanted to continue getting, so the women could keep control.
We are actively seeking out partners that are focused on women and girls. Not just from an education standpoint, but a maternal health standpoint. We've distributed several thousand WakaWaka Powers and Lights to UNFPA with a very specific mandate around getting those devices to midwives. The need to focus on women and girls is a top priority for us because the violence that is associated with not having access to electricity after dark is something that the abundant energy of the sun can fix.
I've heard a lot about ICT, Information Communication Technology, and the importance of that with respect to the Global Goals. I was wondering how you see WakaWaka fitting into this concept moving forward?
The ability to charge your phone and stay connected is absolutely our top focus when it comes to product development and how we can continue to develop products that actually provide more capability for charging. With our latest product, you can charge 3 devices at once. Different tests in the field show this is something that can be used for the individual families we are working with, but they can also turn this into an income-generating entrepreneurial activity.  We know that our technology, although it is only 3 years old, is superior and it is absolutely critical that after a disaster or in places that have no access to electricity, that we bring in superior technology and not items that are going to let families down.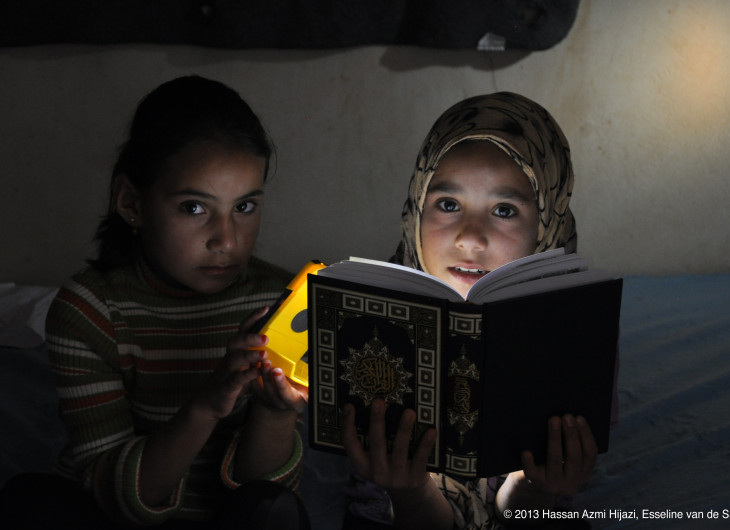 In the photo: Two young Syrian girls continue their education in the Zaatari Refugee Camp in Jordan– photo credit to Hassan Azmi Hijazi & Esseline van de Sande
What's next for WakaWaka in terms of future projects, and what can people here do, how can they support your efforts?
Increasing the awareness around energy poverty is the goal we hope to achieve through our Agents of Light program where we believe that anyone, no matter the age, location or financial resources can become an Agent of Light and increase awareness around energy poverty.
Certainly our consumers in the U.S. and Europe, when they buy-one and give-one, become Agents of Light by being able to choose where their give-one goes. In many ways, we try to keep them connected through our "impact map" on our website where you can see how we are working with our partners on the ground. The impact map is a way we want people to stay engaged and we are looking to significantly expand our product portfolio in ways that provide increased access to the abundant energy of the sun for outdoor enthusiasts and for people who have no access to electricity. Bringing those two markets together, that's our ethic, and how we continue to do that will be through a significant expansion of our product line.