A "torrent" of illegal firearms is channeled across the US-Mexico border and supplying Mexican drug cartels. Every year 500,000 guns are brought to the country, responsible for over 17,000 deaths in 2019 alone.
This is what Mexico alleged in court on Wednesday, as they sue major gun manufacturers Smith & Wesson, Glock Inc, Colt's Manufacturing Company, Sturm, Ruger & Co, Barrett Firearms etc., for negligence.
The suit claims that these companies know their business practices encourage illegal arms trafficking, and "nonetheless, they continue to prioritize their economic benefit, and use marketing strategies to promote weapons that are ever more lethal, without mechanisms of security or traceability". 
Citing a Colt .38 plated in gold and engraved with the Mexican revolutionary Emiliano Zapata, the suit alleges that gun companies actively pander to the tastes and needs of Mexican criminals. This engraved Colt .38 was used in the assassination of the investigative journalist Miroslava Breach in 2017.
The situation in Mexico:
Legal weapons in Mexico can only be bought at a single store in a Mexico City army base. 
Nevertheless, an estimated 2.5 million firearms have crossed into Mexico from the US since 2010, spreading from organised gangs to permeate society. Ioan Grillo, author of the book Blood Gun Money: How America Arms Gangs and Cartels, points to "the spillover effect, when cartels send 'burned weapons' to streets and you have schoolkids buying them." 
Amidst this sheer abundance of guns, Mexico has dealt with record-high homicide rates: 29 per 100,000 deaths.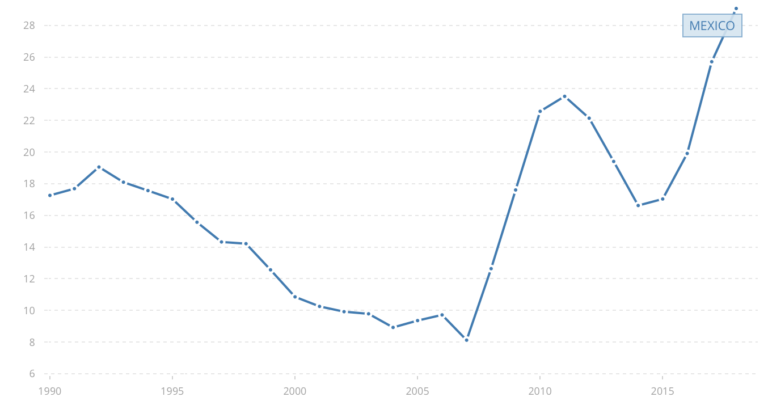 Heavily armed with military-grade weapons, organised gangs have become bolder in confronting security forces: For example, in October 2019, cartel gunmen with machine guns and armoured trucks overran the city of Culiacán to force the release of a gang boss.
The suit:
This suit comes after diplomatic efforts by the Mexican state to pressure US government action on the flow of illegal arms have failed in the past years. 
"What's the objective?" Foreign Minister Marcelo Ebrard spoke at a news conference about the lawsuit: "That the companies in question compensate Mexico's government for the damage caused by their practices." 
"We're going to litigate in all seriousness and we're going to win at trial and we're going to drastically reduce the illegal weapons trafficking to Mexico, which cannot remain unpunished with respect to those who produce, promote and encourage this trafficking from the United States," Ebrard said.
---
---
Although Mexican officials remain hopeful about a damages precedent set after the Sandy Hook massacre, where $33 million was paid out to victims by Remington Arms, the Washington Post reports that this suit is unlikely to succeed. 
This is because of the 2005 Protection of Lawful Commerce in Arms Act, which bars most civil lawsuits against arms manufacturers after their guns are misused.
Nevertheless, the suit should help apply more pressure on Biden's administration to stem the deadly flow of illegal firearms into Mexico.
---
Editor's Note: The opinions expressed here by Impakter.com columnists are their own, not those of Impakter.com. — In the Featured Photo: Guns hanging on a rack. Featured Photo Credit: Bob Bobasonic.