Tuesday saw the opening of The United Nations General Assembly, UNGA 76, with the  high-level meeting for leaders from 193 member nations. The Secretary-General Antonio Guterres did not shy away from the task facing them, and, as he addressed the UN gathering, he said "We face the greatest cascade of crises in our lifetime." In his annual state-of-the-world speech, he said  "We are on the edge of an abyss — and moving in the wrong direction,I'm here to sound the alarm. The world must wake up."
For the first time in two years, more than 100 heads of state and government kept away by COVID-19 were able to return to the UN in person . But with the pandemic still raging, around 60 could not be in attendance and had to deliver pre-recorded messages.
According to Guterres the world has never been more threatened and divided, he told UN delegates that he believes people are losing trust in their governments and institutions. He also raised concerns that they are losing faith in basic values when they see their human rights curtailed, corruption, the reality of their harsh lives, no future for their children.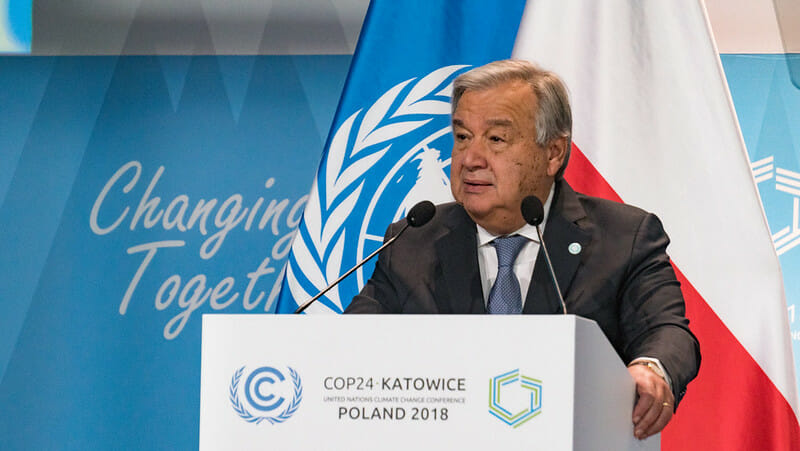 A sharply worded warning followed as he drew attention to the fact " they see billionaires joyriding to space while millions go hungry on Earth." This is an equity problem happening around the globe that will not go away.
When three billionaires rocketed into space this summer, they did more than escape Earth's sullen bonds, they helped spread "a malady of mistrust" plaguing an all-too hungry world, and Guterres took the opportunity to highlight this to world leaders on Tuesday.
In July, billionaires Richard Branson and Jeff Bezos flew into space on private rockets built by their companies, Virgin Galactic and Amazon' Blue Origin. The flights gained worldwide attention for their short trips that never made it into orbit. Both see opportunities in space tourism coming from their fellow space fans with equally fat wallets.
---
---
Following revelations that Bezos, the richest man in the world, didn't pay any federal income tax between 2007 and 2011, critics called for taxing billionaires with some wanting to tax them out of the 10-digit income level. So far those proposals haven't been given the green light. Reports indicate Guterres would support such an agenda as back in April he urged governments to "consider a solidarity or wealth tax…to reduce extreme inequalities."
Billionaire Jared Isaacman led the first all-private orbital mission that touched down Saturday and achieved three days in orbit. His flight was on a Dragon capsule and Space X rocket built by a fourth billionaire, Tesla founder Elon Musk. Unlike the other two missions, Isaacman's ride had charitable intentions; he raised more than $200 million for St. Jude Children's Research Hospital including $100 million from Isaacman and $50 million from Musk.
After three days on-orbit, Dragon and the @inspiration4x crew will return to Earth today and splash down at ~7:06 p.m. EDT in the Atlantic Ocean off the coast of Florida → https://t.co/bJFjLCzWdK pic.twitter.com/uhfnCNLmLN

— SpaceX (@SpaceX) September 18, 2021
Guterres linked billionaire space attempts with the maladies of hopelessness, corruption, curtailing of personal freedoms and "when parents see a future for their children that looks even bleaker than the struggles of today."
This echoed his feelings during his opening speech regarding "supersized glaring inequalities" prompted by the COVID-19 pandemic, climate alarm bells "ringing at fever pitch," upheavals from Afghanistan to Ethiopia and Yemen thwarting global peace, a surge of mistrust and misinformation "polarizing people and paralyzing societies" and human rights "under fire."
Guterres has pulled together all the problems we face in society today and it is clear he feels everything from billionaire space flights to COVID-19 magnify the inequality being experienced worldwide.
Pressing issues on the agenda included rising U.S.-China tensions which drew much attention, as a result, inter alia, of the ongoing US-France row over AUKUS. Against this backdrop, President Joe Biden appeared at the UN for the first time since succeeding Donald Trump as U.S President last November. Chinese President Xi Jinping chose to deliver a video address.
In his speech, Biden called this moment "an inflection point in history" and said that for the United States to prosper, it "must also engage deeply with the rest of the world." He urged "relentless diplomacy" and global cooperation on COVID-19, climate change and human rights abuses, pledged to work with allies, and insisted the United States is "not seeking a new Cold War."
Ahead of the UN opening Guterres warned in an interview with the Associated Press that the world could be plunged into a new and probably more dangerous Cold War unless the United States and China repair their "totally dysfunctional" relationship. It is almost certain Biden was responding directly to this criticism when he said he was "not seeing a new Cold War or a world divided" and said Washington is ready to work with any nation, "even if we have intense disagreement in other areas."
The implied reference to France, one of the United States oldest allies, with which the US has at present an "intense disagreement" was evident. It remains to be seen whether the French delegation will respond positively to such overtures.
Guterres says it is the solidarity of nations to tackle these and other crises that "is missing in action just when we need it most," he said. "Instead of humility in the face of these epic challenges, we see hubris.
It is clear from the statements made by various people during the United Nations gathering that inequality and equity between nations is high on the agenda. Also causing problems within the assembly is COVID-19, U.S.-China tensions, Afghanistan's unsettled future under the Taliban and ongoing conflicts in Yemen, Syria and Ethiopia's embattled Tigray region.
All of these issues cannot be resolved in one week of debates but following the discussion on Tuesday it is clear that speakers were impassioned by these causes. There is hope that  we may yet see nations aligning with one another in efforts to resolve the crisis' facing society as a whole. Stay tuned.
---
Editor's Note: The opinions expressed here by Impakter.com columnists are their own, not those of Impakter.com. — In the Featured Photo:Flags of member nations flying at United Nations Headquarters. Featured Photo Credit: United Nations Headquarters