The UN's 2017 SDG report revealed that youths were almost three times as likely to be out of work than adults in 2016. In Uganda, where more than half of the population is under 24, that's a big problem. The country's burgeoning youth demographic is putting pressure on the industrial, housing and environmental sectors, creating an unprecedented need, and opportunity, for change. If young people in Uganda are to achieve the job security and decent employment determined for 2030 then they, along with the global community, must engage in innovative solutions to these challenges.
The youth boom has a variety of interrelated effects on the country, and each symptom leads into another. In order to escape local job deficit, three-quarters of young urban migrants have relocated from rural areas to cities like Kampala, only to gaze up at towering urban unemployment rates. With dependents to support and financial constraints on travel, for many it makes more sense to settle and look for work than to return home empty-handed. The young, urban unemployed desperately need housing but, unable to afford quality materials, turn to the cheap and unwieldy fired brick. The result is hugely inadequate accommodation and rapid environmental degradation, as brick burning consumes an estimated 6 million tonnes of wood a year. It would be wrong to call this temporary response a solution, as the loss of Uganda's pristine forests exacerbates many of the problems facing today's youth, further driving up the price of housing, threatening jobs in the tourism and resource management industries, and contributing to the global emissions and biodiversity crises.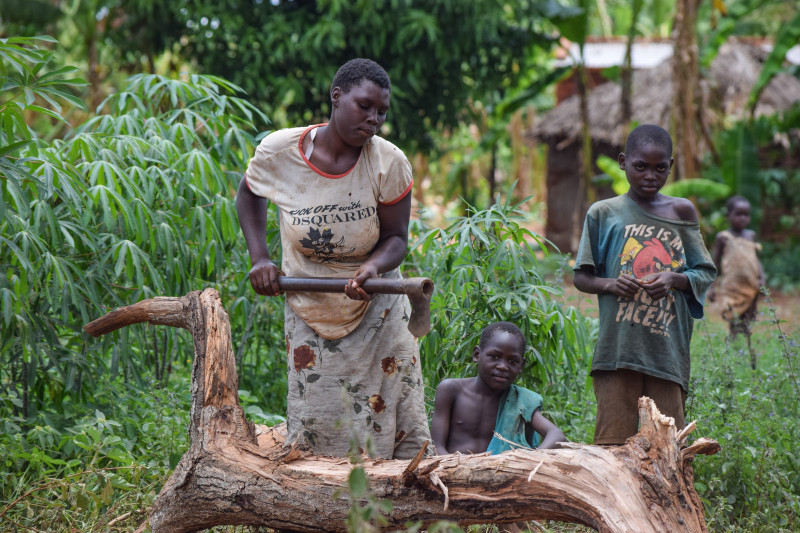 In the Photo: Collecting Firewood Photo Credit: Haileybury Youth Trust
SUGARCOATING THE ISSUES
The oversaturation of the sugar industry has led to further difficulties in the Eastern region. By switching from food to cash crops, rural incomes are increasingly dependent on fluctuating international markets and the responsiveness of the large factories they sell to. This has contributed to a growing reliance on loans while outgrowers wait for harvests and/or payment. While good years can result in lucrative payouts, the East's ballooning sugar production has not ushered in the kind of secure employment that is emerging in other parts of the country. The northern half of Kamuli district, for instance, experienced only a marginal increase in the number of wage jobs with registered firms between 2001/2 and 2010/11, while the southern section enjoyed virtually none.
---
Related Article: "FUELING THE CLEAN ENERGY MARKET: GLOBAL GOALS NEED GLOBAL SOLUTIONS"
---
Add to this Kamuli's below-average primary gross intake, as well as the environmental threats from monoculture and intensive farming, and the district becomes a microcosm of the challenges facing the entire country. As more and more youths enter the stagnant job market without completing their education, there is little to offer young men other than sugar cane cutting, and few prospects for women beyond an early marriage and child-rearing. This situation, combined with the ease of access from the nearby regional capital of Jinja, has led to an influx of NGO support to the district's estimated 507,100 people. Together, Kamuli's youth and these organisations are finding new and exciting ways to solve critical unemployment levels, and the issues they bring in tow.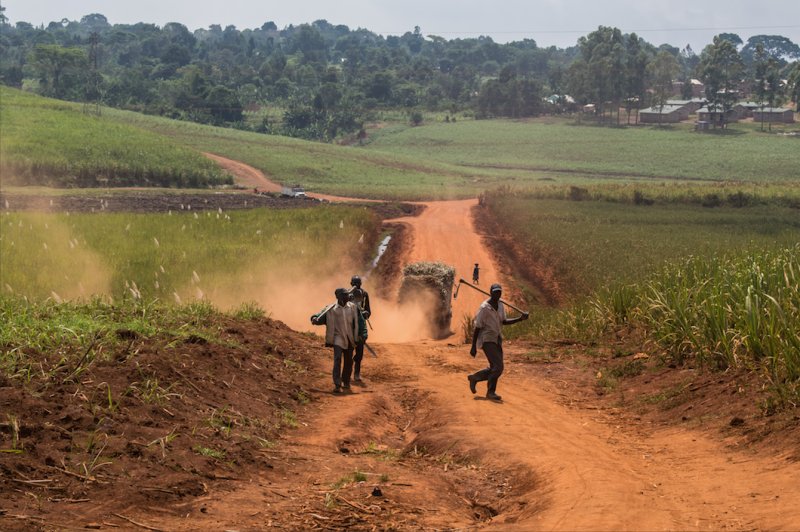 In the Photo: Sugar Cane Harvest Photo Credit: Haileybury Youth Trust
Equipping young Ugandans with the tools to earn enough money to support their families with food, education and decent housing would be a huge step in the right direction. Involving them directly in the shorthanded construction sector would be even better. Doing so in a way that is also environmentally sustainable might start to seem quixotic. However, one attempt at scoring this hat-trick of sustainable development goals has been gaining significant ground over the last ten years, and involves the partnership of a revolutionary Ugandan technology, and a century-old UK charity.
In the early 1990s, Dr. Moses Musaazi, of Uganda's own Makerere University, developed a variation on the ancient technology of earth-based construction: the interlocking stabilised soil block (ISSB). This unique building method uses readily available marram subsoil, is made inexpensively with a manual press, and features an interlock that minimises costly and environmentally-damaging mortar use. Like other forms of compressed earth technology, it eliminates the wood-burning process necessary for fired bricks. It is also up to 80 percent stronger.
In the early 1890s, The Haileybury Youth Trust (HYT) began its mission of enabling young people to achieve their physical, intellectual, social and spiritual potential. Its work was originally carried out in East London, where for a while it was managed by the great British prime minister Clement Atlee, long before its relocation in 2006 to East Africa. The Trust now trains youths, 'one community at a time', to build using Dr. Musaazi's easily transferable, and low carbon technology.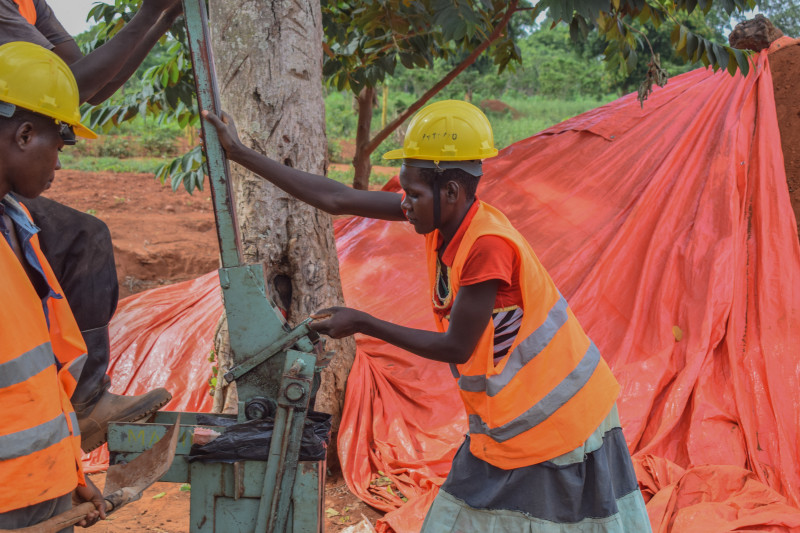 In the Photo: ISSB Press Photo Credit: Haileybury Youth Trust
10 Years, 10 TRAINING PROGRAMMES AND 110 GRADUATE MASONS
10 years working in Uganda has enabled HYT to hone its training programmes across 10 communities. Focussing on Kamuli district, the Trust carries out extensive research to determine areas with the greatest need for infrastructure, the most responsive neighbourhoods, and the highest numbers of unemployed, undereducated youth. Once a community is chosen, interviews are conducted in order to select the next team of trainees. Teaching then begins in earnest, often in the very schools from which the youths dropped out, usually due to lack of money or family commitments.
In order to host a training programme, schools must feed and house trainees along with their HYT trainers, all of whom graduated from previous 'one community' projects. In return, the school is rewarded with a set of new buildings, constructed by the trainees as a practical learning exercise. The first structure is typically a double classroom block, as both a highly desirable school building and a great learning opportunity for fledgling masons. The large stretches of dry-stacked (mortar-free) walling allow trainees to get to grips with basic bricklaying, as each puts down close to 1,000 ISSBs. HYT classroom blocks also feature a simple dividing door, enabling their transformation from 2 separate learning zones into a regulation-standard exam hall, in which trainees themselves are examined theoretically at the end of the programme. According to one teacher at HYT's 10th project, St. Stephen's Butaaya, pupils previously had to travel 5 kilometres to the nearest assessment centre; an unwelcome hindrance for poorer families and their children. [1]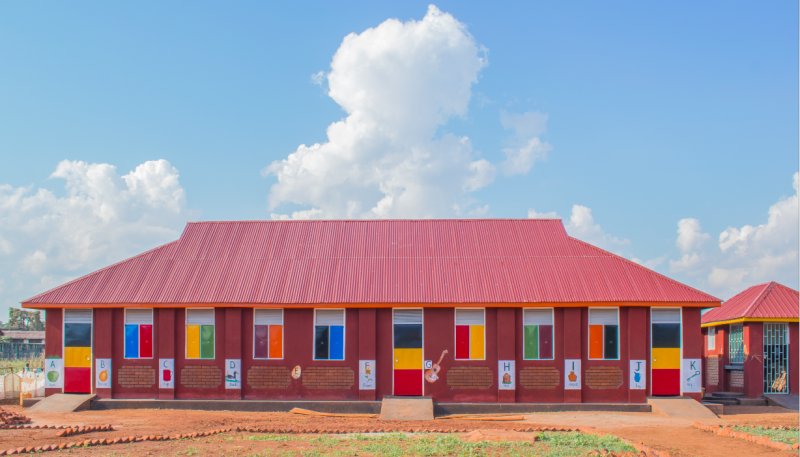 In the Photo: HYT Classroom Block Photo Credit: Haileybury Youth Trust
Before reaching construction phase, however, trainees learn crucial ISSB techniques such as soil selection, excavation and block-pressing. One huge advantage of the technology is that the necessary soils can be sourced on site, eliminating the economic and environmental costs of transport. Marram, the key element, also sits below the fertile loam layer, and therefore its use does not negatively impact local farming. Once trainees are able to identify soil of the right consistency, they are taught how to extract it and turn it into usable blocks.
The first stage of block-making involves combining the soil with other ingredients, such as lake sand and a little (5 percent) concrete as a stabiliser. Once the materials are thoroughly mixed, they are transferred to a mould and compressed manually. This has the added advantage of saving on fuel, as the iconic machine runs solely on the rice and beans of its users! Manual compression is certainly an acquired skill, but by the end of the programme, youths are able to make over a hundred blocks each in a day.
Once they have mastered the construction of large, simpler buildings like classroom blocks, trainees progress to more complex structures, ranging from washrooms and latrines to staff houses and kitchens with energy-saving stoves. A particular forte of the ISSB is its curved counterpart, which is used for constructing water tanks. Without these structures, schools must send pupils to collect water from the local borehole for drinking and cooking, resulting in the loss of valuable lesson time. This can be a long and risky journey, particularly for girls, who can sometimes spend hours in queues, unaccompanied by staff. Fortunately, HYT classroom blocks provide ample roofing area to fill a 20,000L rainwater harvesting tank, which forms a key part of the training process.
In the Photo: HYT  Water Tank  Photo Credit: Haileybury Youth Trust
Over the course of a project, each community is transformed in a number of ways. Firstly, a team of youths is mobilised and empowered literally to build their own futures, and those of their generation. The neighbourhood itself is brought closer, as communities are encouraged to contribute to the project with materials, helpers and other onsite support. In the process, neglected rural schools are equipped to provide better, safer learning experiences for their pupils, motivating their families to continue paying attendance fees and to support their children. With 74.2 percent of employed youth in Uganda inadequately educated for the jobs they hold, the completion of a decent education is more important than ever. Of course, when schools feel the need to expand their facilities, (pupil numbers have swelled by nearly 70 percent in some schools following HYT intervention), they need look no further than their local team of highly trained ISSB masons. [2]
Community projects also help to raise the profile of low impact construction techniques. When face to face with sturdy HYT structures, some of which have now stood for over 10 years, there is little room to doubt the strength of the technology. As more and more people embrace the environmentally friendly and economically competitive ISSB, the flimsy, unsustainable fired brick looks less and less attractive as an alternative. With pockets of masons building with ISSB across Kamuli, HYT's work is helping to decouple economic growth from environmental degradation in the region.
SOCIAL ENTERPRISE: BRINGING HIGH STANDARDS OF WORKING AND LIVING TO THOSE WHO NEED THEM MOST
Graduates of HYT's training programme are not hard to recognise, and have made quite a name for themselves within and beyond Kamuli. Along with the coveted t-shirt and certificate awarded upon completion of training, masons can be found clad in the helmets and gumboots compulsory on HYT training sites. Safety is enforced from the very beginning of a youth's engagement with the Trust, and a portion of their initial training stipend goes into paying for their personal equipment. This engenders a sense of pride and responsibility for these items, which graduates take with them following their training. They also bring this commitment to decent safety standards to their subsequent places of work, whether in the informal or formal building sectors, or on HYT building sites, where the sporting of safety wear is obligatory.
In the Photo: Work in Progress Photo Credit: Haileybury Youth Trust
HYT employs its graduates on social enterprise projects across the country, working with clients as diverse as Children on the Edge, Engineers for Overseas Development, and Iowa State University. These projects allow masons to hone their skills, earn a living and support their families while helping the most vulnerable in society. Crucially, this is done in a way that does not cost the earth. An astonishing number of NGOs, while helping to alleviate poverty and raise education standards, unwittingly contribute to the waves of deforestation sweeping East Africa, where tropical forest fragmentation is at its most severe. In Uganda alone, forest cover has fallen from 48 percent of the country at the beginning of the 20th century to a mere 8 percent today, according to some estimates (Nature Uganda, 2017 statistic) [3] Without radical change, this trend is set to continue, contributing to further environmental catastrophe in the region.
By partnering with HYT, NGOs are able to carry out their work to the highest standard, employing local labour without taking part in the destruction of the country's remaining forests. The more ISSB buildings in use and on display, the greater the public's exposure to the technology, the wider its adoption and the greater employment opportunities for ISSB graduates.
It's an ambitious model, but with 110 graduates, over 140 structures, and 242MWh of energy saved in the past year, HYT is leading a sustainable building revolution, for which it has received a 2017 Ashden International Award. [4] The acknowledgement of sustainability leaders like Al Gore and the World Green Building Council demonstrates the relevance of the Trust's three-fold approach to employment, education and environment in today's global movement towards achieving the sustainable development goals.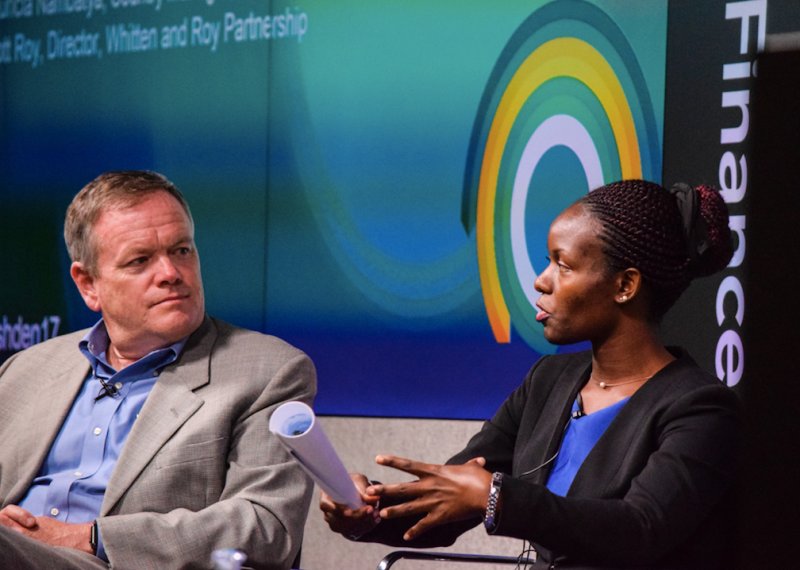 In the Photo: HYT COUNTRY MANAGER MAURICIA NAMBATYA AT THE ASHDEN INTERNATIONAL CONFERENCEPhoto Credit: Haileybury Youth Trust
Take it from HYT graduate Musa who, having finished his training in early 2017, looked forward to when "I'll be making the interlocking blocks and then be able to make money". He has since completed 4 water tanks, and will take part in the construction of some of the 35 scheduled for this year and the next, and Musa is not alone. While more than 70 percent of graduates have obtained further employment with the Trust, many have found work in the informal building sector, with other NGOs and organisations like ISSB press manufacturers Makiga, and even in wildlife tourism. That's because HYT training is about building character as well as infrastructure. Regular lessons in theory and practice serve to give trainees the learning experience many did not fully experience at school, and to instil values of self-motivation, discipline and teamwork. The course includes instruction in subjects like mathematics and English, both key skills in today's competitive job market.
HYT plans to continue growing that job market by creating further demand for carbon-saving ISSB construction. With more than half of urban dwellers in sub-Saharan Africa living in slum-like conditions, affordable, sturdy housing is just as important for residents as it is for potential masons. Kamuli has proved fertile ground for inventing solutions to some of Uganda's most pressing issues, but with HYT structures in Kampala, Mabira and Serere, the concept is spreading. The Trust and its building teams want to create sustainable cities and communities across the country, sharing construction expertise with the many who are eager to learn. One thing we can all learn from the HYT story so far is that, by making use of local labour, local materials and without harming local environments, we can solve global issues together, one community at a time.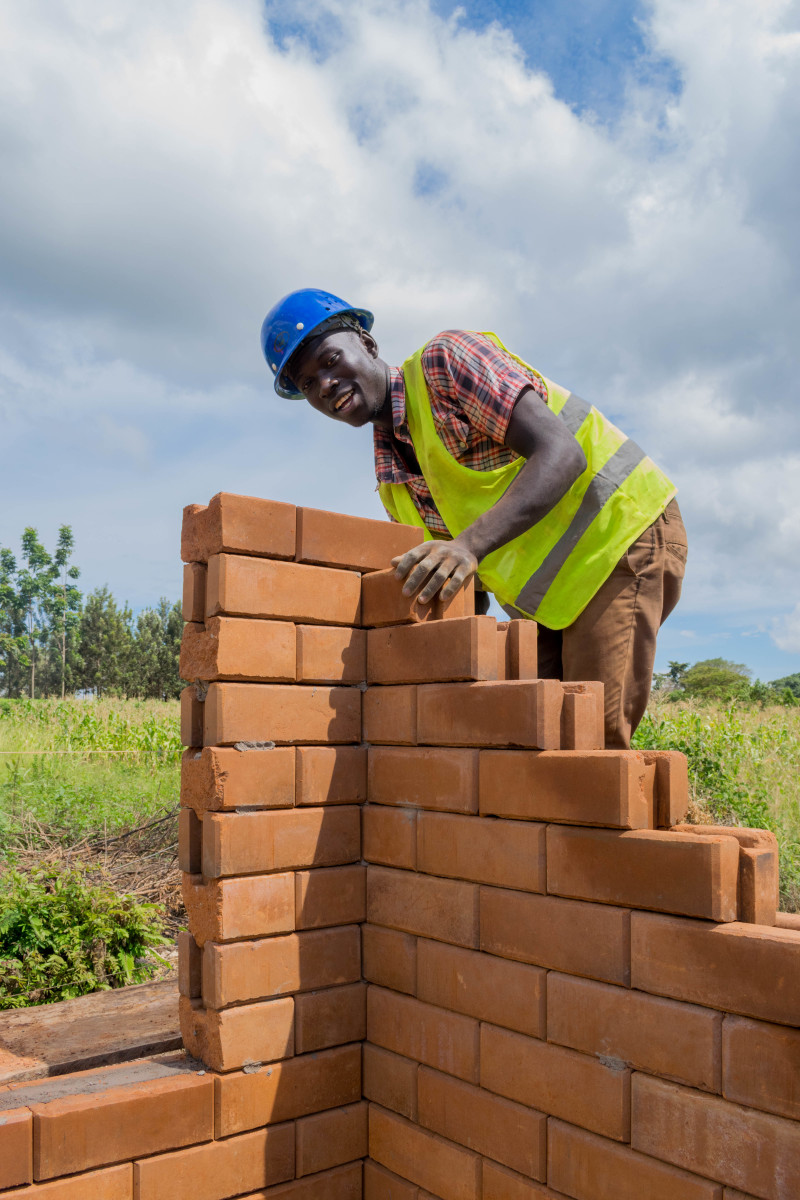 In the Photo: Trainee at Work Photo Credit: Haileybury Youth Trust
REFERENCES
[1] From 2017 interview with a teacher at St. Stephen's Primary School, Uganda. Please inquire for further details.
[2] Sebastian, Headmaster of Bugondha Butaaga Primary School. Please inquire for further details.
[3] NatureUganda, 25th Annual General Meeting Chairman's Report, Year ending 2016 (May, 2017). Please inquire for scanned softcopy.
[4] These and later statistics are from application forms submitted to Ashden Awards. Please inquire for further details.
EDITOR'S NOTE: THE OPINIONS EXPRESSED HERE BY IMPAKTER.COM COLUMNISTS ARE THEIR OWN, NOT THOSE OF IMPAKTER.COM FEATURED PHOTO CREDIT: HAILEYBURY YOUTH TRUST