2017 started off with a slew of new technology announcements, particularly in the world of transportation. Both automakers and tech companies alike unveiled their latest vehicle prototypes and concepts, in addition to their vision for what the future of transportation will look like. This year, the future looks a little bit like Tron.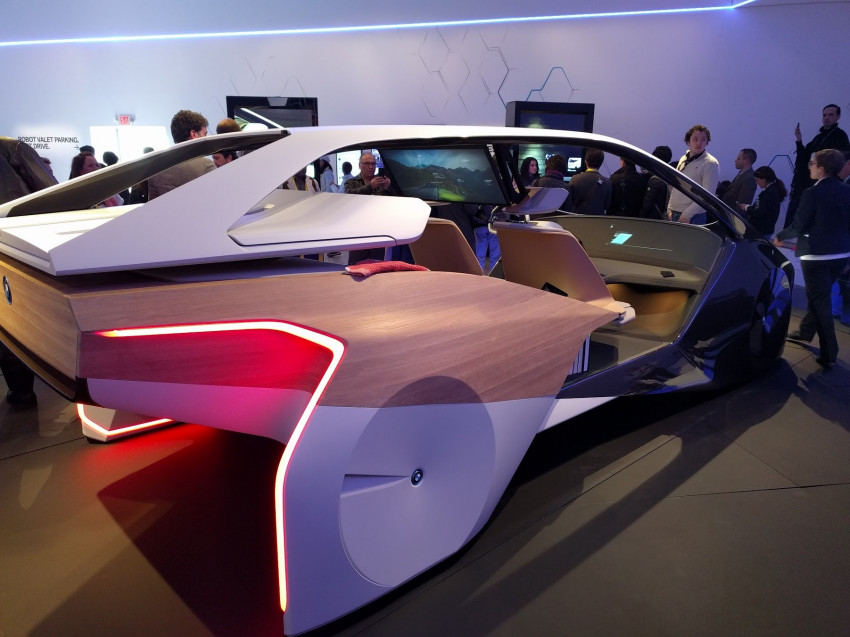 In the Photo: BMW i Inside Future Concept Photo Credit: Taken at CES 2017
While we won't be riding motorcycles fueled by light anytime soon, the way people are getting from point A to point B is shifting very quickly. The term mobility has been redefined from the ability to move freely, to the now effervescent connectivity of our smart devices, which extend beyond our pockets, to our homes, to our cities.
At one of the largest tech events in the world, the Consumer Electronics Show in Las Vegas, spectators were given a glimpse into the world that could be our reality within the next 25 years. Who cares about eco-friendly electric cars and autonomous vehicles when we have "next-gen" automobiles that aren't just for transportation but also a social space like the Rinspeed Oasis. The Oasis wants to be your next hangout spot, with a garden plot on the windshield, it's an autonomous vehicle made for socializing. BMW's concept car and HoloActive Touch system, pictured above, has virtual control interfaces that are operated by hand gestures, in the air.
Many also wait patiently to see which non-automotive company can create the first fully functional autonomous vehicle, whether it be Google, or Waymo, Apple, or Uber. No matter the concept or company, all are in pursuit of that Goldilocks formula to build the safest, most sustainable, vehicle that is deeply integrated into urban city infrastructures.
Social mobility; Auto-mobility
In America, social and physical mobility has historically been linked with transportation innovation and urban development. Before cars, individuals traveled in groups on boats, trains, or trollies, so early urban planning shaped foot traffic to move through concentrated commercial areas, popularizing the "downtown" area.
In the early 20th century, economic growth was fueled by a new workforce that had just returned from many years at war. People were looking to settle down in the suburbs, ready to own a home and start a family. By the 1950's, the car became something not of luxury, but of necessity—a symbol of freedom, of the American Dream.
With the normalization of car ownership, cars were an integral part of one's identity. 16-year-olds wanted one as a sign of independence and working adults wanted one as a sign of wealth and status. Owning a functioning car was inexplicably linked to one's economic and social mobility because it enabled one to work in a metropolitan area while still living that American suburbia dream.
However, car ownership means something quite different today. The 21st-century definition of mobility is related more to technological integrations that increase convenience and appear more affordable.
Mobility, as it applies to transportation, has thus become a question less about ownership and more about access and availability. As more and more Millennials enter the working world and flock to the nearest metropolitan city, the idyllic dream of owning a car has dwindled. It's been replaced by feelings of frustration with traffic congestion and the inevitable aggravations of accommodating that "daily grind."
In a study by Harvard University that analyzed upward mobility in relation to community and environment, one of the strongest influencing factors towards one's ability to move upward in income has to do with their commute. The relationship between social mobility and opportunity is very much dependent on one's accessibility to transportation. In fact, the study noted that communities that have lower commute times have "less segregation by income and race, lower levels of income inequality, better schools, lower rates of violent crime, and a larger share of two-parent households." And with half the world's population, 3.5 billion people, living in urban cities today, making cities accessible and sustainable is necessary for continued social and economic growth.
---
Related article: "IMPAKT FINANCE: REINVENTING THE BANKING EXPERIENCE"  
---
Yet, governing bodies and policy makers' efforts have been slow to adapt poor infrastructure and overcrowded city spaces to the massive young workforce moving in. A series of local transportation tech start-ups like Uber, Lyft, Chariot, Scoot, Getaround, Maven, just to name a few, have been quick to bypass traditional city "approvals" and jump on the opportunity to solve commute issues with ride-sharing solutions, shuttle services, and alternative transportation methods.
While some advertise themselves to be environmentally friendly, this assertion is simply not true. Ridesharing is a better taxi and shuttle services are better buses, but that does not necessarily mean they are more energy efficient than the public zero-emission electric city bus. As we patiently wait for the autonomous electric ridesharing vehicle, it's still too early to tell the true environmental impact of these alternative transportation services.
According to the UN, 95% of urban expansion in the next decade will be in developing countries and technological innovation is essential to ensure energy efficiency in high-density cities experiencing rapid urbanization. It's now easier and more affordable to live in cities without the need for a car and by 2030, nearly 60 percent of the world's population will live in urban areas. Thus, establishing inclusive, safe, and resilient sustainable cities and communities is goal number 11 of the UN Sustainable Development goals.
When it comes to energy consumption, cities account for 60-80 percent of usage and 75 percent of carbon emissions. Therefore sustainable transportation, that is energy efficient with minimal to no greenhouse gas emissions, is one of the most vital initiatives for achieving almost all other Sustainable Development initiatives on the 2030 Agenda.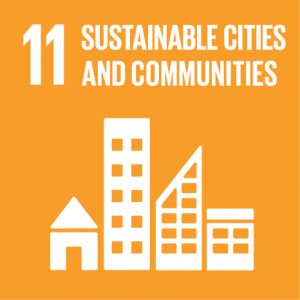 Environmental Regulations and Policy
During the 2015 Paris Climate Summit, countries around the world collectively committed to a unified effort to reduce greenhouse gas emissions. They vowed to invest more in renewable energy resources and to reduce the use of environmental pollutants like coal, oil, and gas. As a result, competition for innovation under a guise to cure the world of impending dooms has become incredibly fierce.
In the Photo: 11th UN Sustainable Development Goal. Photo Credit: United Nations
Whether it's saving the environment with electric cars (not to imply that electric cars are entirely environmentally friendly), or saving lives with autonomous ones, there is serious pressure and haste for innovation that complies with local and national policies. And given that transportation is the largest end-use of energy in developed countries, and is the fastest growing in most developing countries, we have a long way to go.
On a global level, the U.S. aims to be the top nation in innovation and technology, which is why it has some of the strictest environment and trade regulations for the automotive industry. Policies are often set to promote innovation while ensuring public safety and protection. For example, the Volkswagen scandal in which engineers programmed algorithms into vehicles so that the diesel fuel engines appeared to adhere to U.S. E.P.A. policies and the Clean Air Act, was unique to the North American market as opposed to European markets where diesel is quite commonplace.
Despite human error and corporate culture, Volkswagen's actions were driven to maintain market share in an increasingly competitive, saturated market. And while government policy is meant to protect the people and the earth, it may also claim that it stymies innovation.
Recently, the California Department of Motor Vehicles revoked Uber's ability to test their self-driving cars on open roads due to permit violations. Even though Uber recently relocated to Nevada, one could see Uber leveraging its international presence, such as China with the Didi Chuxing merger, to further experimentation and expansion should national and local laws become more unforgiving. One might conclude that the U.S. market, with its tenacious regulatory bodies, will either be the one to facilitate transportation innovation or dismantle it.
Moreover, urban infrastructure is not privy to the rapid, agile iterations that the tech industry has mastered. Traditional transportation policy has been focused on vehicle technology and fuels, but the automotive industry is no longer exclusive to automakers.
The line is blurred as leading automakers enter the realm of technology and venture capitalism, investing in local start-ups that help capture the foot traffic and mobile thumbs of beloved Millennials. GM and Ford have been not-so-quietly shelling out funding, expanding their portfolio across app-based transportation systems. Whereas Apple and Google have embraced their software roots, outpacing the auto manufacturers in autonomous algorithms, while shelving their manufacturing projects to form partnerships with automakers.
Once cities develop an infrastructure that supports autonomous vehicles, one could imagine a more difficult, longer commute for those who are working their way into the city. For example, someone who has a car without autonomous functionality might find themselves parking their car outside the city, and boarding an autonomous transport to their final destination– a requirement for all human drivers under public safety policies.
So, conceptually, the future of transportation is nearly here, built on a bedrock of smart, sustainable cities. But it's still going to be a while until we see succulents on the dashboard. One can only hope that with rapid innovation and rapid urbanization, we don't forget the 828 million people (and counting) that still live in slums, waiting to catch a ride to the nearest city of dreams.
---
Recommended reading: "Making last-mile delivery sustainable"
---
Editor's Note: THE OPINIONS EXPRESSED HERE BY IMPAKTER.COM COLUMNISTS ARE THEIR OWN, NOT THOSE OF IMPAKTER.COM.