In 2015, after the largest consultation process in the history of the United Nations, 193 nations agreed to a framework of 17 Sustainable Development Goals (SDGs) to vanquish poverty and create a more equitable, sustainable, eco-conscious world; each goal is supported by a series of ambitious targets for completion by 2030.
Lucky Iron Fish Enterprise (LIFE) is a for-profit, social enterprise committed to solving iron deficiency anemia worldwide,  directly addressing many of the the SDGs. The company is an example of the power and significance of designing business for social good and a model for sustainable development as well as  demonstrating that social business can be a force for good.
As purchasing power inexorably shifts from baby boomers to millennials – potentially shoppers with more of a sustainability consciousness  – there is an ideal opportunity to model change and showcase that it is possible to transform the world and to "do well by doing good".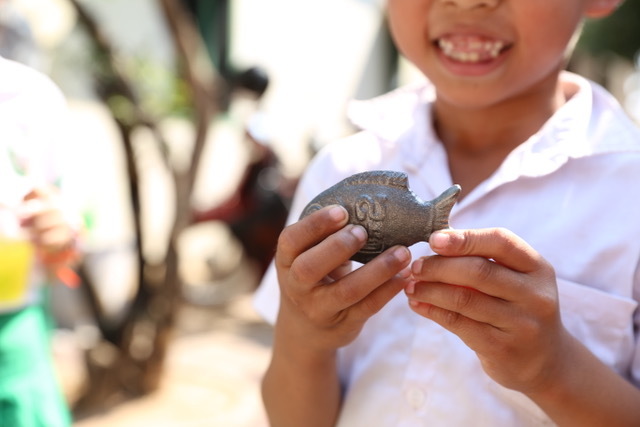 In the photo:  A young boy is holding his new Lucky Iron Fish in a village in Southern Cambodia Photo Credit: Lucky Iron Fish
The 'wicked problem' of iron deficiency
Iron deficiency is the most common micronutrient deficiency in the world. Found in every country, it predominantly affects people living in poverty – especially women and children on marginal diets. It is, therefore, more prevalent in the developing world. Despite a concerted international effort in the light of comprehensive scientific knowledge about how to solve this problem, the number of person-years lived in disability from iron deficiency actually increased over the last decade.
Even mild forms of iron deficiency affect the ability to work at full capacity. Effectively, it keeps people in poverty. But more severe forms of iron deficiency result in stunting and delays in cognitive development in children, problems in pregnancy and childbirth and both increased maternal and infant mortality – all of which impoverish human development.
---
Related Article: "HEALTH IN THE SUSTAINABLE DEVELOPMENT GOALS"
---
The irony is that we can easily treat the problem. Merely taking iron pills or fortifying foods will improve iron status but iron pills are expensive, require constant investment, and may not be consistently available in rural areas. They also have unpleasant side effects and many women report that they would rather endure headaches and experience periods of dizziness than suffer the side-effects of iron supplementation. As a result, compliance rates are low. Because fortified products are more expensive, they are not ubiquitously available and some governments will not mandate fortification. As a result, people living on marginal incomes will almost always choose a cheaper option.
We need a simpler, sustainable solution to this complex problem.
Solving iron deficiency in a different way
Based on the old Chinese observation that cooking in iron pots makes you stronger, Lucky Iron Fish Enterprise markets a small, specially formulated iron ingot that can be added to a cooking pot when sterilizing water or preparing soups or stews. The ingot is designed to release a small amount of bio-available iron into the cooking medium which boosts the iron in an individual's diet. If the ingot is used regularly (3-4 times a week) and boiled for ten minutes in slightly acidified liquid, it will provide about 20-25 percent of a person's daily required intake – enough to supplement iron intake but not overload the system. The ingot is cast in the shape of fish which is thought to be lucky in Cambodian folklore the country where the ingots were first used. Even women in rural villages who may not understand iron deficiency are more inclined to use the fish because they believe it brings them "luck". When they feel better, they encourage their friends to use the fish also. Clinical trials have shown that using the fish will increase the iron status of individuals and reduce iron deficiency by 46 percent. Compared with iron pills where the compliance rate is less than 50 percent, the compliance rate for the Lucky Iron Fish is more than 90 percent.
But having a good idea does not translate into a sustainable business model.
LIFE uses a unique approach to disseminate the fish. Capitalizing on the prevalence of iron deficiency in both the developed world and the developing world, the company targets millennials in the developed world – shoppers with a social conscience. These customers respond to the story of social impact. By combining the principles of traditional business and social enterprise, LIFE is changing the paradigm. Capitalizing on market demand for iron supplements in the developed world, the company sells the fish using a buy-one, give-one e-commerce model, creating an aggregate pool of fish that are distributed to families in need (people living on less than $2 USD per day) in the developing world. The iron fish ingots earmarked for donation are placed in a 'fish tank' waiting to be distributed. The company also includes social impact in every aspect of the business, including providing meaningful employment, especially for those with marginal prospects of getting a job; using of environmentally-approved sustainable products, and empowering women to help people raise themselves out of poverty. The company partners with local organizations and NGOs who can ensure appropriate training to use and care for the fish. In addition, these local partners provide education and training in nutrition, sexual health and promote access to resources that will support development.
IN THE PHOTO: Lucky Iron Fish CEO Gavin Armstrong meeting with a village leaders in Pune India, celebrating the start of a new partnership that will bring free  Lucky Iron Leaves (Skalti Tulsi Leaves) to schoolchildren in Pune India PHOTO CREDIT: LUCKY IRON FISH
Addressing the SDGs
Embedding social good into all aspects of its business practices is good business for the company – LIFE is internationally recognized as a sustainable social enterprise – but it is also a role model for businesses seeking to address the SDGs as a comprehensive framework. Through its business model, LIFE addresses seven of the SDGs and directly contributes to No Poverty (Goal 1); Zero Hunger (Goal 2); Good Health and Well-Being (Goal 3); Quality Education (Goal 4); Gender Equality (Goal 5); Decent Work and Economic Growth (Goal 8); Responsible Consumption and Production (Goal 12).
Since the company started, LIFE has sold over 100,000 units through retail and e-commerce. This means data from the sales profile suggests that people buying in the developed world share use of the fish with two other family members; but in the developing world the average family comprises five members. Based on the knowledge that there is at least a 90 percent compliance rate for using the fish on a regular basis, it is possible to estimate that LIFE has improved the 'good health and well-being' of approximately 720,000 people (Goal 3). Over the next three years, the LIFE business plan expects to sell over a million fish, which would translate into improving health and well-being and alleviating the ravages of hidden hunger (Goal 2) for more than 7 million people.
Iron deficiency leaves people feeling weak and tired and it has been estimated that this causes a 20 percent reduction in the capacity to work a full week. Restoring iron levels with regular use of the Lucky Iron Fish, therefore, improves household income by 20 percent which means that over the next three years up to 7 million people will have the ability to improve their income and take steps to alleviate poverty (Goal 1). By focusing the distribution of 'Buy one give one' fish on people living in abject poverty in the developing world, LIFE specifically targets people living on less than $2 a day.
As iron deficiency anemia predisposes people to other diseases and exacerbates pre-existing conditions such as TB, HIV, chronic inflammation, diabetes and diarrhea, alleviating iron deficiency will reduce the vulnerability and improve the resilience of the poor (Goal 1.5).
Finally, the business model for LIFE is sustainable: people in the developed world are exercising their social conscience by supporting the purchase of Lucky Iron Fish for people in the developing world. Current efforts to alleviate iron deficiency are ineffective (compliance rates for taking pills are 30-50 percent); expensive (supplements cost approximately $35 per person per year); and unsustainable (require constant investment from governments or international agencies). In contrast, the Lucky Iron Fish has a compliance rate of 90%+, is substantially cheaper (costs about $10 for 5 years and will improve iron status in the whole family), and is supported through a sustainable business model (BOGO). Integrating the Lucky Iron Fish into government and agency policy frameworks as a preventive for iron deficiency is not only pro-poor but its appeal is gender-sensitive.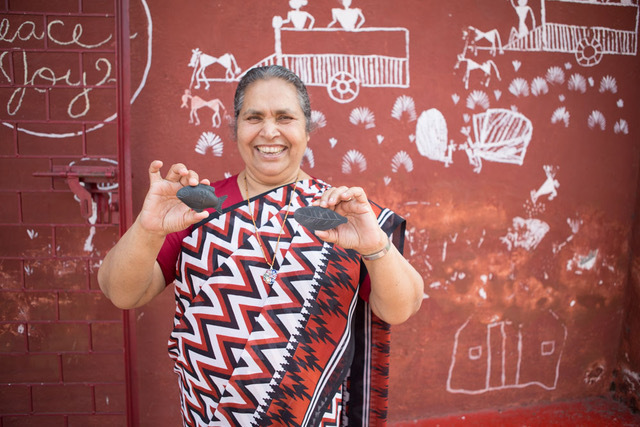 IN THE PHOTO: This is Sister Lucy from the Maher Foundation in India. We partner with the Maher Foundation to provide Lucky Iron Fish and Lucky Iron Leaves (Skalti Tulsi Leaves) to women and girls in India who have experienced trauma or abuse. PHOTO CREDIT: LUCKY IRON FISH
As iron deficiency anemia is more prevalent in women and girls, alleviating the condition creates greater equity access to education (Goals 4 & 5). In addition, as part of the business model for LIFE, the BOGO distribution model is achieved through local partners and networks who also provide nutrition and sexual health education in accordance with Goal 5.6. In some cases, the local partners use distribution of the fish as a 'hook' to reach populations of women and girls who might not otherwise be given access to this type of education, further increasing the opportunities to improve the education of women and girls, particularly those in vulnerable situations.
As part of the social good promoted by LIFE, the company specifically employs people with physical and mental disabilities to produce the packaging and to pack the Lucky Iron Fish in their boxes. In Cambodia, the company works with a cooperative that employs people with physical disabilities, many of whom are landmine victims – their bodies damaged by landmines left from the era of the Khmer Rouge. In India, LIFE employs women from a women's shelter and provides training for re-entering the workforce. And in Canada, the company employs people with mental disabilities to pack the fish for distribution. These employment opportunities are not normally open to people marginalized by their physical or mental disabilities and supports Goal 8 of the SDGs.
---
Recommended Reading: "HEALTH AND THE SDGS IN A REAL WORLD SETTING"
---
Finally, LIFE practices and advocates for responsible consumption and production. (Goal 12) All the products and packaging are made from recycled material. The Lucky Iron Fish are made from electrolytic iron powder derived from recycled iron plates. The fish are produced in plants with high-environmental standards and practices (reduced waste, recycled water, sustainable practices). The packaging is made from materials approved by the Forestry Stewardship Council – an internationally recognized non-profit organization developed to promote responsible management of world forests. The printing on the packaging is done with environmentally friendly vegetable inks. In contrast, the competitors for the Lucky Iron Fish, such as iron supplements, are made in pharmaceutical plants with a substantially higher footprint. Moreover, each Lucky Iron Fish lasts for five years which reduces challenges for shipping and distributing product that again provides a competitive environmental advantage compared with tradition iron supplementation.
But just saying the company "does well by doing good" is not enough.
Simply professing a commitment to the SDGs and claiming success is not enough. LIFE is a certified Benefit Corporation (B-Corp), which is an international certification process, similar to LEED or Fair Trade, designed to verify claims for social, environmental and cultural good. The certification process is annual and explores claims for social impact, for environmental sensitivity and for equitable hiring and labour practices. The goals and aspirations of the B-Corp certification process are aligned with the SDG framework and the spirit of effective, equitable, sustainable development. Since its initial registration as a B-Corp, LIFE has consistently scored among the top 1 percent of companies worldwide for its commitment to social impact i.e., to the SDGs. LIFE has been designated "Best for the World". The company's commitment to addressing the SDGs was recognized with an Aim2Flourish Award 2017
The tail-end of the Lucky Iron Fish story
The Lucky Iron Fish appeals to people from different cultures, religions and backgrounds but recently the company has begun work in India where a significant proportion of people are vegetarian and vegan. Many of these people are unwilling to put an 'iron' fish into their cooking pot so the company has sought an alternative. LIFE is testing the efficacy of the Lucky Iron Leaf™ in different communities in India. Drawing on cultural relevance, the design of the Lucky Iron Leaf is based on the tulsi or holy basil leaf – a leaf with mystical and healing powers in Hinduism (see photo above). In the near future, we are pleased to grow our family and give our users a choice of putting a fish or a leaf in every pot to solve iron deficiency and address the UN SDGs. Lucky Iron Fish Enterprise is a stellar example of a company that's transforming the world – doing well by going good.

EDITOR'S NOTE: THE OPINIONS EXPRESSED HERE BY IMPAKTER.COM COLUMNISTS ARE THEIR OWN, NOT THOSE OF IMPAKTER.COM 
FEATURED PHOTO: Multiple mothers holding their new Lucky Iron Fish in an island community in South East Asia  PHOTO CREDIT: Lucky Iron Fish