The Impakter team,  deeply saddened at the tragic loss of lives in the airplane crash near Addis Ababa, joins the Secretary-General of the United Nations in conveying their heartfelt sympathies and solidarity to the victims' families and loved ones, including those of United Nations staff members, as well as sincere condolences to the Government and people of Ethiopia.
---
Editor's Note: The world's governments are gathering in Nairobi from the 11-15 March 2019 for the annual UN Environment Assembly (UNEA). Sue Riddlestone of Bioregional explains why she will be there with colleagues as part of their work on Transform Together, a multi-stakeholder partnership which aims to turn our much-loved smartphones and laptops into standard bearers for the SDGs, especially Goal 12, Sustainable Consumption and Production.
---
I'm very attached to my smartphone, I'm sure that you are too, and I couldn't do my job without my laptop. In so many ways they help us to live a sustainable life, for example the app that tells me real-time when the bus is coming. But the supply-chain and consumption of these treasured and useful possessions is responsible for systemic unsustainable and immoral exploitation of people and the natural world, which none of us would want done in our name if we could see it happening in real life. Harsh, but true.
The reassuring news is that for smartphones and ICT, and in fact almost all sectors, someone somewhere has been pioneering sustainable solutions to address the various aspects of the life cycle of the product. All we need to do is replicate and scale them up globally and make it the new normal. We can ask suppliers for the products and services which we can be proud of when we are purchasing. And business can provide them, especially if they know that governments have set a level playing field for all businesses with government policies which protect consumers, vulnerable communities and workers, and our environment.

This is the thinking behind Transform Together, a new UN multi-stakeholder partnership for the SDGs focussed on Goal 12, Sustainable Consumption and Production. Here is how it plays out as a practical approach:
A 2030 vision to aim for — With the support and involvement of three founding governments — Finland, The Netherlands and Germany — and over 70 experts from civil society and business who are already part of Transform Together, we have identified great case studies of what is possible. From that we developed a 2030 vision for sustainable smartphones and ICT which is in line with Sustainable Development Goals, and which you can see further down the page.
Create a huge buyers group — Now we are asking more national and local governments, organisations and businesses to join us in creating a huge buyers group which sends a message to suppliers that we want to buy products and services in line with this vision.
Talk with the industry to get their buy-in — We don't expect a miracle, and we know that it takes time to change, so we intend to work with the industry to set realistic timeframes and a roadmap for the evolution of the products and services by 2030, the timeframe of the SDGs and of our vision.
Support business with clear, simple regulation — Of course, to make this work, business will need governments to play a role and not allow bad practice, whether it be regulation and enforcement to support sustainable mining practices; or extended producer responsibility, where producers have to enable their product to be re-used or recycled properly; or protection of the health of factory workers, to name but a few.
The theme of UNEA this year is "Innovative solutions for environmental challenges and sustainable consumption and production." Transform Together embodies this, and so we will be asking more Governments to join us by committing to our 2030 Vision; working with us to buy more sustainable smartphones and ICT; and being willing to look at what policies they can introduce to support good business practice.
Transform Together 2030 vision for sustainable smartphones and ICT
Our 2030 vision for sustainable smartphones and ICT is that all devices, services and supporting infrastructure, considering the whole lifecycle, cross-boundary impacts, are:
Ethical (SDG 1, 3,4, 5, 6, 8, 10, 11 and 12)
Human rights of the people and rights of the communities affected by the production of the products and services in all stages of the supply chain are respected and met;
Workers' rights and good working conditions in accordance of the established international standards throughout the supply chain are respected and met;
Sustainable livelihoods, training, jobs and equal opportunities are created throughout the supply chain.
Sustainably designed (SDG 9 and 12)
The products and services are designed for durability both in terms of hardware and software, reuse, repairability, upgradeability, remanufacturing, recyclability and energy-efficiency; avoiding dependency of harmful substances and high-risk materials and sustainable and safe use.
Responsibly sourced and fairly produced (SDG 3, 9, 11, 12, 13, 14, 15, 16)
Circular, responsibly sourced, conflict-free, non-toxic and traceable raw materials and components are used in the products.
Material extraction, processing of materials, manufacturing, assembly, reprocessing and recycling of the products does not harm humans or the environment.
Sustainably sold, bought, accessed and used (SDG 8, 9, 12, 13, 14, 15)
The products and services are offered through business models that ensure the materials maintain their highest value as long as possible, and are supported by government product policies;
Purchasers and consumers consider the necessity of every product and service purchase and demand high sustainability standards;
Products and services are used consciously progressing the achievement of the Sustainable Development goals.
Long-life and multi-life (SDG 9 and 12)
Reused, repaired and remanufactured multiple times during their long lifetime.
---
Editor's Picks — Related Articles: 

"SDG 12: Placing Consumers and Producers at the Heart of Sustainable Development"

"Consumers Influence In Responsible Production"
---
Zero waste (SDG 12, 13, 14, 15)
The products and services generate zero waste throughout their lifecycle and all materials and components in them are responsibly reused or recycled at the end of life and are supported by government policies;
Zero carbon energy (SDG 7, 12 and 13);
The products and services are energy-efficient and powered and produced using renewable energy.
Enabled by the support of a global partnership (SDG 10, 12, 16, 17)
Governments, cities, regulators, manufacturers, designers, industry supply chains, retailers, purchasers and buyers, civil society and consumers understand the need for the change and their role in it and take responsibility for the actions required to achieve the vision.
There are many issues and solutions related to our production and consumption of smartphones and ICT, but below is a small selection of the key topics we have uncovered. You can see more on the Transform Together website.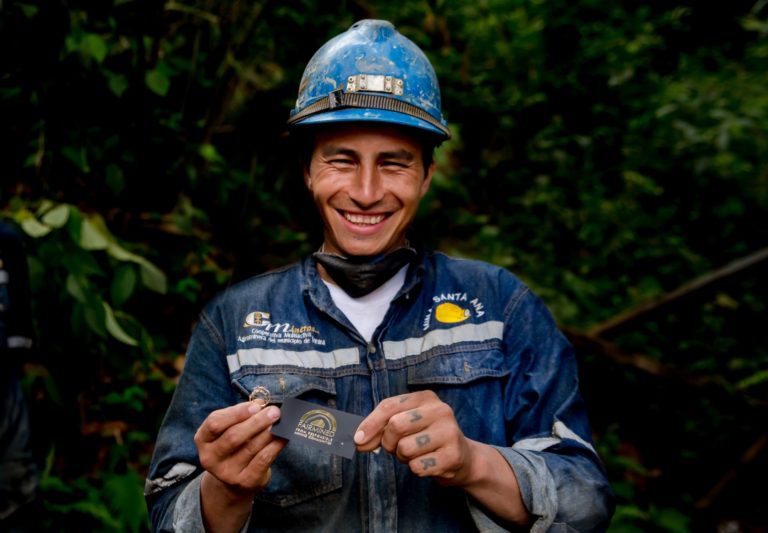 Mining fuelling conflict and environmental damage — The issue which has motivated me the most is unsustainable mining and the trade of the so-called conflict minerals, known as 3TG (tin, tungsten, tantalum and gold) and other high-risk minerals, such as cobalt. Our smartphones and ICT equipment account for 7.5 percent of global demand for gold alone. I had the privilege to hear Bandi Mbubi of Congo Calling speak movingly about illicit trade of these minerals, which has fuelled decades long conflict in the Democratic Republic of Congo. Speaking up about it led to him having to flee the country and it still goes on. That's before we even begin to examine the environmental damage caused by mining. But there are solutions — for example the USA and the EU have started to regulate the trade of minerals originating from conflict and high-risk areas based on the OECD due diligence guidance for responsible mineral supply chains, which Bandi says is a good start. There are also organisations like the Alliance for Responsible Mining which focuses on artisanal and small-scale mining and has created the Fairmined standard. Other initiatives include the iTSCi and Responsible Minerals Initiative. All of which you can read more about in the case study on the Transform Together website.
Accumulation of e-waste — Many of our old phones from Europe and the US make their way to a second life but the majority in countries which lack safe e-waste recycling infrastructure. However, work from organisations like Closing the Loop strengthens the frontline of e-waste collection. Between 2014-2018, they collected over 2.2 million phones and provided 3,000 people in these countries with income. Read more in our case study.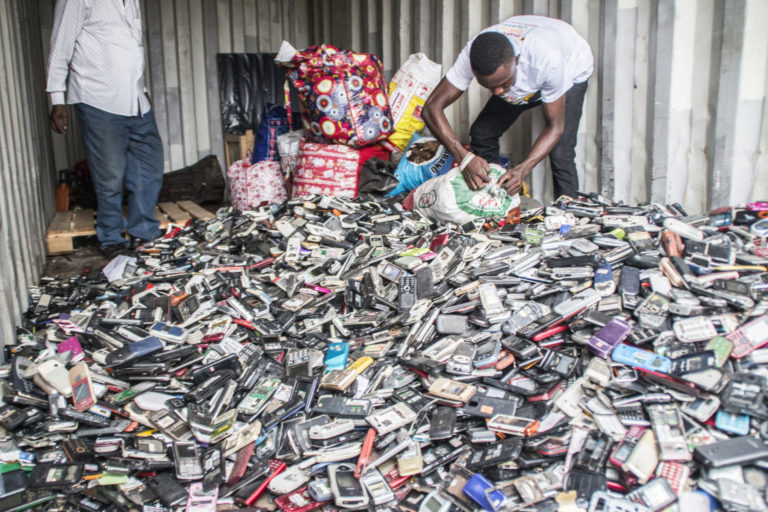 How government policy can support marginalised communities — In countries like India — the world's fourth largest producer of e-waste — informal workers have to process tonnes of waste in dangerous conditions. The work of Karo Sambhav — backed up by the government's Extended Producer Responsibility legislation — has meant that waste can instead be disposed of responsibly. The legislation has meant that producers must ensure a certain percentage of their electronics get appropriately collected and processed at the end of life — resulting in partnerships between Karo Sambhav and the likes of Apple, Dell and HP to support sustainable recycling in collaboration with communities.
Procurers can support the rights and safety of workers in their supply chain — With supply chains that are fast-changing and complex, with temporary workers who don't have the opportunity to self-organise, procurers can be left feeling disempowered to have an impact. Electronics Watch provides a solution: they provide a toolkit and engage the industry through tenders, contracts and ongoing dialogue to set up worker-driven monitoring and improvements. Working in 11 countries with 300 member organisations, they represent 1 billion Euro of the electronics market — read more in our case study.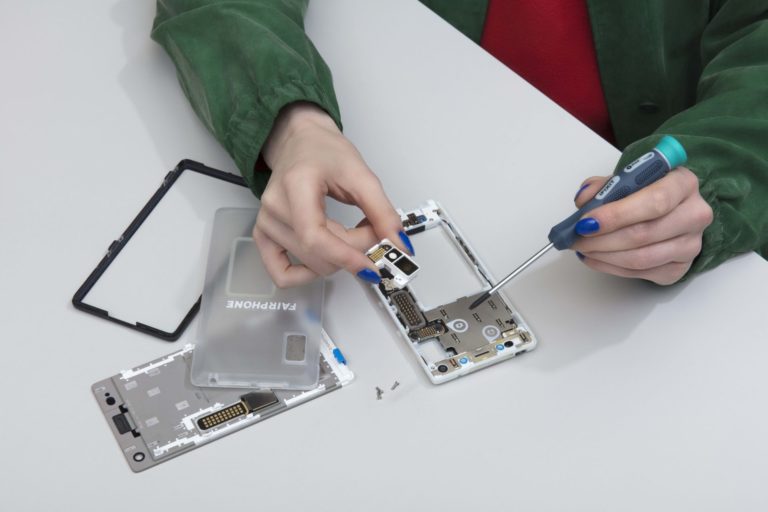 Eco-labels help buyers make decisions without being experts — As you can see, ICT and smartphones are linked to a host of social and environmental issues, but eco-labels with scientific and comprehensive criteria can help grow the range of sustainable products for buyers. When I was looking for a new phone some years ago, I looked for an ecolabel. The only one I found was one Samsung phone which was TCO certified. We definitely need to see more eco-labels on smartphones. I have been a proud Fairphone owner for the past three years. A phone which contains certified Fairtrade gold, and is also easily repairable. TCO Certified is currently mainly used for PCs and has 3,000 certified products with buyers including the Canadian Federal Government, various public bodies in Europe and Swedbank. In the USA the Green Electronics Council created the EPEAT eco-label which is widely used by US Government Departments. Find out more about different eco-labels available for ICT and smartphones in our case study.
If you work for a national or local government, a business, or indeed any organisation join our buyers group, or simply follow the guidelines we are producing. You can find out more on our website. Equally, if you are a procurement or policy specialist, or other industry expert we would welcome your involvement as we work to transform the market to achieve the SDGs, together.
---
Sue Riddlestone OBE, CEO & co-founder of Bioregional www.bioregional.com
Bioregional are the co-founding convenors and secretariat for Transform Together https://transform-together.weebly.com/
---
Editors Note: The opinions expressed here by Impakter.com columnists are their own, not those of Impakter.com — In the Featured Photo: A phone in the landfill — Featured Photo Credit: Fairphone