At least 27 people, including three children and pregnant women, were among those who drowned in the Channel, a waterway between the UK and France. 
Those killed were mainly Kurds from Iraq or Iran who had tried to cross the Channel in an inflatable boat. Two survivors, an Iraqi and a Somali, were treated in a Calais hospital for exhaustion and hypothermia. Four people, who were suspected smugglers, were arrested.
The inflatable boat, which carried at least 29 people, is believed to have set out from Loon-Plage, near Dunkirk. Those that made the crossing were likely camping near Grand-Synthe, which is the location of several migrant camps – one of which was cleared by French police on November 16. Those camps have always been poorly built and temporary, only serving to amass migrants eager to attempt the crossing.
A fishing boat noticed bodies washing up on the coast of Calais at 2pm on Wednesday. Bernard Barron, head of the Calais lifeboat service, told reporters that the inflatable boat was mostly deflated, but still floating in the sea, and that the survivors had been subjected to 17C waters. 
French prosecutors confirm that the 27 who died making the crossing from France to Britain yesterday comprised 17 men, 7 women, two teenage boys and a girl.

— Lewis Goodall (@lewis_goodall) November 25, 2021
The French interior minister Gérald Darmanin, blamed people smugglers, who "for a few thousand euros' promise Eldorado in England." He also called for more support from the UK, Germany and Belgium to fight "traffickers that work at an international level". The UK Prime Minister Boris Johnson echoed the statement, saying that he was "shocked, appalled and deeply saddened" by the event, and that "human traffickers are "literally getting away with murder".
The French Prime Minister, Jean Castex, is set to meet with his ministers of interior, justice, defence, maritime affairs, transport and foreign and European affairs to discuss the issue of channel crossings. 
The UK's Home Secretary, Priti Patel, made an announcement regarding the channel crossing in the House of Commons today, having spoken with Darmanin. She said that the government's new plan on immigration will address the "underlying and core factors", and has offered to begin joint patrols of the crossing "to prevent these dangerous journeys from taking place".
Shocked by the tragic deaths of migrants crossing the Channel from France to the UK. Lack of safe pathways, restrictive immigration policies & exploitation push people into perilous journeys. Time for coordinated action for sustainable solutions with full respect for #HumanRights pic.twitter.com/7aZsryTBW5

— UN Human Rights (@UNHumanRights) November 25, 2021
Many more make crossings than before, thanks to crack-downs and Brexit
In recent years, there has been a rise in the number of Channel crossings, which is one of the world's busiest waterways. According to the Home Office, the number arriving by boat across the channel has increased three-fold since last year. On one day alone, more than 1,000 migrants arrived last month. 
The majority of these migrants are refugees seeking asylum, having fled from war-torn countries, and trying to get in contact with their family who is already in the UK. It is believed that many more are making the trip by boat due to crack-downs on the smuggling of migrants through lorries or planes, as well as due to COVID restrictions. 
---
---
On the whole, the country has seen a 4% fall in the number of asylum claimants in the last year. The British government plans to reform the system, in order to send more migrants back, but will struggle to do so, given that since Brexit, the country has not established return agreements with any country in the EU.
Despite the Home Secretary's more recent call for joint efforts with the French government, the response between governments has largely been to point fingers at each other. The British government has accused the French government of not doing enough to stop crossings from taking place.
On the other hand, the Elysée Palace stated that in a call between French President Emmanuel Macron and Boris Johnson, Macron had affirmed their expectation of  "full cooperation from Britain and [to] stop instrumentalising a dramatic situation for political ends".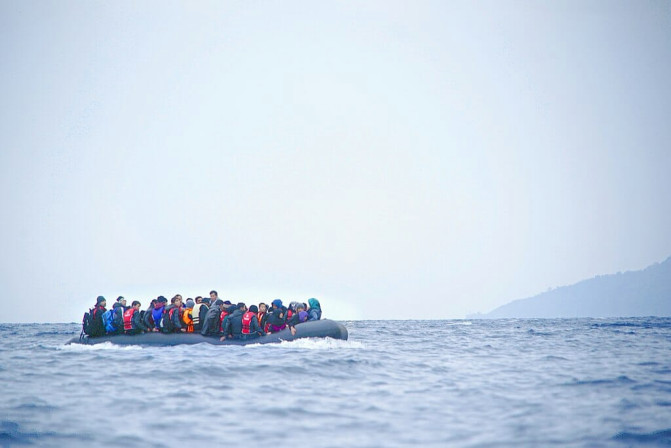 The Political Response
The decisions of both governments are heavily influenced by the internal politics of their countries. The UK's reigning Conservative party are keen to show that they are tough on migrants and immigration, as an end to free movement is seen as an important part of leaving the EU. For Macron, he is concerned about his former and likely upcoming presidential opponent, the far-right Marine Le Pen, as elections loom. 
But ultimately, the attempts of the French, and especially the British government, to solve this issue are not only cruel but also ineffective. The current Home Secretary Priti Patel has taken a very hardline stance against migrants. 
The UK Home Office's recently proposed a Nationality and Borders bill that would grant border officers legal protection if a migrant drowns due to "pushback tactics". What is even more concerning is that this bill breaches international and domestic law in at least ten different ways, introducing a two-tier asylum system potentially in breach with the UN refugee convention and the European Convention on Human Rights (ECHR) and is likely to lead to multiple challenges under international human rights law. 
The reason why the Home Office deems it necessary to pursue such aggressive tactics is that countries have a legal obligation to allow migrants to file asylum once they arrive. Therefore, the UK aims to force boats carrying migrants to be turned around before they arrive. In the past, the Home Secretary has gone so far as to suggest that Royal Navy warships be sent to stop crossings. 
The tragic reality of this crisis is that if something doesn't change, more people will die trying to cross the channel. As recent events show, hardline tactics only force migrants pursuing their legal right to asylum towards more dangerous methods to reach the UK and to work with human smugglers in order to do so. Cracking down on these smugglers is no doubt a step in the right direction, but it does not get to the root of the problem or solve the fundamental issue.
Welcoming migrants in an economy where too many low-skill jobs remain open should not be too hard. Studies have repeatedly shown that migrants do work and when they have a job, they pay their taxes and are therefore not the economic burden they are so often perceived to be.
Regardless of this, the fact of the matter is that those who attempt such dangerous crossings are desperate people fleeing a desperate situation. It's time to focus on not just the crossings themselves, but what causes them, the wars and famines, and what we can do to stop them from taking place. Current tactics are dangerous, cruel and borderline illegal: working towards a safe channel for those who seek asylum is the only solution. 
---
Editor's Note: The opinions expressed here by Impakter.com columnists are their own, not those of Impakter.com. — In the Featured Photo: Dozens of migrants brought ashore in Kent. Featured Photo Credit: Screengrab from The Independent.