From 2015 until 2022, the amount of people working in green jobs and/or possessing green skills has grown by around 38%, according to LinkedIn. However, even though workers are progressively attaining green skills and transitioning into green and greening jobs, the volume of such transitions is too little to cause transformative effects.
These are some of the insights brought by the latest Global Green Skills report produced by LinkedIn, which examines the newest green skills trends and the way the global switch towards the green economy is occurring.
The Skills and Jobs for Green Talent
According to the report, green skills are defined as those skills that "enable the environmental sustainability of economic activities." The share of workers upskilling and reskilling to attain such skills is rising across countries of all income levels, but inequalities are present not only amid countries but also along gender, demographic, and educational lines.
The hiring rate of "green talent," defined by LinkedIn as members who have "explicitly added green skills to their profile and/or are working in a green or greening job," started to decelerate in lower-income countries since 2020, while high and upper-middle-income ones have sustained a steady rate. In addition, the green gender gap has not improved since 2015, as there are only 62 women considered green talents for every 100 men.
LinkedIn shows that the green jobs that have grown fastest between 2016 and 2021 are Sustainability Manager, Wind Turbine Technician, Solar Consultant, Ecologist, and Environmental Health and Safety Specialist.
As for the growing rate of "greening" jobs, which are described as positions that can be performed without green skills but typically require some degree of green skills, the fastest ones are Compliance Manager, Facilities Manager, and Technical Sales Representative.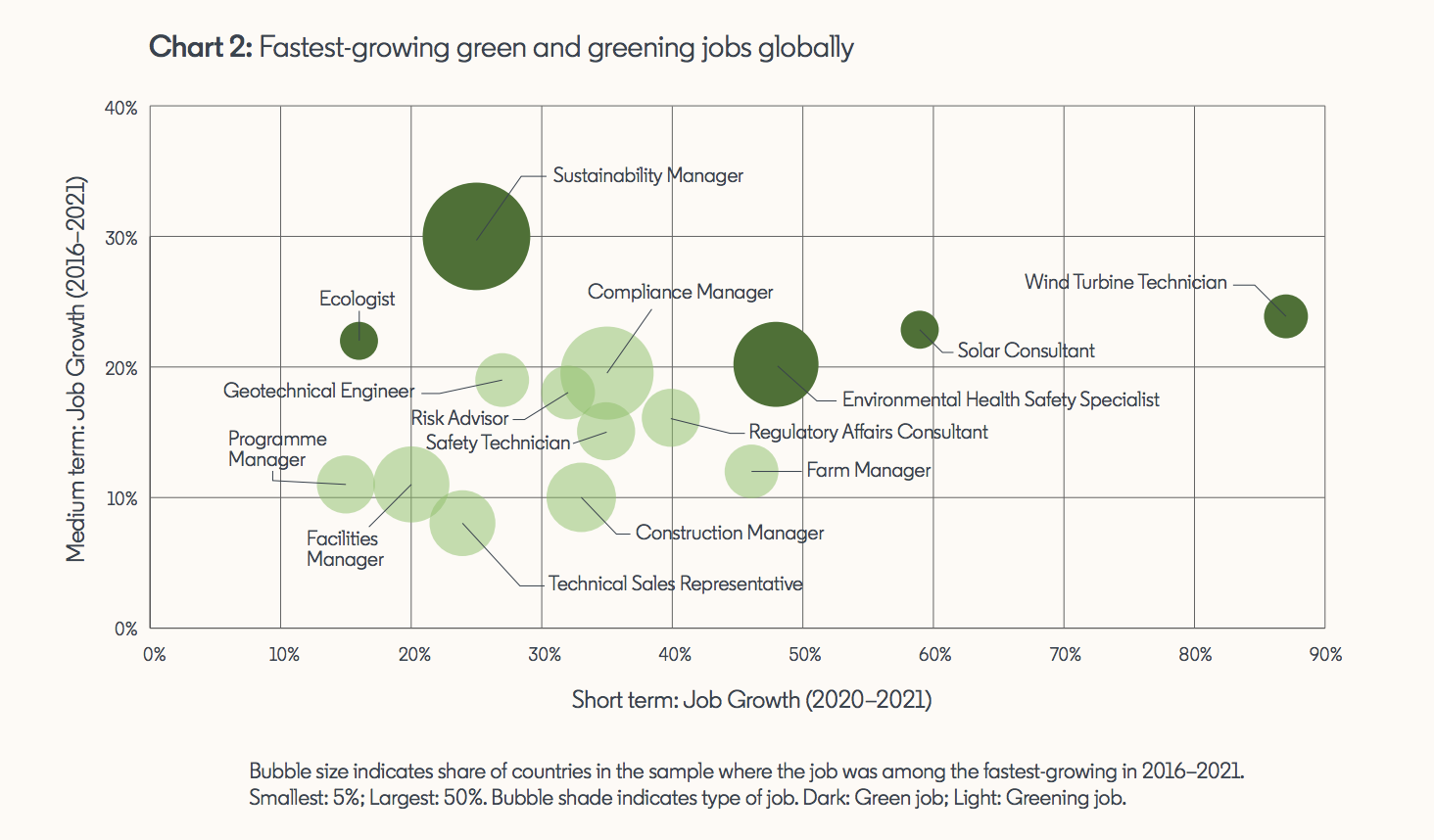 The report shows the fastest-growing green skills between 2016-2021 (see table below). According to LinkedIn, the high percentage of growth of some of these skills suggest the emergence of new trends such as Sustainable Fashion, Oil Spill Response, and Sustainable Business Strategies.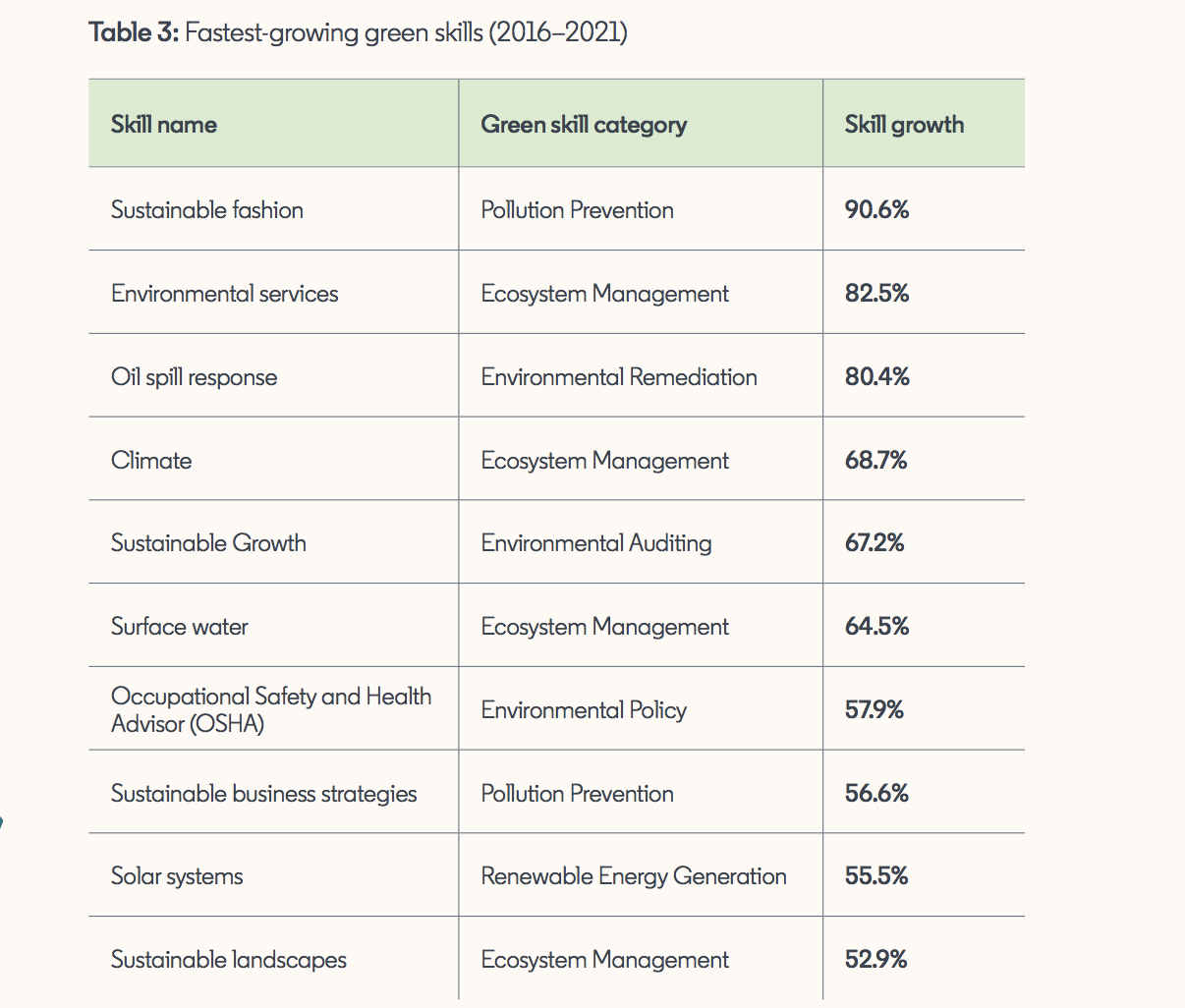 An Action Plan for an Inclusive Green Economy Transition
Inclusive green skills and rising green talent are essential for an effective and inclusive green economy transition. The trends above on the skills and jobs for green talents imply a gap between supply and demand, as well as an unequal environment. The LinkedIn report highlights that according to "the current trajectory of green skills growth in the labour market, we are not going to have sufficient human capital to meet our climate targets."
Based on the data and diagnosis, the report comes up with three recommendations for impactful action towards inclusive green transition.
Policymakers should champion green skills and prepare the workforce for the green transition by taking a skill-based approach to opportunity, adopting a targeted approach to progressively focus green upskilling and reskilling, and creating policies for equal development for green skills and making significant investment to ensure green-skilling accessible to diverse groups.
---
---
Business leaders should invest in upskilling current and future green talent. It is important to recognize the importance of green hiring and upskilling and reimagine some open and future roles.
The global workforce should gain green skills to power change and compete for the best jobs. Workers should start from considering a career that allows for regular upskilling, which allows for activating one's role in the green transition and enhances future employability. When expanding networks and exploring training programmes, the workforce can take initiatives in equipping itself with green skills for the green transition. 
Learn more about Green Skills and Jobs 
UNIDO's LKDF (Learning and Knowledge Development Facility) promotes demand-oriented skills development programmes for young people in developing and emerging industrial economies to achieve inclusive and sustainable industrial development. To achieve that, we all need to change mindsets and behaviours and adjust priorities.
Click here to read the LKDF report "Green Industrial Skills for a Sustainable Future," which provides insights to guide policy interventions to meet the demand for green skills needed to effectively install, operate, and develop green technologies.
To stay informed about what experts from the private and public sector have to say, click here and access the LKDF Forum 2020 Outcome Book, "Green Skills for a Sustainable Future." The outcome book details a series of lively debates aimed to answer the question by informing about the market needs for green and digital skills, the public-private coordination or lack thereof, the policymaking processes of designing green policies, and the level of mismatch between offer and supply.
---
Editor's Note: The opinions expressed here by Impakter.com columnists are their own, not those of Impakter.com — In the Featured Photo: A woman in a field of windmills. Featured Photo Credit: UNIDO.